Greetings from Rob Chilson:
Hello, welcome to Keith Stokes' Chilson Web Page. I suppose you're at least slightly curious about me or you wouldn't be here. And since the best intro to a writer is some of his writing, see below. However, this is not a "typical" piece of Chilsoniana. Since I try to be original, there really is no typical piece. This is from BLACK AS BLOOD
DEAD MEN WALK, BUT NOT TOO WELL--
Bernie McKay realized who he was, and what his Purpose was: Revenge.
Angie, he thought. And Gibson, but mainly Angie. Swaying, he turned from the dark pool from which he'd been born, and looked across the world. From here to Oswego was not over thirty minutes in a car.
It was going to take him a couple of days, Bernie realized. For one thing, he wasn't moving very well. For another, he mustn't be seen; if he was, his revenge would go glimmering. ...
It was slow going. Patience, he told himself. I've got lots of time. Dear Angie will wait for me, won't you, dear? I know you will. . . .
At long intervals he circled three houses, dreading dogs more than people, and was hopeful of soon coming into forested regions. Then came the birds.
The blue jays found him first, shrieking and yelling and swooping about. Some called him "Thief!" and others disagreed, calling him "Jay!" Their quarrel brought the crows.
At first Bernie's fear was that the swarming yelling confusion would attract attention to him. ... Then a crow landed on the shoulder of his blue suit and aimed a peck at his eye with its big blunt beak. He jerked away and it missed, striking him over the cheekbone. He felt no pain, merely a jolt. Horrified, he watched it gulp the pale shred off lesh it had torn free.
He brushed it off, crying "Get away!"
His voice came out with a great hoarse sawing sound, not unlike the voices of the crows. Other crows swooped at his face. He felt blows to the back of his neck. Desperately he stumbled into a staggering run, the birds swooping and screaming and cawing about him, the crows going for his eyes, or any area of exposed skin. Stark fear of blindness went through him. ...
Head down, hands above it, he stumbled across the field while the birds attacked. Alfred Hitchcock would've loved this, he thought wildly.
---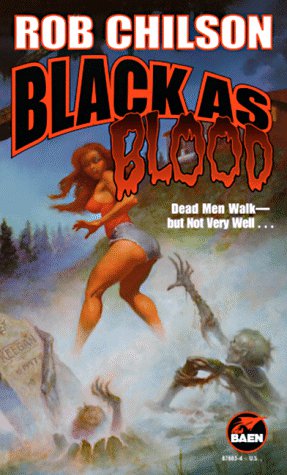 Science fiction author Rob Chilson, is one of the last authors whose first works were sold to John W. Campbell. Jr. He is best known for his first novel, THE SHORES OF KANSAS and for his short fiction. His short story "Teddy" was named to the preliminary Nebula Award ballot. Teddy is a very moving story which brought me to tears the first time I read it. Rob has generously allowed it to be posted here for you to enjoy.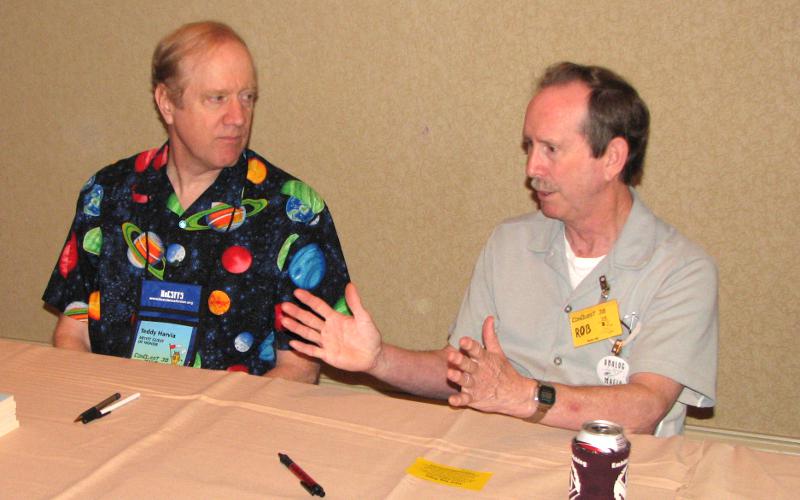 David Thayer (Teddy Havia) & Rob Chilson on a panel at ConQuest 38 in Kansas City
Novels by Rob Chilson:
AS THE CURTAIN FALLS 1974
THE STAR CROWNED KINGS 1975
THE SHORES OF KANSAS 1976
REFUGE (Isaac Asimov's Robot City, No 5) 1988
MEN LIKE RATS 1990
ROUNDED WITH SLEEP 1990
BLACK AS BLOOD 1998
These novels are out of print but may be located through AddAll used book search.

Upcoming Rob Chilson Appearances:

ConQuesT - Kansas City, Missouri - Memorial Day Weekend
Links: