---
Day 1
Gay Haldeman met my plane, which arrived in Gainesville about 9:30 on Friday
evening. The leg from Atlanta was on a prop plane (yeck!) with the usual noise and
vibration.The bicycle box was falling apart (they had to bring it out upside down) but
everything was fine. We picked up a pizza on the way to the house. Joe and I split
half of it, while leaving the rest for folks that would arrive at 2AM.
The Haldemanís live in a large sprawling ranch. I never did see all of it.
Every room seemed to have shelves and piles of books, genre art, photos, awards
and Joe's original art. I particularly liked the art and notes that he made on
last year's Bike Florida ride. It took discipline not to dig into the
interesting piles. Sunday morning I discovered the display of 5 Hugos and 4
Nebula Awards near the front door, which I hadnít used.
My bed was the sofa in Gay's office. It wasn't a bad place to sleep, but I
rarely sleep well when away from home and only got about 4-5 hours sleep.
Day 2
Saturday I was up fairly early, to put my bicycle together and take a brief
ride. Joe prepared breakfast of turkey bacon and eggs. The eggs were good and
the bacon at least looked a bit like bacon. The middle of the night arrivals,
Charles and Karen (pronounced "Karin") Riffle from Michigan. Gay's sister Wendi
and Wendiís husband Mark arrived about 10:30AM and it took about an hour to
figure out how everyone wanted to spend the day. Charles and Karen ended up
riding only on Saturday and driving along to meet us at Poe Springs on Sunday,
We checked in with Bike Florida at the Martin Luther King Center (got a real
cool T-shirt with a manatee riding a bike), than split up. Joe & Gay headed
downtown for an art festival and I rode with the rest, joined by another of their
friends, Alan Scheib. We followed the planned route out of town on a rail trail
then headed off on a county road to visit the town of Micanopy- (pronounced "Mic
and Opie") A cute little town, the main street is a sparsely developed 3 blocks
with lovely old southern architecture, perhaps a dozen antique shops and
two used book stores.
Lunch was Cuban sandwiches made with ham, marinated Spanish pork, Swiss cheese,
pickles, mustard and mayonnaise. Pressed and served hot off the grill. We had a
pleasant lunch on the front porch of the Old Florida Cafe, before part of the
group hit an antique shop specializing in cameos where Mark made a purchase.
Back on the road, 16 miles back to the King Center, It was a slow ride with
plenty of stops for Charles and Karen. They hadnít really prepared for the trip since
Charles had a recent heart attack. Back at the King Center we attended the
Bike Florida first night meeting before heading out to Leonardo's for supper. A
very nice Italian restaurant, that wasnít very crowded for a Saturday night. Most
of Gainesville was watching Florida play in the basketball Final Four.
I had chicken in a tequila cream sauce with onions, mushrooms and peppers over
angel hair pasta. They asked how hot and spicy we wanted it on a 1-10 scale. Joe
had a 9 and I had a 10. It was very good, but I donít think they really trusted
me enough to make it a 10.
We finished the day with scotch and conversation back at the house.

Day 3
Sunday I was up about 5:45AM (3:45AM after allowing for the time zone and change
to daylight time), Everyone managed to get out of the house by 6:30AM.
At the King Center, we packed our luggage in the 18 wheeler and had breakfast by
Chris Cakes. Chris (not his real name) has a big rig for cooking pancakes and
everyone has to stand back and catch their pancakes on the fly. He served
sausage and pancakes each morning of the trip.
We were on the road by 7:30AM. Our party was a bit large to stay together, so we
broke into smaller groups.Gay and Wendi are a lot of fun, so I started out with them.
We only went about 5 miles before Gay had a flat tire. A support vehicle was with
us by the time we pulled off the road, but Gay's spare tube had a hole and neither tube
would take a patch. The support vehicle took her back to headquarters while we
continued on the ride.
Gay caught up to us at Devil's Millhopper, a huge sinkhole and the first support
stop on the ride. The Millhopper is perhaps 100 yards across and over 120 feet
deep with a boardwalk and stairs to the bottom where the streams and falls
disappear back underground. The Millhopper has plants and small mammals that
live nowhere else in Florida.
I rode all day with Gay and Wendi, while the rest of the group took off at faster
paces. We averaged 12 mph while ridding. Wendi has only been riding for a few
months and did a wonderful job on the tour.
The second stop was at Poe Springs, where we bought chicken sandwiches and the
girls went for a swim in the clear 72 degree water while I watched the mullet
jumping in the nearby river.
Back on the road again, we were now some of the last few riders on the route.
The route was on wide paved country roads lined with horse and cattle ranches,
plus an occasional goat ranch, miniature horses, rheas, etc. We completed the 62
mile ride around 4:30PM. The last few miles included riding over the Santa Fe
River and a few glimpses of the Suwannee River.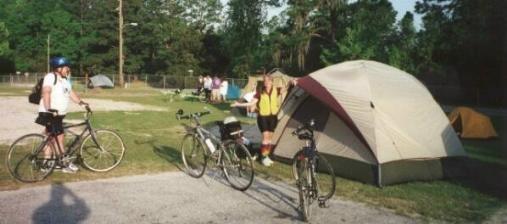 Camp at the high school in Branford, Florida

After finding my luggage in the huge pile, I wandered to a far corner of the
high school to find a quiet corner for my tent. This was the first that I had
seen the tent (which Joe and Gay loaned to me) and I had last camped in 1977.
But I read the instructions and they were fool proof. The tent was up in about
10 minutes.
Dinner was served in the school cafeteria. Bet you guess what it was: smoked
chicken (yes there is a pattern here), pretty good and we all had good
appetites. We stayed around afterward for ice cream and bingo. No one in our
group won any prizes.
Back at the tent, I discovered that the nearby security light went on and off
every few minutes, with accompanying changes in the buzz. Oh well, I probably
wouldnít have slept well anyway.

Day 4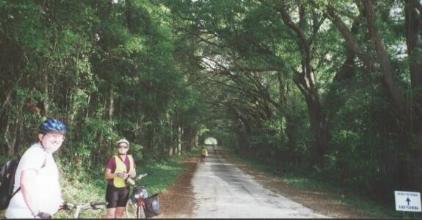 Wendi and Keith along tunnel of trees on Monday's ride
Mondayís 45 mile route stopped at Little River Springs than circled around to
Ichetucknee Springs where Bike Florida had arranged for an excellent catered
meal of rice with chicken. After lunch, Gay & Joe rented a tandem kayak, while
Wendi & Mark, and Alan & I rented canoes for a float trip on the Ichetucknee
River. I stopped to take a picture of kayaks putting in ahead of us and managed
to lose my disposable camera in the remaining 30 feet to the river.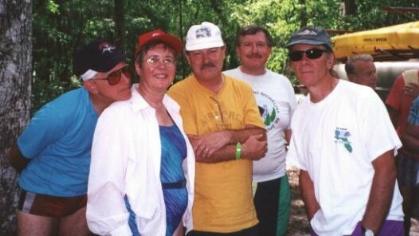 Alan, Gay, Joe, Keith & Mark rent canoes
The Ichetucknee River was pretty spectacular. Undeveloped, they didnít even
allow canoeists to bring along food. The water was crystal clear and it was easy
to see all of the fish and turtles. After perhaps 45 minutes we got to slalom
around tube riders who put in at a lower point on the river. The float took about 2
hours and we arrived just before the support vehicle. No one wanted to wait 30
minutes for the next one, so we managed to crowd about 14 people in a small
minivan.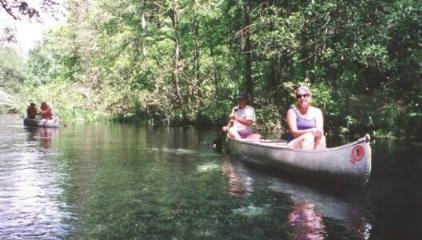 Alan & Keith in left canoe, Mark and Wendi on right
The ride back to our camp was into a strong head wind. I decided not to wait for
the girls (who went swimming in the springs) and headed out at a fairly strong
pace. No one passed me on the 15 mile remaining leg.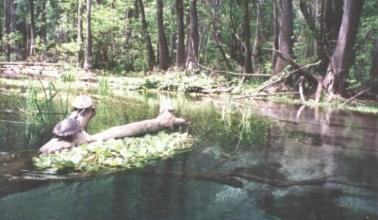 turtles sunning on the Ichetucknee River
Supper on Monday was a fresh seafood buffet at a restaurant on the banks of the
Suwannee River. Well it was supposed to be seafood, but the seafood consisted of
small steamed shrimp and one pasta dish. They did have very good chicken
tenders, grilled and very flavorful. For entertainment, a gentleman was
alternately playing banjo, fiddle and guitar on a deck by the river. After
dinner, there was a nature slide show by a photographer from the Gainesville
newspaper.
Back at camp, I discovered that I didnít have my prescription glasses. I was
almost positive where they must have fallen out of my bike bag, but Bike Florida
headquarters was closed for the night.
Day 5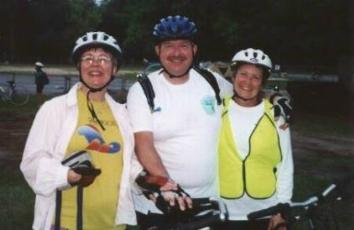 Gay, Keith & Wendi starting Tuesday's ride
Monday night I think that I slept about 45 minutes. Just laid there. About 4AM
the wind started picking up and it rained off and on starting around 5AM. During
a break in the rain at 5:30, I moved my bags and the tent under a porch where
the tent would be able to dry before I packed it. The rain stopped about 30
minutes later.
The nice lady at Headquarters that morning, had no idea what to do about my
glasses, but promised that someone more knowledgeable would be there in a few
minutes. An hour later, the more knowledgeable person hadnít shown and we headed
out toward Chiefland.
I needed to be in Chiefland in time to shower and meet a 2PM bus, so a short ways
out of Branford I joined a group of faster riders. We rode together at about 17 mph
for about 8 miles. The group then started to fade and I left them behind. I
donít know if it was because I was rested from the slower pace on
Saturday-Monday, but I was passed by only three bikes (two of those were
tandems) on the rest of the ride.
The first break was next to a bridge over a spectacular stretch of the Suwannee
River. The second break was at Hart Springs, one of the less impressive springs,
but there was a nice 2688 foot boardwalk along the river. For once I was at a
support stop before they ran out of food. After the 25 mile ride, peanut butter
and jelly sandwiches tasted great
I arrived in Chiefland a little after 11AM. I still felt like riding, so I rode
out to Manatee Springs. There was another nice board walk along the Suwannee. I
didnít see any manatees, but did see lots of fish and some large snapping
turtles. Than on to the Chiefland high school to pick up my luggage and take a
quick (cold!) shower, before meeting the bus back to Gainesville. This was a 60
mile day.
Everyone in our group except Joe and Gay were going back to Gainesville. The bus
was late leaving and had extra delays, enough that friends on the bus started to
worry about my meeting my plane, but we made it to town in time and Alan gave me a ride the
mile or so over to the airport.
I was in luck, the plane to Atlanta was a jet. A larger charter jet with the
Florida basketball team (returning from the NCAA final) arrived while we were loading.
I slept most of the way on both flights.
Back in Olathe, I called Ichetucknee Springs State Park, because I was sure that
was where my glasses had fallen out. When they didnít call back, I bought new glasses
(I probably needed them anyway) at a local "glasses in about an hour" store.
A week later, someone called from the State Park, they finally looked for the
classes, they were right where I thought, and the person was mailing them.
I was still glad I had the new glasses, as they were the worse for spending
a week outdoors.
All and all, it was a great trip. 200 miles ridden, good company, good food
(although almost too much chicken:-). Bike Florida does a lot of things well,
but they could do a better job of communicating with riders during the trip and
better supply the SAG stops along the way.
2001 Bike Florida Report
Keith's Home Page Keith's bicycling page Joe Haldeman's Home Page