---
Day 1
Following a change of planes in Atlanta. I arrived at the Sarasota Airport on Thursday evening.
My brother Gary and his wife Donna met my plane and we went to their home in Englewood.
We enjoyed a quiet evening and I had a nice large shrimp cocktail.

Day 2
We started the day by assembling my bike (previously UPSed down). The bolt that locks the
seat in place had disappeared in transit, but we replaced it with a better one from a nearby bicycle shop.
Have I mentioned what good cooks Donna and Gary are? Brunch was grilled lobster and fried eggs.
Yum!
In the afternoon, Gary and I went to the nearby beach to fish the Gulf from shore.The water
was too clear for the best fishing, but I still had a good time. We fished for a couple of hours
and watched the schools of mullet and stingrays moving up and down the shore. Also the birds
and the young ladies. Gary caught an 18 inch Pompano, I fed a few sand fleas to
something I never saw.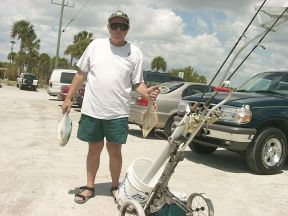 Gary Stokes with Pompano and Skate
We returned home for some escargot and to visit. I took a 5 mile ride to make sure the bicycle
was OK. Supper was roast duck and wonderful Caesar salad.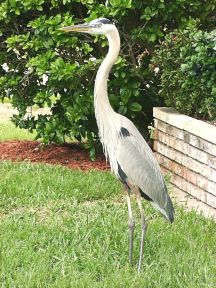 Cleo spends most of each day in my
brother's yard.


Day 3
Up at 5AM, we were on the road by 5:30. The drive to Titusville was pleasant, though we did travel
through some smoke from the continuing wild fires. We arrived on the Atlantic with plenty of time, so
we went to breakfast at the Treehouse Café in nearby Mims.
The small family run restaurant is filled floor to ceiling with antiques. The sign says "Please, due to
our antiques & unique homestyle cooking methods All small children do better at our local
McDonald's. All children's meals are $21.95. Thanks Mom!"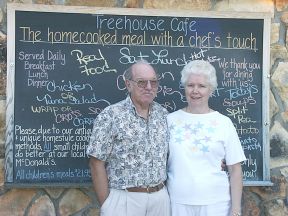 Gary & Donna Stokes
The food was a bit expensive but plentiful and good. The left side of the menu lists 69 omelets. The
right side of the menu was packed with other breakfast items. I had a huge omelet, fried potatoes and
an enormous homemade biscuit with applebutter.
Donna & Gary dropped me off at the Riverside motel, across the street from the high school
where Bike Florida was holding registration. I registered in the marginal but inexpensive motel and
with Bike Florida. Just before 11AM I crossed back over to the other side of the motel where everyone
was assembling for the launch of the Delta Rocket with Mars Odyssey. Joe and Gay Haldeman
were already waiting by the water and we caught up on news while watching manatees play in the water.
The rocket was a bit of a let down. It launched from a different gantry than we expected. It was
farther away and we missed the first few seconds. I'm not sure how far away it was, but the rocket
was well in the sky before we found it.
After the launch, we went to lunch at Titusville's best known restaurant, the Dixie Crossroads.
It is known for rock shrimp (they sell more than any other restaurant anywhere), but they were
out, so we tried various other fried seafood.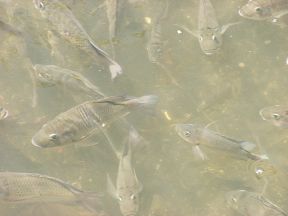 Mullet in the pools at the Dixie Crossroads
Back at the motel, we were met by Gay's sister, Wendi, and her husband Mark. They didn't
participate in Bike Florida this year, but were taking Gay and Joe's car up to Flagler Beach. They
came down on a motorcycle with their bikes mounted on a small trailer behind.
The five of us took a short afternoon bike ride out to the Kennedy Space Center and back.
I saw lots of birds and one 7-8 foot alligator. On the way out, there was a dolphin near the
causeway. On the way back a pod were playing and Gay, Wendi and I watched them for about
15 minutes. Some were chasing the mullet, others each other, and there appeared to be a
young one nursing. At times some were within 20 feet. Very nice!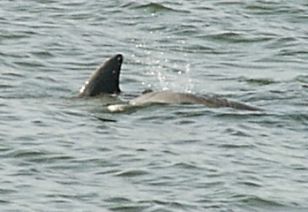 After the five of us had supper at a smokehouse along the water, Gay and I returned to the
school for a Bike Florida meeting before calling it an early night.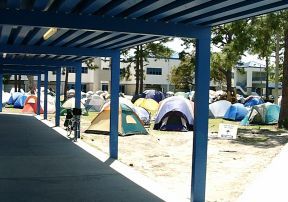 Camp at Titusville High School
2000 Bike Florida Report
Keith's Home Page Keith's bicycling page Joe Haldeman's Home Page