This weekend I flew to Detroit for Mystery God Confusion in Warren, Michigan. Confusion was the first convention that I attended (in 1985), but I moved to KC 2 months later and have never returned to the convention.

After an hour's delay in Chicago, I arrived in Detroit about 8:30PM and arrived at the Van Dyke Park Hotel and Convention Center about 9:30. There was a 15 minute delay because my name was misspelled in their computer, but I finally got a so-so room.

When I was walking across the hotel's parking lot, I noticed a wonderful food smell. I looked across the street but there was only a White Castle, so I looked at the hotel sign and saw, "Mongo's Mongolian BBQ." At first glance the restaurant looked like a loser, but the Mongolian BBQ was quite good. They had a decent selection of meats, vegetables and spices and the chef was very good. They had cashews and sliced almonds, neither of which I have seen at Mongolian before.

After dinner I hit a late panel, visited the dance (with a 9 piece swing band) and visited the parties and hospitality suite.

Saturday morning I was up by 9AM and went downtown to the North American Automobile Show. I parked on the street near the Renaissance Center and rode the elevated People mover around its loop to Cobo Hall. When I went to purchase a ticket, someone was giving away their extras, so I saved $10.

This auto show is so cool! I am not _into_ cars, but this show is as entertaining as Las Vegas. I spent most of my time getting photos at the Ford display, but walked through the rest as well. This year's neatest display was the one for Jeep, which included a water fall that could make designs & spell words, and another one that made it look as if a jeep was actually driving over a constantly changing rough terrain.

There were vehicles literally everywhere, walls, ceiling, upside down.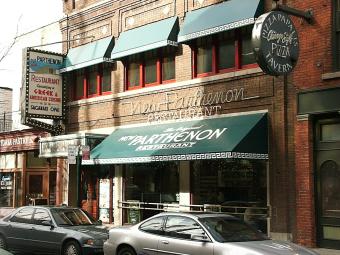 After the show, I visited Greek Town (a few blocks away). Trappers Alley has turned into a casino (the first off reservation Indian Casino in Michigan). The rest of the area is pretty much unchanged since I lived the area in the early '80s. I had lunch at the New Parthenon, fried calamari and a wonderful roast lamb sandwich with mediocre fries.
I visited one used book store (Acorn Books) on my way back to the convention hotel. They had a decent selection, but I didn't seeing anything I couldn't live without and my suitcase was already full, so I got out with no purchases.
Back at the hotel, I attended a few panels and skipped supper while I uploaded some convention photos to the web. http://www.midamericon.org/photoarchive/01confu01.htm
I had some fairly good cheesecake at the Fabulous Free Dessert Extravaganza which preceded the Guest of Honor Speeches. Sarah Zettel's was particularly entertaining, it concluded with two short dramatic recitations.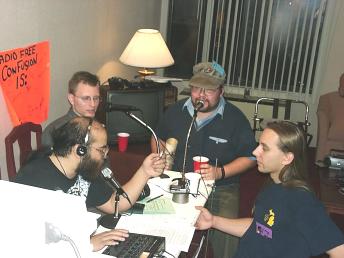 Over the weekend, I kept returning to the room which served as the studio for Radio Free Confusion. A mixture of recording, talk and readings. The in-house radio broadcast was very entertaining, but since I didn't have a radio along, I could only hear it in the studio or at one of the two other locations where the broadcast was playing to the public.
This 700-800 person convention has a different face then I have grown used too. The average age is perhaps 30. Unlike some conventions where the younger members almost run wild, the teen and 20 something fans were participating in (and running) all aspect of the convention.
Saturday night included a brief concert by a local group, at least 12 parties and another well attended dance. The coolest party was adjoining rooms with Heaven and Hell themes. The door between was marked purgatory.
Overall, it was pretty good, but being so far away, I doubt that I will return for many years. There were only a handful of people that I knew (Chad Childers, Erin McKee, Laurie Mann, Michael Pinns, Cory Doctorow, Hal Clement, David Hartwell) and no one that I spent a lengthy time with.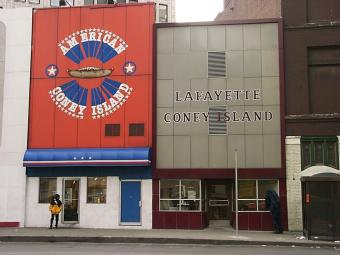 Sunday morning I was up in time to put up some more convention photos, than packed and headed downtown for lunch at Lafayette and American Coney Island before returning to the airport. I can't visit Detroit without getting a Coney Island fix!