Grand Canyon Hermit Road
July 15, 2013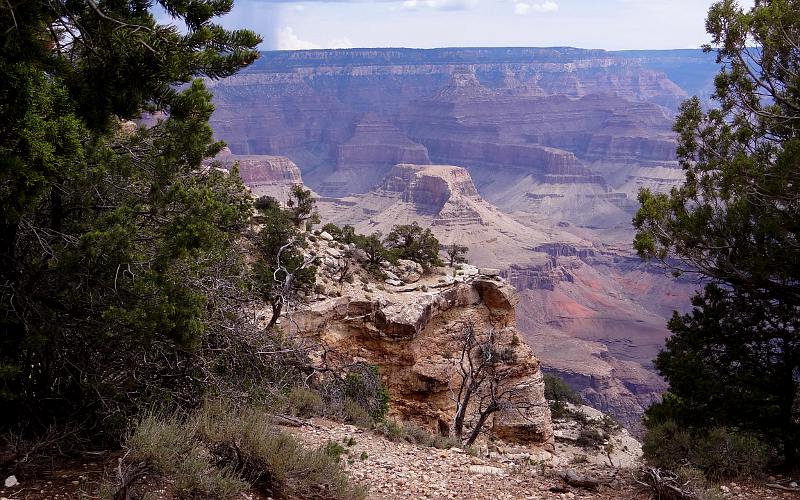 The Grand Canyon from the trail between Maricopa Point and Powell Point
Monday - day 5 (continued)
I wanted to explore the historic buildings and galleries along the section of the rim at Grand Canyon Village near the hotel, but Nancy had walked the area earlier in the morning and didn't want to spend more time along that area. Neither Linda or Mary offered an opinion, so after we checked out of El Tovar, we moved the car to a spot a little closer to the shuttle for Hermit Road.
I wish we could have had a do over for this morning. Mary were at cross purposes all morning. I blame it on our all being tired and spending more time together than we are used to spending.
There was a long line waiting for the shuttle bus, but we were able to squeeze onto the second one to come along. Mary & Linda consulted the guide and selected Maricopa Point for our first stop. After we took photos, Linda thought she was up to hiking to the next point. There were fewer places to stop and view the canyon than we had hoped for, but she did well enough that we went on, hiking to yet another point and shuttle stop.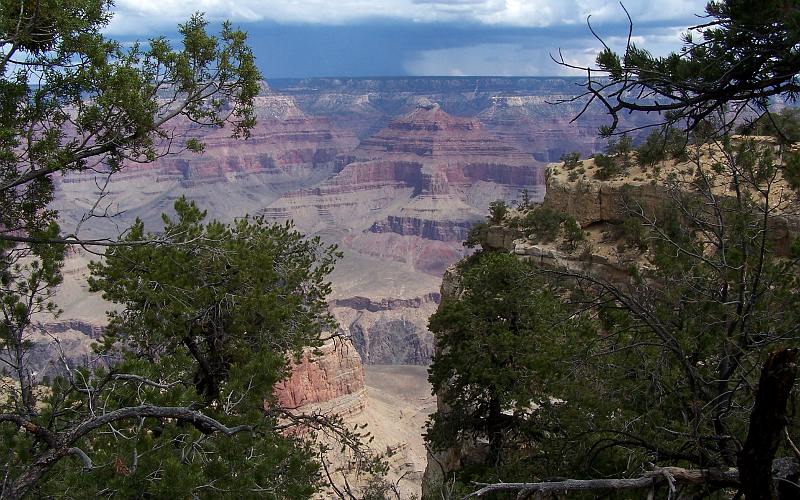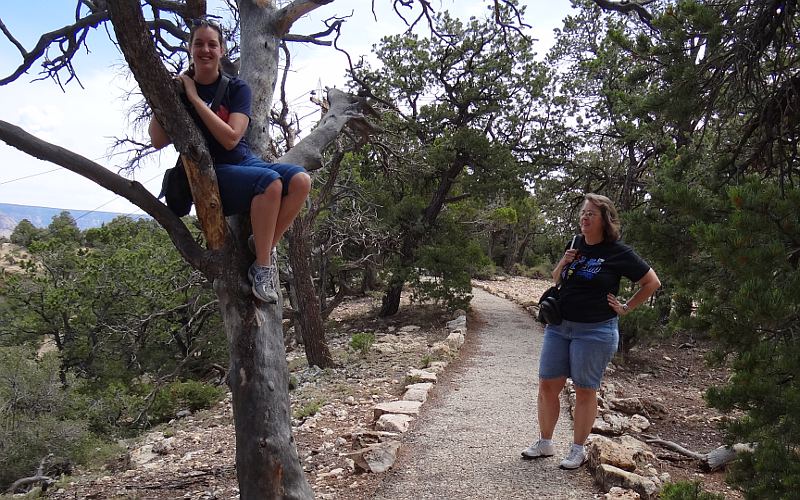 Mary and Linda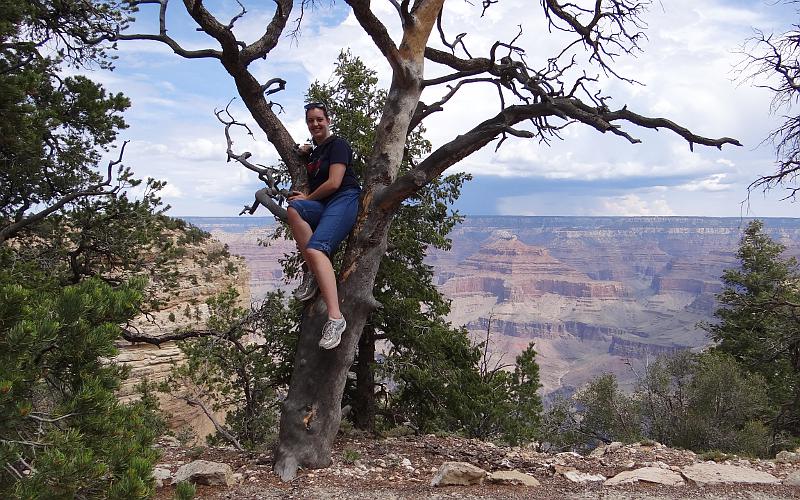 Mary is up a tree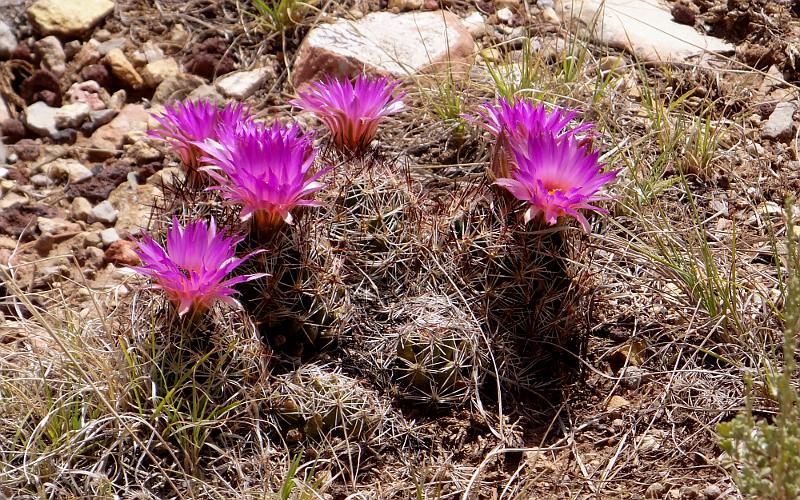 Beehive Cactus (Escobaria vivipara)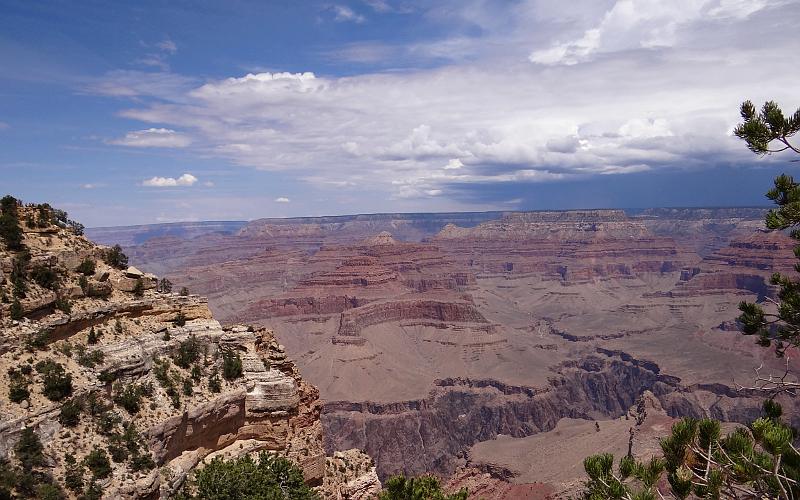 Mary said that this spot between Powell Point and Mohave Point, which we had almost to ourselves, was her favorite.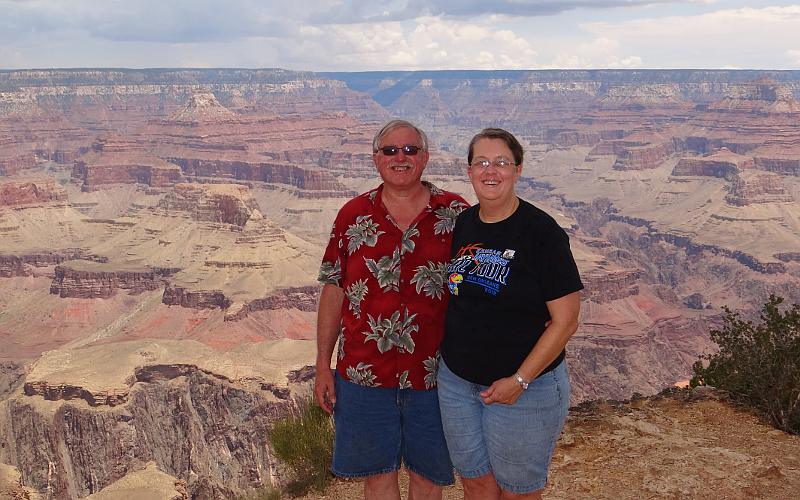 Linda and Keith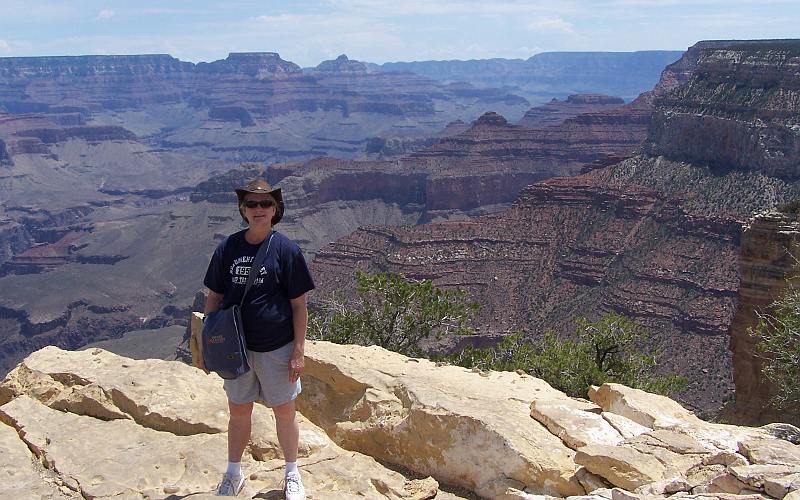 Nancy standing tall over the Grand Canyon
It began sprinkling as we walked along the rim trail, but it wasn't too bad until we arrived at Hopi Point. The rain started really coming down and we tried sheltering from the rain, but weren't very successful under the sparse vegetation. The shuttle stop was a short distance away and we decided to run for it.
There was a bus waiting at the stop, but it was serving as a shelter from lightning and totally full so no more people could board. It was too packed for legal driving and did not move. We huddled outside in the bus, getting soaked and cold from the now cool wind. After 10 or 15 minutes, a couple of people left the bus and the four of us managed to just barely squeeze on. By just barely, I mean that not all of me was out of the rain. At least it was warmer. Another bus pulled up behind the first one and our driver asked some of us to move back. This second bus already had quite a few people on it and it was soon also overfilled. We were now standing in the middle of the second bus, getting cold again, as the AC was on in this one.
Finally a third bus arrived and enough of the people moved to that one, that the buses could start running again. Our bus continued all the way to the far end of the route at Hermits Rest. It was barely sprinkling at this end of Hermit Road and the area hasn't had heavy rain, so we decided to get off. There was shelter, restrooms, a gift shop and a snack bar. We made a light lunch out of snacks, somewhat dried our clothes, and a couple of us bought T-shirts to replace the soaked ones being worn.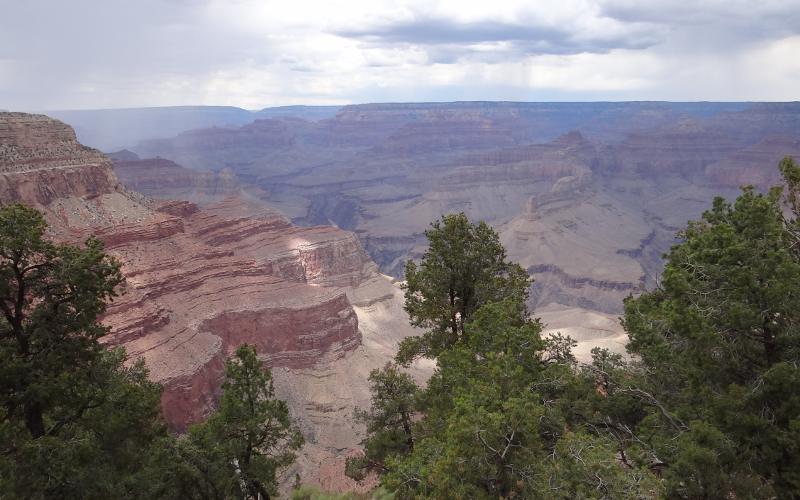 The view from near the shuttle stop at Hermits Rest
We were just about to move on and hike more of the rim, when the rain started coming down hard. We gave up at this location and took the next bus back.
As we rode back, the rain started letting up again and when the bus got to Mohave Point, we were ready to give it one more try. When we got up to get off, the driver refused to let us off, saying that because of lightning, the stop had been closed for a couple of hours and addressing us like we were stupid and should have known all about it.