Long 4th of
July Weekend
(guest trip report)

This is a guest trip report from my wife, Linda, borrowed from her blog. Linda has a rare gene mutation (CDH1) which made prophylactic total gastrectomy (preventative total removal of her stomach) necessary in February of 2017. To learn more about her journey, visit How Breast Cancer Saved My Life: CDH1 – The gene nobody's heard of.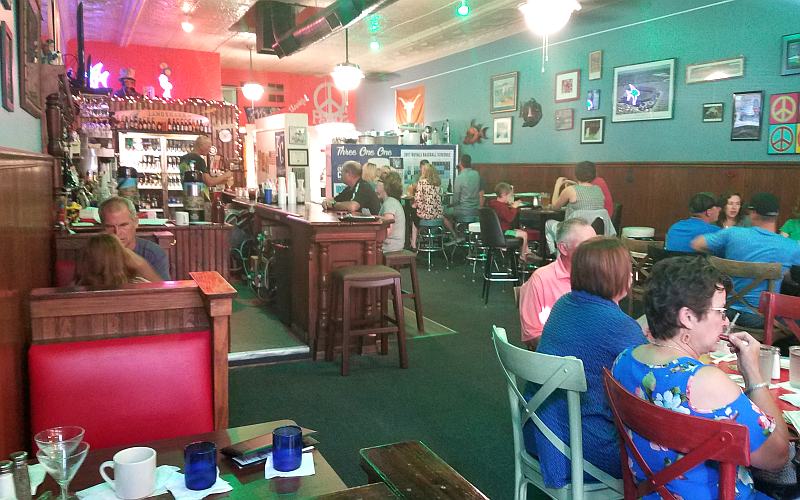 Three One One Bar and Grill - Abilene, Kansas
My husband, Keith, has a website, kansastravel.org, where he goes around the state of Kansas and takes pictures and posts about everything from museums to waterfalls to zoos to locally owned restaurants and all sorts of stuff. Basically, his belief is every community, regardless how small, has something. In the 9 years we have been together, we have traveled Kansas together. Often times he has taken me to things I've never seen or heard of as a lifelong Kansan. Sometimes I can fill him in on details he doesn't know because I grew up here.
With the focus on my surgery, we obviously haven't done much exploring Kansas this year. Living on the east side of the state, it is particularly hard to get to the western edge very often. You pretty much need a 3 day weekend or more. Since the 4th was on a Tuesday, he suggested we take Monday off and make it a 4 day weekend and head west. I was reluctant at first because I still wasn't sure about my energy level, but ended up deciding to go ahead as long as he was willing to accept my criteria: don't push me too hard and don't force me to get up too early in the morning. Keith usually does all the driving so I figured I should be able to easily relax in the car. Then of course I knew meals would be a little bit of challenge because the restaurants would be chosen based on what he wanted to try for his website, not what I thought would have the best options for me, but I'm getting pretty good about finding something that works wherever we are.
When Keith figured out where he wanted to have supper Friday night and how far west we wanted to get based on July 4 weekend events, it was decided we should leave work early to hit the road around 4pm on Friday. It was closer to 4:30 before we got gone. I had packed snacks (string cheese, pretzels, nuts and protein bars). I hadn't had my afternoon snack yet, so ate string cheese and pretzels as we left Kansas City. We also stopped to pick up a $1 iced tea at McDonald's. Keith likes me to read to him in the car while we're traveling, but I don't like to read novels, so after finishing my snack, I read to him from "100 Things Kansas Fans Should Know & Do Before They Die" by Ken Davis.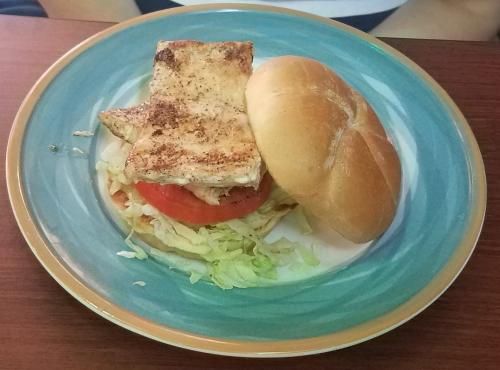 We reached our dinner destination, Three One One in Abilene, just before 6:30pm. Since surgery, I have established a general rule for myself that I try to keep my restaurant meals under $10 unless it is something that I plan on taking home and getting several other meals out of. I knew that for this trip, I would be forced to make exceptions to that rule. One of the things this restaurant is known for is grilled Mahi-Mahi, so I ordered the Mahi-Mahi sandwich. It came with two large filets on a bun and a side of house made chips. I ate most of one filet, leaving behind the bun. I was also tempted by the slice of very ripe, very good tomato. I've only had a little raw tomato, but the skin peeled off easily and I ate most of it. It was very delicious. I only had a few of the chips. My husband had a hamburger and ate my second Mahi-Mahi filet. Since we're experiencing this for the website, and the restaurant is known for their key lime pie, we had to try a piece. I only ate one or two bites, but it was pretty good.
After dinner, we drove on to WaKeeney where we spent the night. There was a cattle drive as part of July 4 festivities near Goodland at 10am Mountain Time Saturday morning. Keith really wanted to do it, thus the reason for pushing so far Friday night. Before leaving home, I had agreed to being on the road by 9am Central Time Saturday morning. That had me getting up a little earlier than I would prefer, but I was willing to do it for one day of our weekend. The motel had a very basic breakfast, but nothing really appealed to me and the only thing with protein was hard boiled eggs which I don't like. I had brought with me Special K Protein cereal for just an occasion and had my cereal with their milk for breakfast.
On the way to Goodland, I read the first chapter of my mother's 1936 Kansas History textbook, Four Centuries in Kansas. We reached Goodland for the cattle drive in plenty of time. We sat in a field in lawn chairs while a woman in period dress explained about life in the 1800s and what we were getting ready to see. Some of the information she shared seemed to be taken from the book I had been reading such as stories about the millions of buffalo that once roamed the land. About 6 cowboys brought the cattle in to the water hole near where we were sitting. The lead cowboy was in character as he talked about bringing the cattle through on their way to Wyoming and the hardships along the way. After the reenactment, we watched a real cattle drive down the street as they moved the cattle from this field to another one. There was a herd of buffalo in the field next to where they were moving the cattle which we also got to photograph.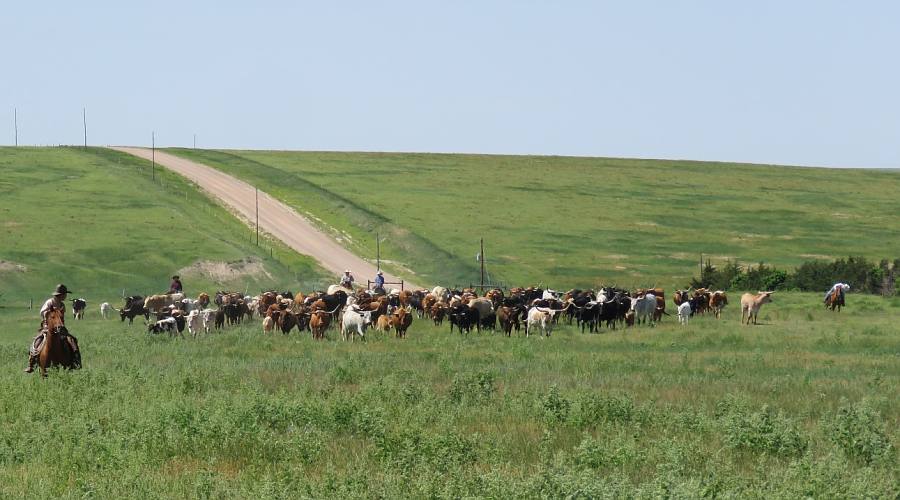 Great Western Cattle Drive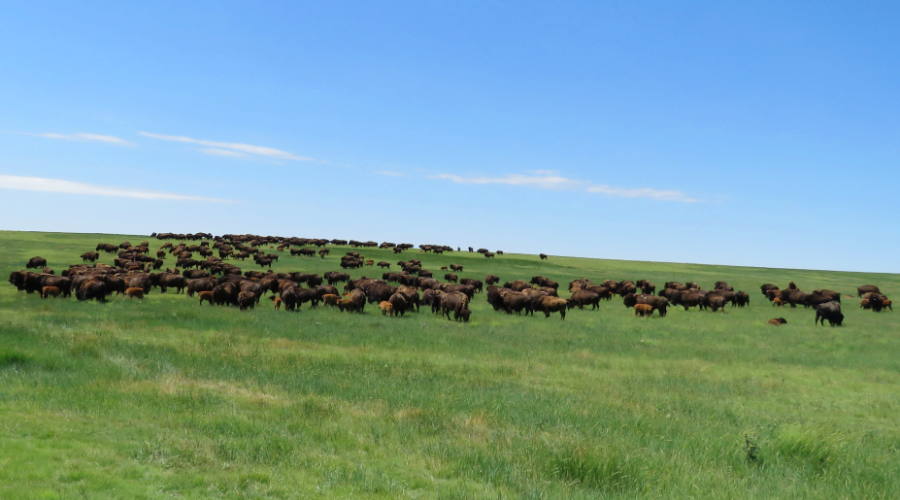 After the cattle drive, we went on into Goodland for lunch at the Butterfly Cafe at the local Goodland airport. I got a grilled chicken sandwich with a salad and mashed potatoes. This was my first try at a salad, but I have had a little bit of tomato and lettuce on a sandwich, so decided I was good to give it a try. I only had a few bites, but did OK. Again, I just ate the grilled chicken, not the bread. I can eat bread OK, but just don't want to fill up on it. This was another place known for their pie, so we got a slice of apple pie to share. I had 2 or 3 bites.
After lunch, we went to a local bar to find the owner to talk to him about a gas station he had restored that we had stumbled across on a previous trip. When we asked about him at the bar we were told he was grilling in the kitchen, but "stick your head in" and see if he can talk to you. So Keith stood in the kitchen doorway interviewing Rod as he kept cooking. I waited at the bar and ended up having a very nice chat with a family sitting nearby. One of the women at the table was best friends with Rod's wife and she ended up texting her to come down so we could see the inside of a house Rod had restored. Less than 5 minutes later, the wife was at the bar, relieving her husband in the kitchen, so he could go show us the house. It was an amazing house that had originally been a doctor's home and office. He had done lots of work inside and outside, as well as to the horse barn behind the house. In the process, he had discovered all sorts of the doctor's equipment and other medical supplies, which he has nicely on display within the house. Fully furnished, if he didn't find it in the house, he filled in with other antiques he already owned. It was nicer than many museums, but was a passion of love and is not open to the public except by invitation.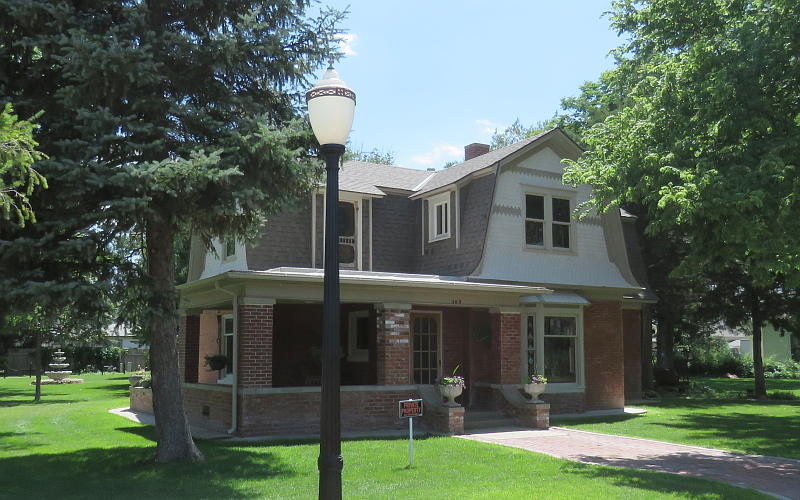 Gulick-Cooper House - Goodland, Kansas
From here we drove to Lake Scott State Park, photographing anything of interest along the way, including small towns, murals, abandoned buildings, landscapes, animals, whatever. We drove around the lake taking more photographs and then on down to Scott City. We had a few minutes before our dinner reservation so were driving around when we noticed an old car at the gas pumps of another restored gas station we had photographed on a previous trip. There were two men talking and we thought there was a good chance one was the owner. Sure enough, after one left, the other man went inside, so we stopped and Keith was able to get more information about the station.
We had supper at the Majestic Theater Restaurant, a very elegant restaurant in an old theater. The menu was somewhat limited, but I ordered grilled shrimp (was way over my $10 limit with this meal). It came with a salad and bread. I was enjoying my salad with delicious blue cheese dressing, along with the bread, but decided I needed to stop or I wouldn't be able to have any of the main meal. I don't know if I ate too much or if there was too long of a break before the entree came or what, but by the time my meal came, I wasn't feeling great. I took one bite of the grilled shrimp and was chewing and chewing, but couldn't make myself swallow. I was finally able to swallow that one bite, but knew that was a sign I shouldn't eat anymore. I felt bad not eating any of this nice meal at a nice restaurant. At the end of the meal, I just politely explained to the server that the food was great, but I wasn't feeling well, and asked for a box. I didn't go into any detail about why I couldn't eat more.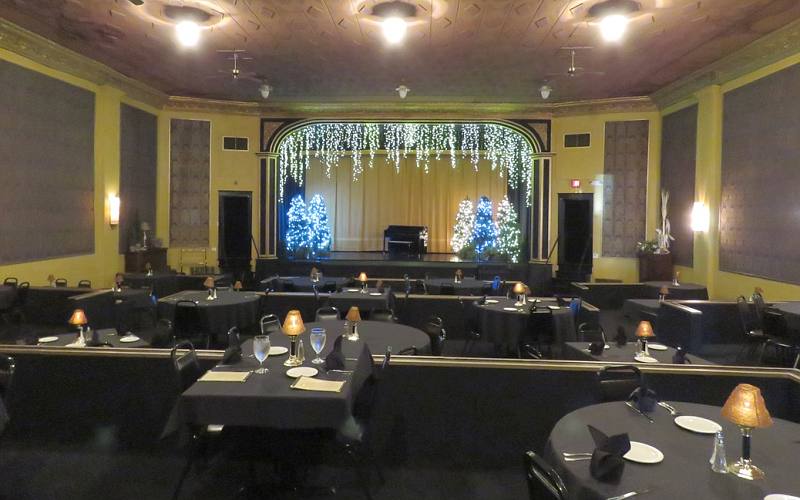 Majestic Theater Restaurant - Scott City, Kansas
After supper, we drove on down to Garden City where we spent the night.
Trip Page Two
Keith's other trips Mighty Mac Home