Long 4th of July
Weekend Page 2
(guest trip report)

Page One June 30 - July 3, 2017

This is a Guest trip report from my wife, Linda, borrowed from her blog. Linda has a rare gene mutation (CDH1) which made prophylactic total gastrectomy (preventative total removal of her stomach) necessary in February of 2017. To learn more about her journey, visit How Breast Cancer Saved My Life: CDH1 – The gene nobody's heard of.

Gray County Courthouse & Veterans Memorial - Cimarron, Kansas
My Keith let me sleep in Sunday morning. I got up just in time to do the breakfast buffet which was included in the room, but was a full buffet instead of the continental breakfast at many motels. I had a few breakfast potatoes, scrambled eggs, 1 slice of bacon and a few chunks of watermelon. Before we left town, we took various photos in Garden City, including at the cemetery and of the Courthouse. Then it was on to Ingalls Cafe in Ingalls, Kansas (a town of 300) for lunch. I ordered the fried catfish dinner. It again came with salad. I only had a couple of bites this time, but made Keith eat most of it. Since he was only getting a sandwich, his didn't come with salad. I got two huge catfish filets, mashed potatoes and gravy, corn and a roll. I don't think I ate any of the corn and only a bite of the roll. I ate most of one filet, eating out the center and leaving the more crispy edge behind, as well as a little potatoes.
From Ingalls we headed on through Cimarron and ultimately to Dodge City continuing to photograph whatever struck our fancy along the way, including another courthouse, churches, an old hotel and more. In Dodge City, we toured the Mueller-Schmidt House, a stone home built in 1881, and the Liberty Garden, a memorial to 9-11, among other sites. We went from Dodge City up through Ness City and other small towns, eventually returning to WaKeeney. Along the way, we photographed more courthouses, churches, murals and other buildings.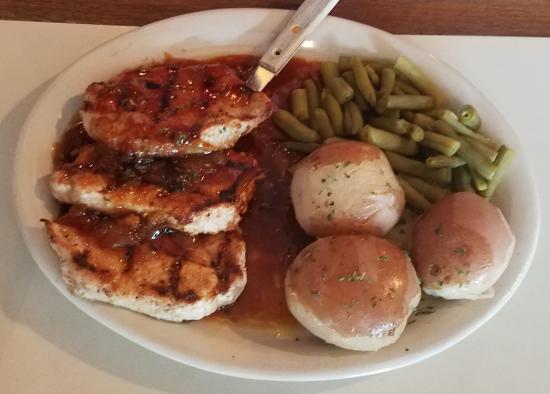 Supper was at the Western Kansas Saloon and Grill, housed in a former hardware store, in WaKeeney. I had the pork loin special with new potatoes and green beans. There were 3 pork loins, I ate most of one. Keith sampled part of one and had the rest, along with my grilled shrimp from the previous night, for breakfast the next morning. I only ate a little bit of the new potatoes and green beans. For one, the potatoes were very large for new potatoes and not quite as done as I would have preferred.
We stayed at the same motel that we had stayed at Friday night. The continental breakfast was only open till 9am, but Keith brought a bowl of milk to the room so I could add my protein cereal and didn't have to get up that early. Monday is the one day the local historical society museum is not open, but Keith had arranged for someone to meet us there at 10am. He gave me the option of sleeping even later, but I did get up to go. I didn't allow quite enough time to get ready, and we were coming back to the room to check out after our appointment, so I waited to eat breakfast after our visit to the museum. When I took the milk out of the refrigerator, I found the top had frozen over (as had the water bottles in the refrigerator...I think the temperature was turned down a little too low). I tried stirring the milk, but couldn't get rid of the ice crystals, so gave up in frustration. Thought about going across the street to the convenience store to buy milk, but it was nearing the 11am checkout and I didn't want to try to eat a bowl of cereal in the car. I started eating the dry cereal out of the box and discovered it actually didn't taste that bad, so ate that for breakfast in the car.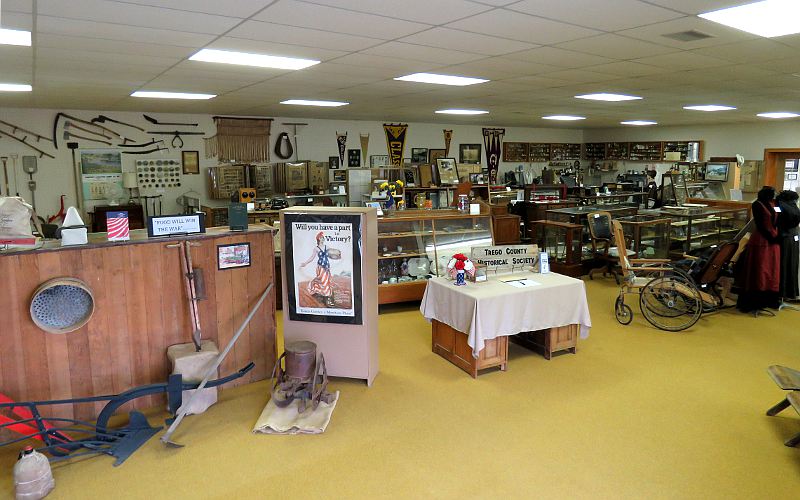 Trego County Historical Society Museum - WaKeeney, Kansas
We headed toward Hays for lunch at Al's Chickenette, stopping along the way in Ellis for photos at Memorial Park, Mount Hope Cemetery, and an old truss bridge. For lunch, Keith ordered a gizzard appetizer and we shared a 2 piece chicken dinner that came with two sides, so we got one for me and one for Keith. It was another place known for pies, so I had a couple of bites of peach pie.
After lunch, we photographed a church in Catharine and the remains of a church near Emmeram. We tried to photograph two multi-arch stone bridges, but couldn't find one, even though we followed exact directions, and gave up on the other when we found the road being grated and couldn't figure out how we would get around the grater.
We made it to Abilene about 5:00 and checked into our Bed & Breakfast. I found it difficult to answer the question about allergies or food restrictions. I went ahead and told my story, received the usual shocked response, and we agreed on smaller portions, protein and not much sweets and agreement that she wouldn't be offended if I didn't eat something or very much. I had prepared myself to be up front about my surgery as breakfast at a B & B is totally different than at a standard motel. I hadn't thought about the fact that also meant getting up earlier as we were given the choice between eating at 8:30 or 9:00. I quickly chose 9 and silently wished it were 9:30 or 10.
We had been in the room for less than 15 minutes when my cell phone rang. It was my oldest daughter, Jesi, "I'm about to ruin your vacation." Turns out she was in the ER with appendicitis. She had went to her primary care doctor who had run a test, diagnosed appendicitis and sent her to the hospital emergency room. Since she hadn't seen the ER doctor and we were over 2 hours away, we decided to wait till we had more information before deciding to head home. We went to supper in Detroit, Kansas. I had a grilled cheese and bacon sandwich with french fries. I didn't care for the fries, but really enjoyed the sandwich and ate most of it. After supper, we went on to Chapman to do some more photography of a cemetery and church memorial.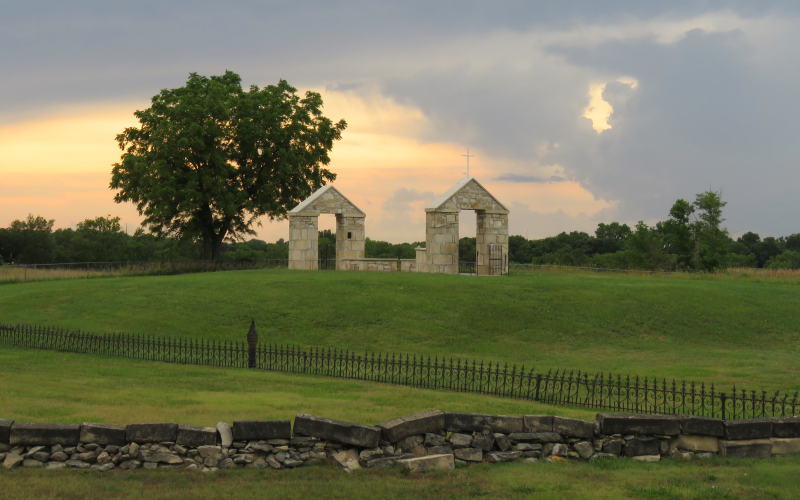 St. Patrick's Mission Church Memorial - Chapman, Kansas
By this time, Jesi still didn't know whether they were going to do surgery Monday night or Tuesday morning (on the 4th), but I decided I wanted to go ahead and head home. Basically if they did surgery Monday night, we would be there when she got out of surgery. If they did it Tuesday morning, we would be there before surgery. If we waited to head home Tuesday morning, we wouldn't be there either way. So we headed back to the B & B, picked up our stuff, and headed home. We drove straight to the hospital, getting there just before 11:00. We visited for awhile and got home about midnight. The next morning, we headed to the hospital about 9:00, having been told surgery would be between 10:00 and 10:30, it ended up not being until after 11:30, but all went well. Not the ending to the trip we were expecting, but that's how life as a mother goes. Because we started at the far western part of the state and were working our way back east, the parts that we intended to do on Tuesday that we didn't get to do, can easily be done in a normal weekend trip, and we didn't really miss out on that much.