Kingston Kitchen at the Village Inn on Mackinac Island, Michigan was only 20 days old, when I first topped to check the menu by the street in late May 2019. I was surprised and delighted to find that the Village Inn had a completely new menu, with both familiar & unfamiliar Jamaican dishes with a northern Michigan influence.

I was headed elsewhere, but returned for supper, where I learned that "Kingston Kitchen" was now part of the name, and that there was a new Chef/Owner, Jamaican born, Shawn Fearon. Shawn's culinary career began on Mackinac Island twenty years earlier and two years earlier he opened Kingston Kitchen in Okemos, Michigan. This new restaurant is his second location and the Okemos location has closed for a few months to allow him to give full attention to this start up and presumably start the restaurant with experienced staff.

That first meal was so good, that I returned for lunch the next day, wanting to try more dishes. The menu has many offerings which look appealing. Being a spicy food fan, so far I have stayed toward the spicy portion of the menu, but I look forward to trying the full spectrum in time. There are also dishes for those who prefer milder spices. Chef Shawn knows that many Americans are not used to the fiery spices used in some Jamaican dishes.

We have dined at Kingston Kitchen many times now and were pleased with our experience every time.

Gourmet hamburgers and Planked Whitefish with Duchess potatoes are available for the less adventurous eaters. There are also gluten free options and eight vegetarian entrees, things which can be hard to find in northern Michigan.

The service is attentive and friendly. The atmosphere seems a little casual for the price point. I don't think it is too expensive for the quality of food, but I would like to see more attention given to presentation. There is a different menu for winter with slightly lower prices.

See the discussion and photos of the individual dishes below.

Mackinac Island

Fort Mackinac Post Cemetery

Mackinac Island Carriage Tours

Social distanced main dining area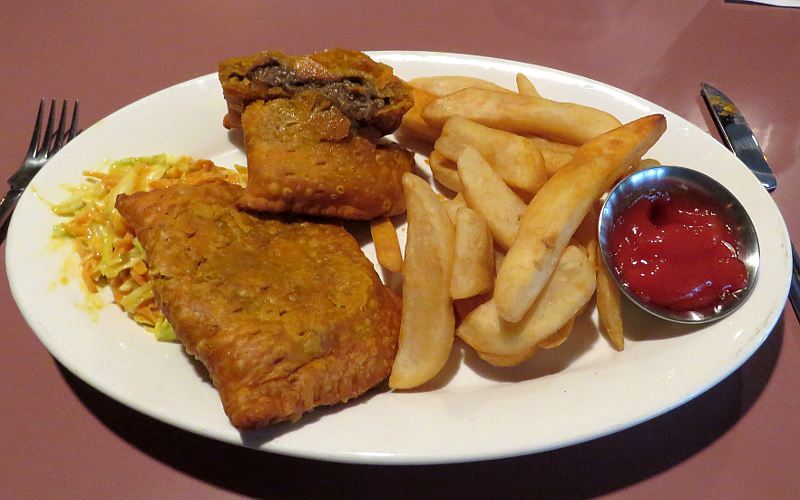 Spicy Beef Jamaican Patty
The Jamaican Patty is a traditional flaked pastry, filled with your choice of four fillings (including a vegetarian option). I had the spicy beef version, and the crisp, buttery pastry was stuffed with seasoned ground beef. It came with Jamaican slaw and French fries. The slaw was OK, but not really my dish. The fries were thick cut, slightly crispy on the outside, while tender inside.


Trelawny Trifecta - sampler platter of any 3 appetizers ($28)
Six Cheese Ackee Dip, Coconut Shrimp, Jerk Wings

My favorite dish so far has been the Jerk Wings served with avocado ranch dressing and Jamaican slaw. It is available mild or hot and in traditional jerk or guava jerk. I had the hot traditional jerk, which had a complex flavor and a nice level of heat. The skin was crisp, the sauce was spicy and the meat was flavorful and juicy. It really didn't need a dipping sauce, but the avocado ranch dressing complimented it nicely.

My hands were sticky from eating this chicken and I really wanted to lick my fingers, but slipped off to wash my hands before the entree came.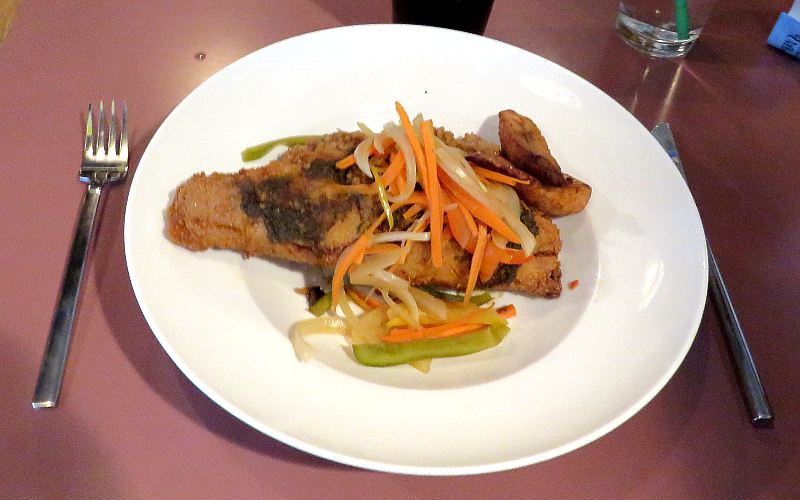 Escovitch Fish
I tried the Escovitch Fish because it is one of the spiciest dishes on the menu and a dish I had never had before. The large, seasoned, breaded red snapper fillet was topped with zesty pickled vegetables. It is probably too hot for most diners, so order with care. The spice was almost all in the crispy coating, so it could be avoided if it is a hotter than someone wanted. The fish comes with rice & beans and fried plantains. The rice & beans were quite good, but the plantains had less taste than I expected.

This dish left me wanting to try the Escovitch Whitefish Sandwich with zesty pickled vegetables, melted Swiss cheese and avocado aioli on Q-Grain bread.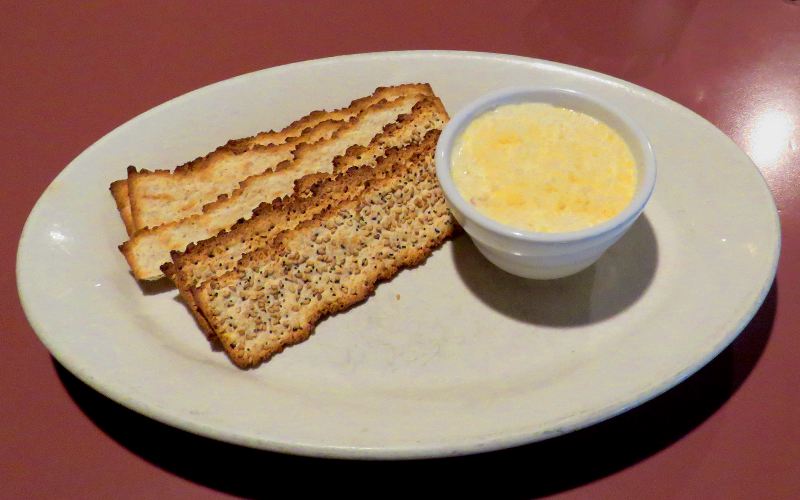 Twisted Smoked Whitefish Spread
The Twisted Smoked Whitefish Dip is an interesting fusion of smoked Mackinac whitefish with melted jerky cream cheese. It is richer and a little less fishy than most smoked whitefish spreads in the region. While I didn't notice much heat while eating the dip, there was a little warmth in the finish.


Yard Man Ribs - Jerk BBQ Ribs with fries with fries & slaw (1/2 serving)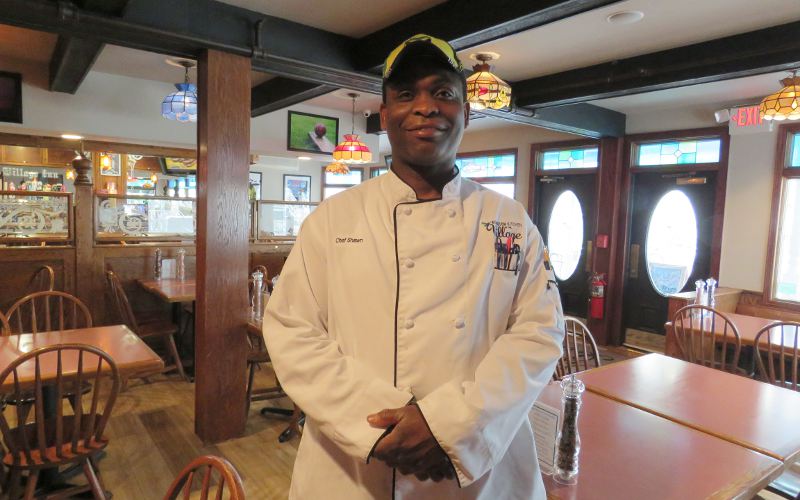 Chef/Owner Shawn Fearon
I introduced myself to the Chef at the end of my second meal. Shawn Fearon grew up in Kingston, Jamaica and first came to the United States as part of a temporary work program which placed him on Mackinac Island. He returned to the Island for many years, eventually working as the executive chef of a year around Mackinac Island restaurant. He likes winter!

Along the way, Chef Shawn was certified as a sous chef by HEART College of Hospitality Services in Jamaica. Before opening his first restaurant in Okemos, he also worked at restaurants in Florida and Jackson, Michigan.

In 2021 we had a chance to dine here again in June when a staff shortage made service suffer a little, but everyone in the restaurant worked hard to cover for each other and do as well as they could. I had the Caribbean Classic (Sautéed chicken, shrimp, onions, tri-color peppers tossed in a zesty boom boom sauce and served with seasonal vegetables and red beans & rice) accompanied with ginger beer (soft drink), while Linda had a Tomahawk Pork Chop (Berkshire heritage breed tomahawk cut pork chop topped with caramelized walnuts, mango & liquid gold sauce and served with seasonal vegetables and homemade smashed potatoes).

I loved the flavor of the spicy boom boom sauce and how it went with both the entree and the red beans and rice. After more than 70 meals over the years on Mackinac Island I think I enjoyed this dish the most! Linda's pork chop was also great and her leftovers made a nice breakfast the next morning. Linda had requested that the liquid gold sauce be left off. While I am sure she enjoyed the dish much more without the house made mustard based sauce, I suspect that I would have found it to be heavenly.


Tomahawk Pork Chop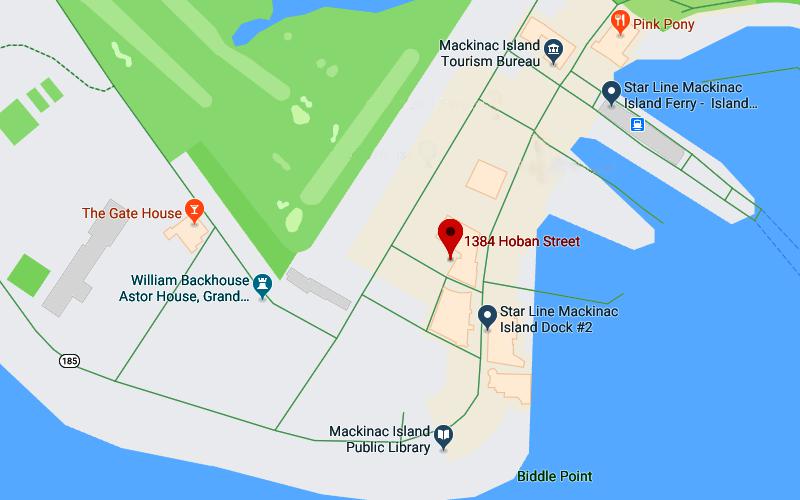 Kingston Kitchen at the Village Inn Map - 1384 Hoban Street, Mackinac Island, Michigan


Copyright 2019-2023 by Keith Stokes. These photos may not be reproduced without written permission. .