The Mackinac Bridge is the one of the world's most beautiful bridges and the longest suspension bridge in the Americas, with a total length of 8,614 feet suspended. It is currently the third longest suspension bridge in the world

Much of the beauty comes from the setting at the Straits of Mackinac. The Straits link Lake Michigan and Lake Huron. The 5 mile long Mackinac Bridge (Big Mac) links Michigan's Lower and Upper peninsulas.

Ground was broken to build the Mackinac Bridge on May 7, 1954 and the bridge opened to the public (and the ferries were shut down) on November 1, 1957.

Today the Mighty Mac also unites the communities of Mackinaw City and St. Ignace, Michigan. During the early years, the passenger car fare of $7.50 round trip was a day's wages and casual travel was minimal. The lower fares of the last 25 years was low enough that the communities very slowly grew more united. Today, the fare has crept back up to $7 round trip, but there is a discount for commuters.

At the north end of the Bridge is Bridge View Park and the nearby Father Marquette Memorial. The Memorial is open only briefly during the summer.

At the south end is Fort Michilimackinac State Historic Park. The park entrance is actually underneath the Bridge. Each Memorial Day Weekend, the residents of Mackinaw City reenact the history of the 18th Century British French and Native American community. The Fort is open from early May until early October.

Since 2004, the Old Mackinaw Point Lighthouse has been opened to the public.


Colonial Fort Michilimackinac - costumed interpreters perform crafts and fire muskets and
cannons while archeologists work on the North America's longest running "dig."


Building the Bridge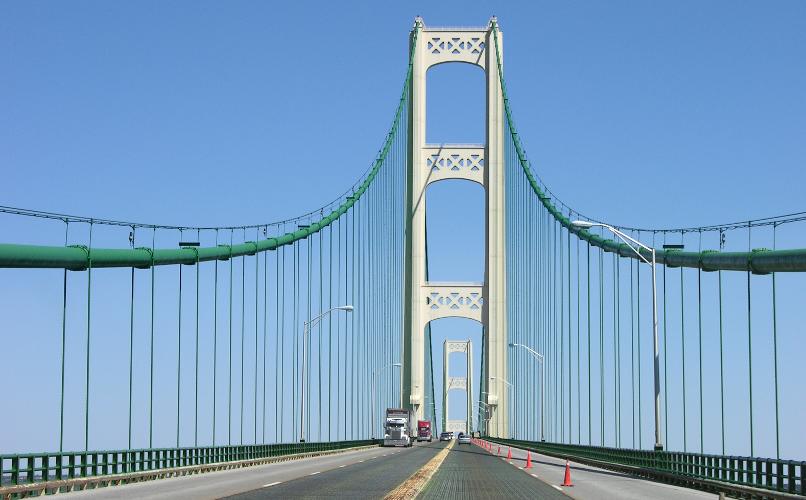 The main bridge cables are made from 42,000 Miles of wire weighting 11,840 Tons.
The towers reach 554 feet above the water surface and 210 feet beneath the surface to bedrock.
To accommodate temperature changes, high winds and changes of weight on the Mackinac Bridge,. The deck can move right or left as much as 35 feet at the center span. Normal movement is much less, and not obvious to vehicles crossing the bridge. 31 expansion joints allow movement at the length as segments change with the temperature.
On Labor Day morning, two of the lanes are closed to traffic and 50-80,000 people, led by the Governor of Michigan, walk over the bridge. Normally bicycles are not allowed to ride across but the Big Mac Shoreline tour held in June and September includes a trip over the bridge.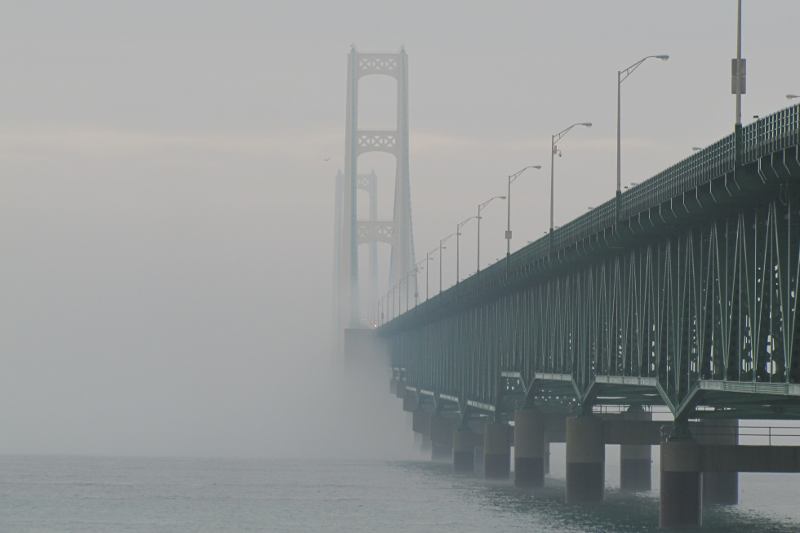 Thid was the most that the fog ever lifted on this early April 2011 morning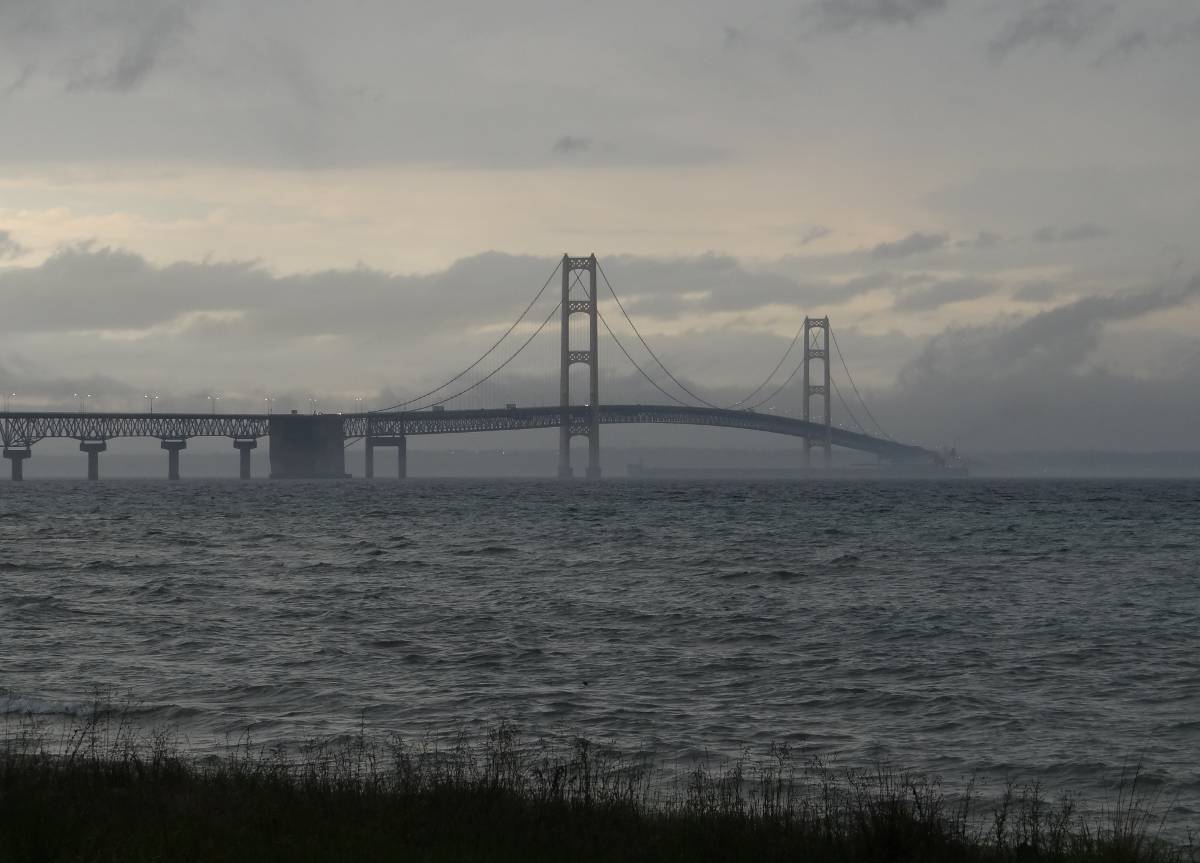 A freighter passing under the Mackinac Bridge following an early evening thunder storm in 2012
copyright 1997-2017 by Keith Stokes. These photos may not be reproduced without written permission.