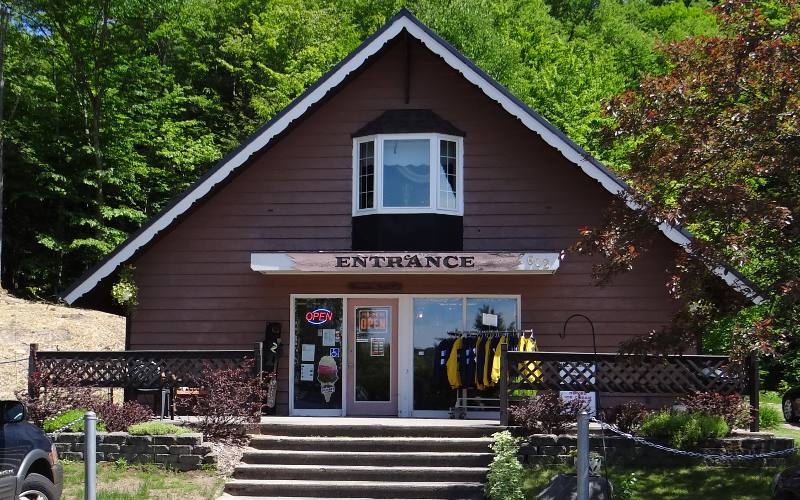 Horseshoe Falls Gift Shop
Thursday (continued)
We went on to Horseshoe Falls where there is a $6 admission and you enter the grounds through a modest gift shop. They have made an effort to make the attraction more than just the falls, adding a trout pond and landscaping the walkway to the falls with plants and some signs describing them. I think a $3 fee would be about the right, but then compared to the approaches to Tannery & Memorial Falls, they have done quite a bit. Horseshoe Falls is open from mid May until early October.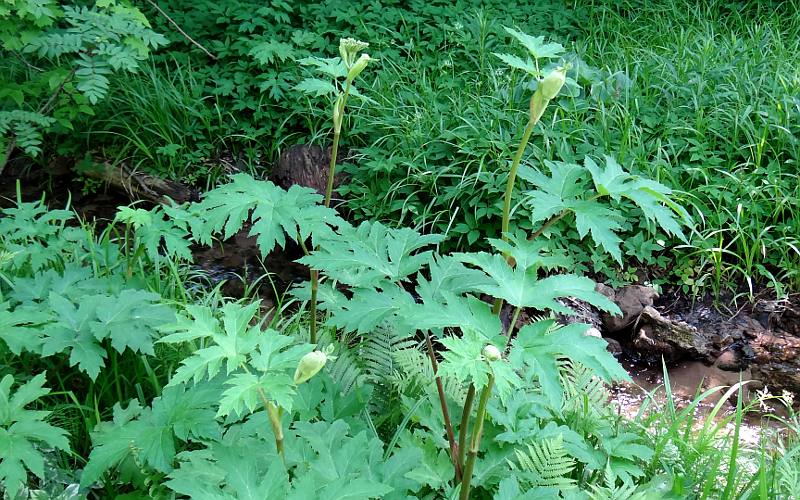 We learned from the signs that this plant which we had seen several times is cow parsnip (Heracleum maximum)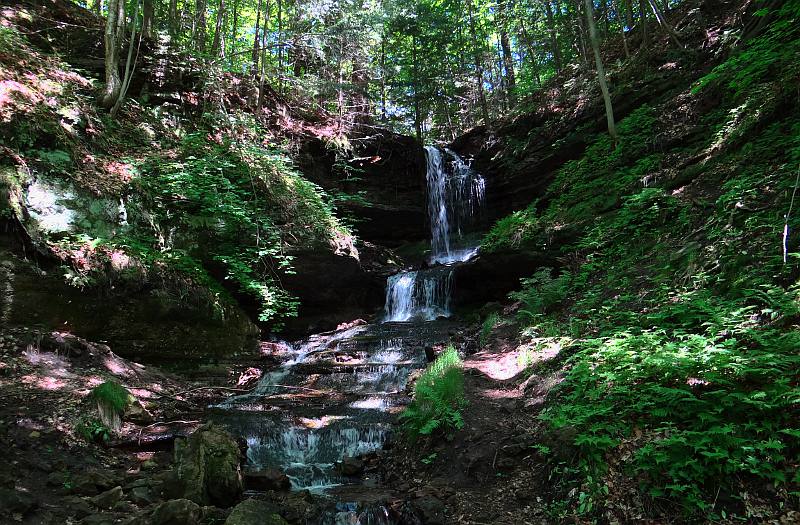 Horseshoe Falls is about 30' tall
Munising waterfall is the most commonly seen one, Alger Falls is right on the highway, south of town at the intersection of M-28 and M-94. It can be seen from your car.

Alger Falls is about 20' tall
Wagner Falls is only about a quarter mile on up highway M-94. The parking is next to the highway, on both sides on a curve. The falls is part of the small (22 acre) Wagner Falls State Park. There is a short boardwalk and a few steps leading to the falls. Other than Alger Falls this is about the easiest waterfall to access in the Munising area and had the largest water flow of any which we visited.
Some vacationers from Missouri saw our University of Kansas T-shirts and there was some minor banter. They were on a long road trip which had started in Minnesota and they were continuing east in the UP and down through Michigan's Lower Peninsula.
Wagner Falls and Wagner Creek are named for the Wagner family who homesteaded this location in 1895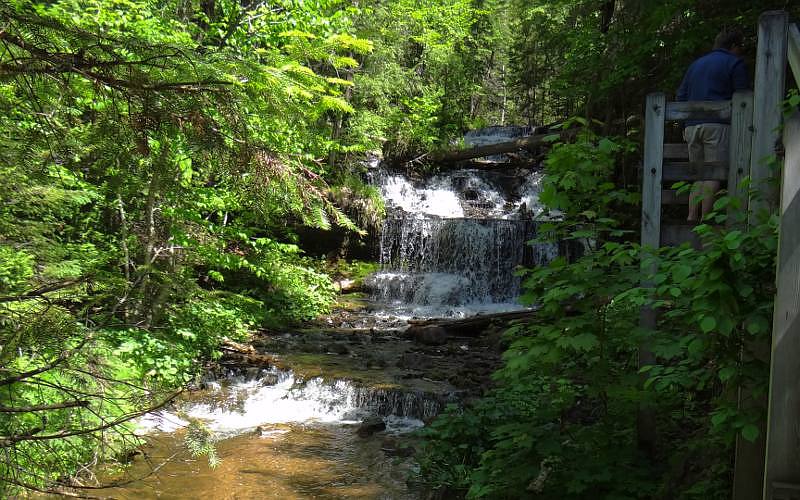 Wagner Falls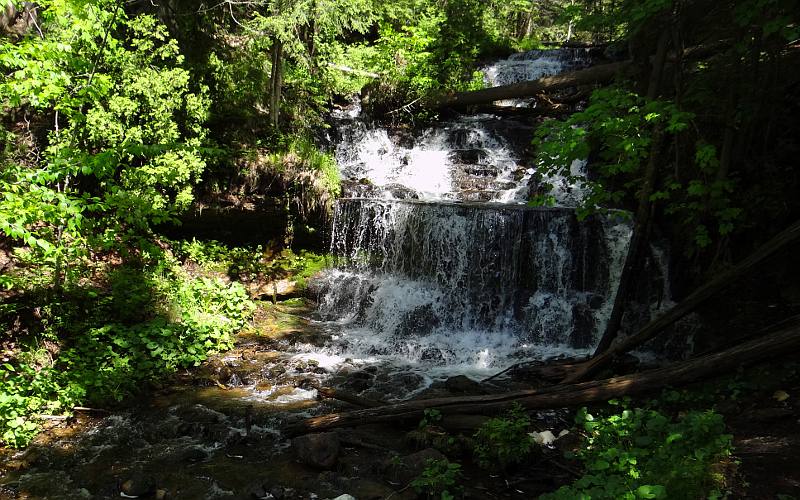 Wagner Falls from the closest viewing area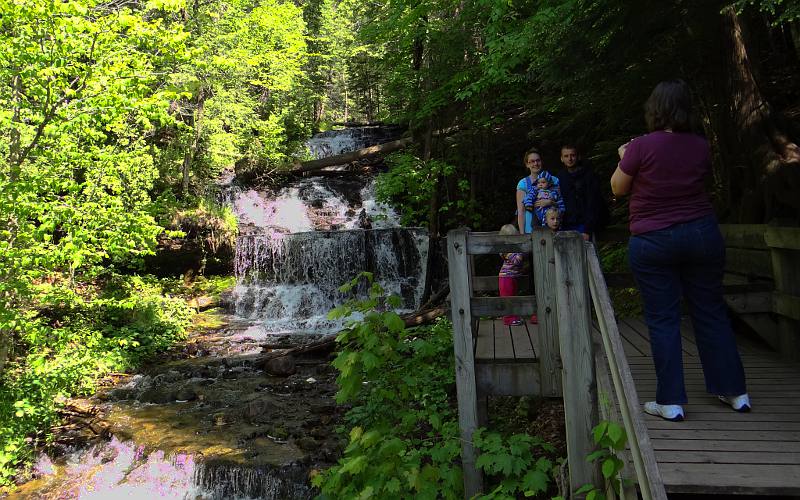 Linda taking a photo for the Missouri family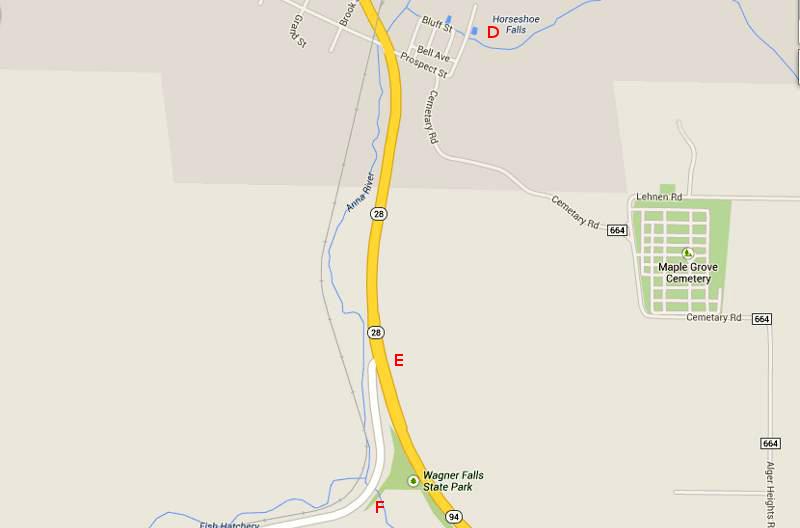 D - Horseshoe Falls, E - Alger Falls, F - Wagner Falls
Previous Page Next Page
Day 1: Mackinaw City
Day 2: Pictured Rocks, Munising Waterfalls, Lighthouse Cruise
Day 3: Soo Locks Engineers Day, Mackinac Island
Day 4: Mackinac Bike Tour, Carriage Tour, Grand Hotel Evening
Day 5: Fort Mackinac, Fort Michilimackinac
Day 6: Mackinac Mill Creek Park