Northern Michigan Trip
May 23, 2013
Linda & Keith Stokes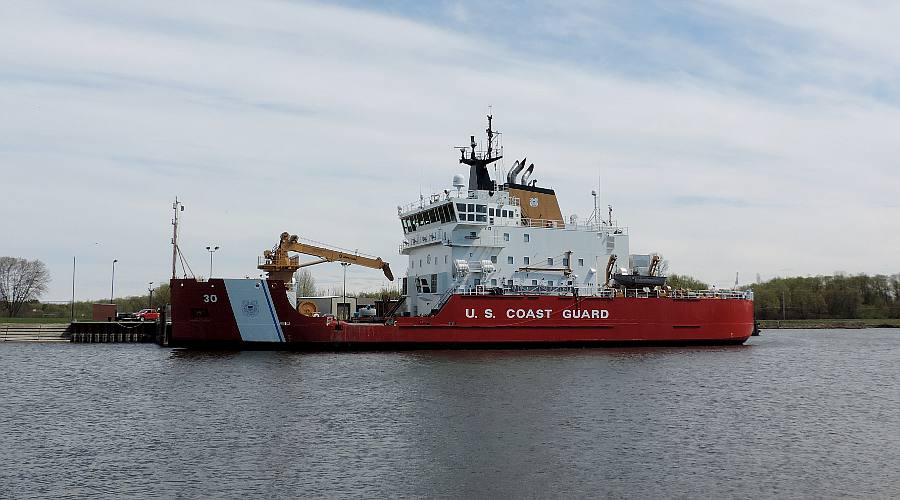 Coast Guard Cutter Mackinaw (more about this icebreaker)
Thursday - day 2 (continued)
We need to purchase some items which had not made it to Mackinaw so we drove 16 miles down US23 to Cheboygan, Michigan the largest community on the Straits of Mackinac. While we were in Cheboygan, we took advantage of the now beautiful, but cool, weather to take some photographs on the Cheboygan River where the USCGC Mackinaw is berthed.
There were several families of geese in the river, as well as some beautiful swans.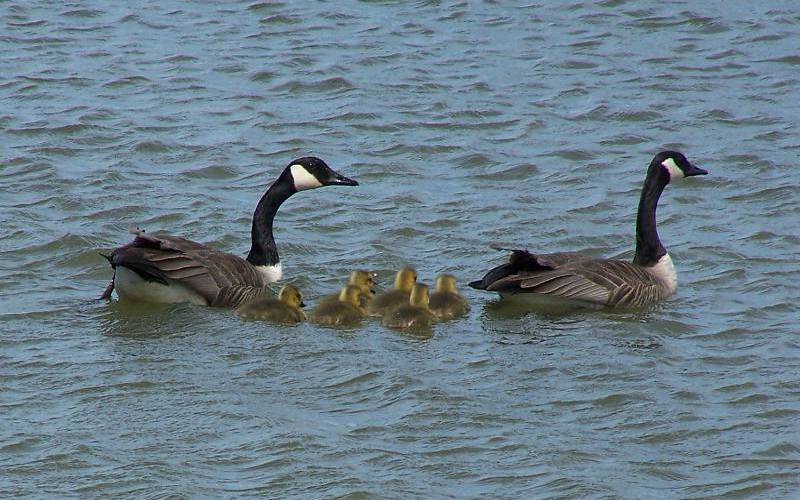 One of the geese families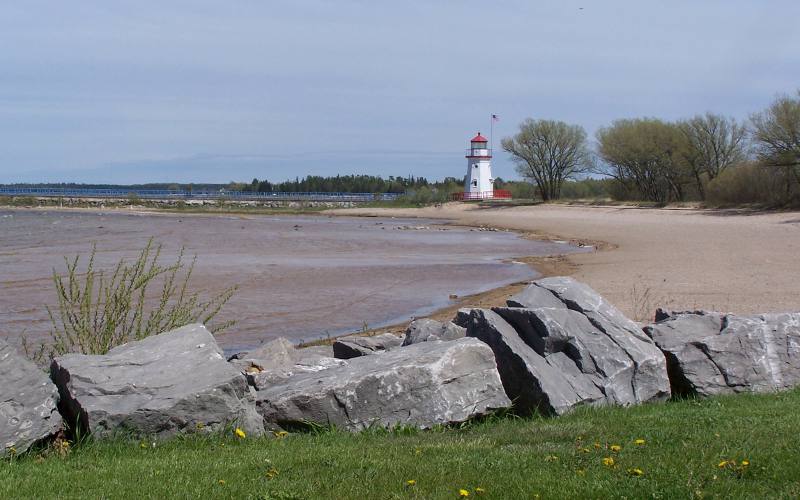 Cheboygan Crib Light at the mouth of the Cheboygan River
Returning to Mackinaw City, we stopped at Colonial Fort Michilimackinac, where I worked in costume firing the guns, giving tours, and demonstrating blacksmithing in the 1970s. We came up to the Fort as a cannon firing demonstration was taking place and I saw my old friend, Jim Evans, who has continued to work at the fort to this day.
The principal purpose of the visit was to see and photograph the new rowhouse, which has been under construction for over a year and a half. It was not quite finished, but was completed a week later for a June 2 Grand Opening.
The Straits of Mackinac area was experiencing an unusual number of nonbiting flies during this trip. I grew up calling them midges, but I'm not sure of the proper name. The low water level was being blamed for their large numbers this year. They bothered us several times during this trip and were particularly thick at the Fort, so we limited our time there.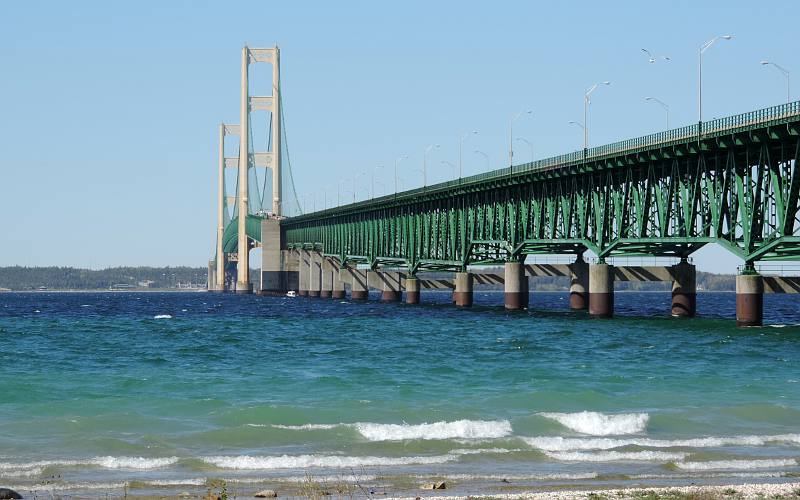 Mackinac Bridge (The Mighty Mac)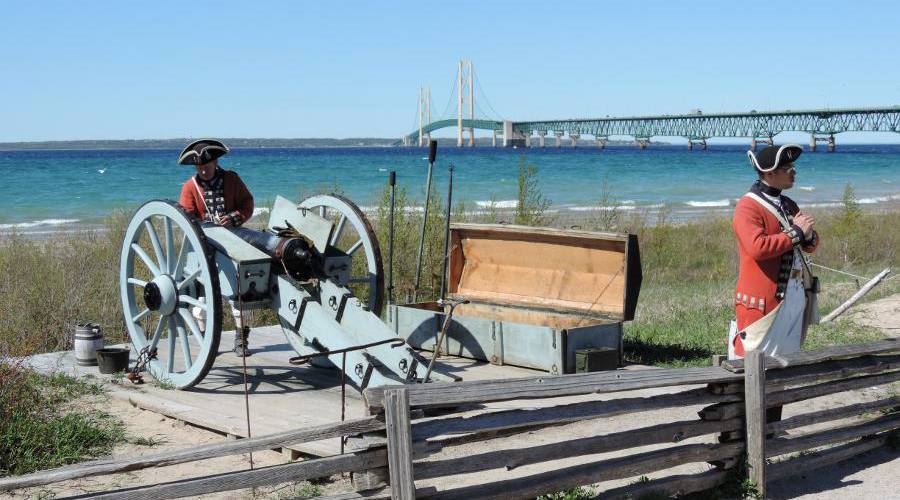 Cannon firing with Jim Evans loading the 6 pound cannon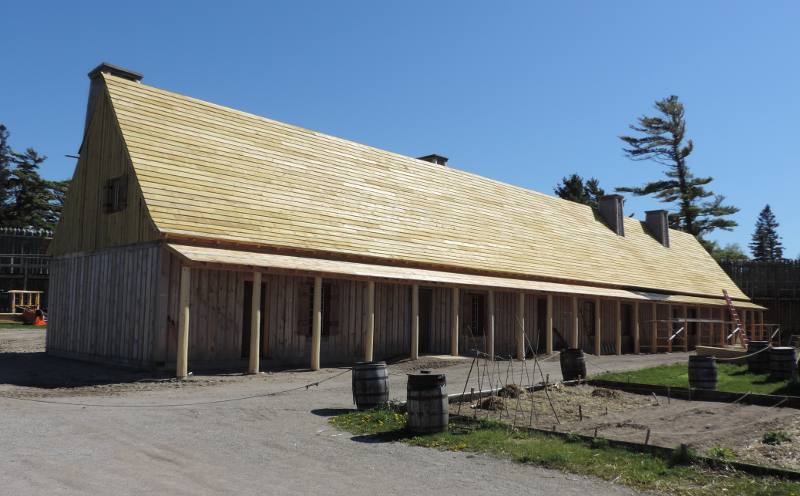 Newly reconstructed Rowhouse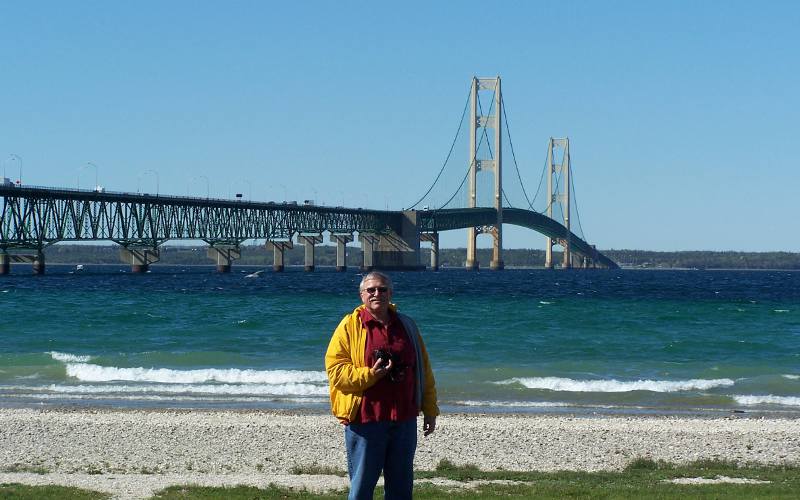 Myself near Old Mackinac Point Lighthouse
Our next stop was at the McGulpin Point Lighthouse Museum on Mackinaw City's west side. This inactive lighthouse was privately owned for generations, but a few years ago it was purchased by Emmet County, restored and turned into a free museum which is open in the summer. It is on a wooded bluff, so you can only see the water from the lighthouse tower, but if you go down to the lakefront a block away, there are some lovely photo opportunities, including McGulpin Rock. The 34 foot circumference rock was left by the glaciers and is estimated to weigh about 54 tons.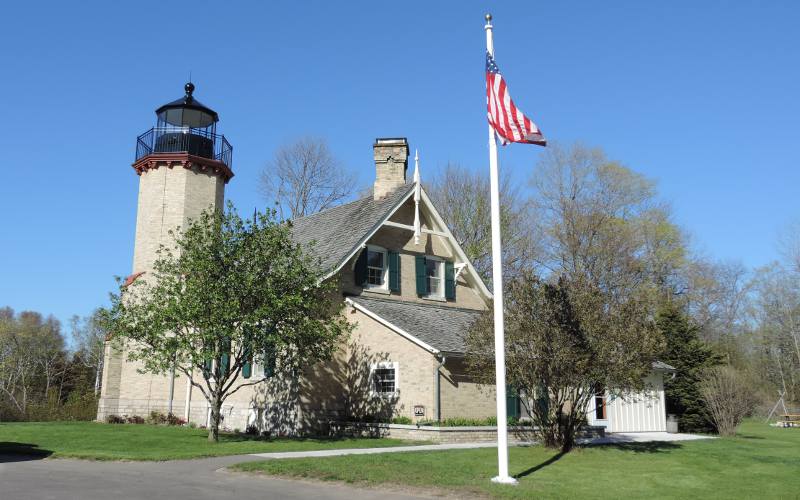 McGulpin Point Lighthouse (526 North Huron Avenue, Mackinaw City, Michigan 49701)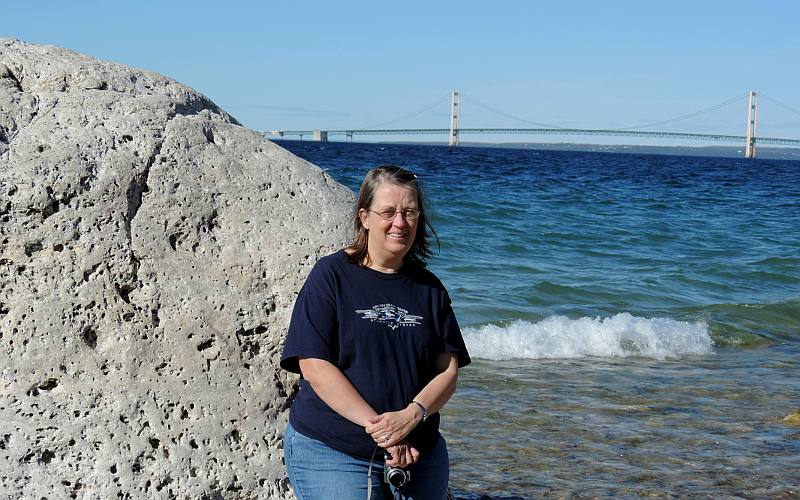 Linda Stokes at McGulpin Rock
Our day concluded with some shopping in downtown Mackinaw City and supper at the Key Hole Bar in the first block of Central Avenue. This bar & grill was remodeled in 2012 and is now brighter and more comfortable for people dining. They are particularly known for the burgers, onion rings, ribs and perch. I wanted a fish dinner, but it turned out that after a certain time (which changes) the kitchen will not prepare dinners. I had a perch sandwich, but the three small fillets were not what I was hoping for.
We returned to the Lighthouse View motel and walked down to the shore to take photos in the moonlight. It was getting pretty cold and windy, so we didn't stay out as long as I would have liked.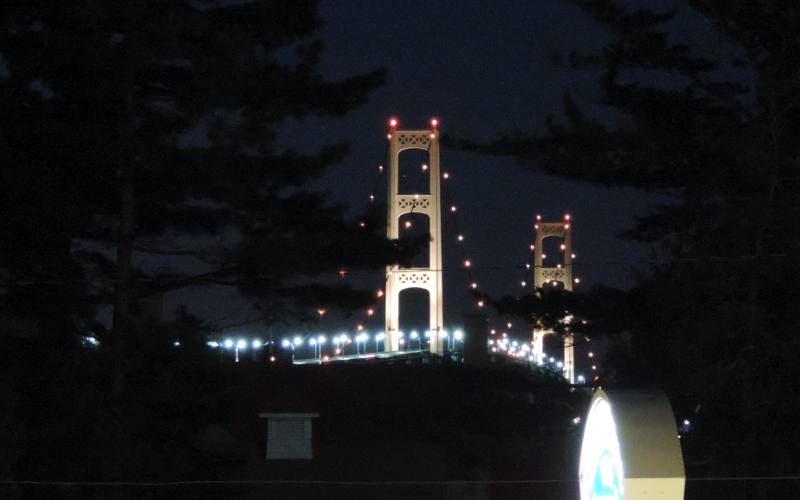 A telephoto shot of the Mackinac Bridge from our room at the Lighthouse View Motel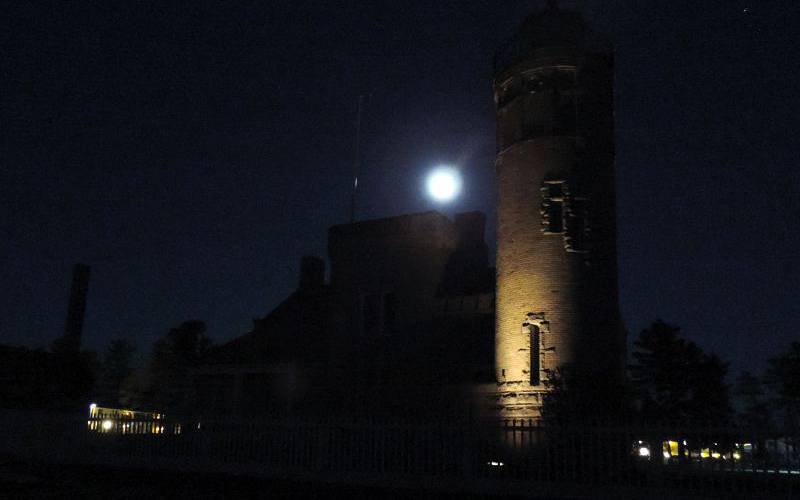 The almost full moon at Old Mackinac Point Lighthouse - the other lights are the Riviera Motel at lower left
and the Lighthouse View Motel at the lower right.
Previous Page Next Page