New and old Mackinaws at the Millard D. Olds Memorial Mooring in Cheboygan, Michigan - June 11, 2006


Great Lakes ice breaker Mackinaw

Commissioned June 10, 2006 Mackinaw (WLBB 30) assumed the "Mackinaw" name and heritage and now stands as the largest United States Coast Guard Cutter on the Great Lakes. WLBB 30 is configured to better handle a variety of roles including buoy maintenance, and handling of environmental spills.

The Mackinaw is powered by 3 Caterpillar 3612 Turbocharged V-12 engines - 3360 KW each. Prolusion comes from 2 ABB azimuthing electric propulsion drives where the propulsion motor is installed inside a submerged azimuthing (unlimited 360 degrees) pod and coupled directly to an extremely short propeller shaft. See photos of the pods from before the Mackinaw's launch.

Length...240 feet Beam...58 feet Draft (full)...16 feet
Displacement (full)...3,350 tons Range at 12 knots...4000 nautical miles
Officers...9 Crew...47



Touring the CGC Mackinaw


2013 Straits of Mackinac Lighthouse Flight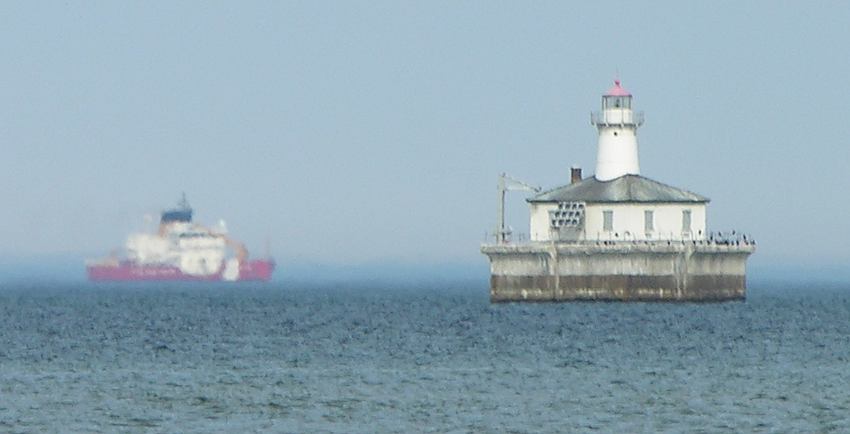 The Coast Guard Cutter Mackinaw near Fourteen Foot Shoal Light during training in April 2006

The Mackinaw sailing the Straits of Mackinac on November 26, 2006 - photographed
by Patrick Duflo of St. Ignace, Michigan.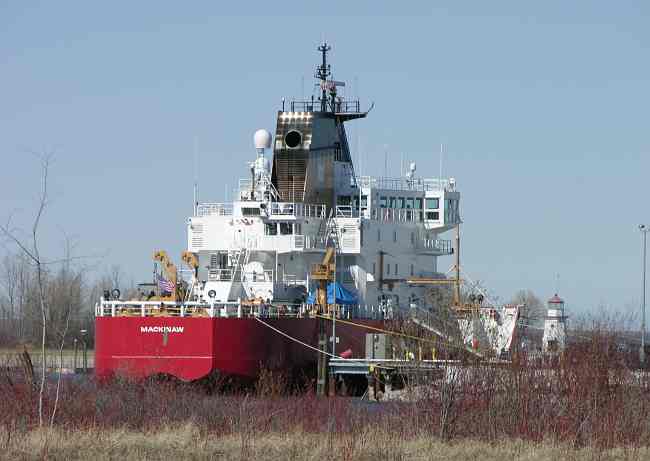 A "cutter" is any Coast Guard vessel at least 65 feet long which has accommodations for the crew to live on board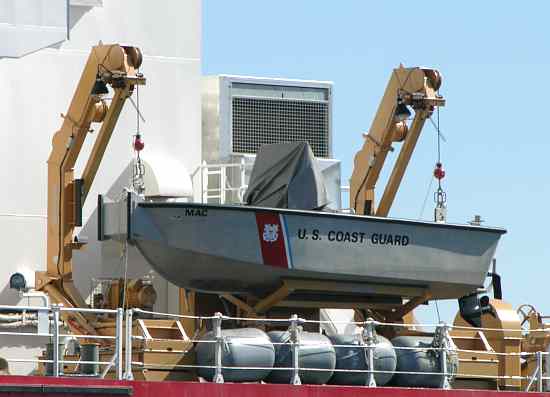 The Mackinaw carries two utility boats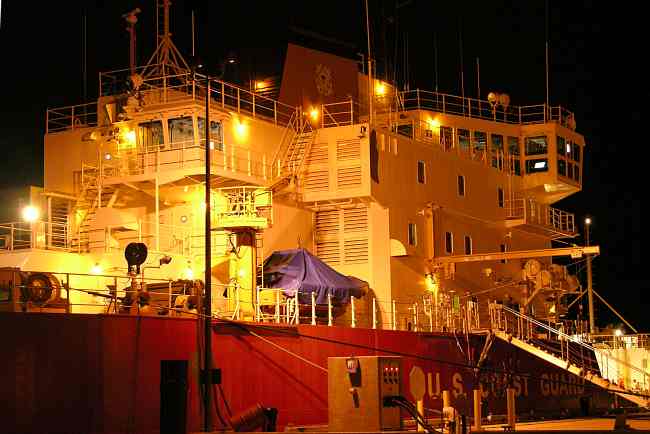 Why "WLBB?" The "W" has been applied to all Coast Guard ships since WWII. During the war, to avoid problems that could arise from a Navy and Coast Guard ship having the same number on their bows, a "W" was painted before the number to signify the ship as a Coast Guard ship. The "AGB" is for Arctic Glacier Breaker. The Polar Rollers (Polar Star, Polar Sea) and Healy are also WAGB's. "WLB" is the Coast Guard's designation for sea-going buoy tenders. "L" is for working boat (Load-bearing) and B is for Big. All of the 225 ft tenders are WLBs. The "LB" is for Big buoy tender and the Mackinaw's final "B" is for [ice]Breaker. The Mackinac is affectionately known as a "buoy breaker" to some. Other load-bearing classifications include "WLM" (Medium - 175 ft buoy tenders), "WLC" (Construction), "WLR" (River), "WLI" (Inland), "WLIC" (Inland Construction), and "WLIR" (Inland River).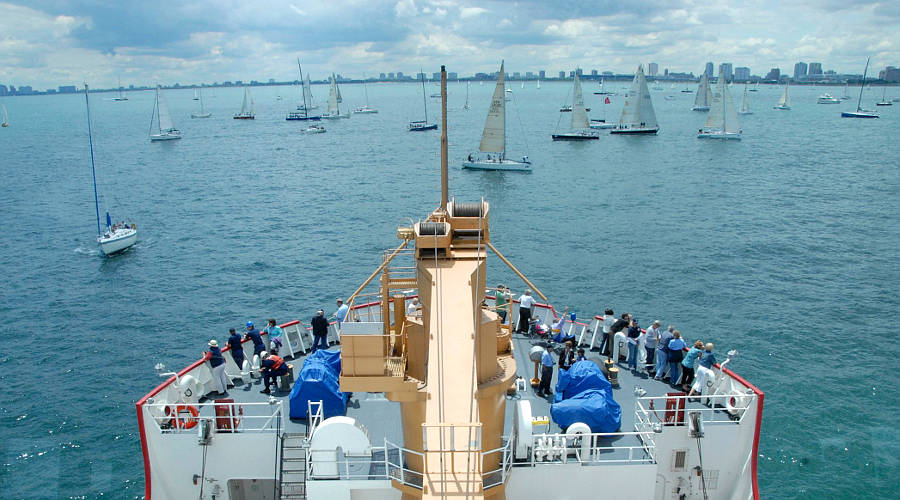 U.S. Coast Guard Cutter Mackinaw at the starting line of the 101st Chicago Yacht Club Race to Mackinac Island on
Saturday, July 18, 2009. The Mackinaw shepherds the racers the length of Lake Michigan. Photo courtesy of U.S. Coast Guard.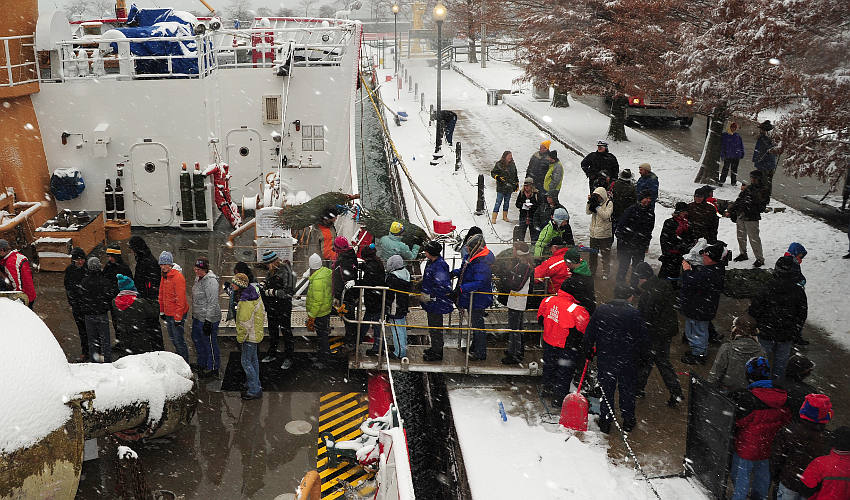 The "Christmas Tree Ship" tradition goes back over 100 years to the three masted schooner, Rouse Simmons. The original Mackinaw
(WAGB-83) revived the event in 2000 and (WLBB-30) continues the tradition to this day. Photo courtesy of U.S. Coast Guard.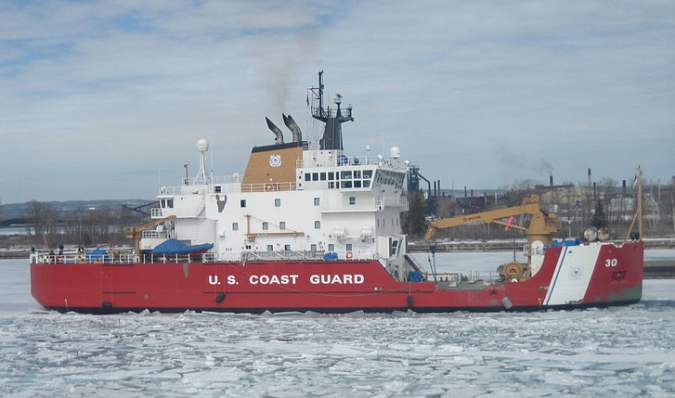 Coast Guard Cutter Mackinaw in the St. Mary's River approaching the Soo Locks on March 23, 2007.
Photo furnished by Chelsea Socha of Sault Ste. Marie, Michigan.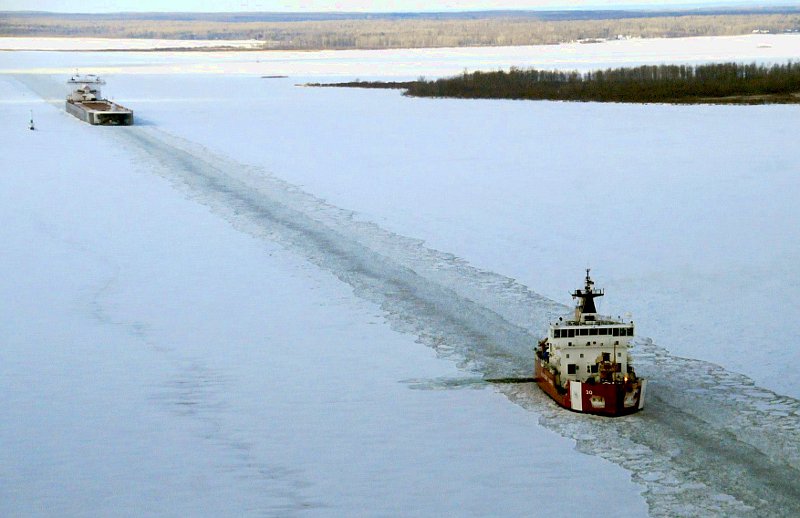 The Mackinaw breaking a path for a downbound merchant vessel in Munuscong Bay on the St. Mary's River in
December 2013. Photo courtesy of U.S. Coast Guard Air Station Traverse City.

copyright 2006-2014 by Keith Stokes. . My home page