Mackinac Island Trip
May 24-25, 2013
Linda & Keith Stokes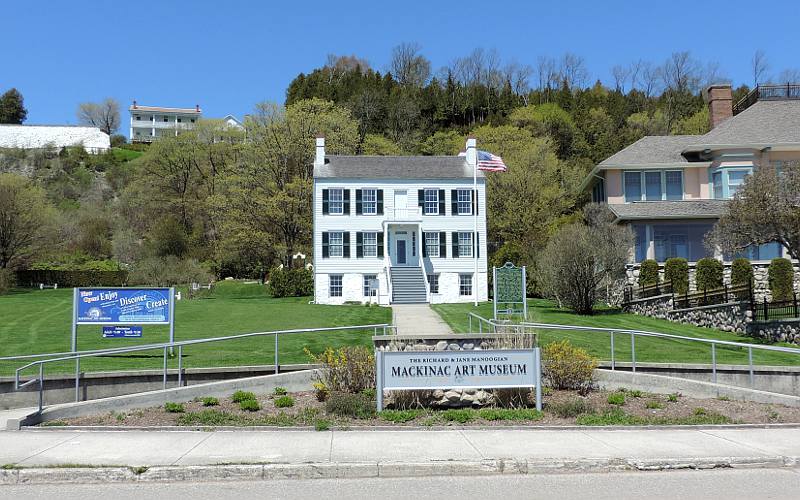 Richard and Jane Manoogian Mackinac Art Museum (7070 Main Street, MacKinac Island, Michigan 49757)
Friday - day 3 (continued)
Finally getting away from our hotel, we stopped a block away at the Richard and Jane Manoogian Mackinac Art Museum which was opened last summer by Mackinac State Historic Parks. I didn't have big expectations for this new museum, but was an unexpected delight. The museum is a perfect fit for Mackinac Island. It has original art from and about the Island going back hundreds of years and displays of souvenirs going back 150 years.
The displays are presented and explained in an effective modern method using touch screens. I particularly enjoyed the mid 19th century to mid 20th century photographs, the early souvenir plates & glassware, and the historic maps of the Great Lakes region. Admission is included with the ticket for the Historic Downtown Mackinac buildings, but it is worth the $5 on its own.
Admission is free with proof that you are staying overnight at a hotel which is a member of the Mackinac Island Convention & Visitors Bureau. I assume that our hotel is a member, but the hotel didn't tell us about free admission to the Mackinac Art Museum.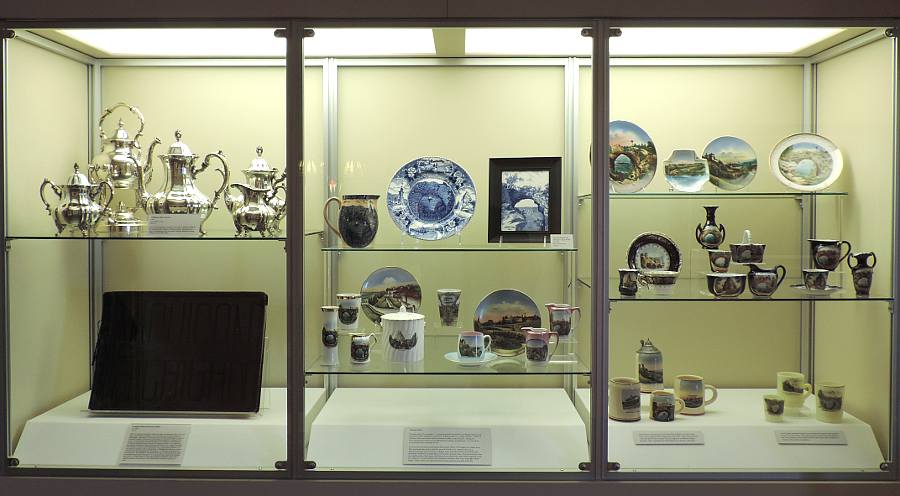 Mackinac Island souvenirs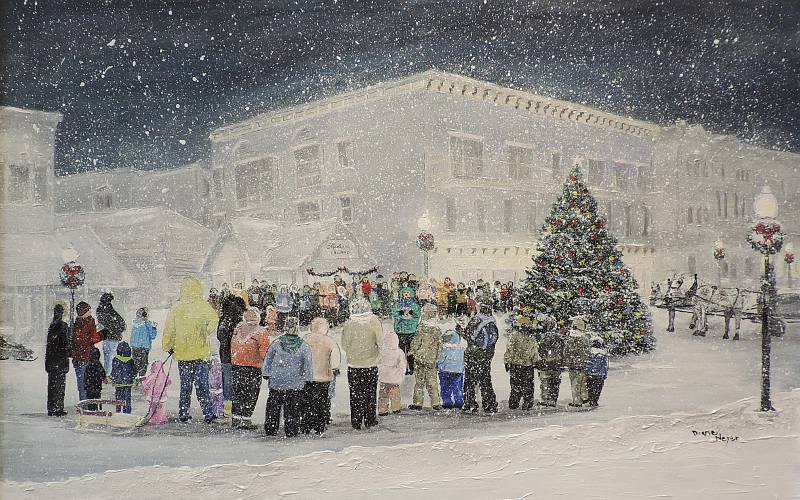 A Mackinac Tradition with Family and Friends by Diane Neyer
The rest of the afternoon was spent walking and making brief stops at various Mackinac Island attractions. When we finally returned to the hotel, we stopped at Doud's Market, across the street from the hotel, to purchase soft drinks and smoked whitefish spread. Doud's
has been in operation since 1884 and is the oldest family run market in the United States. Doud's is a popular place to purchase food for picnics in the adjacent Marquette Park.
Despite the cool weather, when we returned to our room, we sat on the balcony and watched the waterfront while enjoying the snacks. The spread wasn't bad, but there wasn't enough smoked fish in mixture and it was like having a green onion dip with our crackers.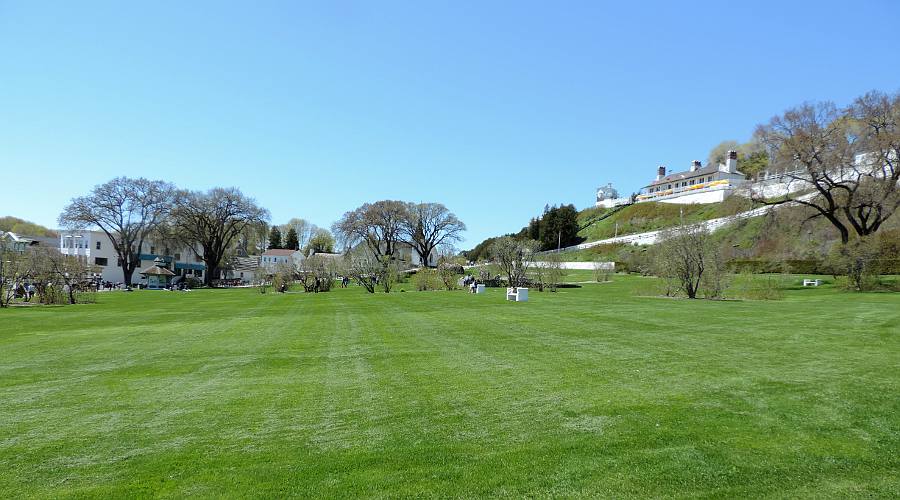 Marquette Park, below Fort Mackinac, was dedicated to Father Jacques Marquette in 1909
Father Marquette established a mission on Mackinac Island around 1671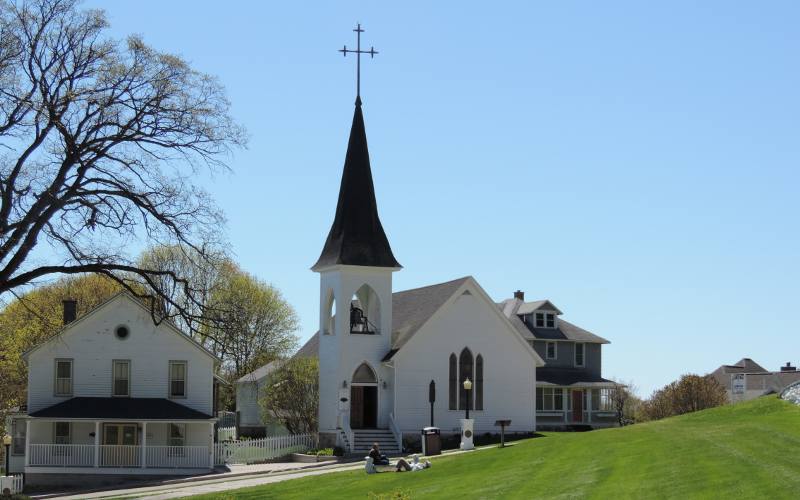 Trinity Episcopal Church was built in 1882 (472 Fort Street, Mackinac Island, Michigan 49757)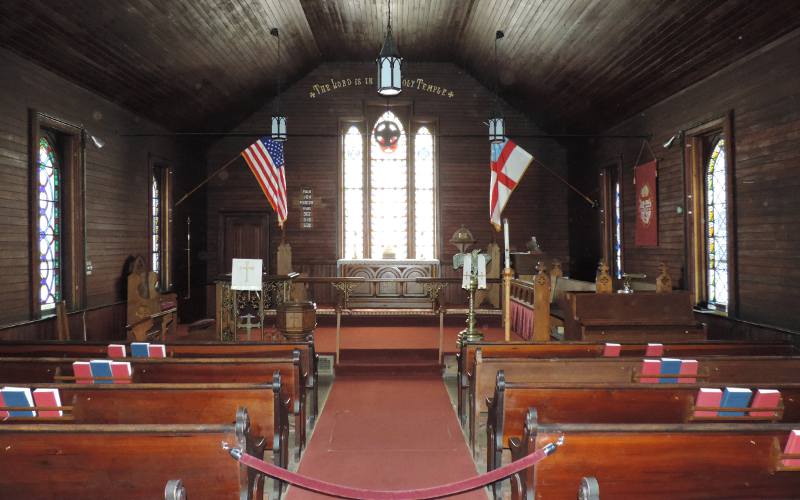 The hand carved walnut altar and two chancel chairs were made by soldiers at Fort Mackinac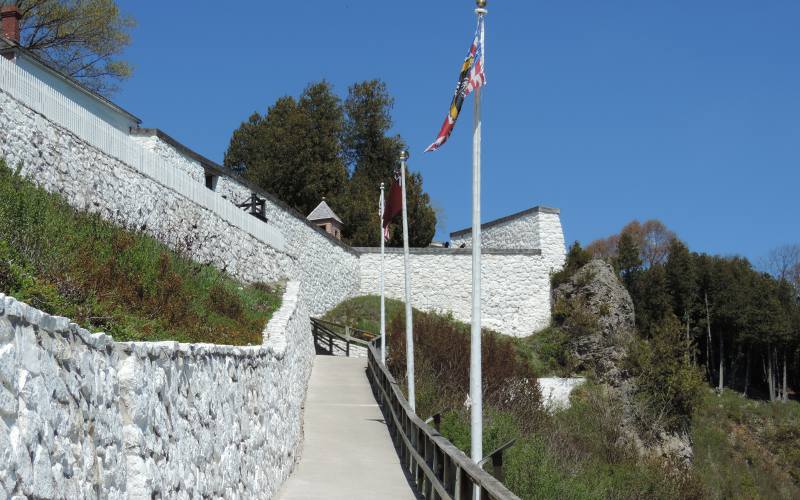 Ramp to Fort Mackinac - portions of the fort were built during the American Revolution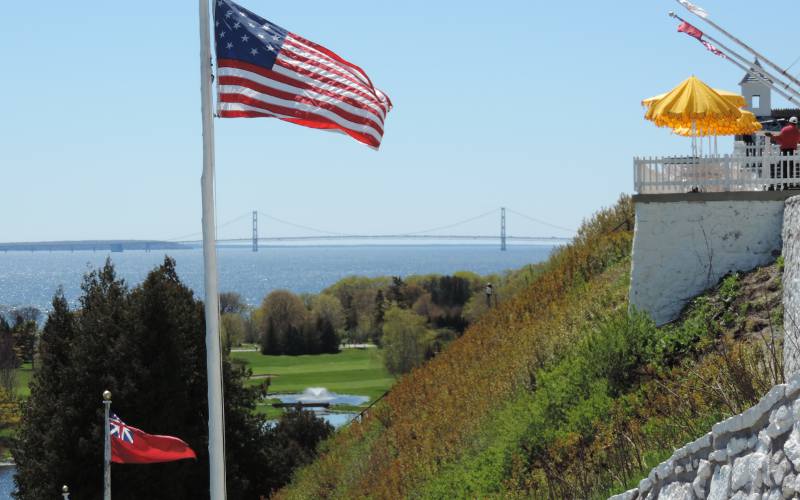 The Mackinac Bridge is in the distance - the fountain in the foreground is on The Jewel, the Grand Hotel golf course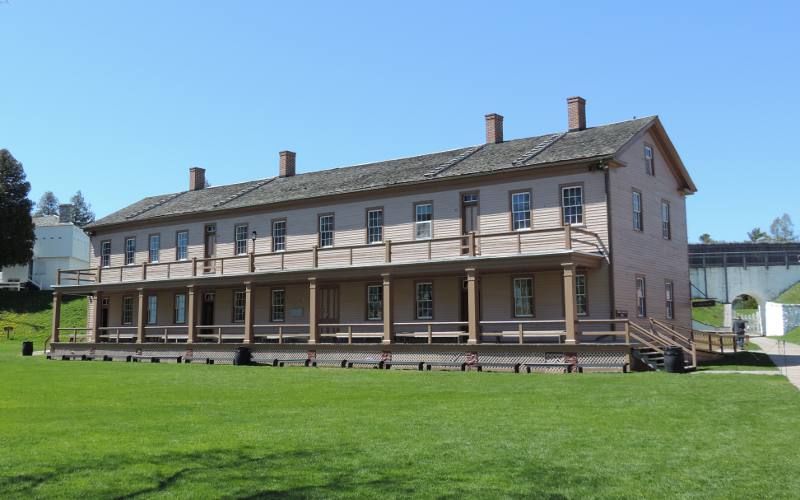 The Soldiers Barracks were built in 1859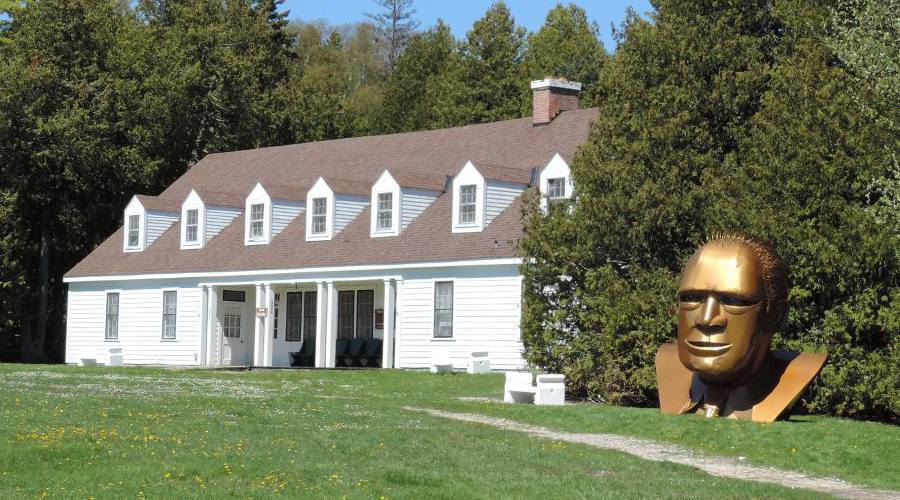 The 1934 Scout Barracks houses boy scouts or girl scouts serving at the Governor's Honor Guard & Fort Mackinac Guides -
the copper colored metal bust of Gerald Ford honors his time as an Eagle Scout on Mackinac Island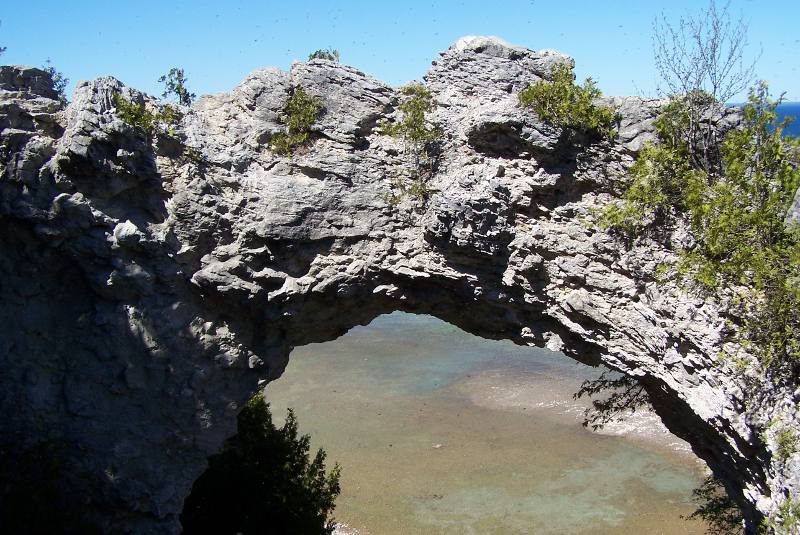 Arch Rock is a natural limestone arch on the east side of Mackinac Island 146 feet above the water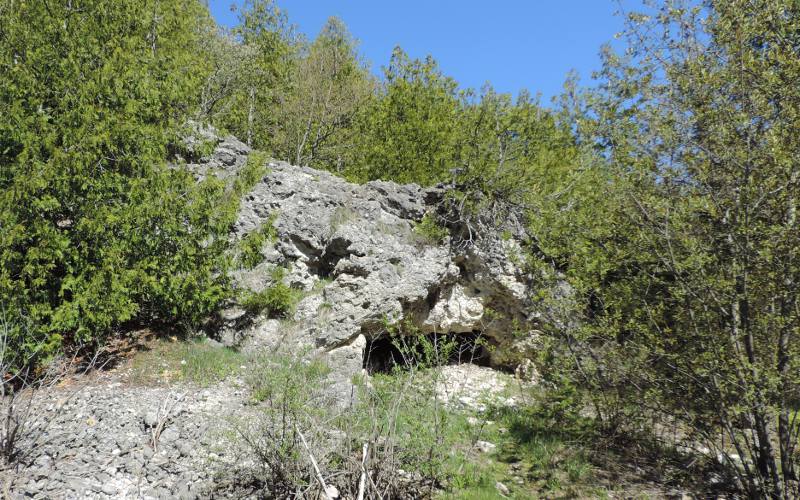 Skull Cave was once used by Native Americans as a site for human remains - in June 1763 the British fur trader Alexander Henry
took refuge in the cave after surviving the Indian capture of Fort Michilimackinac during Pontiac's Rebellion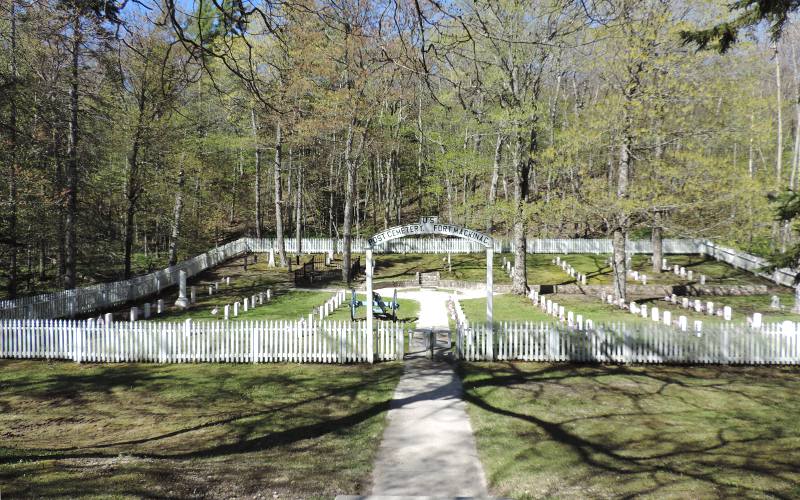 The Fort Mackinac Post Cemetery is one of three historic cemeteries, clustered together on the Mackinac Island interior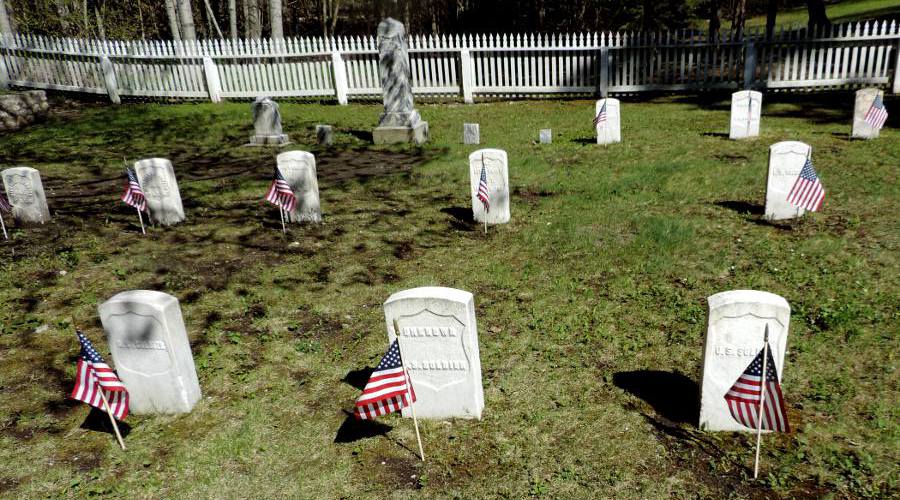 The graves of unknown soldiers in Fort Mackinac Post Cemetery