Fort Mackinac on Mackinac Island, Michigan was built by the British Army under the direction of Patrick Sinclair during the American Revolutionary War. Located on a bluff 150 feet above Mackinac Island Harbor, it replaced Fort Michilimackinac which had wooden palisades and was located on the shore of present day Mackinaw City. The Officers Stone Quarters, started in 1780 at Fort Mackinac, is the oldest building in the State of Michigan.

Fort Mackinac was turned over to the United States in 1796. But the fort and control of the Straits of Mackinac were recaptured without a battle during the War of 1812. British forces in Canada learned of the start of the war before the Americans and surprised the garrison with a much superior force of soldiers, European civilians and Native Americans on July 17, 1812. American forces attempted to recover the fort in 1814, but were defeated and also lost two sailing vessels used to blockade the harbor. Following the end of the war, Fort Mackinac was returned to the United States.

During the years of American western expansion, Fort Mackinac was periodically abandoned when soldiers were withdrawn to support other wars. Fort Mackinac was abandoned during much of the Civil War, but during the summer of 1862 the fort served as a prison for three wealthy Confederate sympathizers.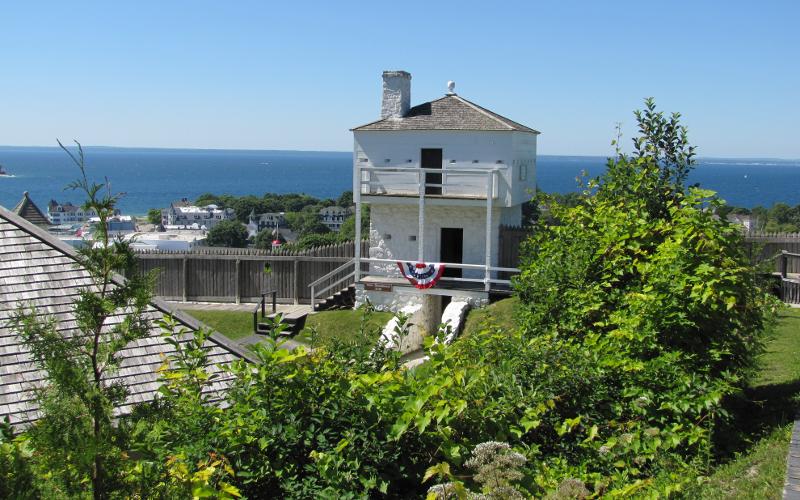 West Blockhouse (1798)
Mackinac National Park was established in 1875 as America's second national park, just three years after the establishment of Yellowstone National Park. There was no National Park service at that time, so the Fort Mackinac garrison was expanded and the fort's commanding officer served as the park superintendent.
Fort Mackinac was abandoned once more in 1895 and Mackinac National Park was transferred to the state of Michigan, becoming Michigan's first state park. The park was placed under the control of the Mackinac Island State Park Commission, which leased out the buildings as summer cottages for the next 60 years in order to generate revenue to maintain the park.
In 1914, a portion of the Stone Quarters was set aside as a museum. During the 1930s a number of buildings were restored. In 1958, a revenue bond program generated funds for preservation purposes and Fort Mackinac became a major historical attraction.
Admission to Fort Mackinac is $13.50 for age 13 and older and $7.75 for age 5-12, . You can save $.50 on adult admission and $.25 on children's admission if you purchase them online.