Fort Mackinac on Mackinac Island, Michigan was built by the British Army under the direction of Patrick Sinclair during the American Revolutionary War. Located on a bluff 150 feet above Mackinac Island Harbor, it replaced Fort Michilimackinac which had wooden palisades and was located on the shore of present day Mackinaw City. The Officers Stone Quarters, started in 1780 at Fort Mackinac, is the oldest building in the State of Michigan.

Fort Mackinac was turned over to the United States in 1796. But the fort and control of the Straits of Mackinac were recaptured without a battle during the War of 1812. British forces in Canada learned of the start of the war before the Americans and surprised the garrison with a much superior force of soldiers, European civilians and Native Americans on July 17, 1812. American forces attempted to recover the fort in 1814, but were defeated and also lost two sailing vessels used to blockade the harbor. Following the end of the war, Fort Mackinac was returned to the United States.

During the years of American western expansion, Fort Mackinac was periodically abandoned when soldiers were withdrawn to support other wars. Fort Mackinac was abandoned during much of the Civil War, but during the summer of 1862 the fort served as a prison for three wealthy Confederate sympathizers.


West Blockhouse (1798)

Mackinac National Park was established in 1875 as America's second national park, just three years after the establishment of Yellowstone National Park. There was no National Park service at that time, so the Fort Mackinac garrison was expanded and the fort's commanding officer served as the park superintendent.

Fort Mackinac was abandoned once more in 1895 and Mackinac National Park was transferred to the state of Michigan, becoming Michigan's first state park. The park was placed under the control of the Mackinac Island State Park Commission, which leased out the buildings as summer cottages for the next 60 years in order to generate revenue to maintain the park.

In 1914, a portion of the Stone Quarters was set aside as a museum. During the 1930s a number of buildings were restored. In 1958, a revenue bond program generated funds for preservation purposes and Fort Mackinac became a major historical attraction.

Fort Mackinac in Winter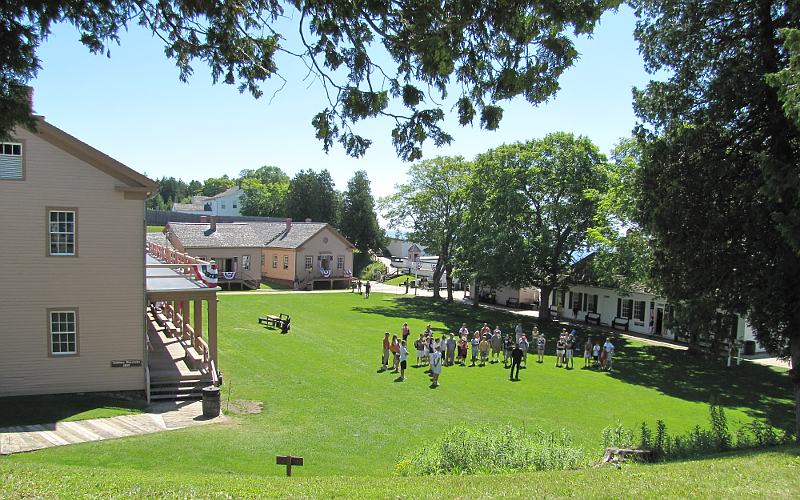 Fort Mackinac Parade Ground
Fort Mackinac has 14 original buildings filled with interactive displays and period furnishings. The costumed interpretive staff plays music, fires the muskets & cannons, leads children's Victorian games and otherwise interacts with visitors to Fort Mackinac.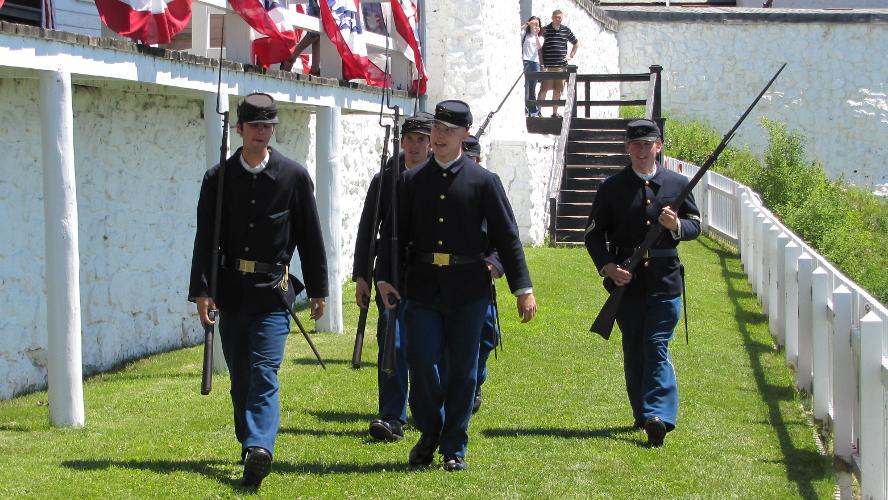 Costumed members of the Fort Mackinac interpretive staff walking past the 1816 Officers' Wood Quarters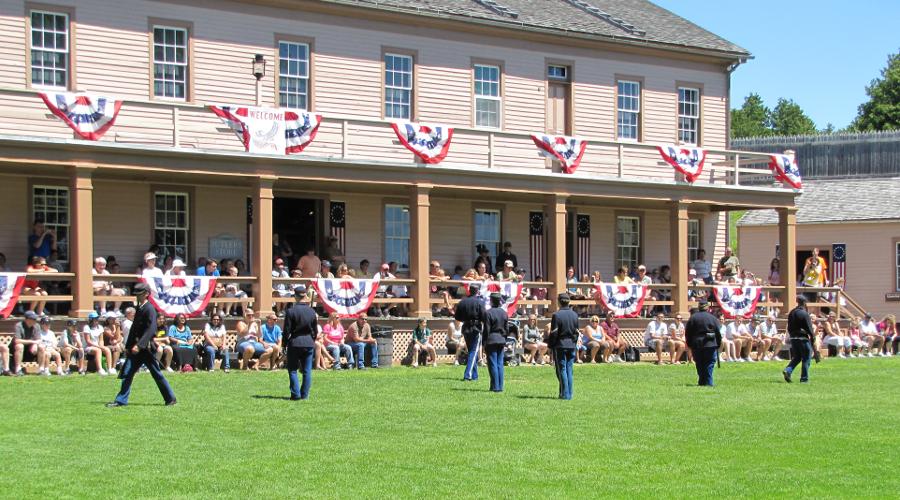 American soldiers drill in front of the 1859 Soldiers' Barracks
Most visitors enter Fort Mackinac through the South Sally Port entrance gate, located at the base of the ramp at the southeast end of Fort Mackinac near Marquette Park at Fort Street. There is a significant climb up to the fort and visitors with mobility issues are advised to take a taxi to the Fort Mackinac Avenue of Flags entrance gate on the land side of the Fort. That entrance is also a stop on the Mackinac Island Carriage Tour.
Admission to The Richard and Jane Manoogian Mackinac Art Museum included with purchase of Fort Mackinac ticket.
From mid June to until mid August, your Fort Mackinac admission ticket also includes admission to five historic downtown Mackinac Island buildings:
American Fur Company Store & Dr. Beaumont Museum.
Biddle House - Early 19th Century home with crafts and cooking demonstrations.
Benjamin Blacksmith Shop - 1950's era blacksmith shop with craft demonstrations.
McGulpin House - Michigan's oldest private residence.
Mission Church - museum in Michigan's oldest standing church building.
Snacks are available in Fort Mackinac, but it is also the location of a lunch spot with one of the most beautiful views in Michigan. The Fort Mackinac Tea Room is on the patio of the Officers Stone Quarters. During inclement weather, a small dining area is available inside, but the biggest point of this lunch spot is the view.

However, the Fort Mackinac Tea Room is operated by the Grand Hotel and the food is good as well. When we last dined at the Tea Room in 2010, the Caesar salad and personal pizza were good, but the three cheese tart with tossed greens & roasted garlic dressing wasn't quite as delicious as it sounded.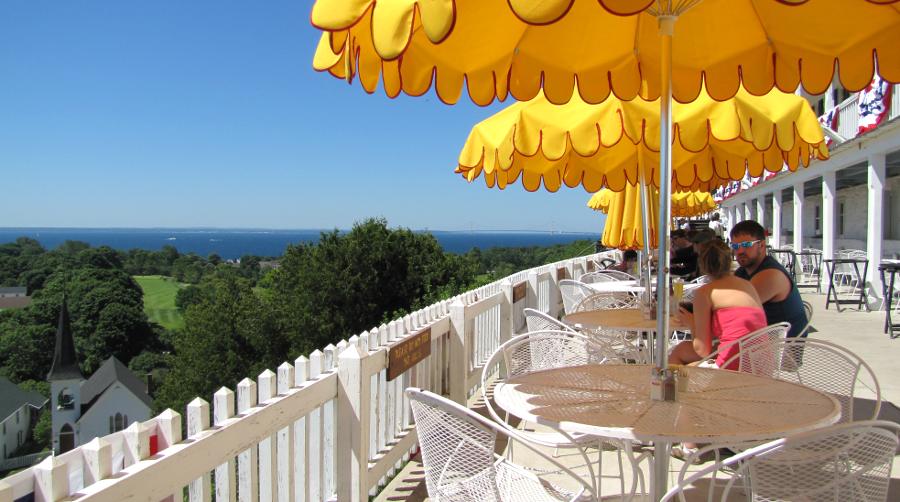 Fort Mackinac Tea Room on the patio of the Officer's Stone Quarters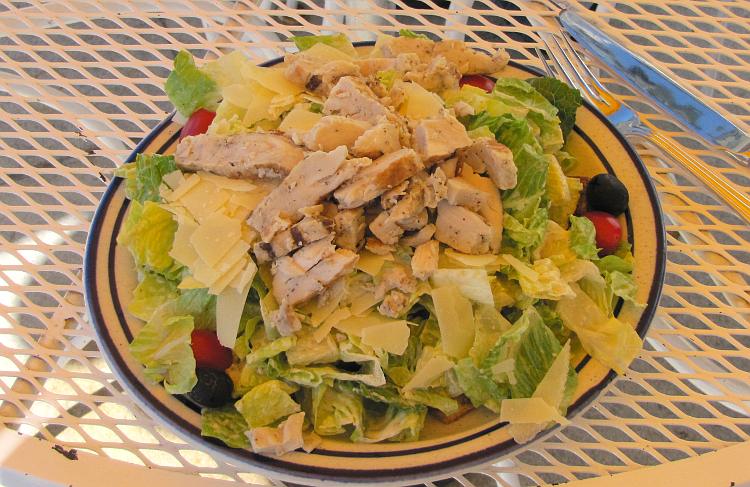 Classic Caesar Salad with chicken was $14 in 2015
The Tea Room is operated by the Grand Hotel and most entrees are $10-14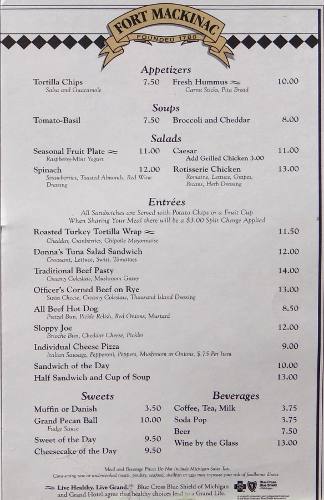 Click on the image for a larger version of the Fort Mackinac Tea Room Menu from 2015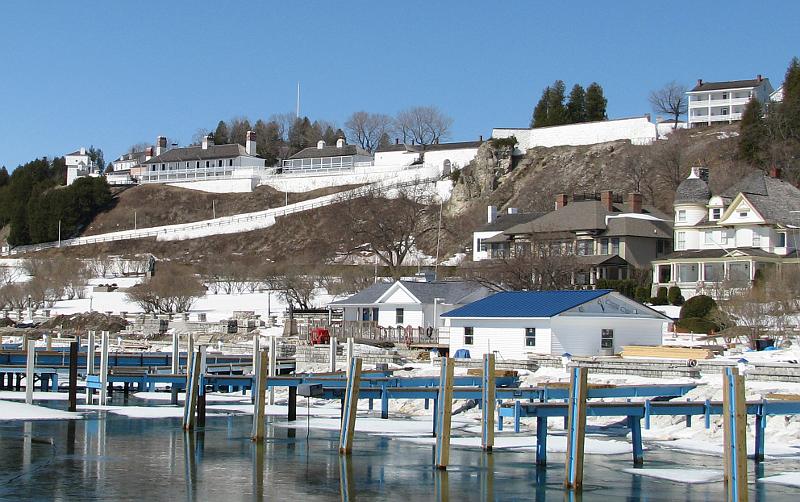 Fort Mackinac and most of the Mackinac Island businesses are closed from late October until early May - winter photos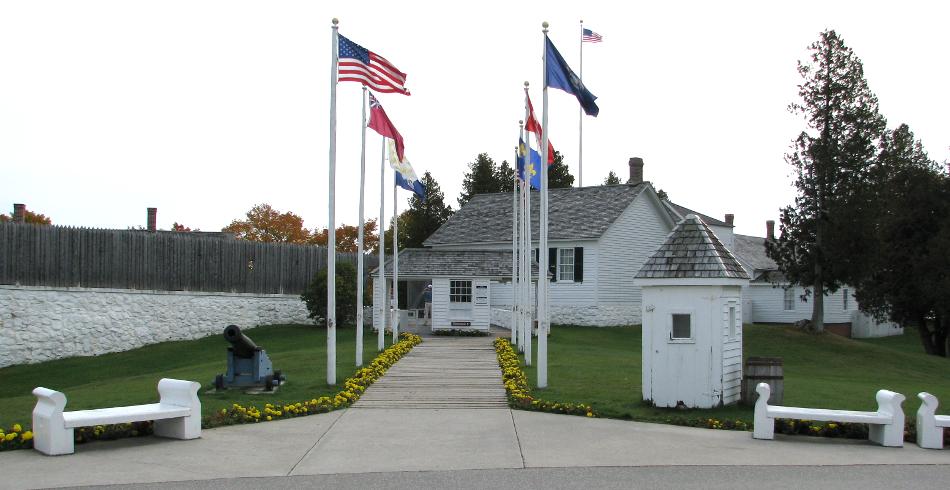 The Fort Mackinac Avenue of Flags is mainly used by tourists who have been taking the Mackinac Island Carriage Tour
Mackinac Island home Fort Michilimackinac Mackinac Island in winter