Anasazi Inn & Dinosaur Tracks
July 14, 2013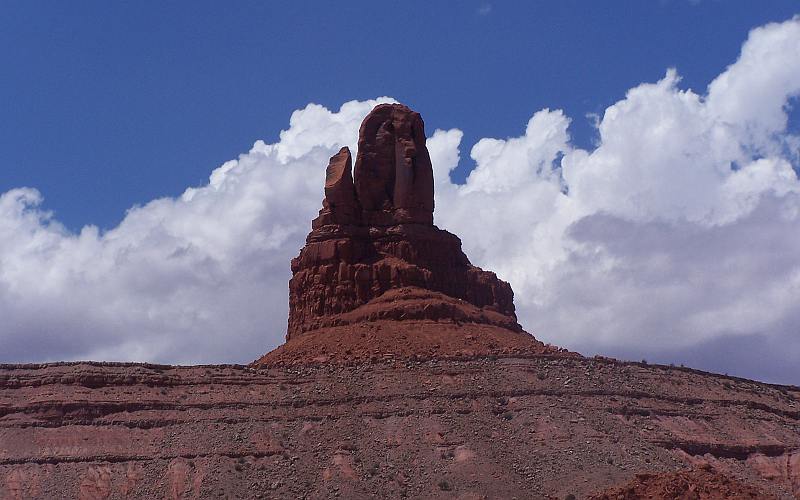 Rock formation along US-163
Saunday - day 4 (continued)
It was lunch time when our Monument Valley tour ended, but there are only two restaurants in this region of the Valley, so we stopped for cold drinks and headed back south to have lunch in Kayenta, Arizona. Unfortunately most of the restaurants in town appeared to be either closed on Sunday or fast food chains. We stopped at a supermarket and were considering getting food from their delicatessen, but Nancy asked the woman at the Deli counter where we could find a local restaurant. The ones she mentioned were all ones we had already discovered were closed, but she finally mentioned the Anasazi Inn, about 10 miles southwest on our route, which she said was open every day.
The small restaurant looked plain and uninteresting, it would have been easy to miss, but we found the interior clean and the people friendly. When we were ordering, Nancy was trying to ask our waiter what the food she had seen people eating at another table was. They overheard her and offered her a taste, though she didn't take them up on it.
The food was hearty, filling and inexpensive, if not outstanding. Linda had a huge pork chop, Mary had broiled salmon, Nancy had a Navajo taco and had a Navajo burger. The burger turned out to be two pre formed patties, side by side (not stacked) in a huge frybread sandwich.
When we left the restaurant, our car had been trapped in the parking lot by a car with a Kansas State front license plate. We could have gone back in to ask who had us blocked, but another party was leaving and after they pulled out, I was able to get our rental car out of the lot.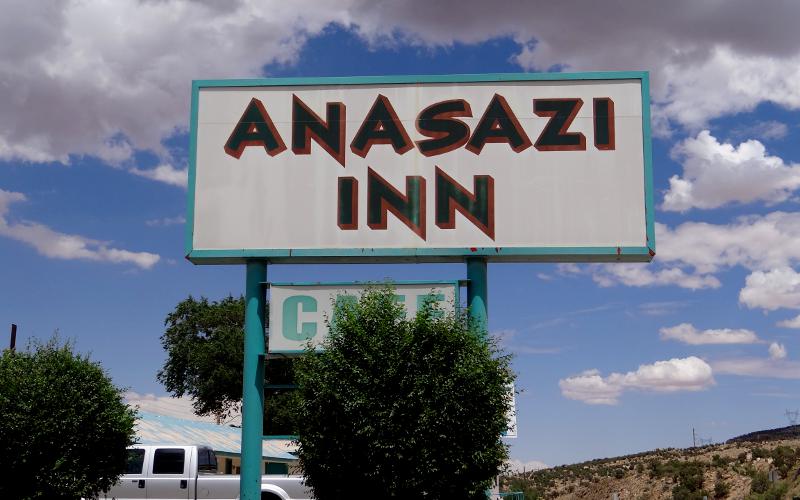 Anasazi Inn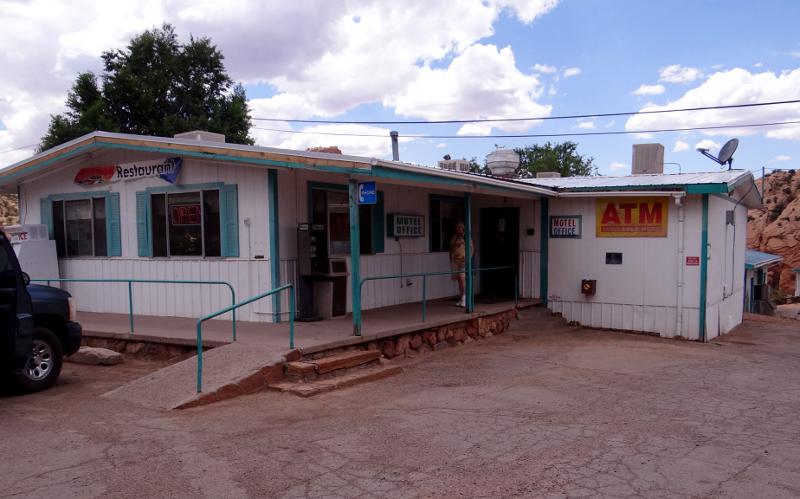 Anasazi Inn - Gray Mountain, Arizona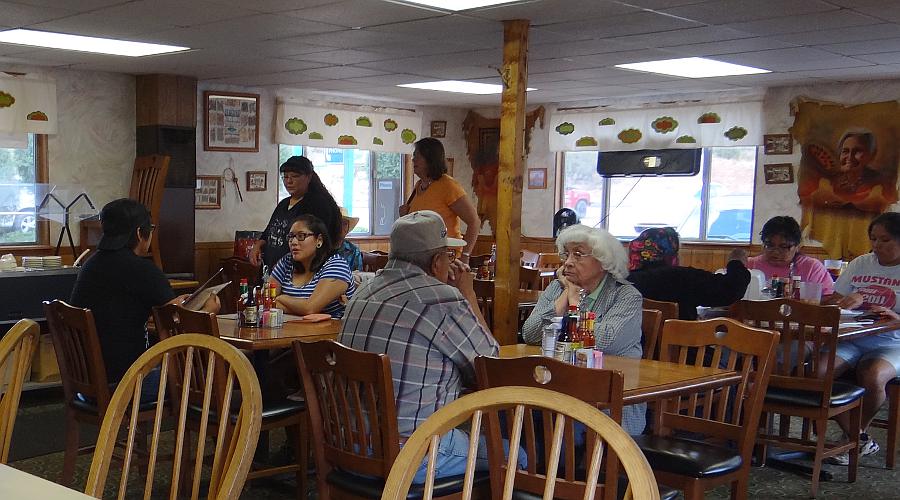 Anasazi Inn dining room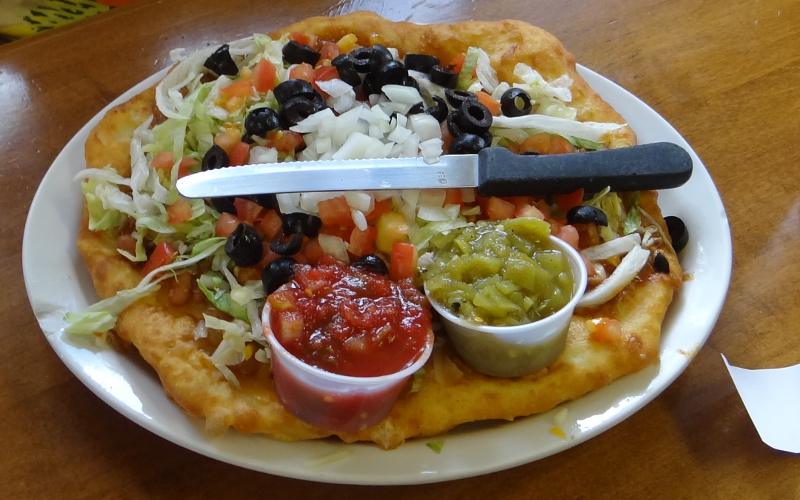 Navajo Taco ($7.50)

Navajo Burger with fries ($9)
In another 15 miles, we were on highway we hadn't seen before. The next stop was just west of Tuba City, where handmade signs announce that there are dinosaur tracks. I had read about this spot on-line and while I wouldn't driven far out of our way to visit it, I was dying to check it out. This is public land and there is no charge to see it, but there are people available to volunteer to be guides. No charge is mentioned, but it is assumed that they will receive a tip.
We pulled into the dirt parking lot, which was lined with craft sellers, and were met at the car by a small, older Native American woman who told us that they take turns and it was her turn. As we started out, she was joined by a young boy who said that she was his grandmother and that he would help because she was deaf in one ear.
Many of the things which she told us we were seeing, were questionable, but some of it is legitimate and it was more about letting her tell us where to look, and respecting her, rather than what she said we were seeing. There are many genuine, large three toed tracks. It is hard to be sure what species left them, but based on their age (about 200 - 202 million years) and the location, it is believed that they were Coelophysis kayentakatae or Dilophosaurus wetherilli, carnivores which would have been 9 - 20 feet long depending on the species. Dilophosaurus is the smaller carnivore which was in the movie Jurassic Park and these foot prints are from that time period.
There was also a bit of fossilized bone that is probably not from those dinosaurs. Other things are pointed out as being dinosaur poo, T-Rex tracks or dinosaur eggs, but it is unlikely that any of that is true.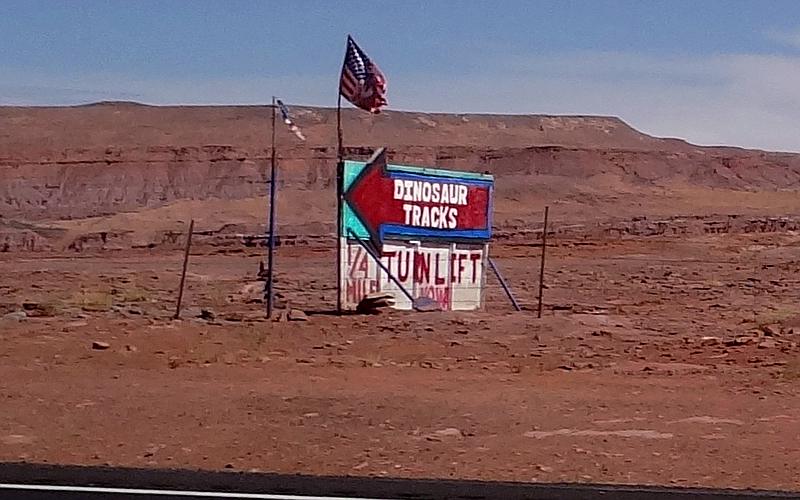 Homemade dinosaur tracks sign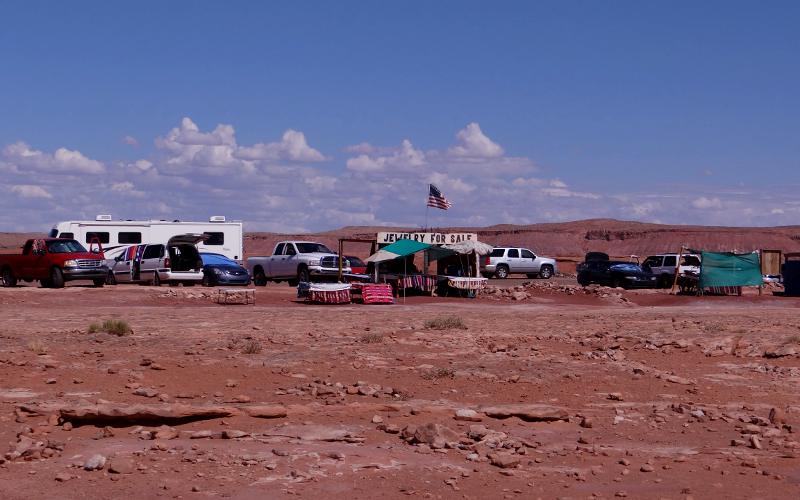 Craft Vendors between the parking and the dinosaur tracks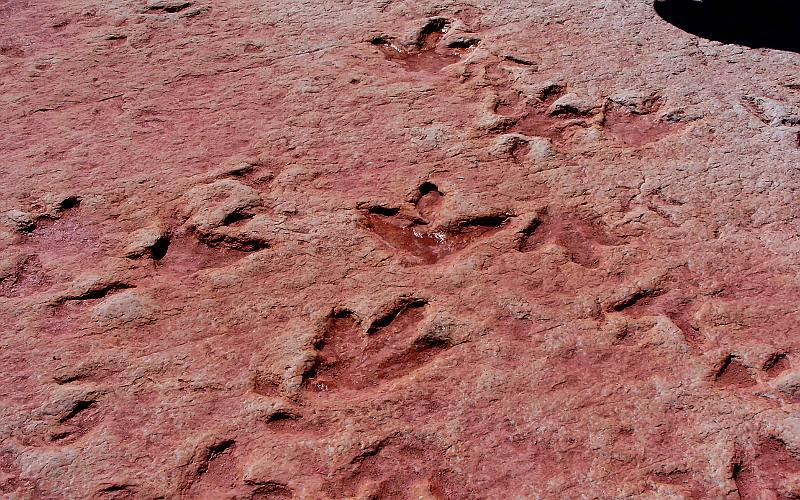 200 million year old dinosaur tracks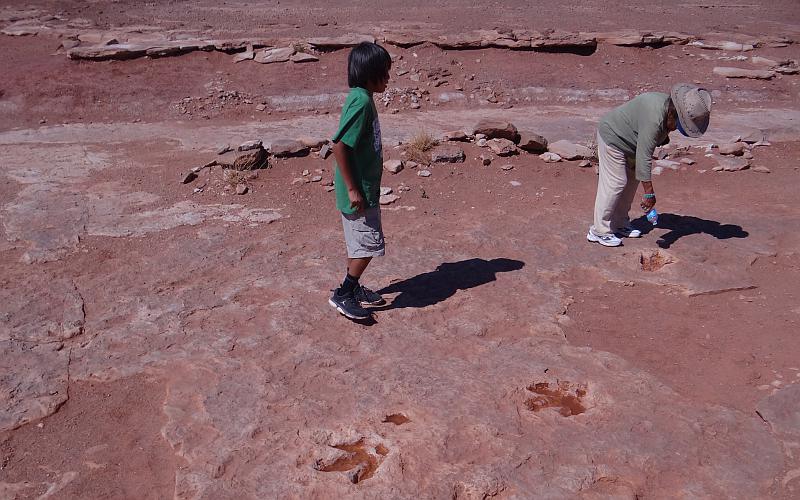 Our guide is pouring water into the dinosaur tracks to make them stand out in photos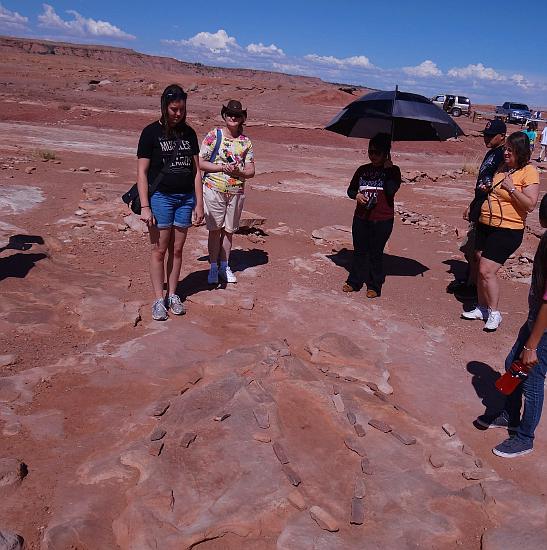 Mary, Nancy and Linda looking at a depression in the rocks which has been
marked off with rocks and the guide said it was a T-Rex track. T-Rex wasn't
even from the same time period as the rock at this location.
We had one more brief stop before entering Grand Canyon National Park, a stop to use the restrooms at Cameron Trading Post. It is a large store with many mass produced souvenirs which were not made by Native Americans. We limited our purchase to some fudge.