Elk and dinner in the Arizona Room
July 14, 2013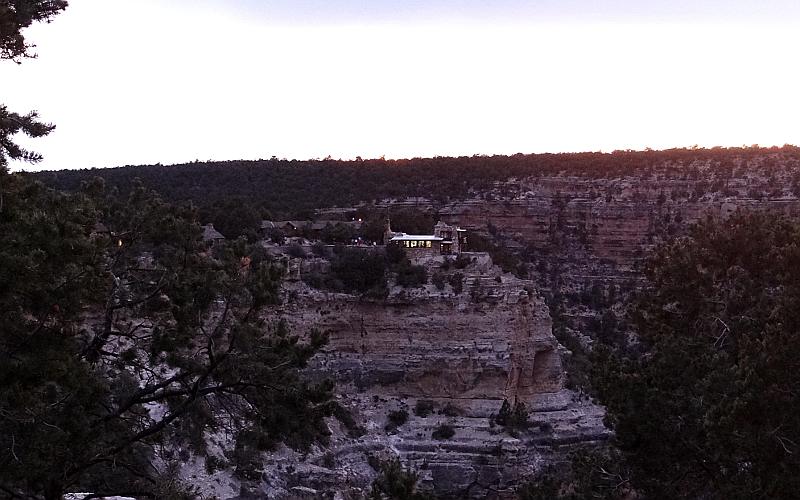 Lookout Studio
Sunday - day 4 (continued)
There were clouds and it began getting dark before actual sunset, so we decided to try to beat the rush for a restaurant. Linda had picked the Arizona Room in the Bright Angel Lodge, a short distance down the rim. As we rounded the far side of El Tovar, we discovered a herd of elk feeding on the grass, with tourists standing just 10-20' feet away. We all took pictures and enjoyed the experience, but it was getting too dark for quality pictures.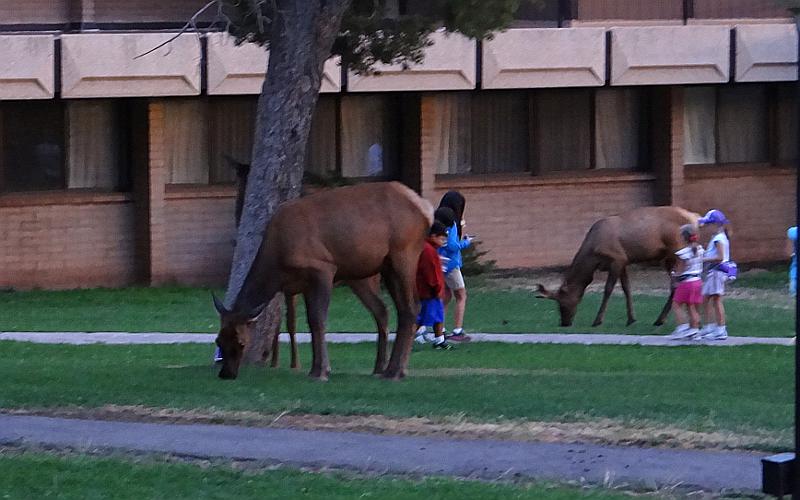 Elk near the South RIm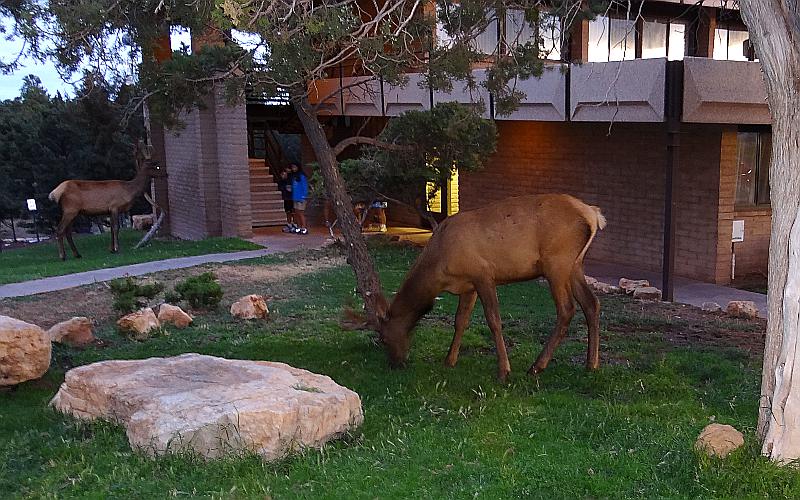 Elk near Thunderbird Lodge
At the Arizona Room, we were told that there was a 45 minute wait for a table for 4, or that we could sit at two tables in different parts of the restaurant right away. Nancy and Mary had a table at a window looking out over the Grand Canyon and I would have been a little jealous, but it was getting pretty dark.
This was my favorite meal of the trip! We had a fun, young waiter named Paul, who must have talked to us for 10 minutes while getting our order. Mary & Nancy's food came first and they gestured me over to get a photo of their dishes - fillet & pork medallions.
Linda had a prickly pear Margarita, made with prickly pear cactus syrup. She enjoyed it enough to have a second one, which she rarely does.
We started with large salads which came with the meal. Linda had a baby spinach salad topped with jicama, dried cherries, blackened pistachios and cotlja cheese, tossed with raspberry vinaigrette dressing. It was very good, but mine was just as good, while being a little more unfamiliar - a classic Caesar tossed with blackened Caesar dressing and topped with black beans, roasted corn and tortilla crisps.
The salads were followed by one of the most enjoyable steaks I have ever had. The 10 ounce ribeye was perfectly cooked, very tender and topped with a parmesan butter that melded perfectly with the seasoning of the steak. It was served with several grilled shrimp, choice of potatoes and the previously mentioned salad. Linda had a mixed grill of filet mignon, chicken breast and a quarter rack of baby back ribs with the choice of prickly pear or smoky chipotle barbecue sauce. She went with the prickly pears sauce, which was sweet and closer to the sauces she picks at home, with baked potato and the salad.
This meal was vary reasonable at $80 for the two of us including tax and drinks.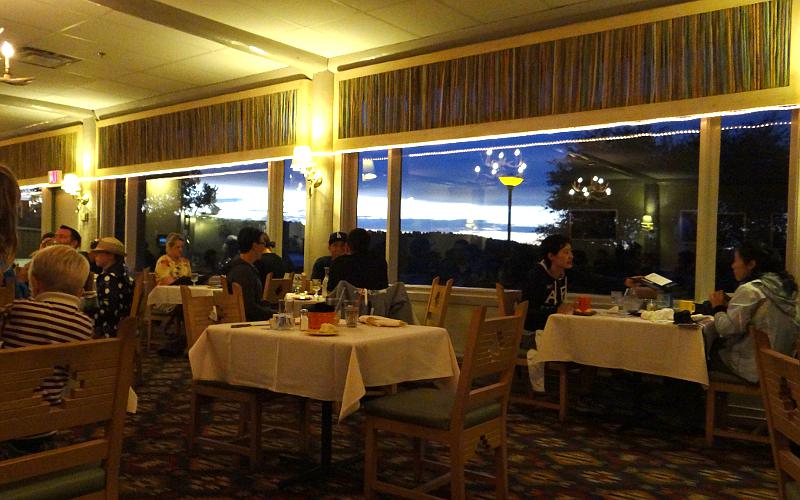 Arizona Room at Bright Angel Lodge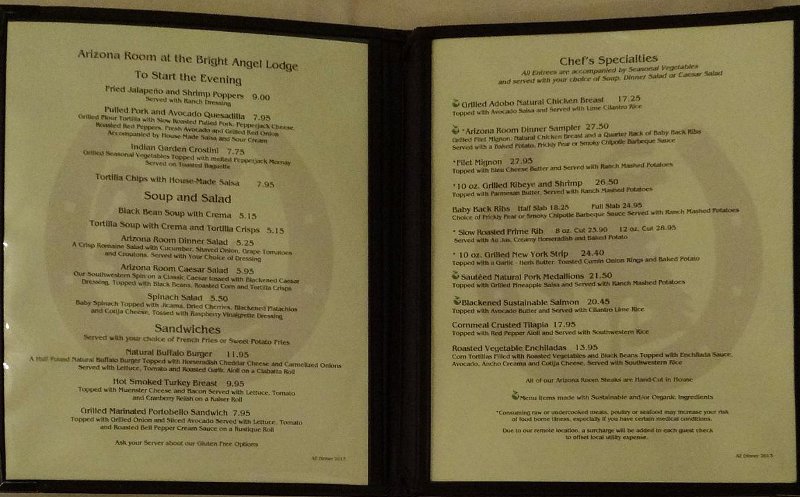 Click on the July 2013 menu for a larger image.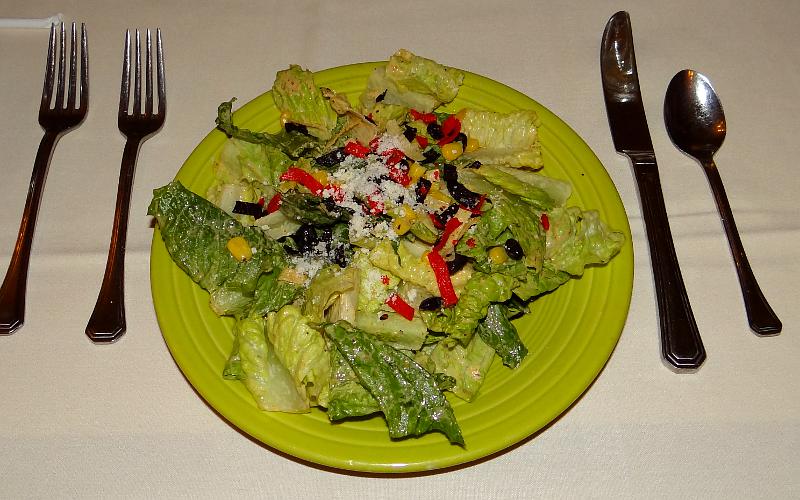 Arizona Room Caesar salad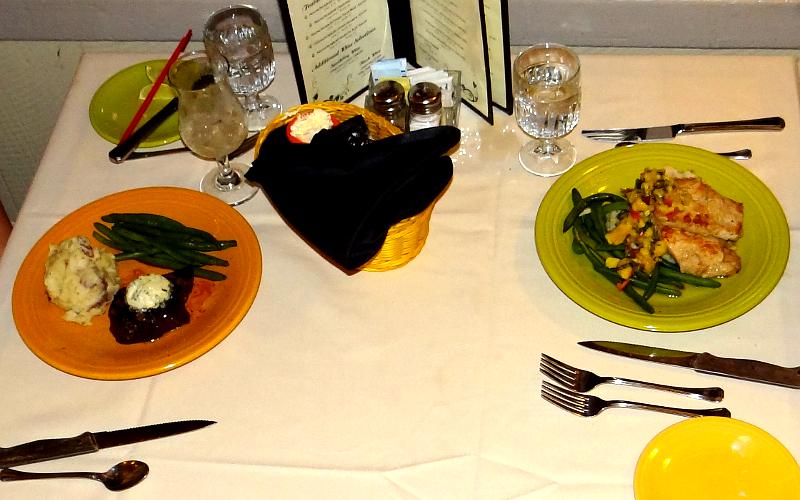 Fillet mignon ($27.95) and sautéed natural pork medallions ($21.50)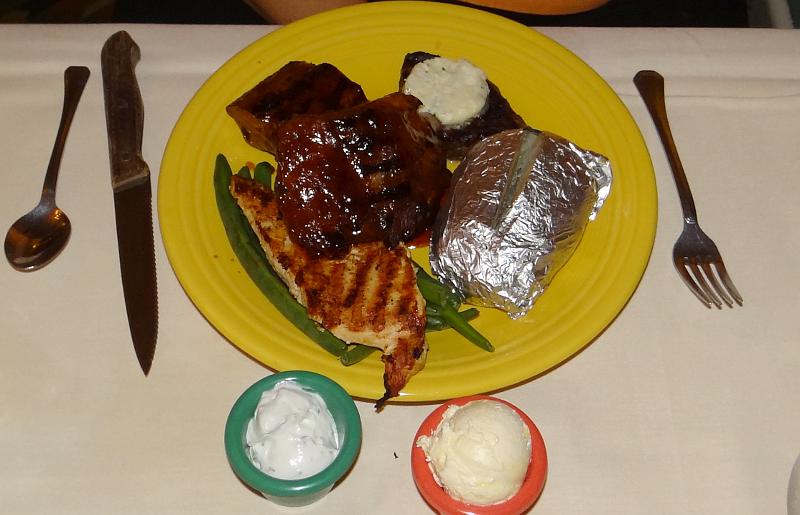 Mixed grill ($12.50)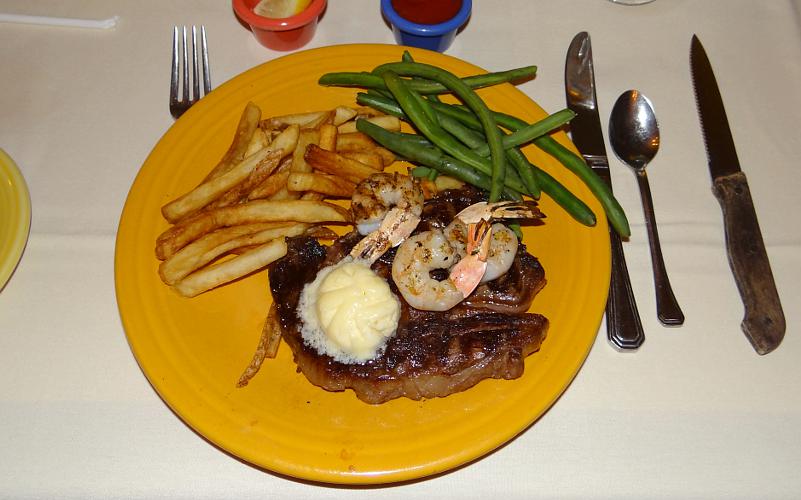 Rib eye and grilled shrimp ($26.50)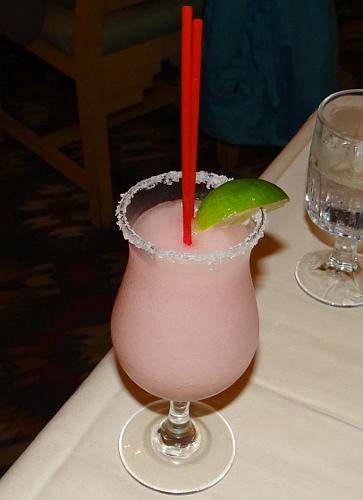 Prickly pear Margarita ($8)
We enjoyed seeing more elk on our way back to our hotel, but even with a flash, there were no photos which I was happy with.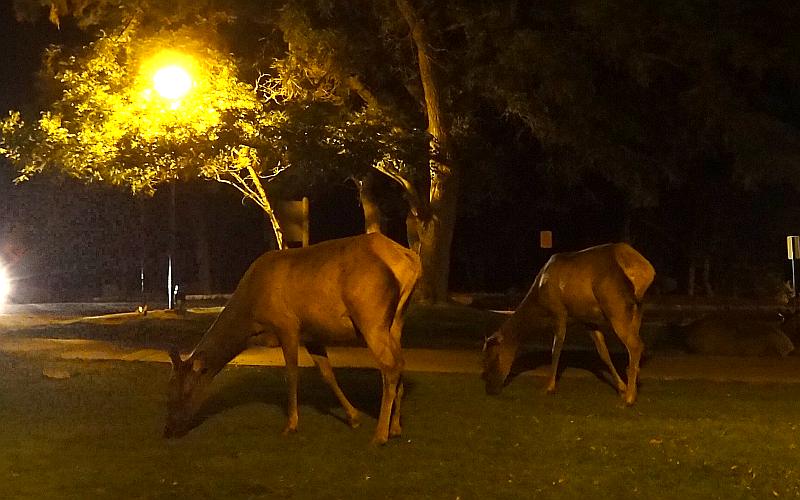 Elk grazing in front of El Tovar