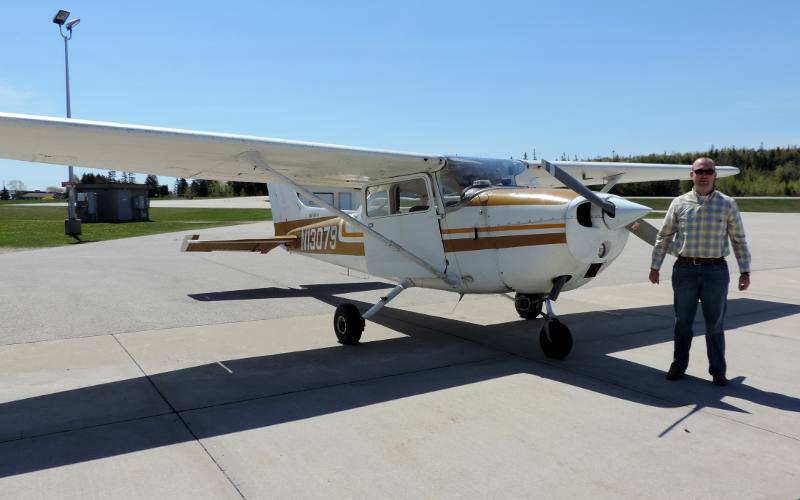 Cessna 172 and our pilot, Brian Allen
Sunday - day 5
Sunday was our last day in the Straits.
After checking out of our motel, we went to the St. Ignace airport where I had chartered a Cessna 172 for a 90 minute flight.
They don't regularly do lighthouse tours, but I knew where the lights were and worked out a route with our pilot which let us photograph 17 lighthouses, the Coast Guard Cutter Mackinaw, Mackinac Island, Mackinaw City and the Mackinac Bridge in about 90 minutes. I rode shotgun, where I could consult with the pilot, while Linda had the two seats in back, where she could photograph from both sides of the plane. We were taking pictures during almost every minute of the flight, taking about 700 photos between the two of us during the flight. It was cool, clear and calm - a beautiful day for the flight.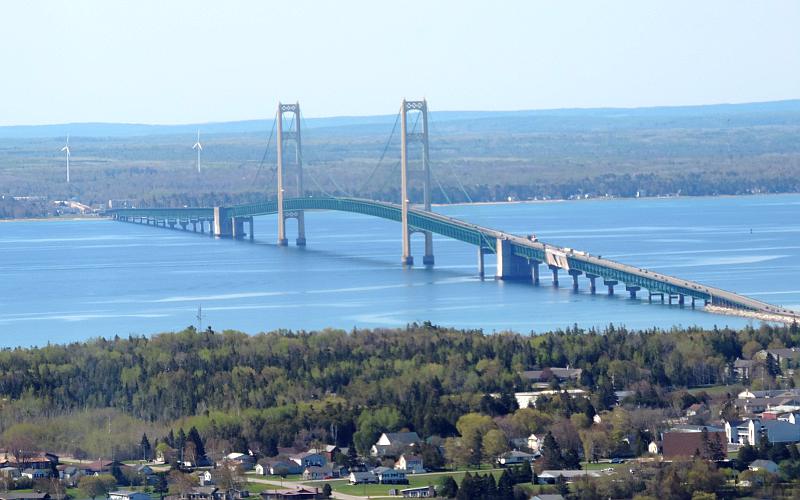 The Mackinac Bridge from St. Ignace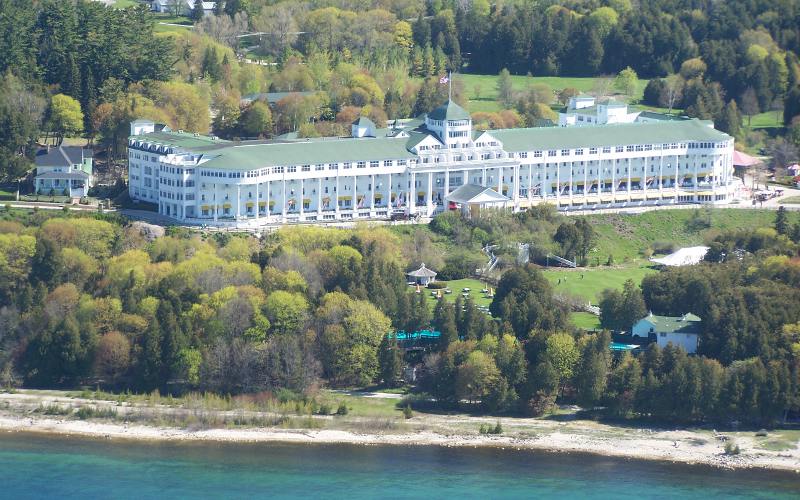 The Grand Hotel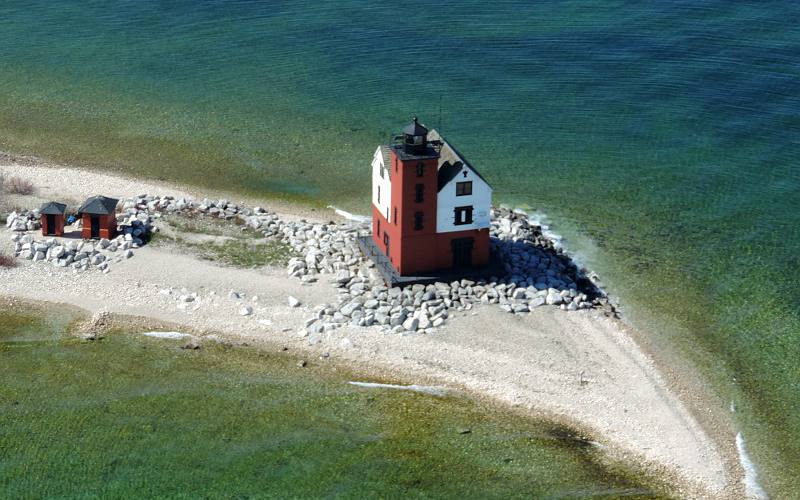 Round Island Lighthouse (Prints and greeting cards of this photograph)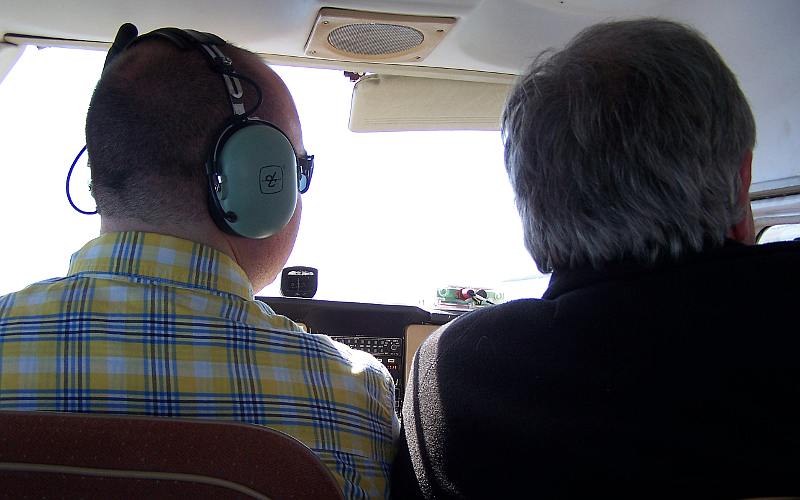 Brian Allen and Keith Stokes
Many of these lighthouses can only be seen from the air or by boat and I had never had a close look at three of them (Skillaglee Light, Martin Reef Light and Spectacle Light) before. Photos from this trip will be soon be used to expand our pages devoted to Straits of Mackinac Lighthouses.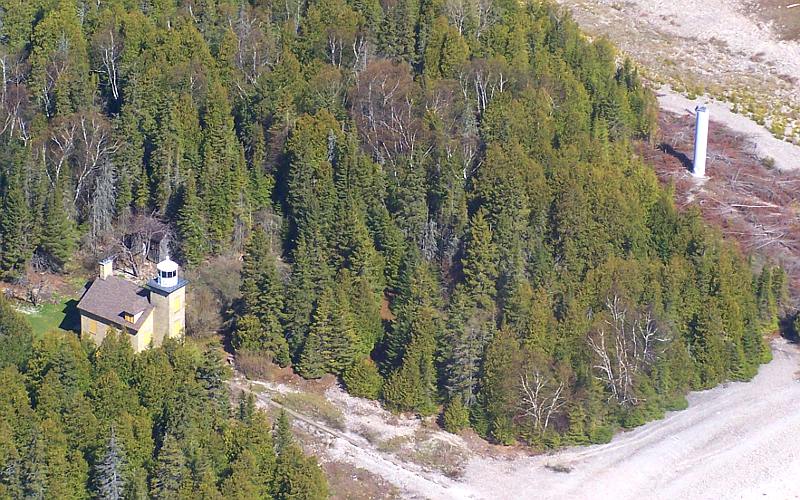 Old (1868, deactivated in 1924) and new (1941) Bois Blanc Island Lights.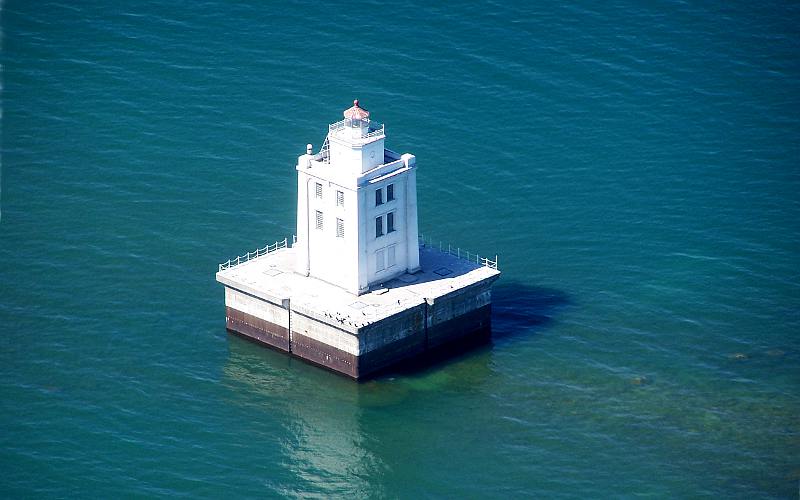 1927 Martin Reef Lighthouse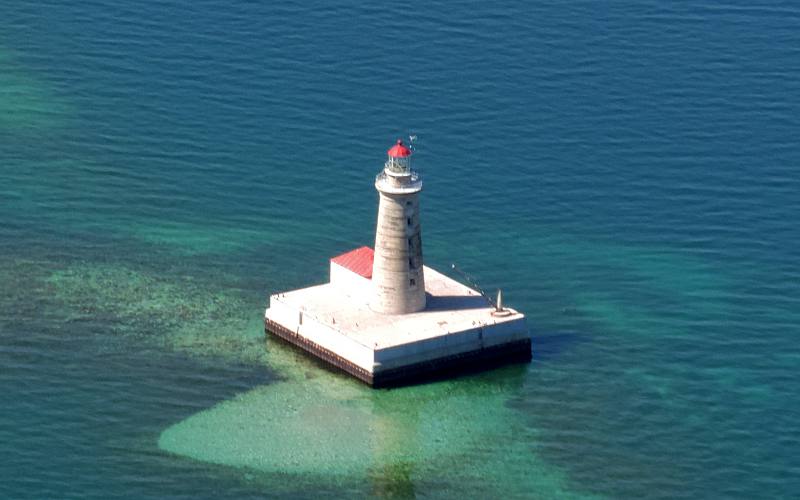 Spectacle Reef Light (1874, automated in 1972)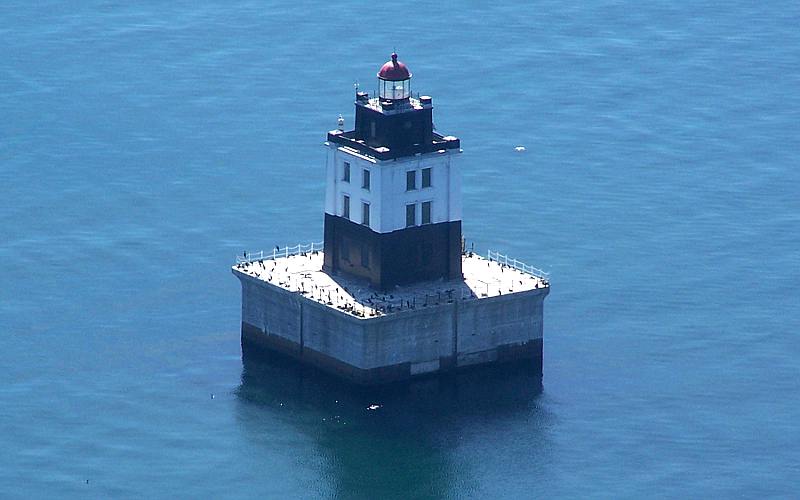 Poe Reef Light (1929, automated in 1974)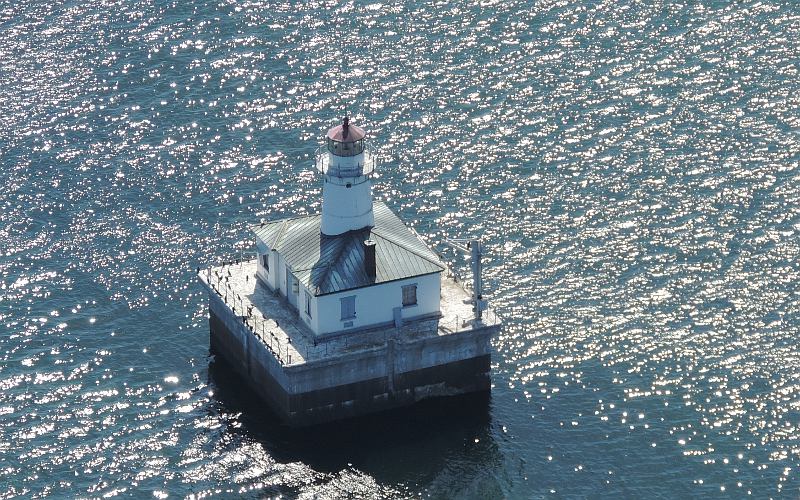 1930 Fourteen Foot Shoal Light was one of the first automated lights.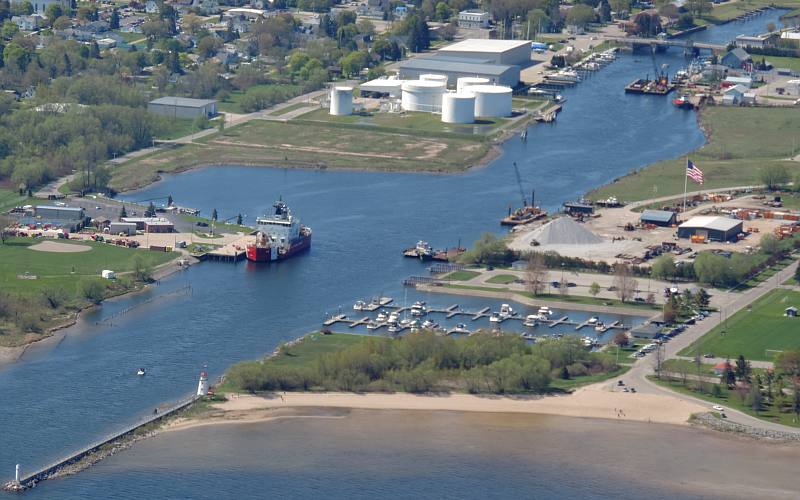 The Coast Guard Cutter Mackinaw in the Cheboygan River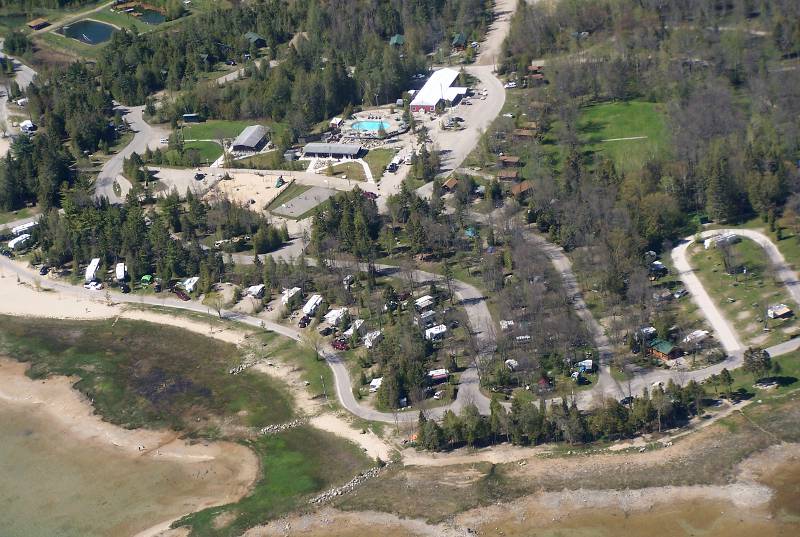 Mackinaw Mill Creek Camping Resort has over 600 campsites and a mile of Straits of Mackinac shoreline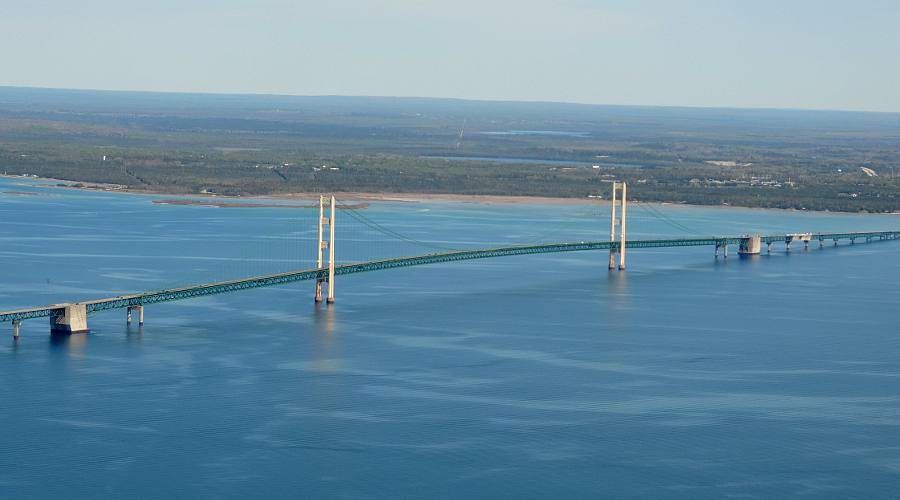 The Mackinac Bridge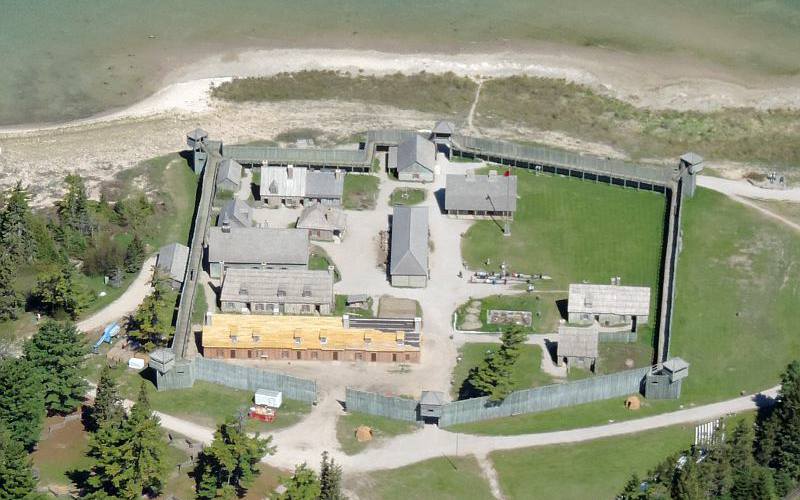 Colonial Fort Michilimackinac and the newly reconstructed southwest rowhouse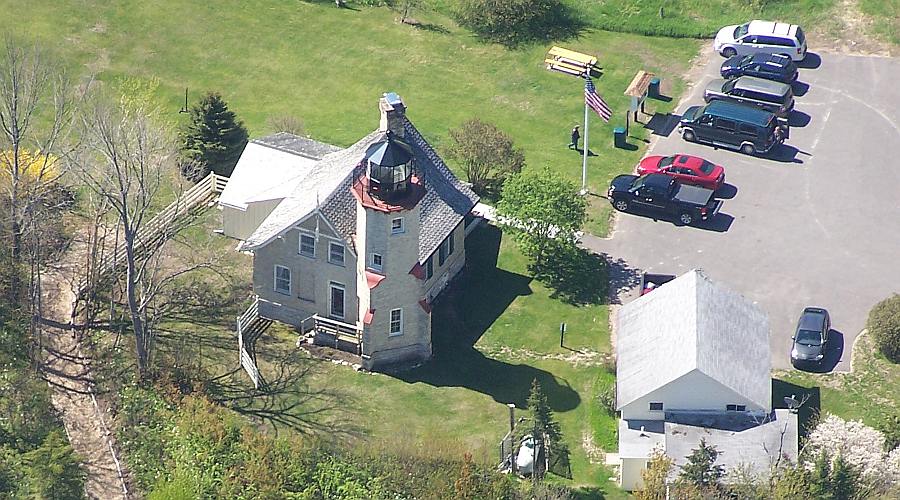 1869 McGulpin Point Lighthouse in Mackinaw City is open to the public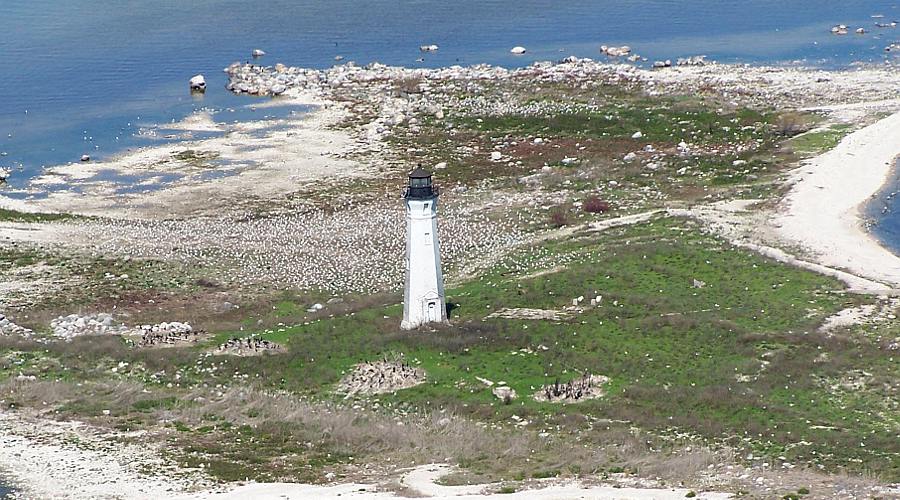 Skillagalee Light (Ile Aux Galets) and hundred of nesting birds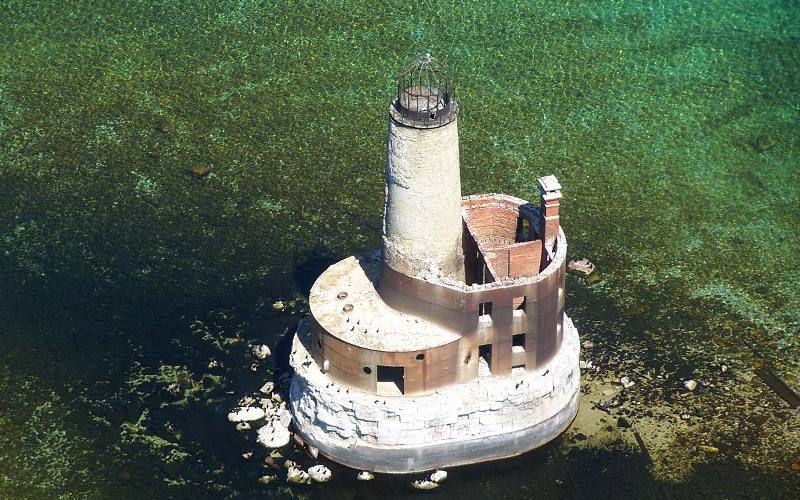 Waugoshance Lighthouse - during World War II, the abandoned light was used by the U.S. Navy for bombing practice.
(Prints and greeting card of this photograph)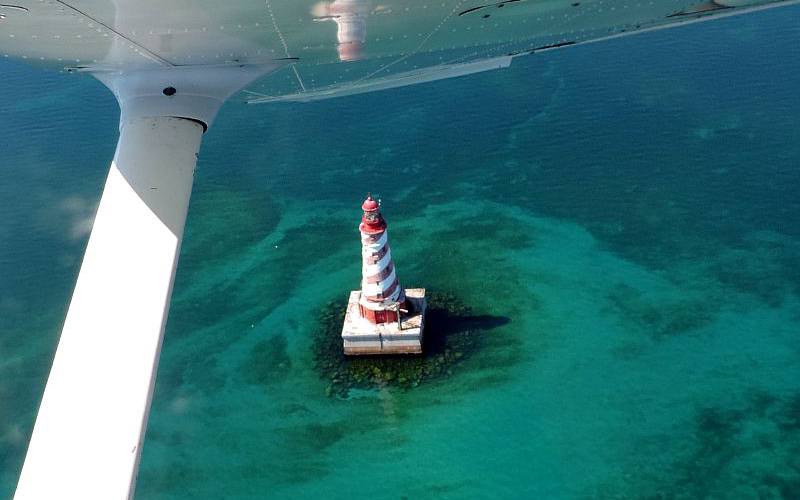 White Shoal Light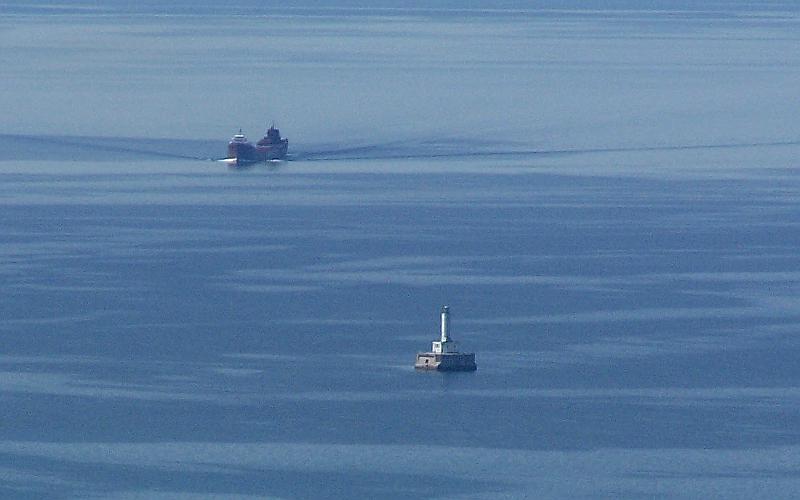 The 1942 freighter Lee A. Tregurtha passes the 1936 Grays Reef Light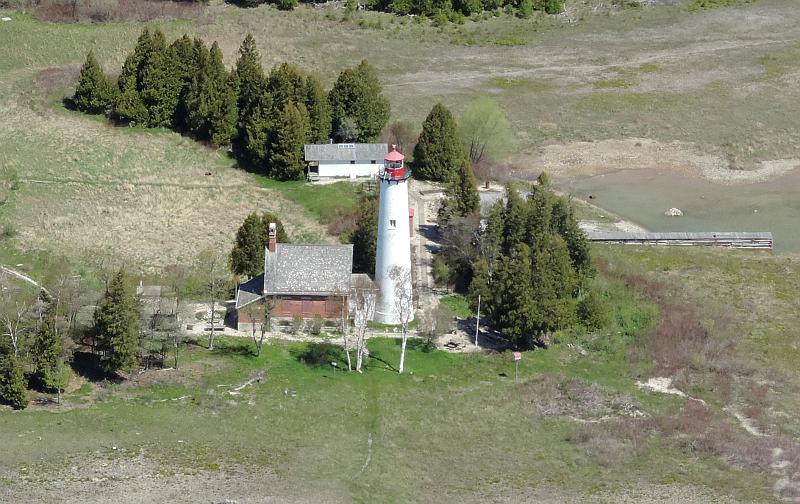 St. Helena Island Lighthouse was built in 1872-73
I think the pilot enjoyed it as well. He asked me to email some pictures of the lights to him so he can print one for his father. Much of the flight was at about 500' and there were many times when the plane was tipped about 75 degrees as were circled a light. I had a fabulous time. Linda enjoyed the plane ride for the most part. There was a couple of times that the quick tight turn around the lighthouses almost made her sick... but she says it was a great way to get some wonderful photos that you can't otherwise get.
Previous Page Next Page



winter lighthouse
flight