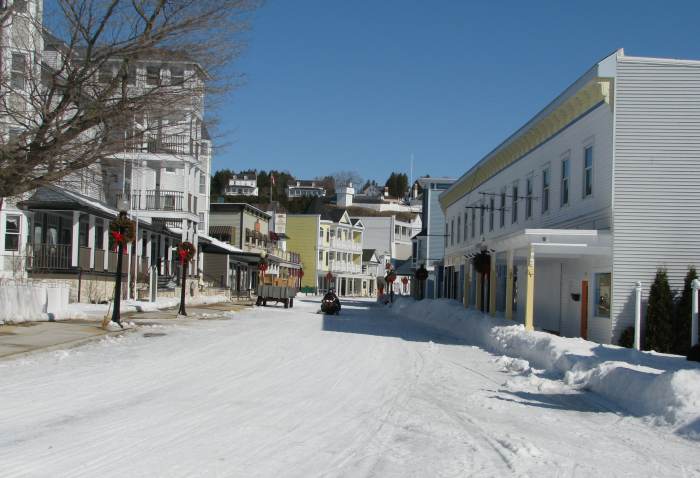 Huron or Main Street
Then I headed up main street. The Mackinac Island Tourism web site had said that some of the shops would be open, or have a sign up sheet for when they would open, but I found no businesses with sign up sheets.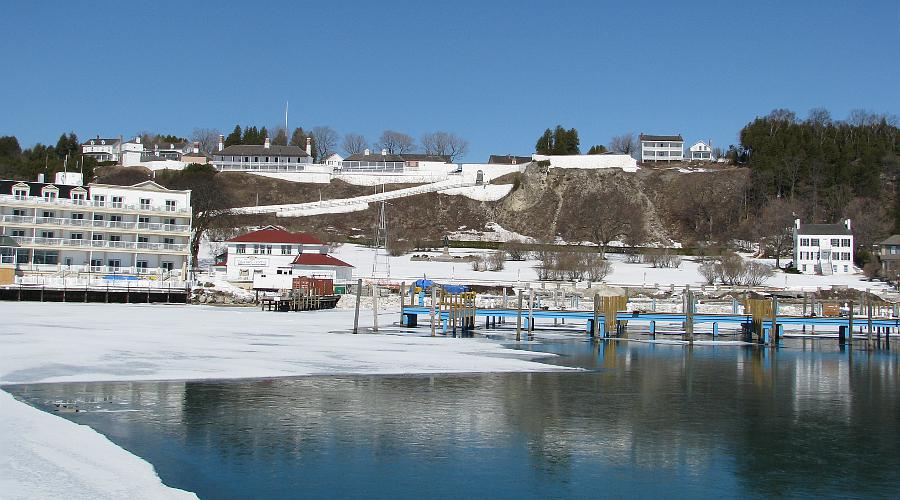 Fort Mackinac - the Officer's Stone Quarters and portions of the walls date to the American Revolution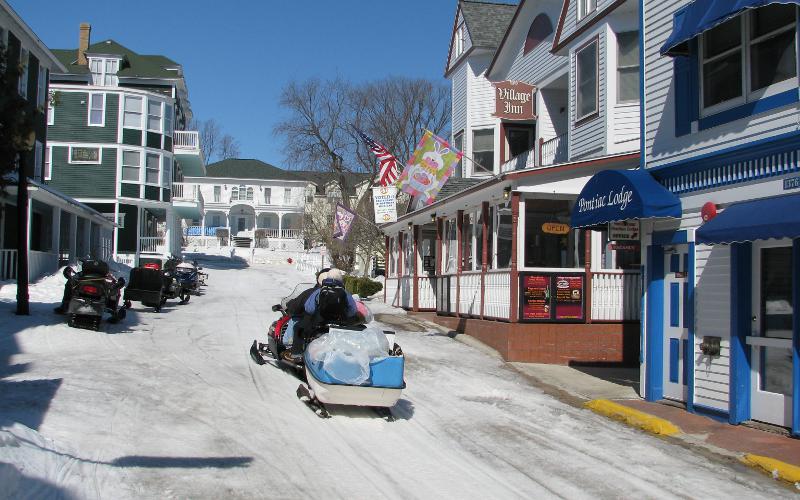 Taking supplies home by snowmobile
I had an early lunch at Patrick Sinclair's Irish Pub, a place where I had never eaten before. Patrick Sinclair's winter menu is pretty limited - mainly burgers, Reuben sandwiches and daily specials.
After asking the waiter for advice, I ordered a cup of chili and a Patrick Sinclair burger. The chili was fairly good, though it was served with cheese, something I would have asked the kitchen to leave off. The Patrick Sinclair burger is a 1/3 pound burger topped with corned beef, 3 cheeses, lettuce, tomato, tomato and Thousand Island dressing. It was a pretty good burger - I would consider getting it again.
Note: In the 2022-2023 winter, the dining places which stayed open are Kingston Kitchen, Mustang Lounge and Doud's Market & Deli. Lodging is available through the winter at Above Mackinac Condos, Bicycle Street Inn, Small Point B&B, Village Inn Suites and Pontiac Lodge.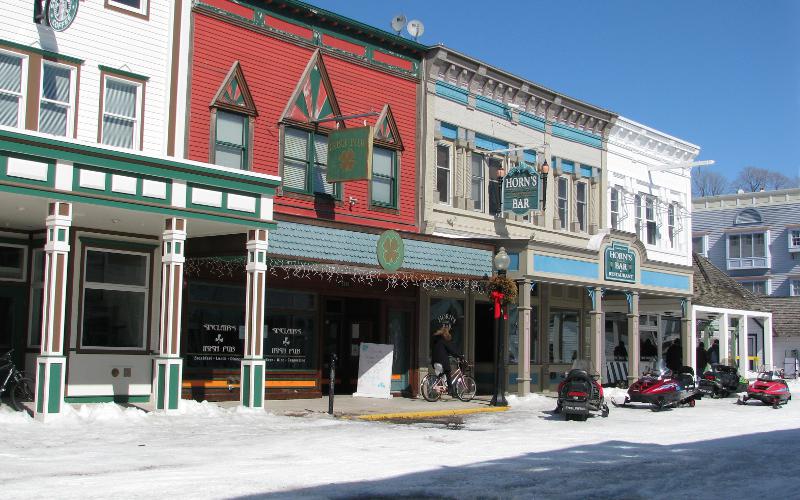 You don't often see bicycles and snowmobiles used at the same time and place.
After lunch, I continued up the street to the only other business I saw open on Main Street, Doud's Market. The signs at Doud's proclaim that it is Michigan's oldest family owned grocery store (since 1884). I was curious what the selection and prices were after no ferries for 10 weeks. There was a very small selection of fresh vegetables and no fresh meat. Doud's remains open year around, as does the Island Hardware.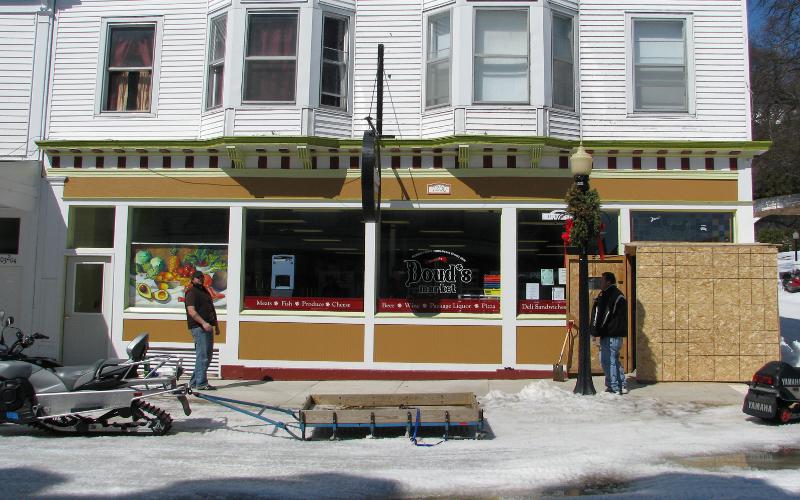 Doud's Market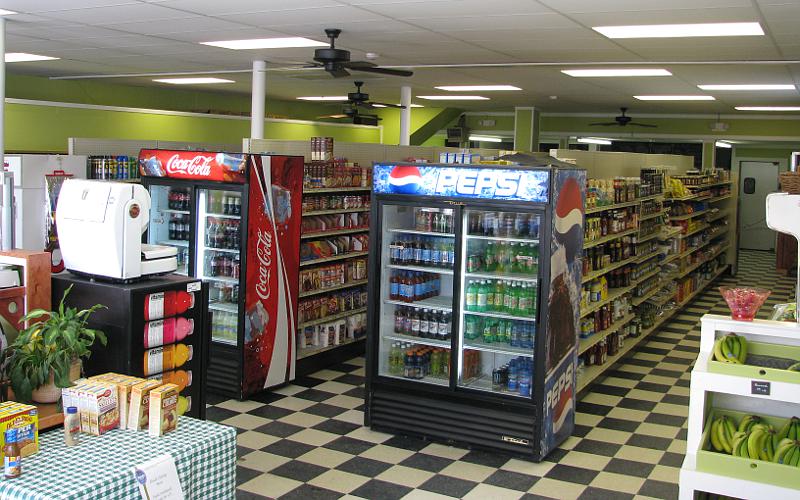 Onions were a $1.99 pound. Milk was $4.29 a gallon. The counters that hold fresh meats in summer were all empty, except for a few packages of bacon.
Don't take any of these comments as a put down. Doud's does a fine job of serving the Mackinac Island community. Under the circumstances, they do an amazing job. The Islanders are lucky to have them and I try to make some purchases at Doud's whenever I am on Mackinac Island.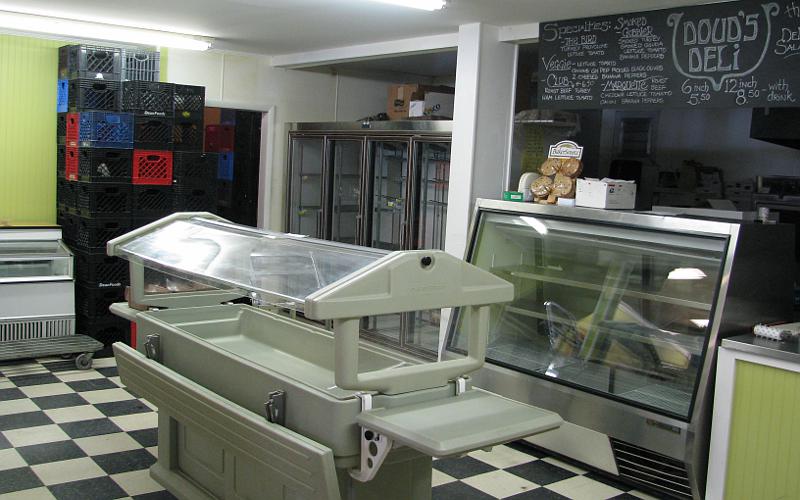 I went on west, following Main Street to Ste. Anne's Church. There was a little snowmobile traffic and just a few pedestrians. After a while, I realized that every person I saw walking was a woman. Every man was on a snowmobile.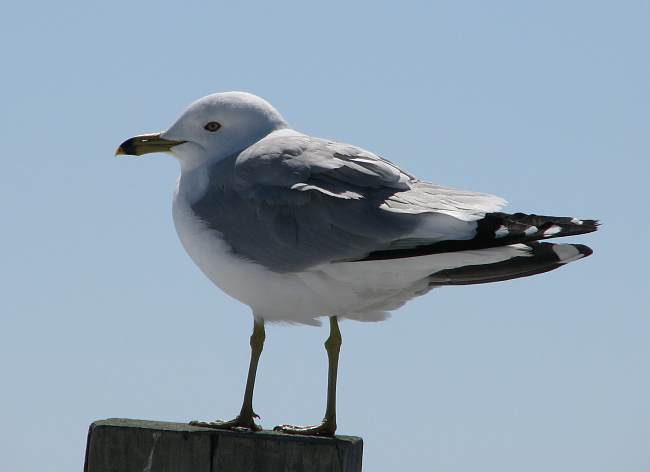 Ring Billed Gull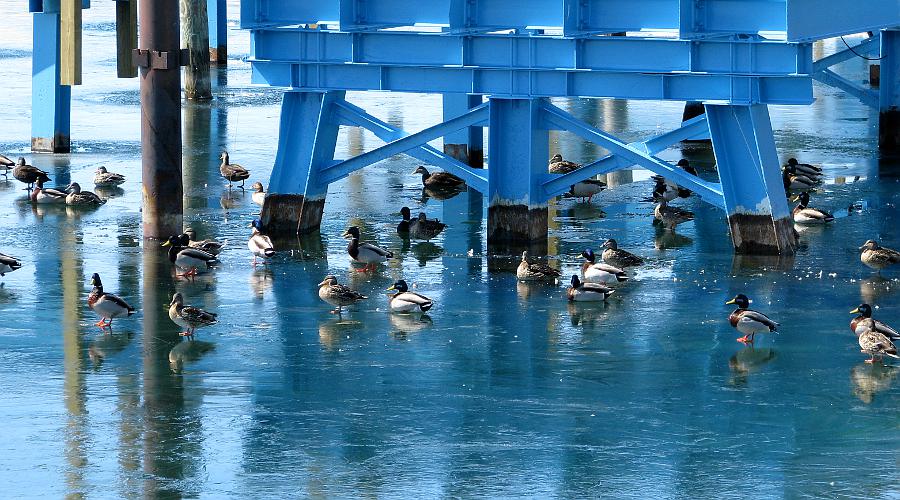 Mallard Ducks in the Mackinac Island Marina.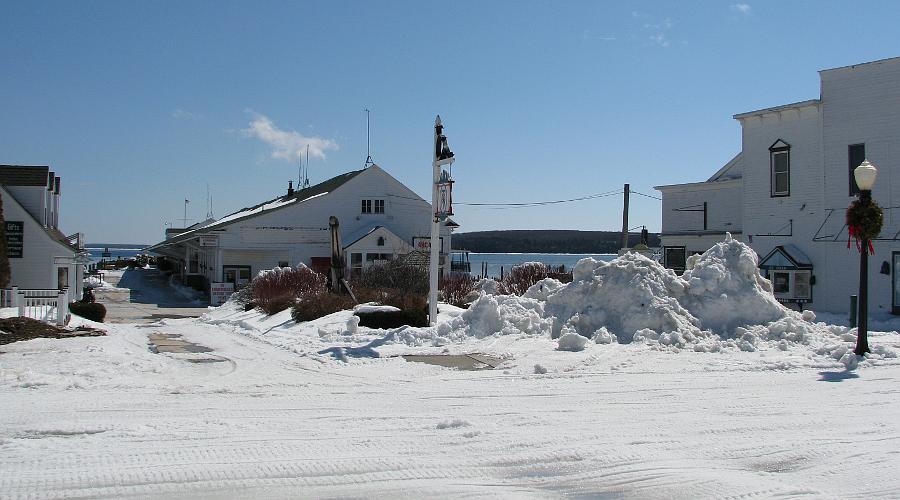 Arnold Transit Dock
I had hoped to take some photos and a short break inside St. Anne's Church, but it was locked up. However the weather was so mild (38 degrees, clear) that I sat on a sunny step out of the wind - reading and watching people pass by for a half hour.
Then a leisurely walk back through town to the Village Inn (one of only two other restaurants open on Mackinac Island in the winter), for a fried perch appetizer and French fries. The fries were average, but the perch was really quite good. Mackinac Island's Village Inn has a special menu for the winter, but this menu has a lot more variety than the one at the Irish Pub. The back page of the Village Inn menu includes a list of 15 hot mixed drinks. 2022 note: this is now Kingston Kitchen at the Village Inn, which I highly recommend!

Village Inn
The horse drawn taxi picked met me at the Village Inn and took me and another party back to the airport for the short return flight to St. Ignace.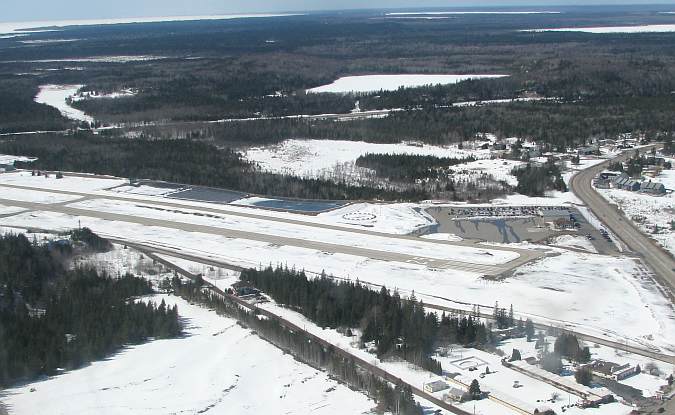 Mackinac County Airport


One last view of the Mackinac Bridge as the airplane approaches the airport


LS-3/14 Copyright 2008-2019 by Keith Stokes. These photos may not be reproduced without written permission. .