Maine - New Hampshire Trip
October 2018 Trip Report

Day one: flight into Boston and drive to Kittery, Maine with lunch at Agawam Diner in Rowley, Massachusetts


North Church - Portsmouth, New Hampshire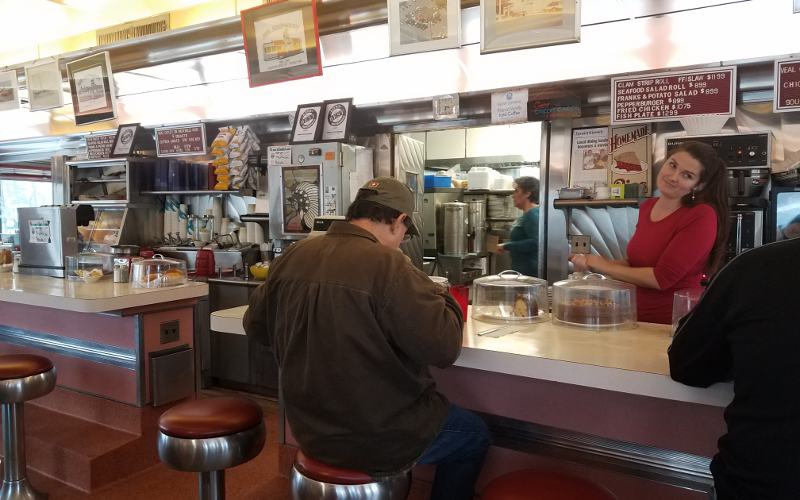 Agawam Diner
We flew out of Kansas City on Southwest Airlines to Boston and were lucky to have three seats to ourselves and a smooth flight until we approached the Boston area, where a nor'easter bounced the plane fairly roughly during the approach.

The bus to the rental center at Logan Airport took a long time, with many stops, even one at a train depot and one at the control tower. While riding the shuttle bus we learned that all Boston toll roads are E-ZPass only and we had to take a toll road while leaving the airport, so we rented an E-ZPass transponder along with our SUV.

On the way north to Maine, we stopped for a late lunch in Rowley, Massachusetts, where we stumbled across the decades old Agawam Diner. Linda had crab cakes and I had a fried clam roll (sandwich). I didn't realize that it was a roll (sandwich on a hot dog bun) when I ordered mine and there were so many clams pilled over the bun that I still didn't realize it was a roll until I was well into the meal.

Pretty good food and a nice experience!

Since then, I looked Agawam Diner up online. The reviews haven't been that strong, though it was featured on the Food Network and a couple of regional TV shows.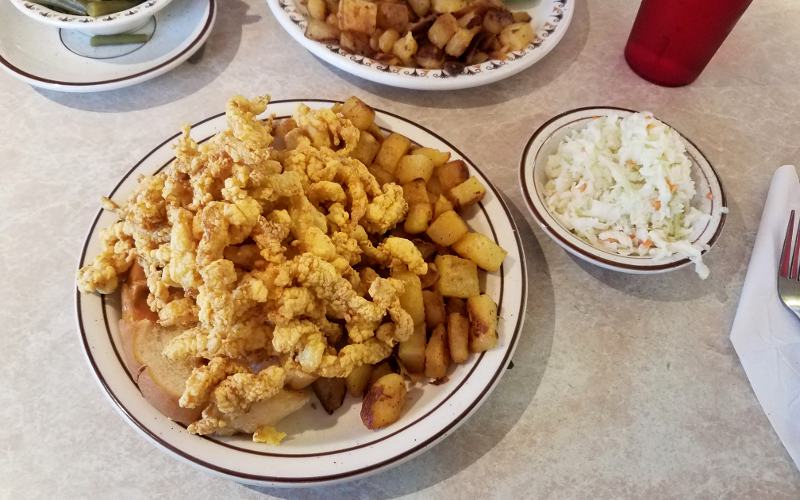 Clam Roll
We joined Fay and William at the comfortable cottage they are staying at this winter on the Piscataqua River in Kittery, Maine. It is the southernmost part of Maine, with Portsmouth, New Hampshire literally walking distance away. William is the brother of Linda's late first husband and they are the couple we stayed with in London during the 2010 trip where I proposed at the Eiffel Tower.
Their winter home has a nice view of the river and Portsmouth across the way.
Fay fixed a pot roast for our dinner and we saw The Hound of the Baskervilles at Seacoast Repertory Theatre in Portsmouth in the evening. It was played a little more for laughs than I would have liked, but it was still enjoyable. There was a 5 person cast and three of the cast members played many different rolls.
We finished the day with a game of Qwirkle. Most of the evenings we were in Kittery ended with a game of Qwirkle.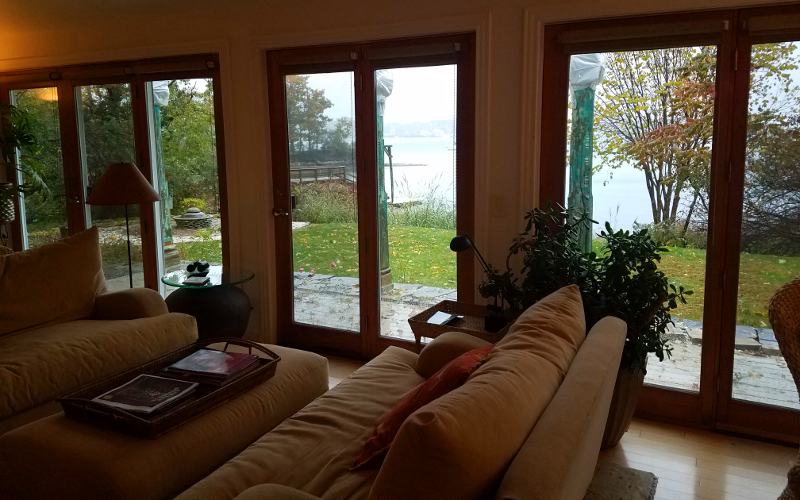 The living room of the Kittery home on the Piscataqua River
. Day 1 Day 2 Day 3 Day 4 Day 5 Day 6 Next Page
copyright 2018 by Keith Stokes