The Fort Mackinac Post Cemetery on Mackinac Island, Michigan is the final resting place for Fort Mackinac soldiers and their families. The exact founding of the cemetery is unknown, but local tradition is that both American and British soldiers from the War of 1812 are buried here. In addition to the soldiers and their families, six civilians are interred in the post cemetery.

Many early burials in the cemetery are unknown because they were marked with simple wooden crosses which have long since decayed and disappeared. There are about 108 burials in the cemetery, but only 39 are identified.

Known burials of note include Ignatius Goldhofer, a Civil War veteran who came to Fort Mackinac in 1869. He was buried in the Post Cemetery by his wife and children, when he died three years later.

Other burials include Edward Biddle, who served as sheriff, village president and surveyor in the mid 19th century, and the 1880s burial of Josiah and Isabel Cowes, the infant children of Lieutenant Calvin and Mary Cowles.

The cemetery was closed to burials soon after the US Army abandoned Fort Mackinac in 1895. Protestant and Catholic burials were originally at cemeteries in town. When those cemeteries were closed in the mid 1800s, many of their their interments were relocated to the adjacent St. Anne's Cemetery and Mackinac Island Cemetery. To be buried on the island today, you must have been born there, been a resident or owned a business on Mackinac Island for more than 15 years to qualify.

The Post Cemetery is under the control of the National Cemetery Administration. There is no office at this cemetery. It is overseen by Great Lakes National Cemetery in Holly, Michigan.


Mackinac Island

Mackinac Island Carriage Tour
The Post Cemetery did not look like we see it today until 1907. Prior to that time, many graves were marked with simple wooden markers or no markers at all. The US Congress granted $1,000 to Mackinac Island State Park Commission and the cemetery was landscaped and the white picket fence & arched entrance sign were added in 1906 - 1907. A cannon from Fort Sumter, South Carolina was mounted on a field carriage and placed near the center of the cemetery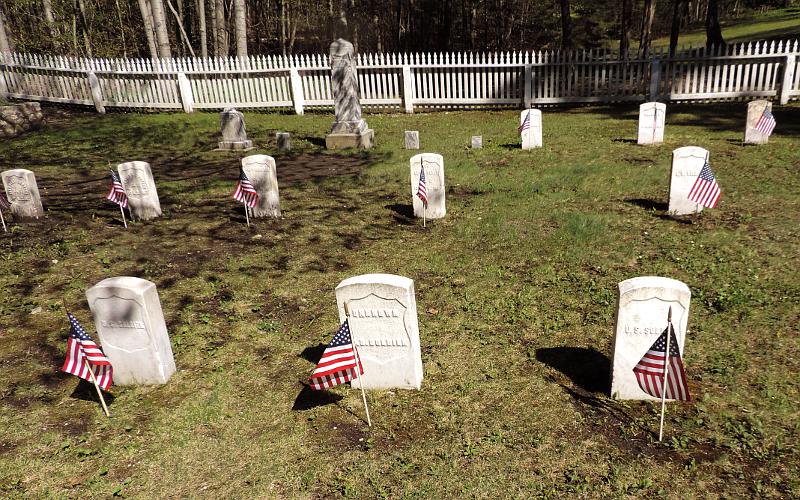 During the 1906-07 landscaping, the headstones were moved into straight lines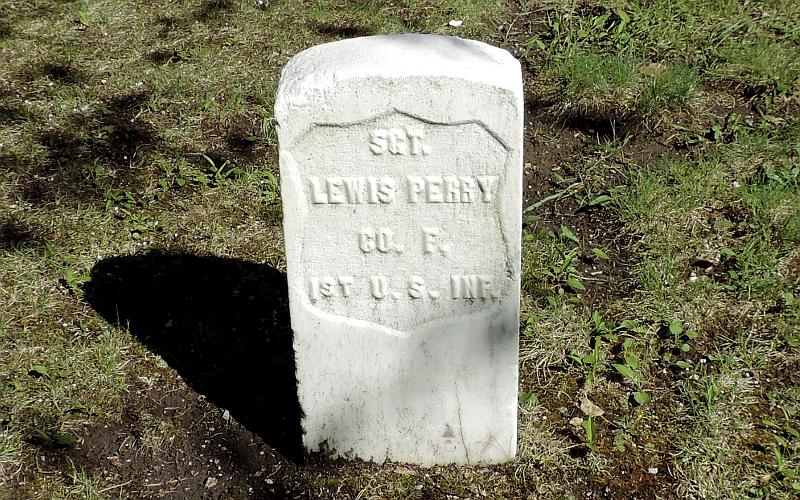 Sgt. Lewis Perry 1st U. S. Infantry Company F - died of consumption on November 23, 1869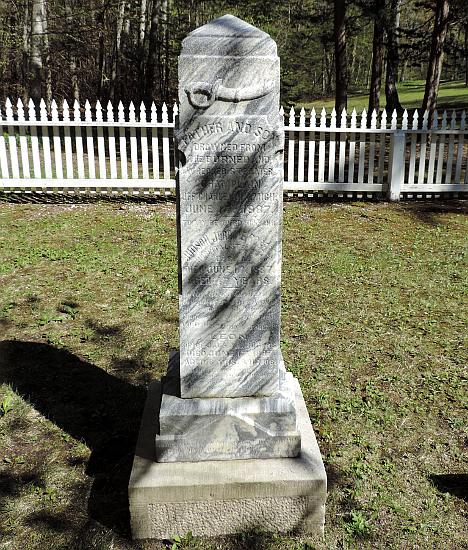 "Father and son drowned from the burned and wrecked steamer
Champlain off Charlevoix Michigan June 17 1877
To my beloved husband Judson Jerame Roberts
hospital steward U S A age 47 years"
son Leon aged 6 years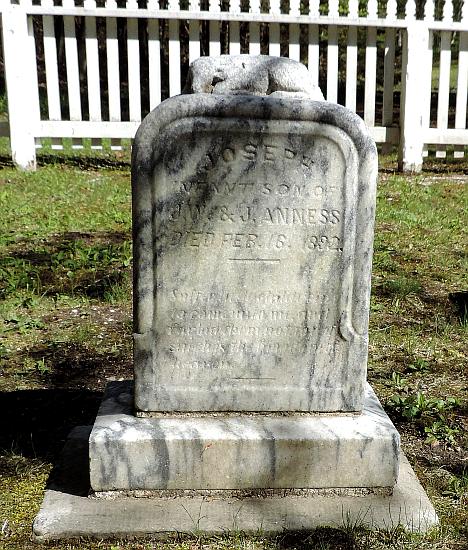 Joseph Infant son of J. W. & J. Anness
Died February 16m 1892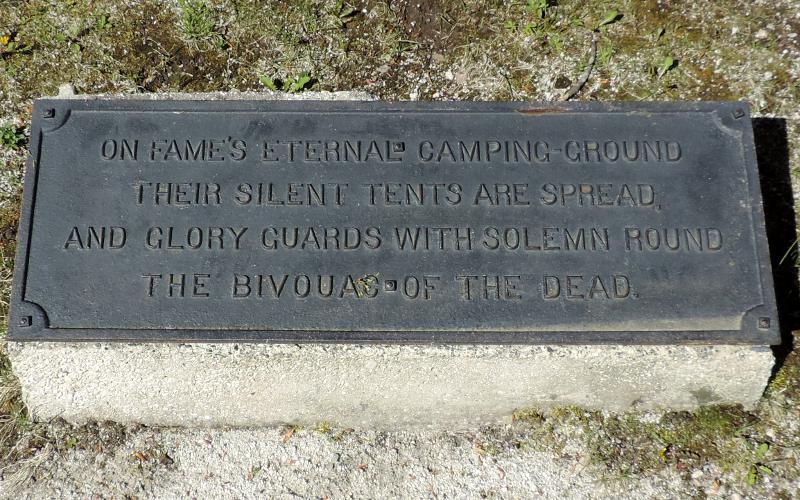 "On fame's eternal camping ground
their silent tents are spread
and glory guard with solemn round
the bivouac of the dead"
from Bivouac Of The Dead By Theodore O'Hara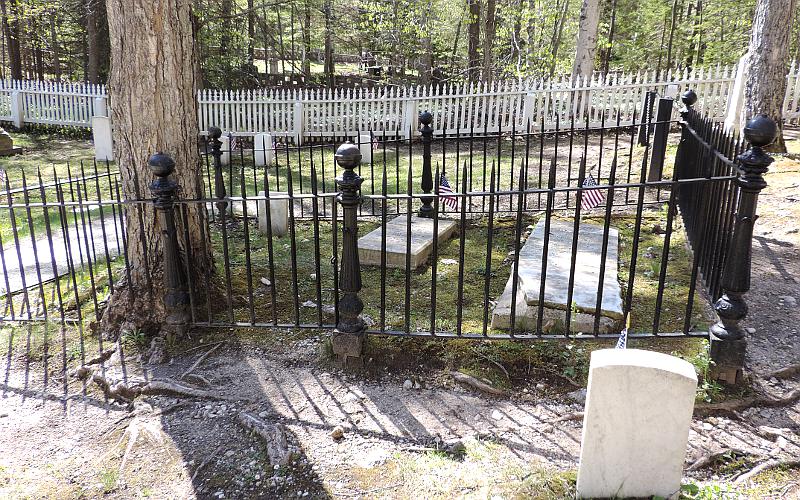 Graves inside this iron fence include 2 year old Rene Edward DeRussy (son of then Captain Gustavus Adolphus DeRussy,
who later became a Brigadier General, and Fannie Clitz) and Capt. John Clitz who died while being in command of
Fort Mackinac in 1836.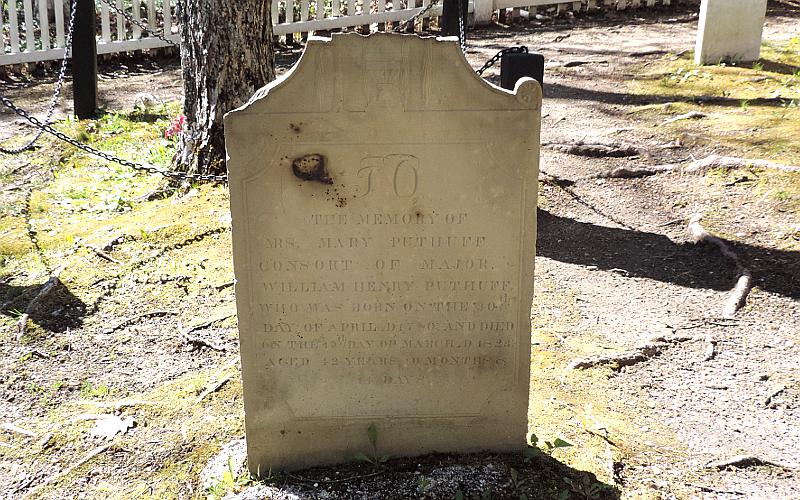 "To the memory of Mrs. Mary Puthuff consort of William Henry Puthuff.
who was born on the 30th day of April 1780 and died on the 15th day of March 1823
aged 42 years 10 months and 14 days" - William Puthuff was the Indian Agent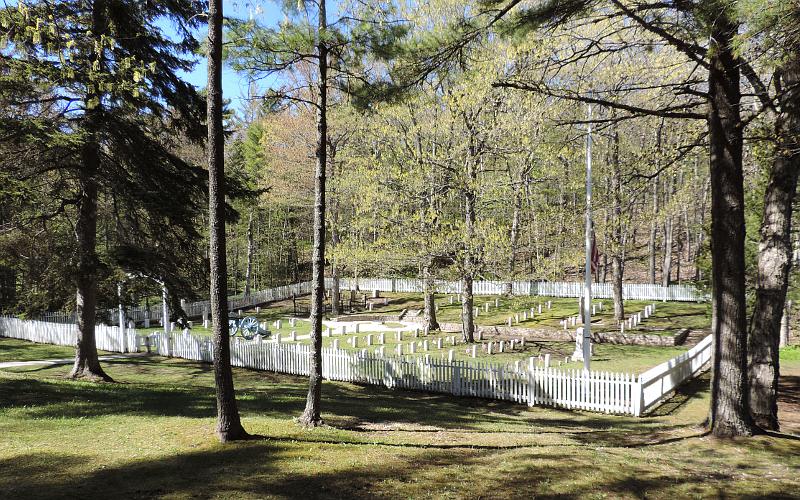 The flag at the Post Cemetery is always at half staff as part of a long held tradition instituted
by the Mackinac Island State Park Commission.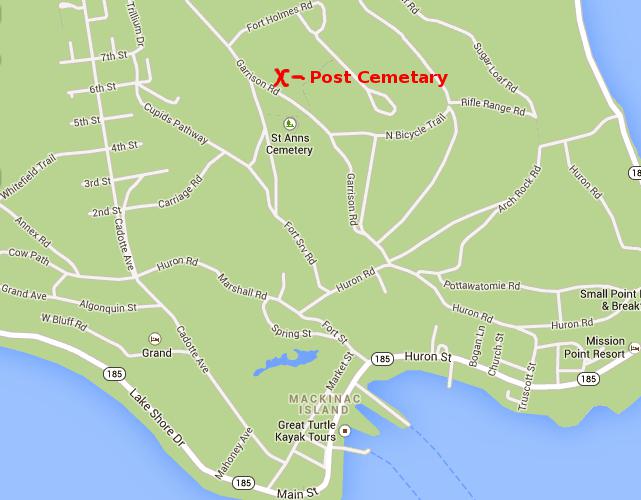 Fort Mackinac Post Cemetery Map