Although Mackinac Island is visited by hundreds of thousands of people a year, far fewer than 1% of Mackinac Island's tourists visit Mackinac Island in Winter. Star Line Ferry offers limited scheduled ferry service until the ice stops them from running (usually sometime in early to mid January).

There may be a few weeks during the winter when it is possible to get to Mackinac Island from St. Ignace by crossing the ice on cross country skis or snowmobile, but that is risky and not recommended. The St. Ignace "ice bridge" is not sanctioned by the Coast Guard or the Mackinac County Sheriff's Department. Every few years someone dies while attempting to cross the ice bridge.

Saturday, March 29 was forecast to be sunny with a high of about 37 degrees and light winds - just about perfect for this time of year. I drove over the Mackinac Bridge from Mackinaw City about 9:30 AM. The Straits of Mackinac was beautiful with blue skies, ice cover and bright sunlight. As I approached the Mackinac County Airport, I called the taxi service operated by Mackinac Island Carriage Tours, to arrange for a taxi to meet my flight. The phone number for the Mackinac Island taxi is (906) 847-3323.

Flying to Mackinac Island in Winter

In 2023, passenger air service to Mackinac Island is provided by Fresh Air Aviation. When the ferry is unable to run, Fresh Air has flights to Mackinac Island between 8AM and 5PM for $83 round trip. At other times there is a 3 seat min airfare. Reservations are necessary. Make them at (906) 285-6727 or email info@freshairaviation.net.

'09 Mackinaw City winter trip report

Tahquamenon Falls Trip Report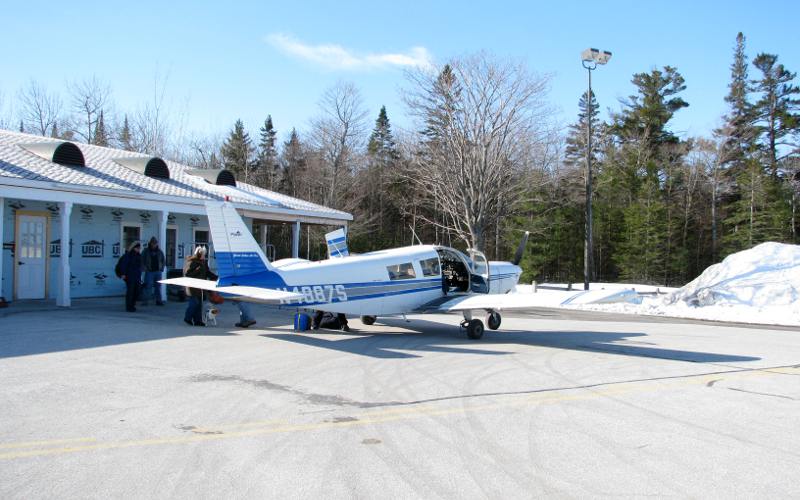 Piper airplane at the Mackinac Island Airport terminal.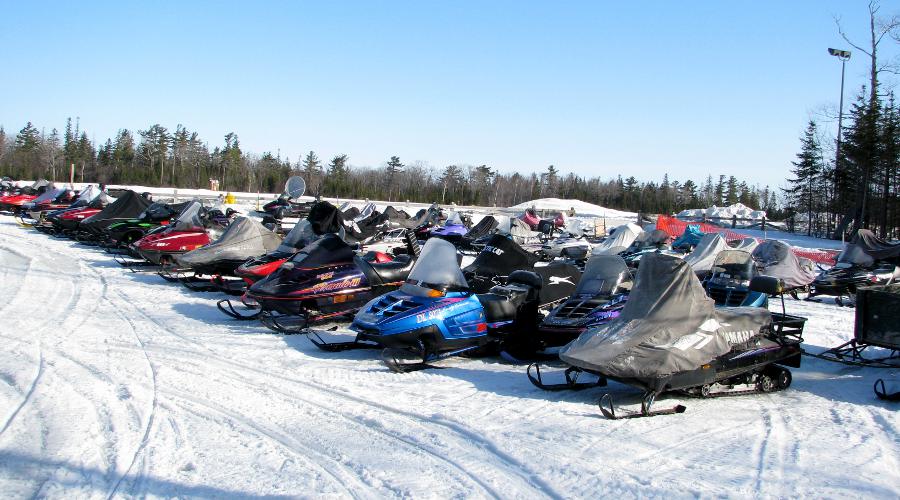 Mackinac Island airport parking lot.
At the smaller Mackinac Island airport, it was about 10 minutes before the horse drawn taxi arrived. I was the only passenger, and sat next to George, the driver. I had never met the driver before, but he had lived on Mackinac Island all of his life, and I enjoyed talking about Mackinac Island, Mackinaw City, and people that we both knew. He was the only taxi driver operating on this day.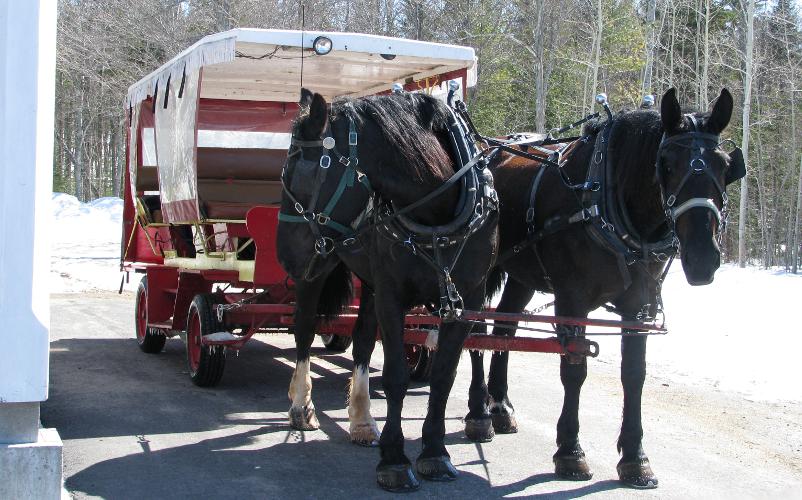 Horse drawn taxi.
The taxi ride into the Village of Mackinac Island was on snow and ice packed roads that we shared with snowmobiles. The horses were obviously very used to the snowmobiles and didn't shy from them. The road was starting to get sloppy with the spring thaw and would only get worse over the next few weeks. The fare between the airport and downtown Mackinac Island was $6.50 with a 2 fare minimum, so I had to pay $13. It took about 10 minutes to travel the mile and a half to the downtown.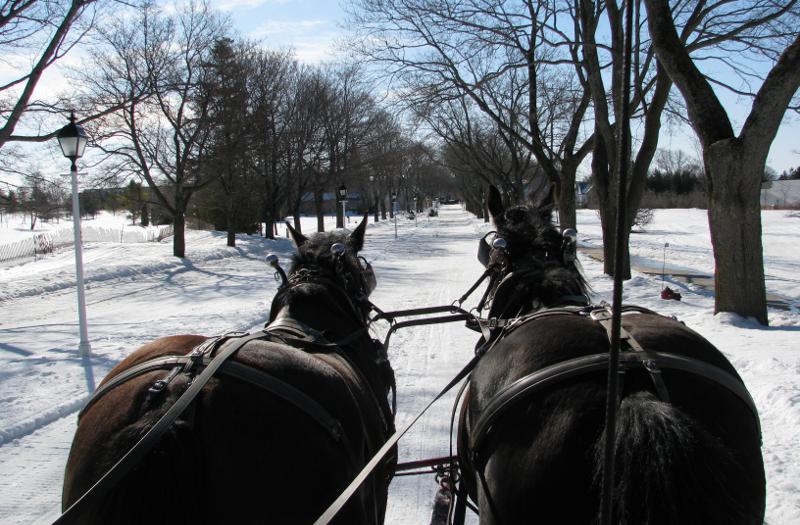 Passing the Grand Hotel on the way to downtown Mackinac Island. (prints & cards of this photo)
Getting out of the taxi, I immediately fell on the slippery ice and my legs started to slide under the carriage. After picking myself up, I made my way to a step where I could sit down and pull rubbers on over my shoes. Even with the much better traction of the slip-ons, I fell a couple of more times during my visit.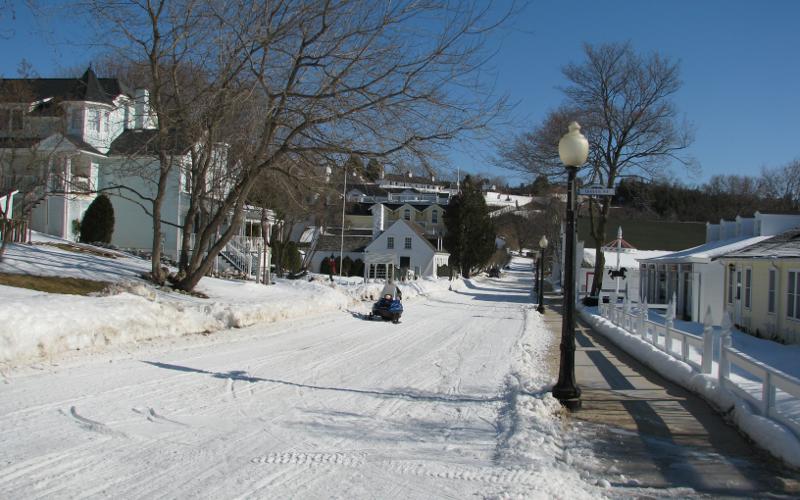 Mackinac Island's Market Street with Fort Mackinac in the distance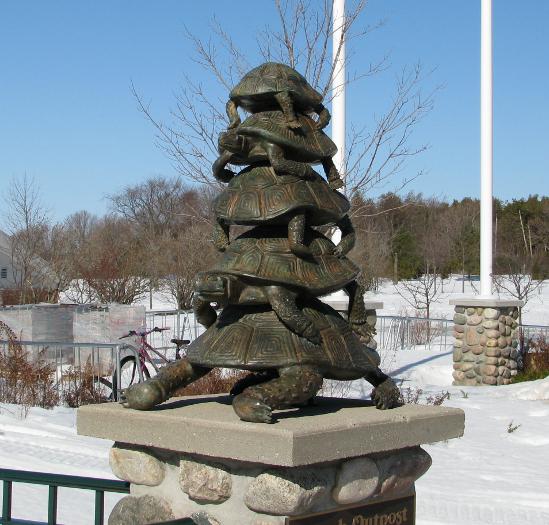 Turtle sculpture on a fence post at the French Outpost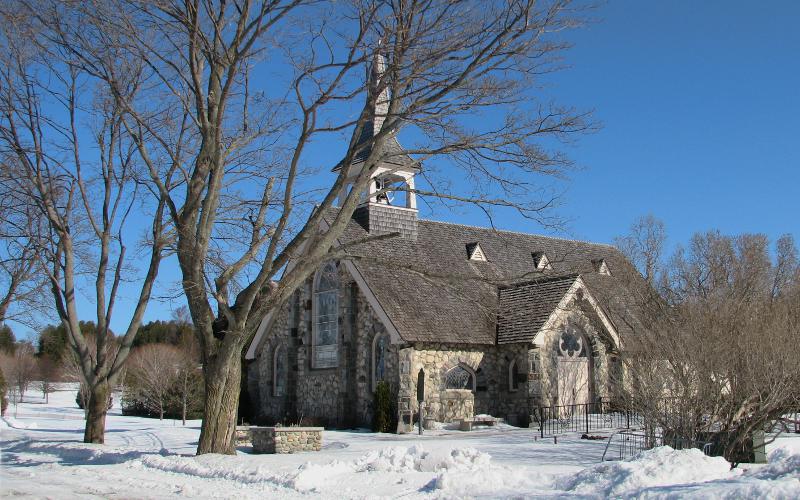 The Little Stone Church is a Congregational Church which was built in 1904. It is closed in the winter.

LS-3/14 Copyright 2001 - 2022 by Keith Stokes. These photos may not be reproduced without written permission. .