| | |
| --- | --- |
| | Mackinaw City Genealogy |
In the 18th Century, Mackinaw City was the site of of Fort Michilimackinac, a French and then English fortified community. During the winter of 1780 - 1781 the English moved that community to Mackinac Island.

The village of Mackinaw City was platted in 1857 and the first resident was George W. Stimpson in 1870. Prior to the arrival of the railroads in 1881, Mackinaw was visited almost exclusively by boat.

The railroads needed a way across the Straits of Mackinac between Michigan's upper and lower peninsulas and the three railways serving the Straits formed the Mackinac Transportation company. The first Straits Ferry was the Algomah, built in Detroit in 1881.

The Dixie highway, East Michigan Pike and West Michigan Pike followed the railroads to Mackinaw. At first the automobiles used the railroad ferries, but the State Highway Department formed Michigan State Ferries and the first seasonal automobile ferry began in 1923.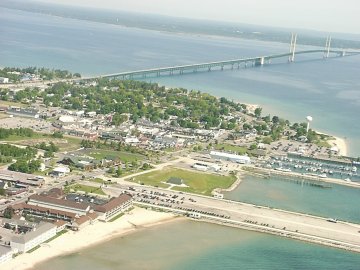 The ferries increased in number and size, but were never able to handle the few highest traffic days of the year, when the lines would stretch for miles (and hours) down US 23 and US 31. The 5 mile long Mackinac Bridge opened on November 1, 1957 and the automobile ferries ceased.
The railroad ferry Chief Wawatam continued to connect the two peninsulas until 1984, when rail service to St. Ignace ended. The Chief remained at the Mackinaw City dock until 1988.
Mackinaw City is located at the northern most tip of Michigan's lower peninsula. It is located in two townships in two counties. Wawatam Township in Emmet County and Mackinaw Township in Cheboygan county. Prior to 1923, Wawatam Township was a part of Carp Lake Township. The nearest county in the upper peninsula is Mackinac County.
My ancestors' surnames
Alberson, Bateson, Boomer, Boone, Cleland, Cudworth, DeGarmo, Dixon, Dorrance, Emmett, Gordon, Helms, Hope, Ingledan, Kempton, Kerr, Lee, Marble, McNight, Sailler, Sands, Stokes, Taylor, Thomas, Whittemore


Mackinaw City Residents I am currently researching
Please email leads or questions to Keith Stokes
Isaac Austin - born in Canada ~1872, emigrated to US ~1875. Married Jane Stokes lived in Ellis Township, Cheboygan County in 1900, Mackinaw City 1910, 1920, 1930
Irving George Sands - born in Canada 11/8/1888, emigrated to US 1891, lived in Charlevoix before Mackinaw. Need details on parents and birth
Jane Stokes - born ~1873 in England emigrated to Canada, emigrated to the US ~1886-1894, married Isaac Austin, lived in Ellis Township, Cheboygan County in 1900, Mackinaw City 1910, 1920, 1930
Others
Elizabeth J. Bateson - born in Ontario, Canada 9/18/1863, married Samuel Mcknight. living in Minden Township, Haliburton County Ontario in the 1881 and 1901. Mother believed to be Elizabeth Hope/ Father may have been Richard Bateson born in England 1836.
Maggie Boone - born in Canada ~1860, married George Sands, emigrated to US 1891, married Sam(p)son Godbold, lived in Charlevoix 1910 & 1920
Mary Helms - born ~1827 probably in Ontario County, New York, married Rev. David "Perry" Dorrance, lived and buried in Boyne City, Charlevoix County, Michigan.
Samuel McKnight - born Ireland 1/1/1851, immigrated to Canada 1961. living in Minden Township, Haliburton County Ontario in the 1871, 1881 and 1901 married Elizabeth J. Bateson. Alive in 1922.
George Sands - believed born in Canada, married Maggie Boone, emigrated to US 1891
David Stokes - born in England, emigrated to Canada. Lived mostly in Ontario but some in Vancouver. Worked as Timber Cruiser. Married Victoria Louise McKnight, Divorced 1923. Had property in Severin Ridge, Ontario. Died ~1960s
Robert Cleland Taylor - born in New York 7/12/1834. Son of Catherine Cleland & Tunis Taylor, married Emily Elizabeth Alberson 1865, lived in Charlevoix County, Michigan. died 8/12/1902
Copyright 2003-2017 by Keith Stokes