Tahquamenon Falls, Crisp Point Lighthouse and Grand Marias Harbor range lights
Day trip along the south shore of eastern Lake Superior in Michigan's Upper Peninsula
Returning through Paradise to pick up highway 123 west, I stopped for lunch at Buffalo Bill's, which was recommended by the young man at the gift shop. Buffalo Bill's is a typical small town town restaurant. I had the house specialty buffalo burger with cheese and mushroom. It is a bit price for a small town restaurant ($11 of burger, fries and ice tea), though the servings were generous and the food good. The kitchen and server were both quite slow.

It wasn't until I was leaving town that I realized - I had a "Cheeseburger in Paradise." (Those of you who don't listen to Jimmy Buffet have no idea what I am talking about:-)

Since lunch took so long and the day wasn't bright enough for good photography, I skipped the lower Tahquamenon Falls, though I couldn't skip the larger upper falls.
After climbing down the 148 steps to the observation station below the falls and taking a few photos, I returned to the car and continued west a few more miles and turned north onto a sand road: L-500.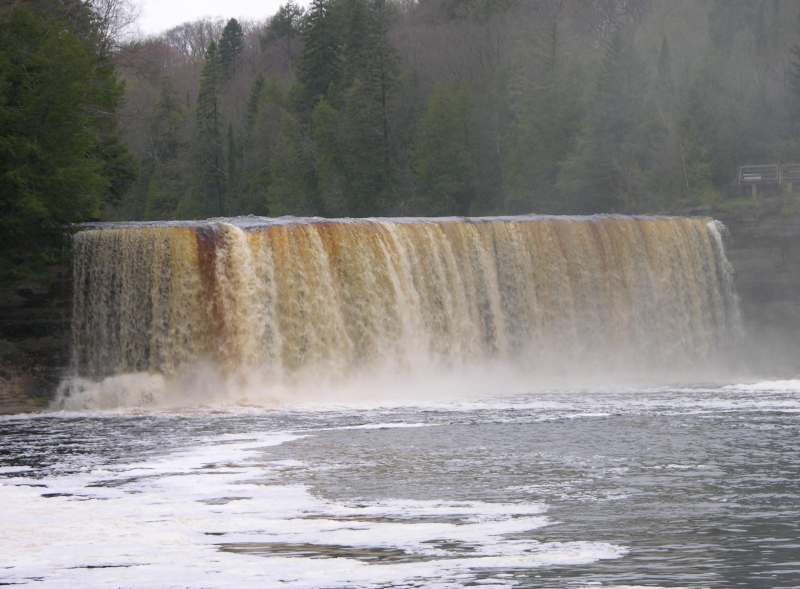 After two days of rain, the road was pretty bad, but there was no other traffic and I could use the whole road to find the spots that weren't as bad. It was good that I had dad's heavy Ford Crown Victoria. There was 12 slow miles of that road, then 7 miles on a narrow barely improved road to the Crisp Point Light.
Crisp Point has just the tower remaining. The Crisp Point Light Historical Society recently added a nice board walk, and rock near the base to stop erosion. Only one other party had signed the guest register so far that weekend. The weather was still wet, but it was clear enough to see one freighter on the horizon. It was still - no wind or waves.
Driving back from Crisp Point, I turned west on l-412, drove to L-37 and then north to Deer Park. A few miles south of Deer Park, a black bear crossed the road in front of me - just a quick glimpse. The first wild bear I have seen in 25 years. I also saw 9 deer in ones and twos over the course of the day.

The west from Deer Park, along Lake Superior was another sand road (L-407) to Grand Marais. It was paved when it crossed from Luce to Alger County Grand Marias.

Grand Maris is a quaint community clustered around a natural harbor. There are large dunes along Lake Superior to the east and even larger dunes (the Grand Sable) to the west. At the tip of the point which forms the Harbor are the two Grand Marias Harbor range lights, about 1000 feet apart, the Lightkeepers House and Museum (closed except by appointment), Ranger's Office, and Coast Guard Station.

It was now 6PM, the wind was up and there were 3 foot waves. The walk to the lower light was pretty cold.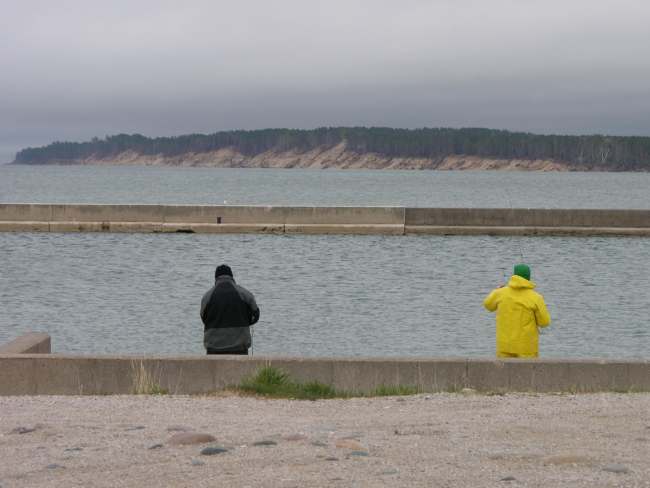 Page 1
Page 2
Page 3
Page 4
Keith's other trip reports & photos
Photos copyright (C) 2005 by Keith Stokes.