Hawaii 2023 Trip
Arriving in Maui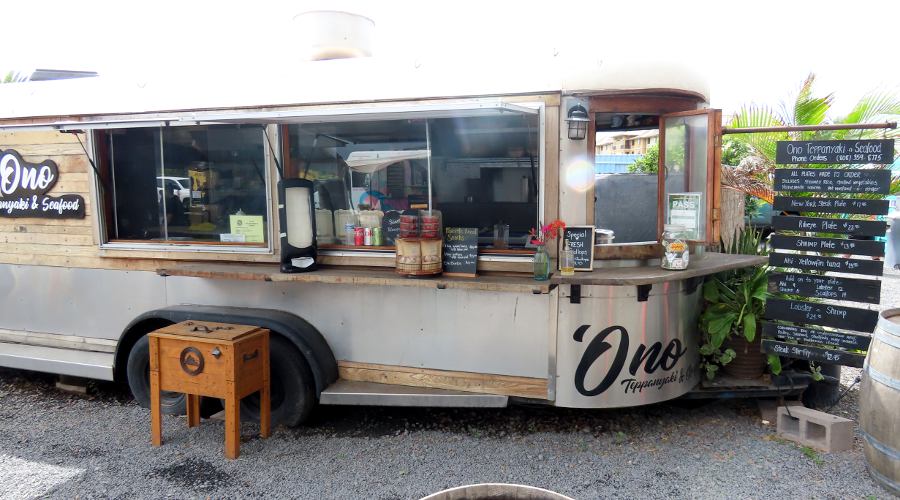 Ono Teppanyaki & Seafood
Wednesday - Day 6
We drove down to Lihue for our 11:50AM Hawaiian Airlines flight to Maui. At Sixt, there was a long wait to get someone to check us in at return, even though there was no one in line ahead of us for that either. Of course, if time had been critical, I would have put the keys in the drop box and left. There was no wait for a shuttle to return.
Our flight was delayed and we got to Kahului a little after 1. With the relatively last minute timing of our booking the trip, we didn't have seats side by side, but window seats with mine right behind Linda's at the back of the plane. My view was entirely an engine, but Linda said she watched us fly over Oahu on the way to Maui.
After picking up our car at Dollar, we stopped for lunch at the highly recommended Ono Teppanyaki & Seafood food truck near the airport. It turned out to be part of a cluster of food trucks, sharing a covered area with tables, porta potties and hand wash stations. Linda checked out the other options but joined me in having grilled shrimp and lobster tail from Ono. They were great! Linda thought the lobster was the best dish of the trip. The mustard and ginger sauces were good as well. The only thing I would have changed was a little larger serving of the vegetables.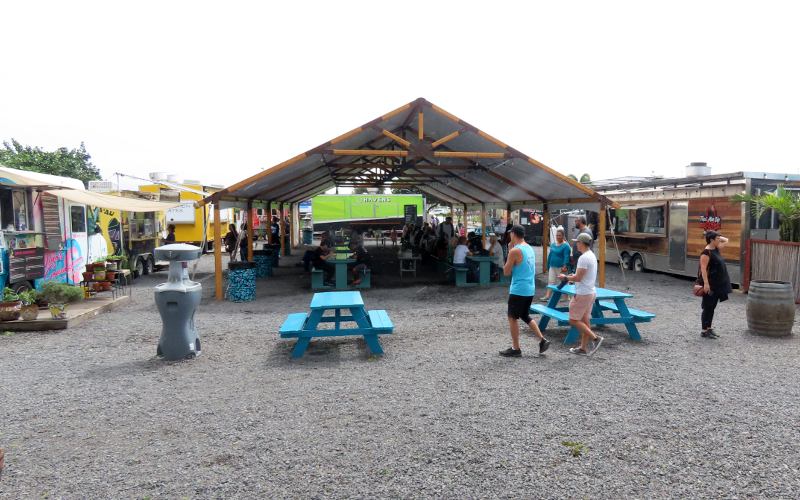 Food truck food court

Grilled shrimp & lobster tail
Following lunch, we headed east a few miles on Hana Highway to Hookipa Beach Park. The parking was pretty full, but we snagged a parking spot in the very muddy lot. The first thing we noticed were surfers tackling the heavy waves.
After watching the surfers from Ho'okipa Lookout, we walked down to the beach where I had been guaranteed we would find Hawaiian green sea turtles, AKA "honu." I didn't see any on shore at first, but spotted 3 or 4 in the water, though they were fairly hard to see. But then I moved on to the far east area by the beach and realized that what at first looked like a rocky beach, was some large rocks and over 30 large sea turtles. Very cool, though they were not very active and it wasn't quite as interesting as I expected. I'm still very glad we went there.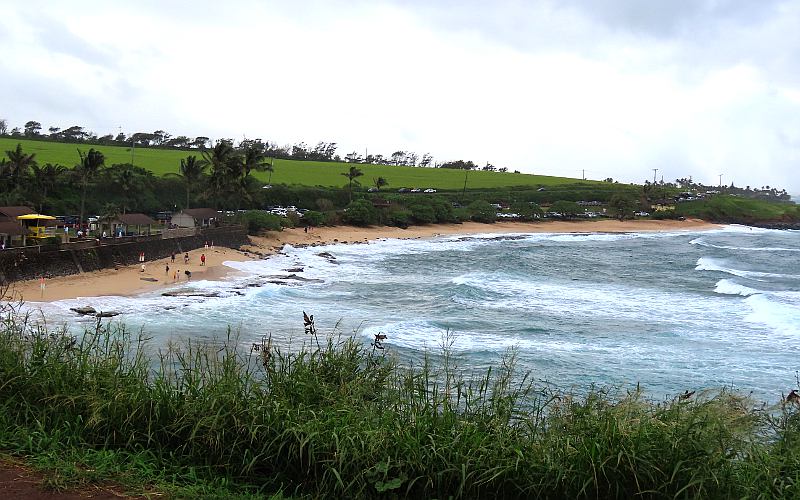 Hookipa Beach Park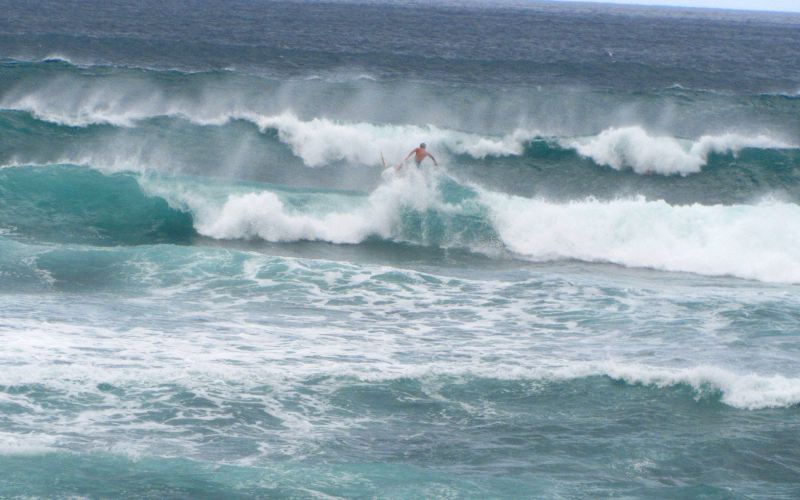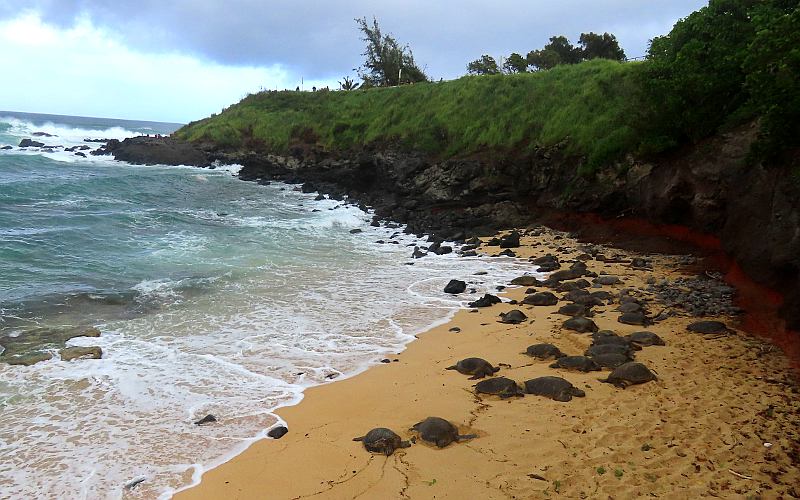 Green sea turtles (Chelonia mydas)

Hawaiian green sea turtles, AKA honu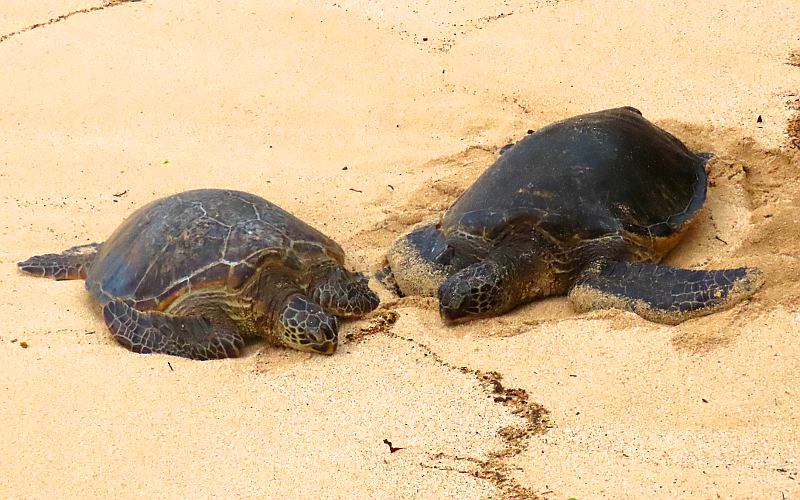 Green sea turtles
It was getting late enough that we would be able to check in to our Airbnb condo at Sugar Beach Resort so we headed south to Kihei. We already had a code for the door, but checked in at the Vacasa local front desk to get a parking pass. Vacasa is an international vacation property management company which handles over 1,100 properties in Hawaii.
We were very happy with the condo, which for at least at this time was about the same price as an ordinary Maui hotel room without a view. It was a top floor, one bedroom unit less than a stones throw from the water. Perhaps too close, I would have enjoyed the view more from a little farther back. The condo was clean, attractive, in good repair and just the right size for the two of us. Many things were provided, such as beach chairs, coolers, binoculars and similar items. We liked there being a 2 story parking garage, which let us have covered parking. There were always spaces available on the ground level.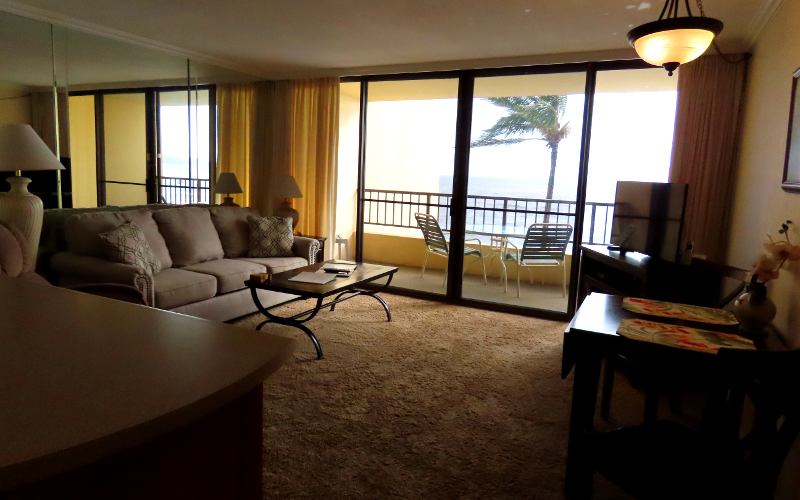 Sugar Beach Resort
After freshening up, we headed out for our 5:30PM reservation at Three's Bar & Grill. Heavy rains had flooded much of the parking and it was a struggle finding a spot to park. The rain had also closed the deck at Three's, so we sat inside.
Three's Bar & Grill was in a 2017 episode of Diners, Drive-ins and Dives and I was looking forward to trying the Asian Beer Can Chicken, but one of the first things that our server said was that their chicken order had not arrived this day. She also made a point of saying that there was 30 minutes remaining on happy hour if we wanted to get our orders in fairly soon. We ordered Mai Tais, coconut shrimp and a spicy salmon roll and I said we had a late lunch and I wondered if this would be enough food.
Both dishes were quite good and the server impressed me by returning just before the end of happy hour to see if it had been enough food or if we wanted to get another order in.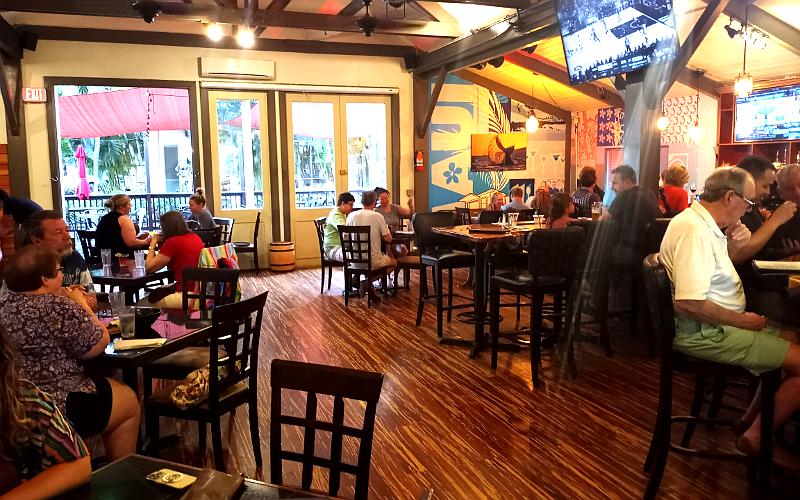 Three's Bar & Grill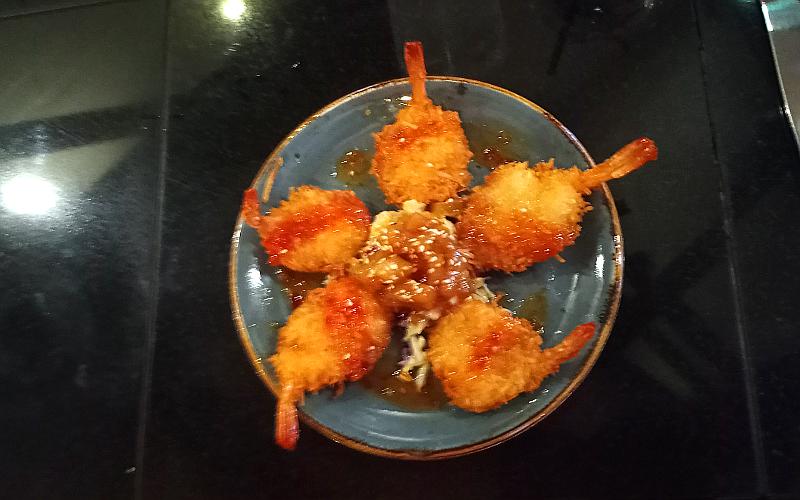 Coconut shrimp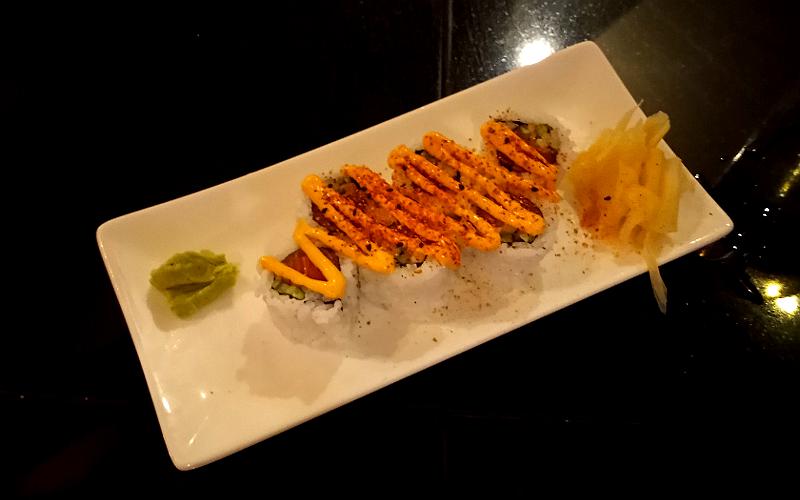 Spicy salmon roll
After supper we walked the neighborhood checking out shops. On our way back to the condo we stopped at the nearby Foodland, getting snacks and local hot sauces from Spicy Ninja Sauce:
Super Typhoon and the Piña Colada of DOOM! made from Hawaiian pineapples, cast iron toasted coconuts, apple cider vinegar, organic Hawaiian lime juice, distilled white vinegar, ghost chili's, Hawaiian Akua chili's, Hawaiian Chili's, Hawaiian sea salt, and organic sugar.

Mauna Kea Magma made from Organic beets, organic ghost peppers, datil peppers (seeds were from St. Augustine), Hawaiian chilis, Hawaiian Akua peppers, garlic, distilled white vinegar, apple cider vinegar, organic Hawaiian lime juice, filtered water, Hawaiian sea salt, organic sugar, and 100% Hawaiian Coffee.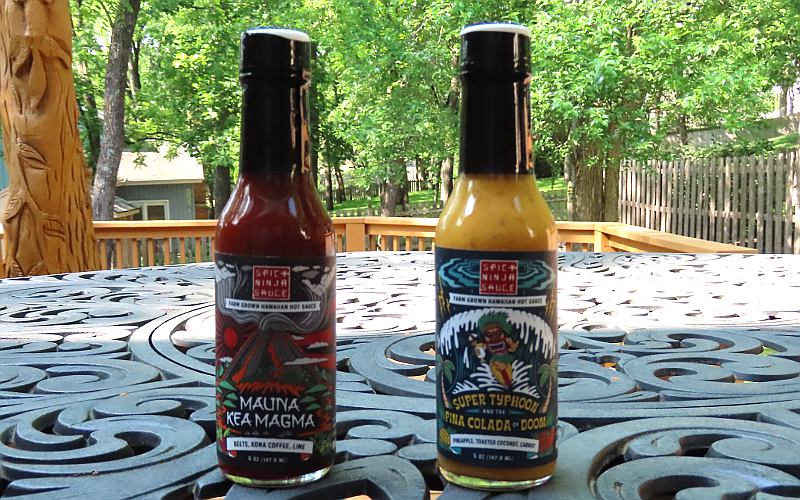 Mauna Kea Magma and Super Typhoon and the Piña Colada of DOOM!