Hawaii 2023 Trip
Arrival in Kauai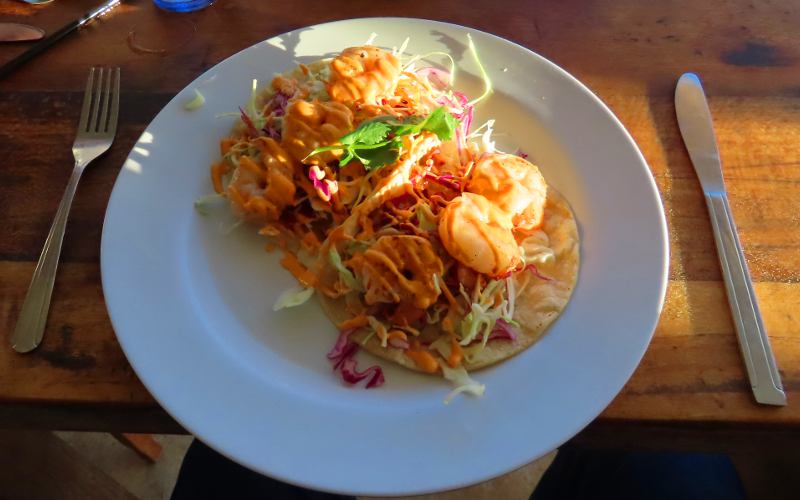 Shrimp tacos
Friday - Day 1 (March 3, 2023)
Our trip began with an 8AM departure from Kansas City's new airport terminal, which opened just three days earlier. We parked as usual at the Parking Spot and were taken by shuttle to the baggage pickup area to be dropped off. Walking into the terminal with another couple, we found no signs telling us where to go for departures. A little wandering eventually found escalators leading up to departures. Unfortunately they are hidden by elevators when you enter the building. The new operation had a few other hiccups, particularly a lack of toilet paper and soap in the woman's restroom.
Our flights on American Airlines were uneventful - a three hour flight to Phoenix, where we had lunch and transferred to a 7 hour flight to Lihue Airport on the island of Kauai.
The first rental car I had reserved for the trip was about $900 for 5 days, but after a lot of time rechecking rates, I finally got a Nissan Altima for 5 days for just under $100 a day at Sixt. I had never heard of this rental company before, but research had shown it to be a German company with a good reputation. They have had an office on Kauai less than a year and they are off the airport in an industrial neighborhood a few blocks from the airport by shuttle. There was no wait at the rental counter and pickup went smoothly.
I had wanted to have supper tonight at Keoki's Paradise in Koloa, but our flight from Phoenix had been delayed waiting for a member of the crew, and there was a fairly long wait for luggage, so I canceled the dinner reservation on my phone and we went to a fall back restaurant that was nearby and should be quick, The Cabana Bar & Grill. Although it was only 5:45 locally. it was 9:45PM where we had started our day, so we settled on a light supper of fish tacos and relaxed while listening to the live music.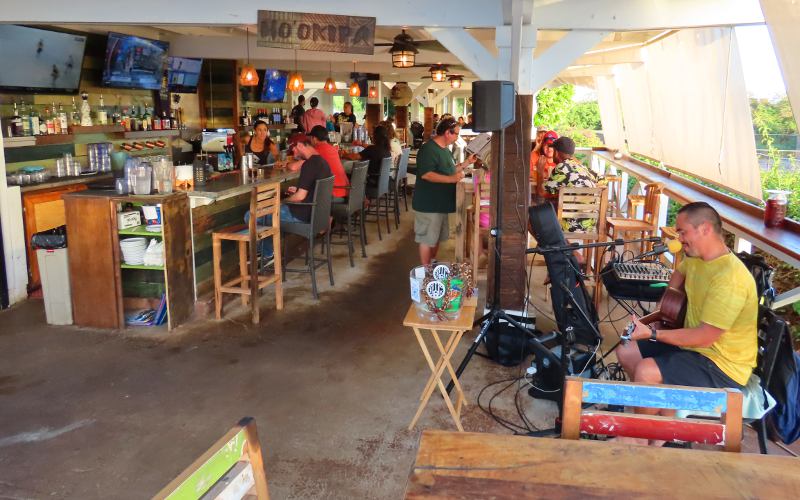 The Cabana Bar & Grill
We had driven this far out of the way because I wanted to see Spouting Horn at sunset. It is a natural blow hole on the shore where the waves create a jet of water. It is a lovely spot, but although it had been highly recommended that we see it a sunset, it would have been better to save it for when we were nearby later in the week. Still, it was a lovely sunset, as you can see from the photo at the top.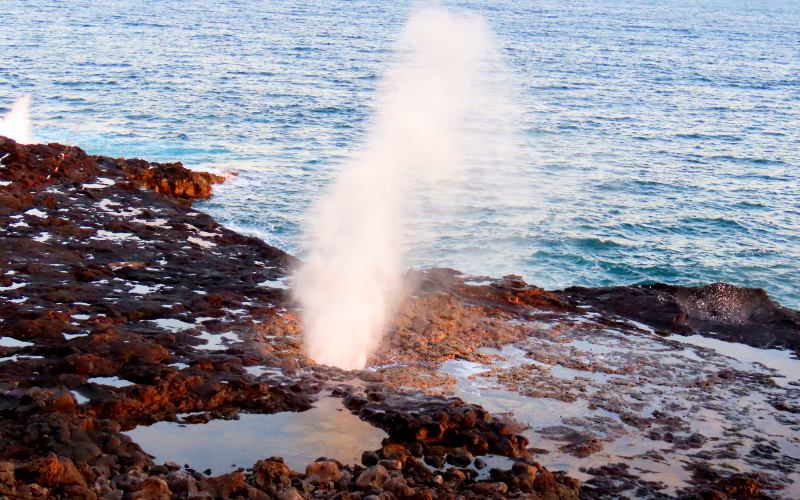 Spouting Horn
We drove back to the east side of the island to check into Hotel Coral Reef Resort in Kapa'a. It is a nicely kept, small older motel just a stone's throw from the water and we had a nice view from our room. It turned out to be a good alternative to the newer resorts where we would have paid 3 times as much to have a view. I was happy with the room, amenities and service and would be happy to stay here again.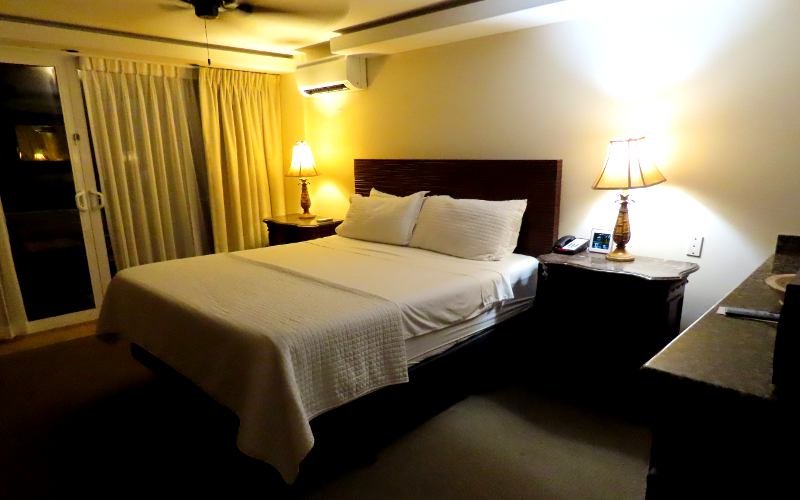 Our room at Hotel Coral Reef Resort
Next Page