Hawaii 2023 Trip
Arrival in Oahu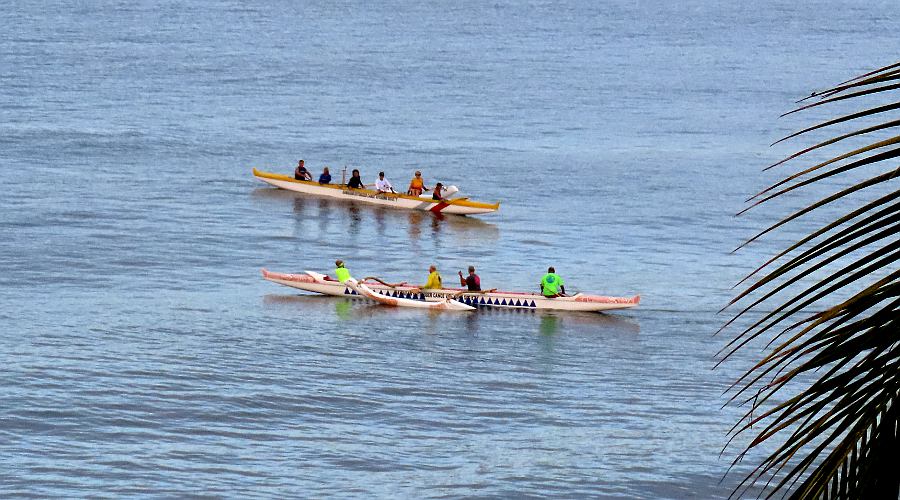 Wa'a canoes
Saturday - day 9
I enjoyed a quiet start to the day watching the folks enjoying the wa'a Hawaiian canoes in the ocean by our condo.
It was easy getting to the airport for our 10:35 Hawaiian Air flight to Oahu. As our plane started over the ocean I could briefly see more whales off shore. After picking up our rental car at Hertz, we stopped for lunch at La Mariana Sailing Club, which had been recommended by one of the regulars on the Hawaii Forum at Tripadvisor. La Mariana is a dark, over the top retro Tiki bar, which was the inspiration for a set on the original TV show Hawaii Five-O.
We had garlic sautéed shrimp with salad & onion rings, and an ahi poke bowl. Both were fine and I enjoyed the atmosphere, though this had worked better for location and timing than for the food.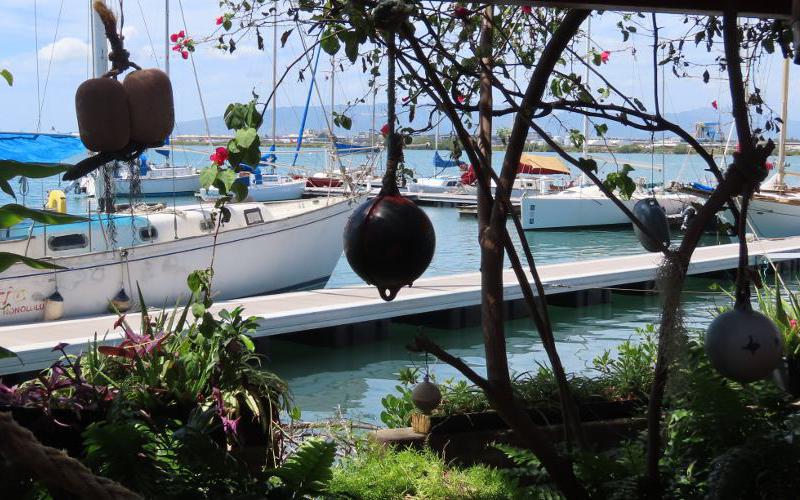 View from La Mariana Sailing Club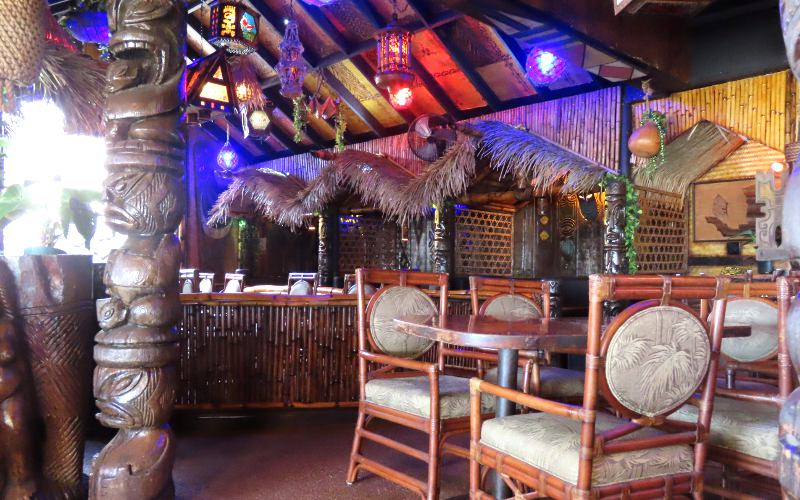 La Mariana Sailing Club Tiki Bar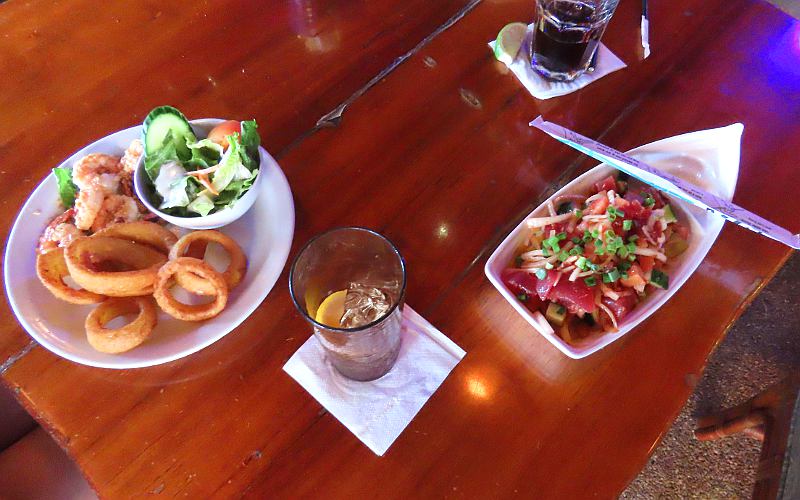 Garlic sautéed shrimp and ahi poke bowl
We drove to National Memorial Cemetery of the Pacific (Punchbowl National Cemetery), where we enjoyed the view of Honolulu. We had planned to go on up Mount Tentalus to stop at some other scenic lookouts, but I decided this was high enough.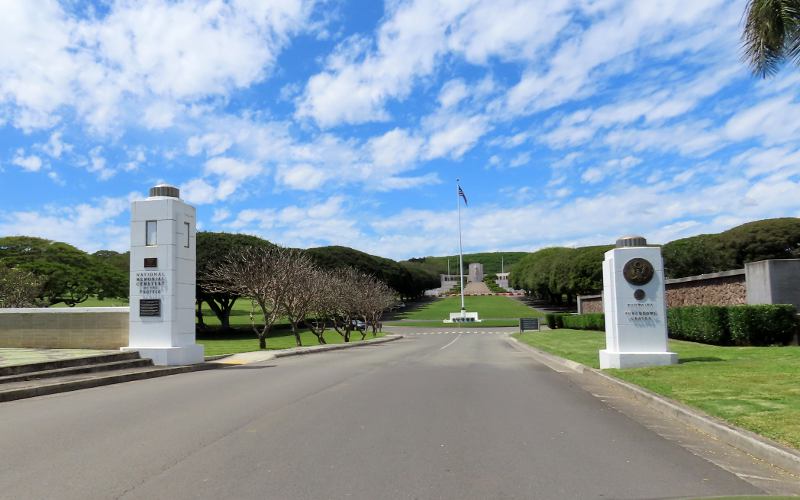 Punchbowl National Cemetery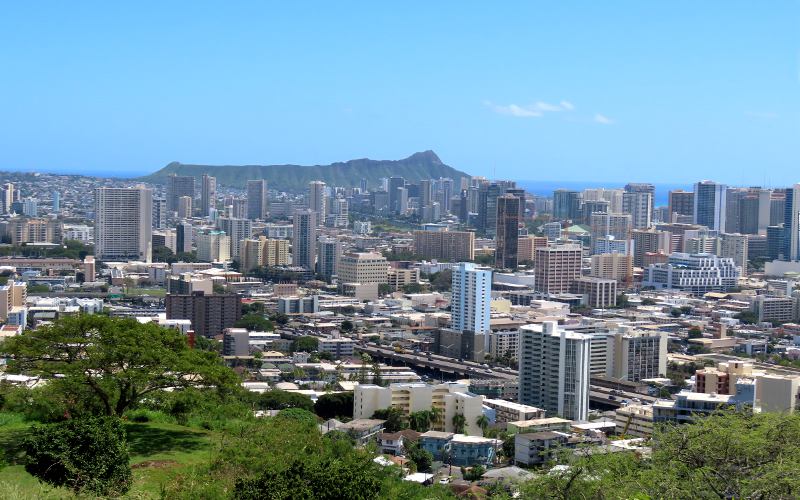 Downtown Honolulu
Next we drove to downtown Honolulu and parked near St. Andrews Cathedral to walk the Capital Historic District. Other than the Hawaii State Capitol building and coral block 1871 Iolani Barracks, all of the buildings were closed or required reservations, but we enjoyed walking the grounds and seeing Iolani Palace, Kawaiaha'o Church, Lunalilo Mausoleum, several statues and the Banyan Terrace with its large banyan which is nearly 180 years old. The state house does not have a dome and shape is inspired by a volcano, open and raising in the center. The pillars are designed to look like coconut palm trunks.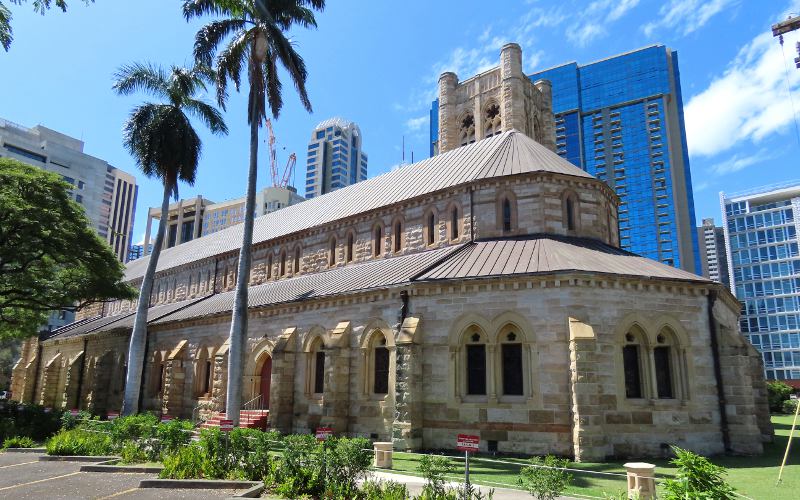 St. Andrews Cathedral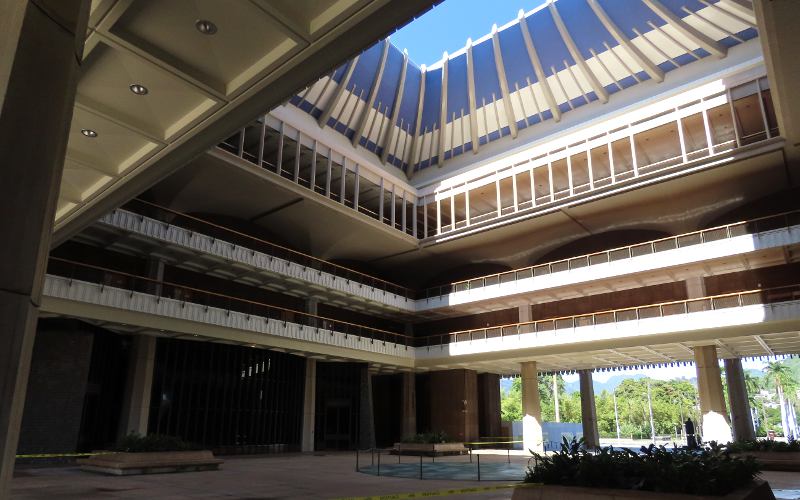 Hawaii State Capitol building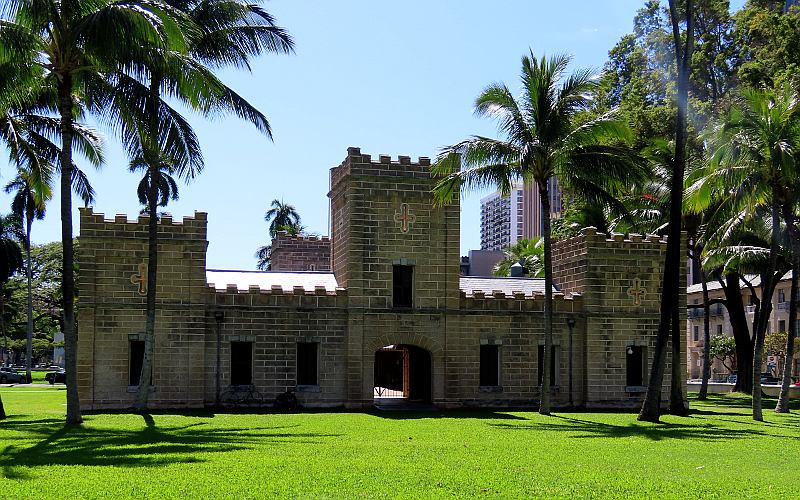 Iolani Barracks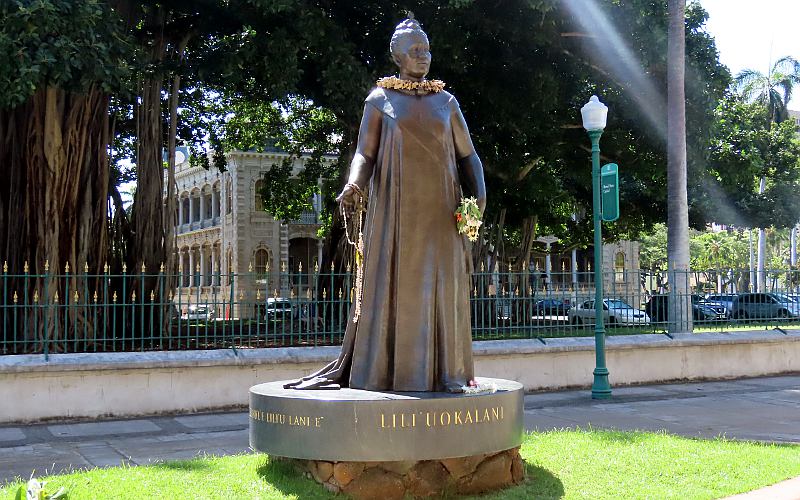 Queen Liliuokalani Statue in the Capitol Mall between the capitol building and Iolani Palace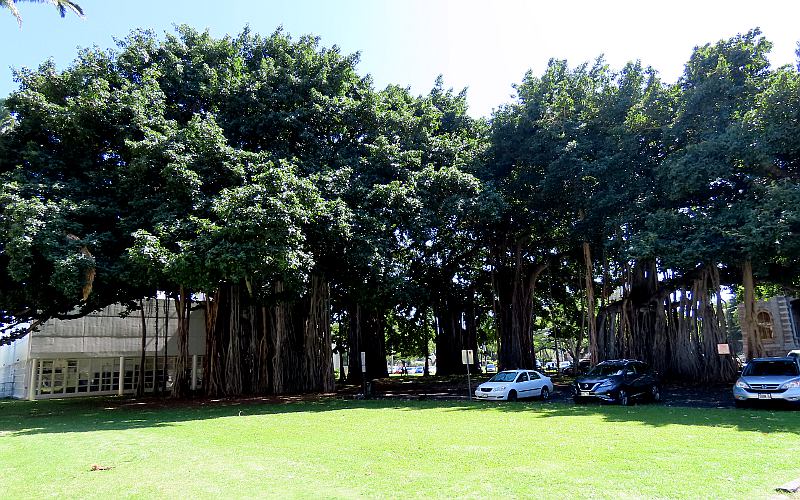 This banyan tree nest to Iolani Palace is believed to have been planted by Queen Kapiolani.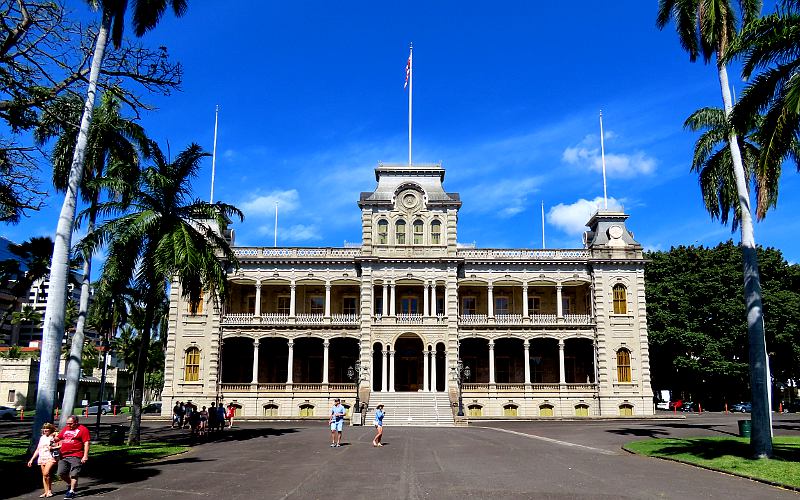 Iolani Palace - the home of Hawaii's last reigning monarchs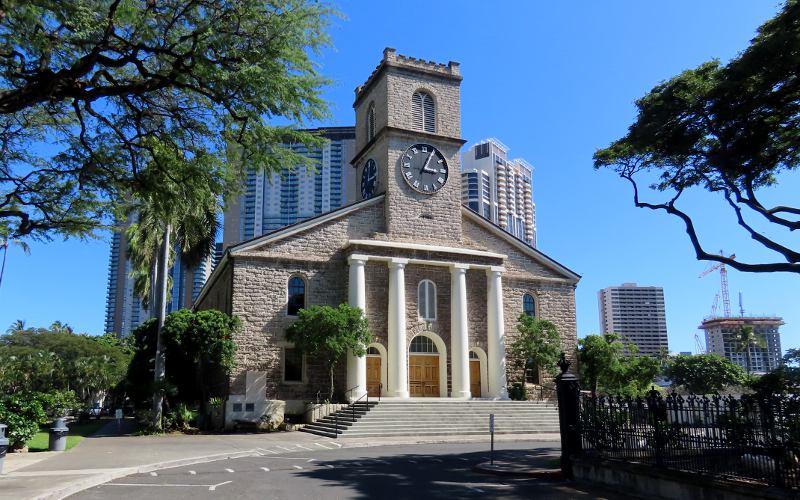 Kawaiaha'o Church - the national house of prayer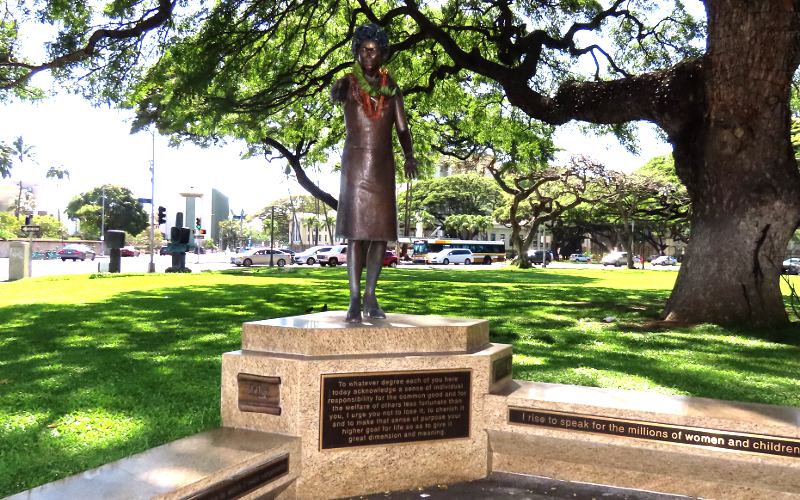 Patsy Takemoto Mink (1927-2002) was the first woman of color elected to the US House of Representatives.
She was the major author and sponsor of Title IX, which she wrote in part as a response to the adversities
she faced as a woman during her own education experience.
Previous Page Next Page