The 290 feet long icebreaker Mackinaw (WAGB 83) was built in Toledo, Ohio and commissioned December 30, 1944. It was joined by the new Coast Guard Cutter Mackinaw (WLBB 30) in October 2005 and decommissioned June 10, 2006. Later that month, the final Coast Guard Crew, under the command of Commander Joseph C. McGuiness, sailed the Mighty Mac to its namesake, Mackinaw City, where it has been moored at the former dock of the railroad ferry Chief Wawatam. The crew removed much of the electronic equipment and computers, leaving shells to look much the same. At the end of June, WAGB 83 was turned over to Icebreaker Mackinaw Maritime Museum, Inc.

The Mackinaw Museum opened in August of 2006 and the photos on this page were taken that fall. Much more of the space below the Mackinaw's decks has been opened to the public since that time and new photos from below decks were taken in June, 2009.

The old Coast Guard Cutter Mackinaw is available for conventions, corporate retreats, and weddings. The Mackinaw has space to accommodate about 40 people at desks, and has facilities for food preparation. The Mackinaw museum ship as hosted several Mackinaw crew reunions..

The last day the Mackinaw Maritime Museum will be open for the 2012 seasons in October 14. Admission $11 for adults and $6 for ages 6-17. Or $35 for a family.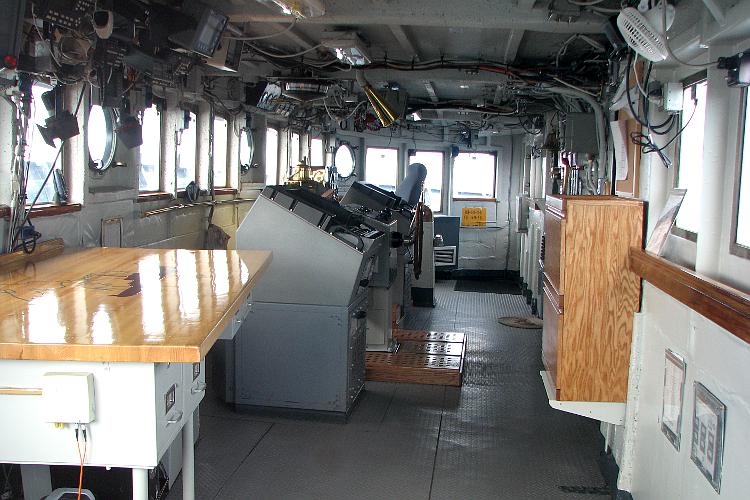 Main Bridge of the Mackinaw.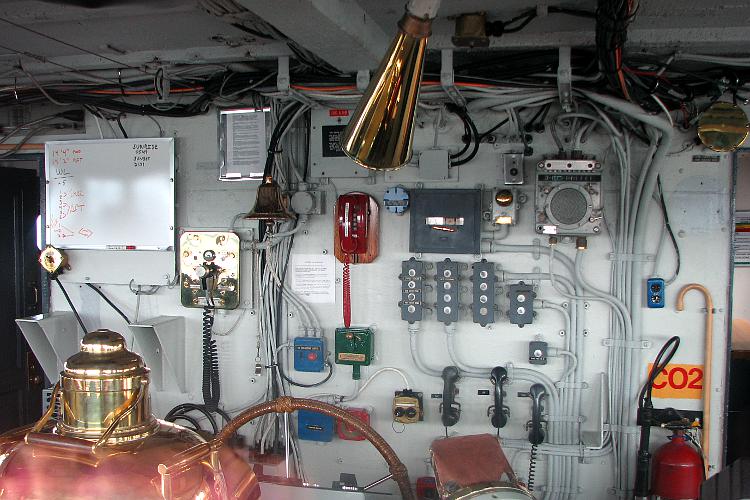 The chrome at top center is the voice tube to the lookout. The cane at right is for use in an electrical
emergency (to avoid electrocution). The three phones, side-by-side are voice powered.
New Mackinaw
3 minute video of Mackinaw underway - courtesy of United States Coast Guard

Length: 290 feet
Beam: 74' 4"
Speed: 18.7 knots
Power Plant: Six diesel engines with electric drive, three shafts (one forward, two aft), 10,000 bhp.
Ice breaking Capability: Three feet at three knots