Mighty Mac Home
Sunday, June 12, 2001, I was up at 5:20AM (4:20 AM my time) and drove north to Kinross, Michigan where I met Ray Smith, owner of Mackinac Seaplane Tours, and Dennis Dougherty, an amateur photographer and retired Coast Guardsman. Ray promised me a flight in exchange for using one of my photographs in his web site Mackinacseaplanes.com and in all of his promotional literature.

The plan was to use Sunday's flight to locate lighthouses and record their coordinates for future tours. Dennis had visited and worked on some of those lights in the past, plus he took some photos for use on Mackinac Seaplane's site. I rode along in the back of the Cessna 185, literally snapping pictures right and left.

We took off about 7AM and started our search with the upper St. Mary's river. Our first few lights were "range" lights which the ships use to find the channels. They are located on various small islands and were rather difficult to locate.

We worked our way down river, than continued south to find some large lighthouses in northern Lake Michigan. We continued on to more lights in the Straits of Mackinac, where surface fog made the search and photography much more difficult. But now some of the lights were ones that I had previously visited by water.



| | |
| --- | --- |
| Detour Light | Spectacle Reef |


Mackinac Bridge
The mouth of the Cheboygan River was particularly foggy, but the fog parted long enough for us to spot the Coast Guard Cutter Mackinaw, 0n which Dennis once served.

(that is Poe Reef light in the picture on the left. A better shot can be found at http://mightymac.org/lights.htm)

Than on across Bois Blanc Island to mark two more lights and on to the passage between Mackinac and Round Islands for two more.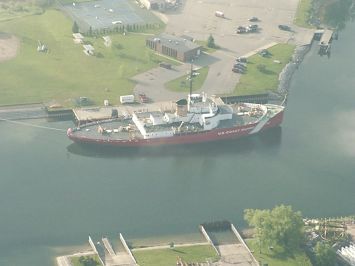 Coast Guard Cutter Mackinaw in Cheboygan River
By this time we needed more fuel. Rather than fly back to Kinross, we tried the airport in St. Ignace (the community on the north side of the Bridge). There was a lot of fog, but we found the airport. However, when we approached the field from the west, the glare off the fog hid the airport until we were over it.
We mentally marked the runway again and made a second pass with all of us straining to see the runway. This time we got close to the ground, but had to abort when we still couldn't see the runway. We decided on one more try before giving up, and made it down on the 3rd pass.
By the rime we finished refueling, the fog had moved away from the field and visibility had improved.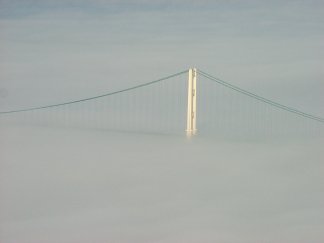 North tower of the Mackinac Bridge rising from the fog
Back in the air, we crossed the north end of the Bridge and located the lights in the western end of the Straits of Mackinac. The weather was now so nice that we continued out into Lake Michigan, photographing and getting coordinates for lights on and near Beaver Island, The first time I have ever been close to that large island.

White Shoal Lighthouse


Waugoshance Lighthouse was a bombing
target during World War II
The waters around Beaver Island and Waugoshance points were particularly beautiful, looking down at the bottom in shades of green, blue and gold. We could see many places where ice piles had scrapped the bottom.

Fort Michilimackinac
Finally we headed back toward Mackinaw City for the last two lights (one is only 2 blocks from my parent's home). A total of 28 lights in one day!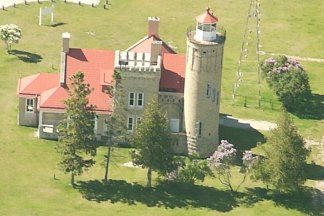 Old Mackinac Point Lighthouse is about 2 blocks
from my parents' home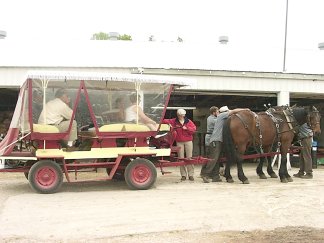 Mackinac Island horse drawn taxi
With all that work behind us, Ray said that he would pay the landing fee on Mackinac Island if I would buy lunch. We took a taxi downtown to the Village Inn. On the ride back to the airport the taxi had to stop and change horses, as the team had been working for 6 hours.
Back in in the air, we returned to the Kinross Airport around 2 PM.

.
Contact Mackinac Seaplane Tours 906.632.9746 or 906.222.7013 to see these sights and much more!

copyright 1997-2009 by Keith Stokes. These photos may not be reproduced without written permission.
My home page