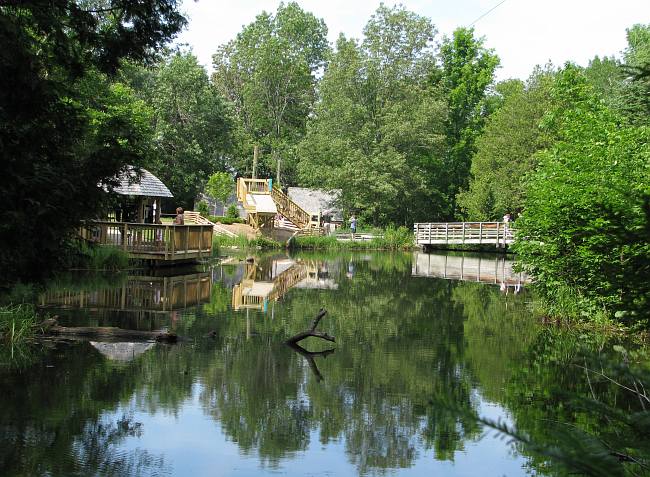 Mill Creek pond and Eagle's Landing the landing platform of the Eagle's Flight Zip Line.
Historic Mill Creek Discovery Park lies along U-23 and the Straits of Mackinac shoreline, about 4 miles eat of Mackinaw City, Michigan. The 625 acre Michigan state park opened in the early 1980s and the attractions have grown over the years. Mill Creek has a reconstructed 18th Century saw mill, museums, a staff naturalist, and 3.5 miles of trails.
Since 2008 there is a forest canopy bridge, zip line and climbing wall. They are a good addition. There are several demonstrations of the saw mill and saw pit through the day. Check on the times when you arrive.
Mill Creek provided lumber for the settlement of Mackinac Island in the 1790s. Over time a farm, orchard and gristmill were added. The mill operated until the 1830s.
Admission to Historic Mill Creek Discovery Park is $9.50 for age 13 and older and $7 for age 5-12, with an additional $9 fee for the Treetop Discovery Tour. Due to COVID19, there was no Treetop Discovery Tour in 2020.