Keith Stokes'
2004 UK Trip
Day 1 Friday April 1 (part 2)
From the east end of St. James Park I walked over to Westminster Abbey. Last trip I attended a service there, but this time I wanted to explore the building. Both of the remaining Verger led tours were fully booked, so I was on my own. It wasn't a disaster, as I have read a lot about the Abbey and seen a series of videos. I may have been over prepared, the Abbey with its many tombs and history was very slightly anticlimactic.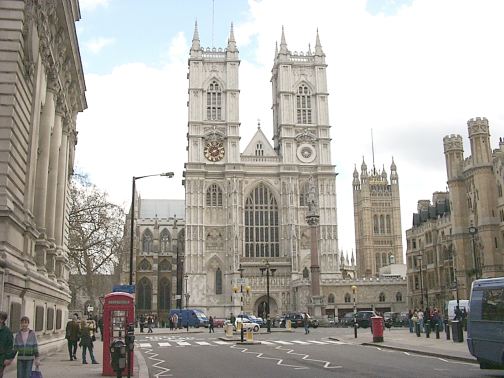 Westminster Abbey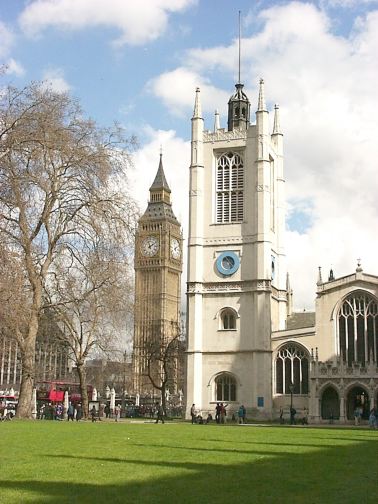 St. Margaret's Church with Big Ben's tower in distance
Next I went next door to the Jewel Tour. One of the two buildings in Westminster to survive the fire, it was built in 1336 as a treasure house. Today it houses a history of Parliament which I didn't find that interesting, but I did enjoy the display of old (formerly official) weights and measures.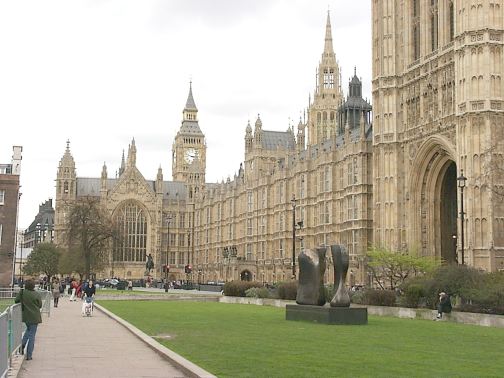 Palace of Westminster which houses the Houses of Parliament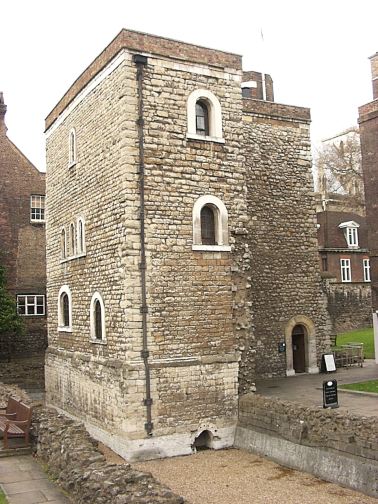 The Jewel Tower was part of the earlier Palace of
Westminster built by King Edward III
Then north a couple of blocks to Churchill's secret Cabinet War Rooms. Hidden beneath one of the few steel framed buildings in London, they housed the main war offices during WW2. Some rooms were left exactly as they were on VJ day. Others have received careful restoration using photos from the 40s. Free audio guides provide individual tours. It is well worth and hour's visit.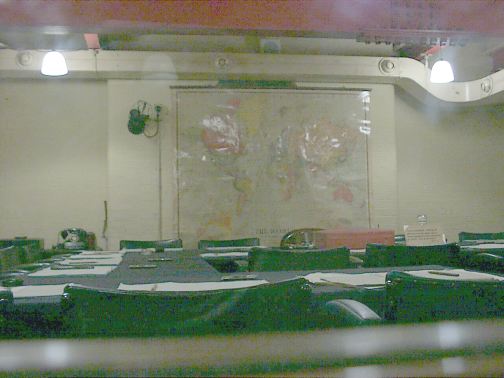 Cabinet meeting room
After stopping back at the hotel to refresh and check email, I returned to Victoria Station and walked to the nearby Jenny Lo's Teahouse, which had many online recommendations. I arrived a few minutes before 6 PM, when Jenny Lo's opens, and there were three parties already waiting at the street. The tiny restaurant has four long tables. A family shared the other end of my table.
Dinner was a side of crispy squid (battered & fried with tiny slices of hot peppers), chili beef soup (spicy marinated beef with Chinese mushrooms, been sprouts, soft flat noodles & spicy Vietnamese dressing) and green tea. I would try Jenny Lo's again, but would try a different main dish. I'm just not that big a soup eater.
From Jenny Lo's it was a few blocks to the other side of Victoria Station to the Apollo Victoria Theatre where Bombay Dreams is finishing its two year run. My ticket was waiting. I purchased it online for 1/2 price through lastminute.com. Front row center of the Dress Circle (first balcony), with no one sitting on either side of me.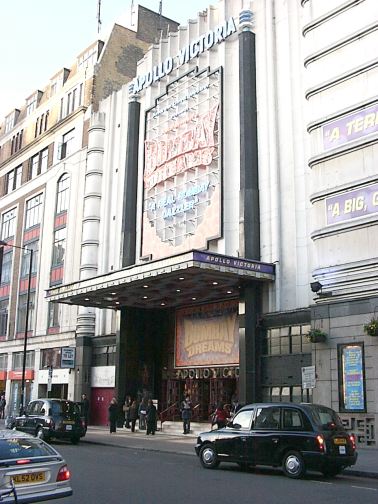 Apollo Victoria Theatre across from Victoria Station
The story line about a boy from the Bombay ghetto breaking into the Bollywood film industry didn't do that much for me, but the set, costumes and music were good. I particularly liked the two drummers who flanked the stage. My favorite characters were Madan, the movie producer, and Sweetie, the eunuch transsexual.
Day 1 - London Day 1 - London Day 3 - London Day 4 - Oxford
Day 5 - Salisbury & Stonehenge Day 6 - London Day 7 - London & Blackpool
Day 8 - Blackpool Day 9 & 10 - Blackpool