Keith Stokes'
2004 UK Trip
Day 6 Wednesday April 7
My last full day in London.
This day I had no advance commitments. I returned to Leicester Square to the TKTS booth, just before 10 AM. It took 25 minutes to get through the line for evening performances. Then I stepped over to the matinee line, which took only a minute.
Since it is next to Charring Cross Road again, I checked a couple of the biggest bookstores for bibles, but couldn't find one that I liked.
Then I returned to the Piccadilly Line and rode out to Knightsbridge Station to finally visit Harrods Department Store. Harrods had a nice book department and I found a bible to satisfy me. Then I stopped for lunch at a Santi Thai restaurant on the same floor. The food didn't impress me and the servings were small. I would say that it was overpriced, but I thought that about all the food in London. Still is was a nice setting and I enjoyed the Thai iced tea ($6 for iced tea!).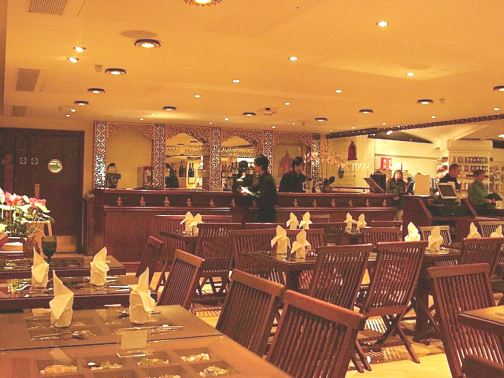 Santi Thai
Then down the beautiful central staircases to the first floor to the men's department. After checking a few prices (socks $60/pair) I moved on to the famous food court. I enjoyed exploring it, but made no purchases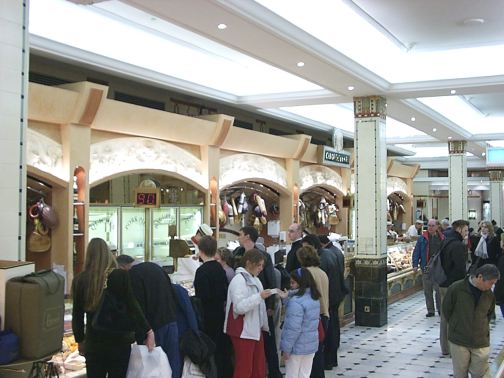 Food court at Harrods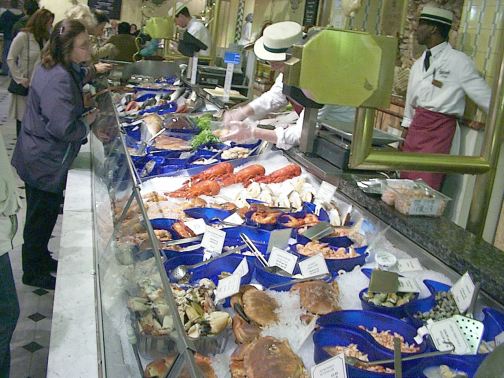 Back to the Underground and back to the West End and Covent Garden. I liked the large flea market with its many street entertainers. It is a great place to wander and people watch. I was still hungry and had an inexpensive serving of Jamaican jerked chicken with rice from a vendor on the upper floor balcony at the east end of the Market. Better food than I had at Harrods.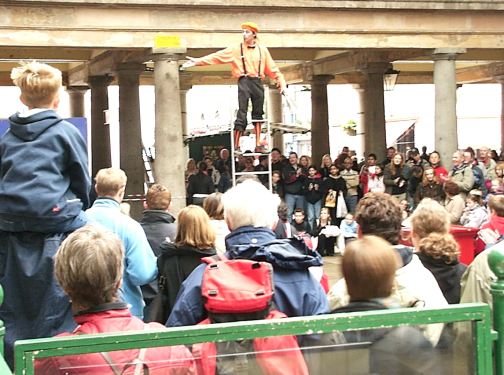 Entertainers at Covent Garden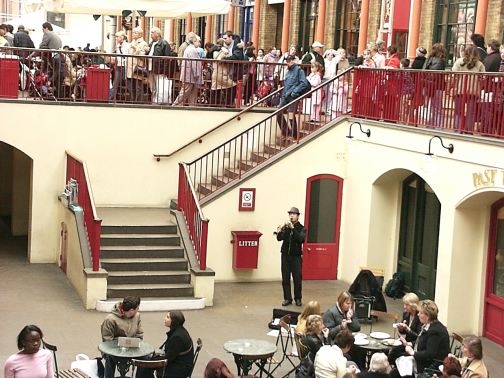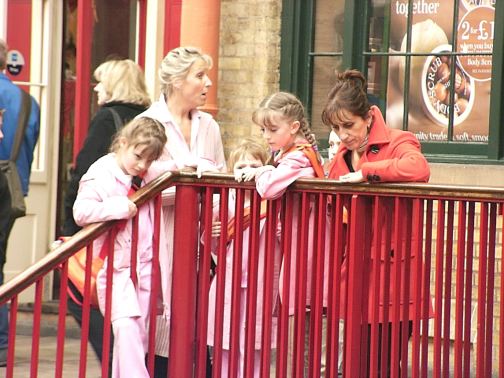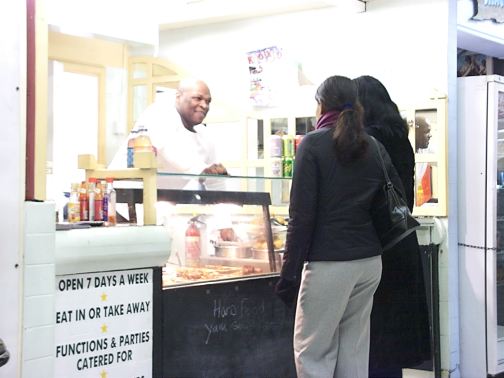 Café Caribbean in Covent Garden
Day 1 - London Day 1 - London Day 3 - London Day 4 - Oxford
Day 5 - Sailsbury & Stonehenge Day 6 - London Day 7 - London & Blackpool
Day 8 - Blackpool Day 9 & 10 - Blackpool