Keith Stokes'
2004 UK Trip
Day 2 Saturday April 3
This is a good point to talk about getting around London. There are many taxis and busses, but for this trip I used the Tube exclusively.
My hotel was only about 2 blocks from Gloucester Road Station, which is served by 3 tube lines: the District & Circle Lines which are down one escalator level and the Piccadilly Line which is much deeper and served at various stations by elevators or very long escalators. The District & Circle Lines share tracks for this part of the route and among other places, provide access to Victoria, old Westminster and many of "The City" stations just north of the Thames River.
On my first trip to London, I would guess which station was closest to where I wanted to go, then plot a route with changes to get to that station. This time I would usually find the closest station to my destination that was on one of the direct routes and walk from there. It was generally fast and painless.
On Saturday I had no set plans until the evening. In the morning, I went down to Leicester Square, arriving a few minutes before the TKTS half price ticket booth opened at 10AM. The TKTS booth sells tickets for that day's shows only, and does not have all shows. Evening and matinee shows have separate lines and it took about 20 minutes to get through the shorter line for a matinee ticket.
I spent the rest of the morning wandering through the nearby China Town and visiting some of the bookstores along Charing Cross Road. The weather was very changeable (it stayed that way most of the trip). It started to warm up enough that I changed to a lighter jacket, but a few minutes latter a cold wind came up and I changed back. When it rained, the wind was so strong that I didn't use my umbrella.
After a forgettable lunch of fish & chips at a pub, I visited the newly opened, expanded Forbidden Planet, a major science fiction and cult specialty store. That afternoon, David Gemmell was having a signing session. He seemed to be a hit (I Haven't read his work), the line snaked through much of the lower floor of the store. Not wanting to spend an hour in line, I settled for taking a couple of photos.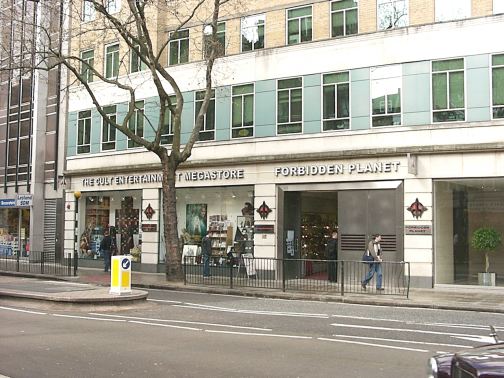 Forbidden Planet's new expanded store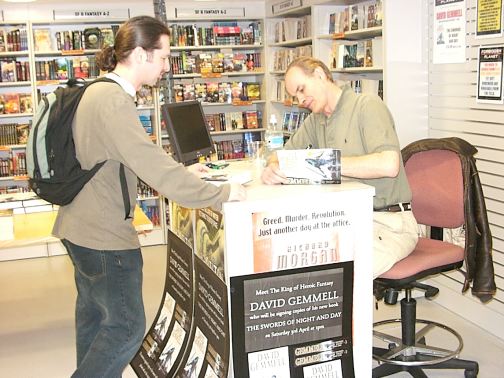 David Gemmell autographing
Then on to the Comedy Theatre for the matinee of Journey's End. The Comedy Theatre is an intimate venue. My seat was in the 3rd row of the packed theatre. Journey's End is a drama which follows 5 British officers for one week in the trenches during World War One. This isn't light fare, but I recommend it.
Following the show, I had a reservation for early dinner at Livebait's Café Fish. This was my only "big" meal of the trip. I can't see spending 2 hours plus on a fancy meal by myself.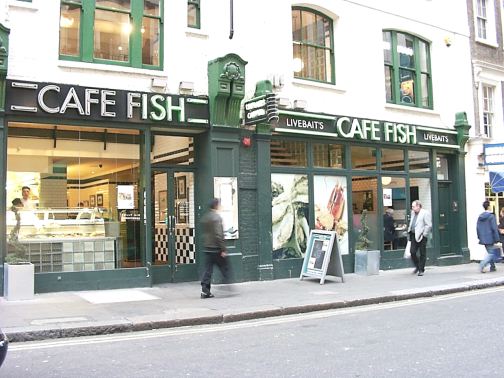 Livebait's Café Fish
For super I had the Plateau de fruits de Mer, something I have had on each trip to England or France. Rock oysters, Dorset crab, whelks, cockles, winkles, Atlantic prawns, mussels & Madagascan crevettes. This time, I finally learned how to get the meat out of the winkles, though there is so little that I don't think it worth the effort. The first whelk was fairly good, but the second one was a bit gritty and that turned me off the rest. The Crevettes (large prawns) were very good, but the highlight was the Dorset crab. It had a sweet taste that I really liked and have never had before, but want to have again. The oysters weren't quite to my taste. Since I found the same thing with famous Cancale when I was in France, I assume there is something about the taste of oysters in this region that doesn't mesh with my palate.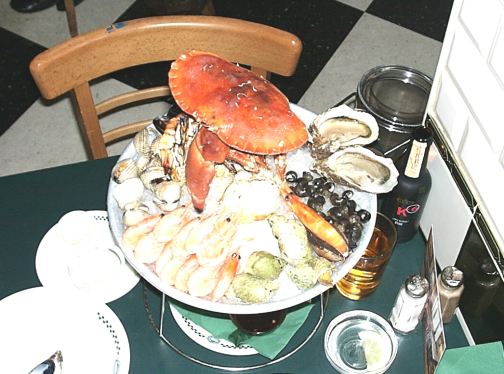 Following an hour of bliss, my evening show was just a few feet away at the Gielgud Theatre: All's Well That End's Well with the Royal Shakespeare Company and Judi Dench (I love her in the TV show As Time Goes By). I booked this show months in advance and had the best seat in the house: 4th row center on the aisle. I loved it. In addition to Dame Judi, I particularly liked Claudie Blakely as Helena.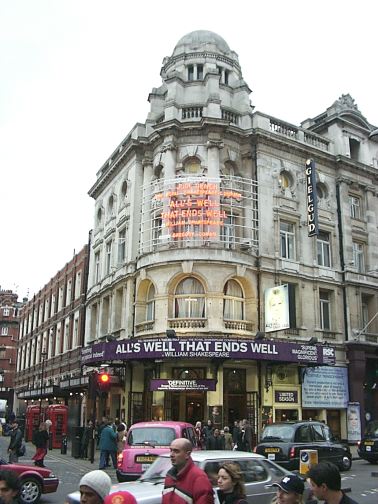 Gielgud Theatre
Following the show, it was a 3 or 4 minute walk in a drizzle to Piccadilly Circus and the subway back to the hotel.
Day 1 - London Day 1 - London Day 3 - London Day 4 - Oxford
Day 5 - Salisbury & Stonehenge Day 6 - London Day 7 - London & Blackpool
Day 8 - Blackpool Day 9 & 10 - Blackpool