Keith Stokes'
2004 UK Trip
Day 6 Wednesday April 7 (Continued)
My matinee was almost across the street from the Fortune Theatre - Anything Goes at the Theatre Royal Catherine Street. My seat was in the front row and it was a bit hard seeing over the high stage. But still not that bad a seat, at least there was lots of leg room and I was close enough to occasionally catch a performer's eye. I liked the show, particularly some of the minor characters, but the people around me seemed to like it more. This was my least favorite of the six shows I saw this trip.
For supper, I visited Indian Brasserie Limited on Rupert Street next to Café Fish. The flavors were good, but my chicken dish was too mild, not the hot that I ordered. I took a discrete photo of the interior. My waiter saw me and asked me to take a photo of him.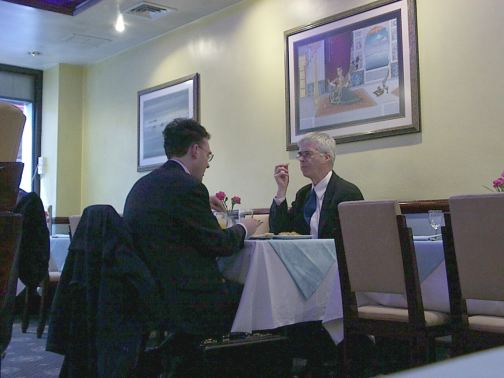 Indian Brasserie Limited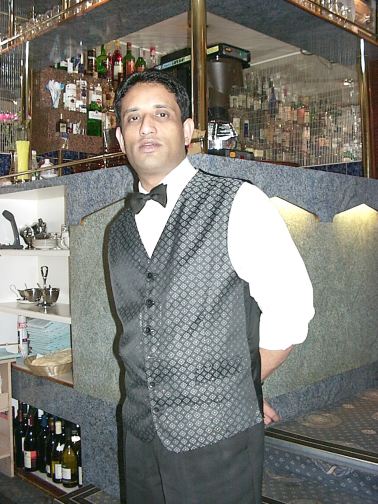 Mr. Juber Ahmed
My evening show was When Harry Met Sally staring Alyson Hannigan and Luke Perry at the Theatre Royal Haymarket. The small theatre was full and the seats were crammed in too close together. Fortunately the seats sat a bit higher than the other theatres or I would have been miserable. The stage was set up like a shadow box, all white and about the proportions of a shoe box laying on its side. Props were rather minimal but fit the production.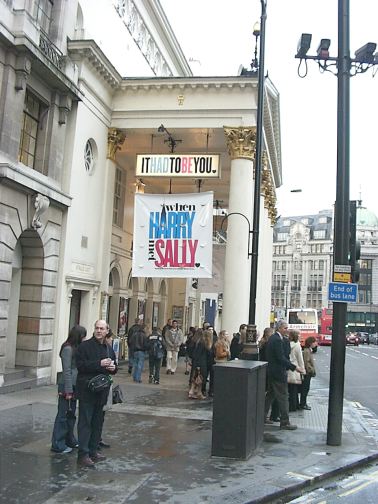 Theatre Royal Haymarket
The play keeps the comments by older couples that framed portions of the movie, by projecting them on a screen slid briefly in front of the stage between scenes. The play also keeps the famous orgasm scene, though this time the "I'll have what she is having" line is delivered by a gay man. I didn't think Hannigan did that scene very convincingly.
Over all, I liked this show more than I expected. Perry did a good job, but Hannigan did well enough, though she still seemed like a kid even at the end when she is supposed to be in her 30s.
Perry got a loud response from women in the audience for his brief flash of naked rump.
Day 1 - London Day 1 - London Day 3 - London Day 4 - Oxford
Day 5 - Salisbury & Stonehenge Day 6 - London Day 7 - London & Blackpool
Day 8 - Blackpool Day 9 & 10 - Blackpool