The 730' Algosteel passing under the Mackinac Bridge

Sunday morning was foggy, so after taking a few photos of the Mackinac Bridge, I revisited the Mackinaw Bridge Museum, taking photos of specific artifacts and photographs for ideas for future Facebook posts. The name isn't a typo, the museum is about the Mackinac Bridge, but it is in Mackinaw.

The museum was the creation of J. C. Stilwell, one of the Ironworkers who built the Mighty Mac. The museum began when JC purchased a spinning wheel and a movie about the building of the bridge. He played the movie continuously, for free, in a room above his restaurant, Mama Mia's. The collection grew for many years, but was largely damaged or destroyed in a fire in 2005. He rebuilt the restaurant and reopened the museum with items donated by many of the people who had enjoyed the original museum. JC passed away in 2013, but his family still maintains the free museum.

Travel Reports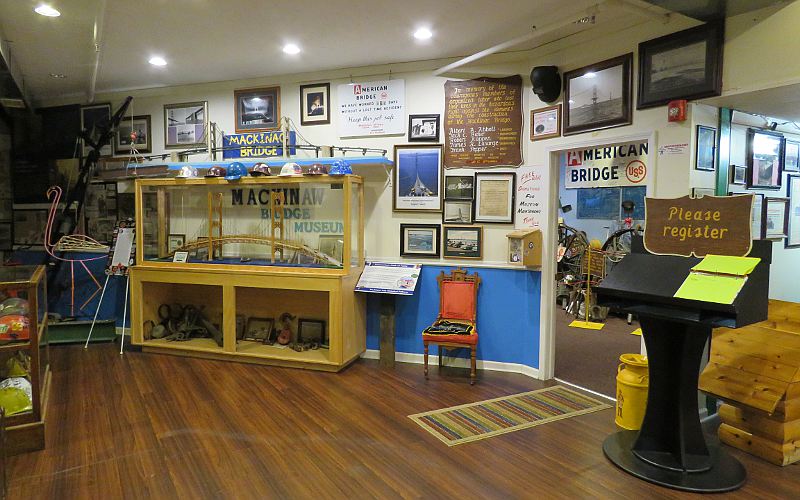 Front room at the Mackinaw Bridge Museum
I arrived at Darrow's Family Restaurant when it switched from breakfast to lunch at 11AM and had my second whitefish meal of the trip, along with a slice of rhubarb pie. Rhubarb is not my favorite pie, but it reminds me of Mackinaw City and is special to me. I enjoyed this fish much more than the night before.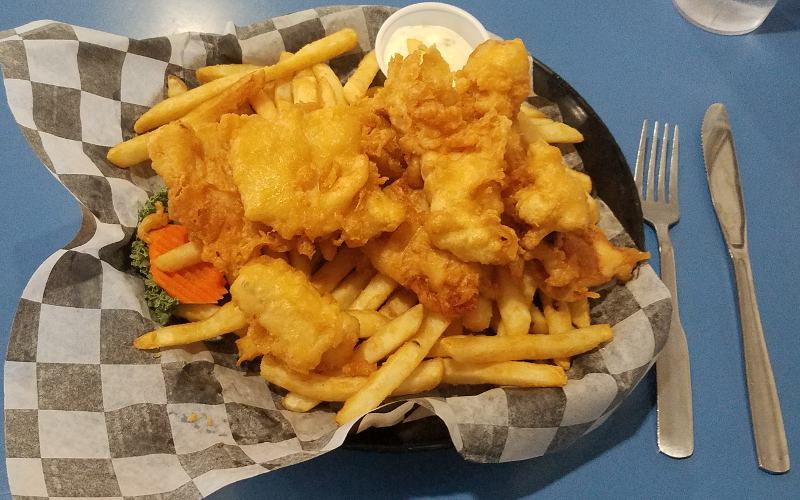 Whitefish fingers basket
I drove a different route during the afternoon return to Traverse City, pausing briefly to take a few photos in Wolverine, Boyne Falls and Boyne City.

The route was selected so that I could take the Ironton Ferry across the south arm of Lake Charlevoix. I first crossed the ferry with my parents as a small child and saw it several times while growing up, when we would drive to East Jordan (the community at the south end of the arm of the lake).

In 2003, I made a point of crossing the ferry when doing some genealogy research in the area, but only took 2 or 3 photos. This time I took many and a page about the Ironton Ferry has been added to Mightymac.org.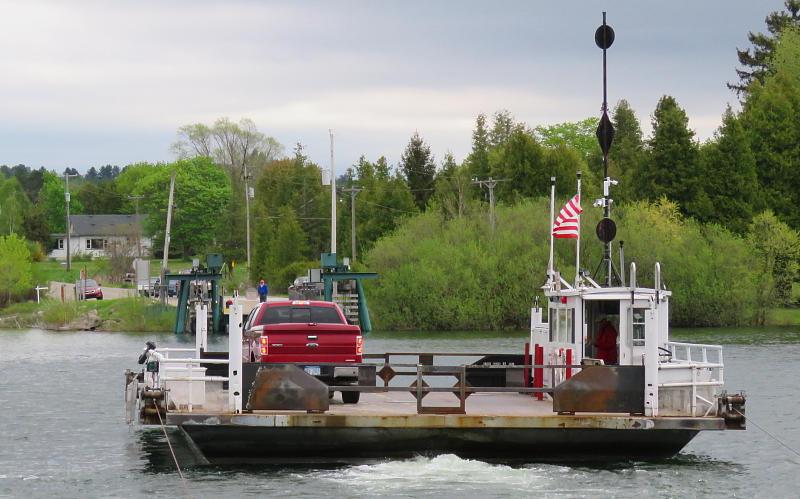 The Charlevoix has been carrying cars across this narrow part of Lake Charlevoix since 1926.
There was still plenty of time before I had to arrive at the airport, so I decided to check on the "Mushroom Houses" in Charlevoix, which I'd only learned about last year. A little searching on the phone led me to 12 interesting homes, just a couple of blocks from downtown Charlevoix.

The homes get their nickname from the rippled roof lines and the stones which were used to build them. They were all built by Earl Young from 1918 through the 1950s. I took many photos, with an eye toward making a page about them, but I've since learned that there are about 20 other mushroom structures in Charlevoix and that will need to wait until I return and photograph more of them.

Many of these homes can be rented for overnight stays.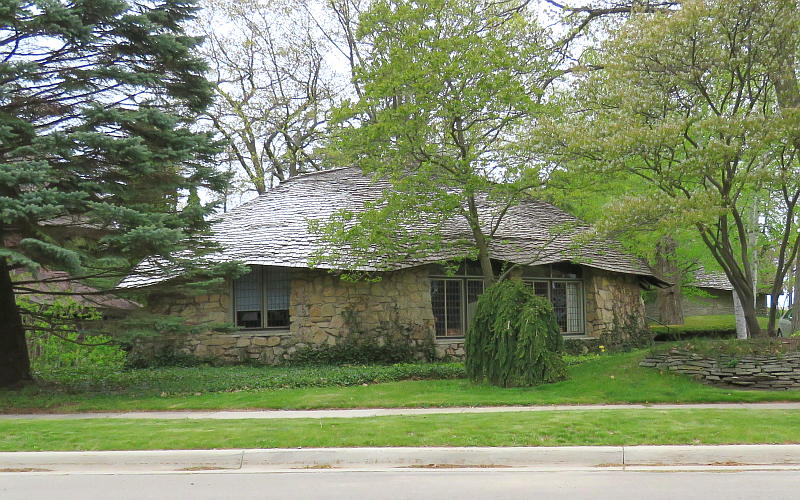 These homes are usually called "mushroom" houses, but have also been called Hobbit houses.

Half House and Thatch House
Continuing toward Traverse City, there was a stop for a few photos in Elk Rapids and on to have one last fish meal at Scalawags Whitefish and Chips in Traverse City. Unfortunately, It is rare for a restaurant in this resort region to be closed on a summer weekend, so that took me by surprise

A short search on the phone came up with an interesting alternative, Don's Drive-In. The 1958 restaurant sounded like my kind of place and I wasn't disappointed. The smash style burger was good and the chili topping on the chili fries was just what I like.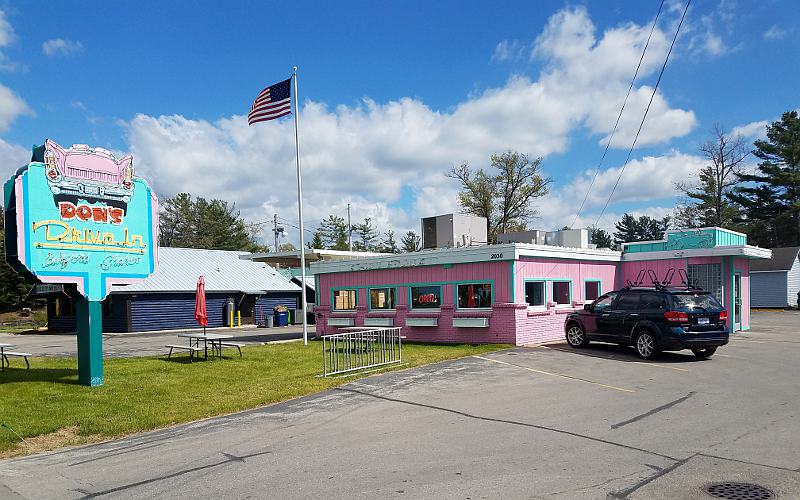 Don's Drive-In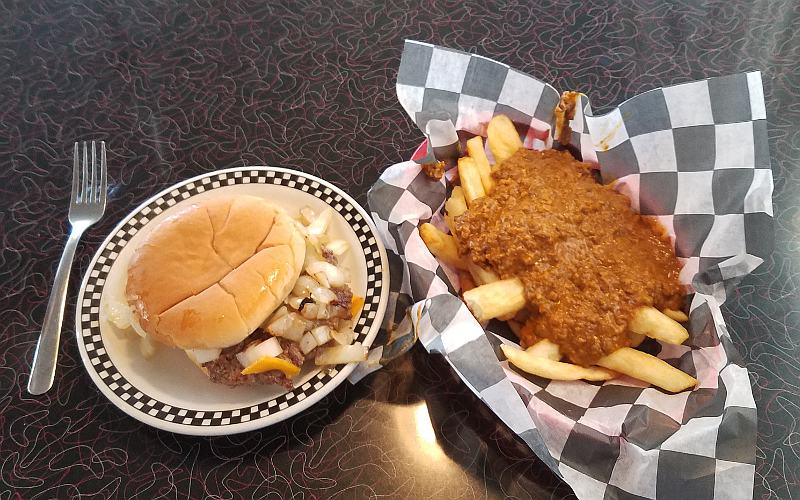 Big D 1/2 pound burger and chili fries
Leaving Don's Drive-In, it was time to get to the Cherry Capital Airport and catch the United Airlines flight to Chicago and on home.
Previous Page
Keith Stokes Travel Reports
Mighty Mac Home