The first weekend in February 2010, I traveled to Mackinaw City, Michigan to visit my parents and photograph the Mackinaw Mush sled dog races. There were no sled dog competitions in this region when I was growing up and I had been looking forward to the trip for some time.

Unfortunately, the 2009 - 2010 winter has been warmer than normal in northern Michigan and the races were canceled due to insufficient snow. There is still snow where it is sheltered or it has drifted, but the open flat land has only 2 or 3 inches, with some bare patches.

But that doesn't mean I had a bad time. The Mackinac Straits area is beautiful in all seasons and has many nice locally owned restaurants. Here are are some of my favorite photos from the weekend and comments on the restaurants which I visited.

The temperature ranged from 9 - 25 degrees when these photos were taken.

Mackinac Island
winter trip report

Mackinaw City International Outhouse Races
I arrived in Mackinaw City about 9:30 on Friday night, just in time to have supper at the Up North restaurant before it closed for the day. Up North was a Big Boy Restaurant for over 30 years, but about a year ago the owners decided to drop the franchise while keeping things much the same.

I try to have local whitefish, perch and walleye when visiting the Mackinac Straits area, because they are not available at restaurants at home in Kansas. I was surprised to learn they were not on the menu at Up North, but relieved to discover that the Friday special was all you can eat whitefish for $12.99. It was supposed to include a salad bar, but the salad bar had already been torn down for the night and my server brought me a salad, coleslaw and a relish plate with beans, deviled egg, carrot salad, cranberry salad & potato salad. I thought the sweet coleslaw and potato salad were both very good. The beans were far too sweet for my taste.

I chose to have my whitefish deep fried. Although the piece of fish below may look large, it isn't that large by Mackinaw City restaurant standards. But I was welcome to have more. The fish was fine, the fries were pretty ordinary. My second piece of whitefish was grilled with butter and pepper, The fish was good both ways, but not outstanding.

During this winter, the Up North restaurant is open only Friday, Saturday and Sunday.
| | |
| --- | --- |
| Up North restaurant (click for larger image) | Whitefish, French fries and toast (click for larger image) |
Saturday morning, Dad and I started with breakfast at the Pancake Chef restaurant on Central Avenue. It has been in operation since the 1960s and some of the management is unchanged after all that time. This time of year, the Pancake Chef is only open until 2PM. It offers full breakfast and lunch menus. Most meals are about $8.50, there are various pancakes for $5.95 without side dishes, or a breakfast buffet for $8.95.
Dad was quite happy with his eggs, hash browns and sausage. He said the sausage links were particularly good. I had The Scramble which included a choice of having sausage, bacon, ham or veggies mixed in along with cheese. The scramble wasn't very hot when served, and I thought $8.50 was high for an ordinary breakfast in Mackinaw City.
| | |
| --- | --- |
| Teddy bears waiting for food at a nearby table | Bacon Scramble with whole wheat toast ($8.50) |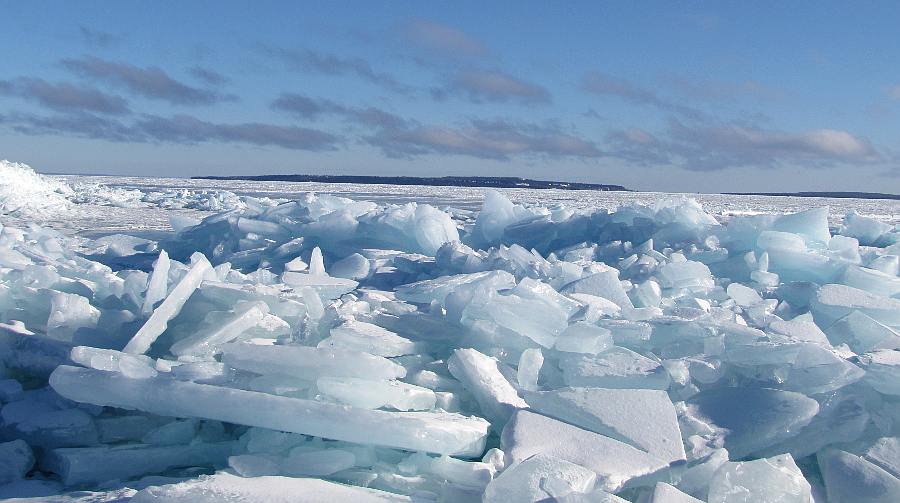 Ice windrow near the Sheppler's dock. The piles of ice are up to about 15' high. Notice the Grand Hotel & Mackinac Island in the distance.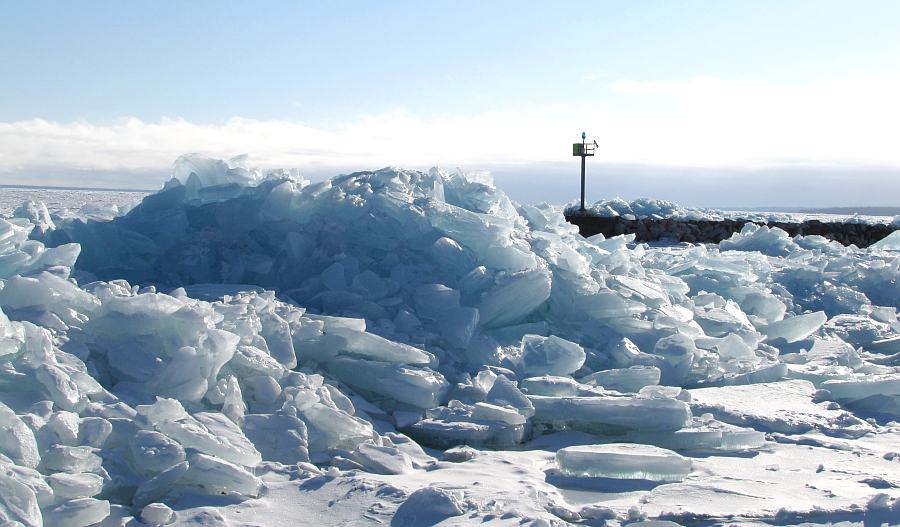 More of the ice ridge with the Mackinaw City marina breakwater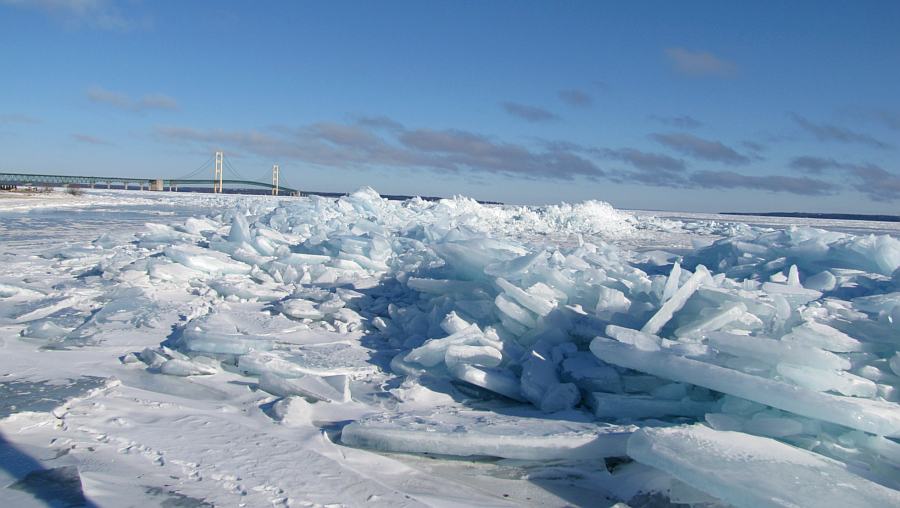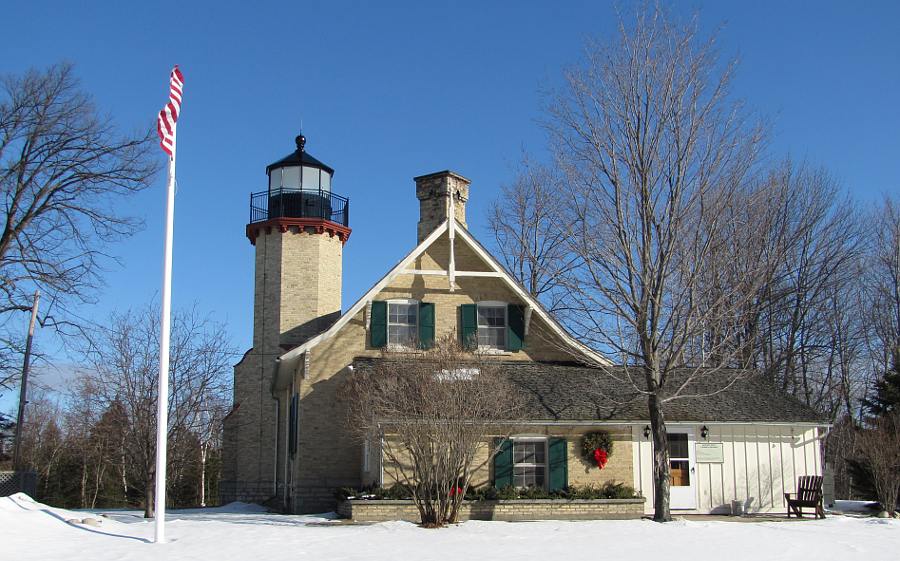 McGulpin Point Lighthouse (1869) on the west side of Mackinaw City reopened to the public in 2009.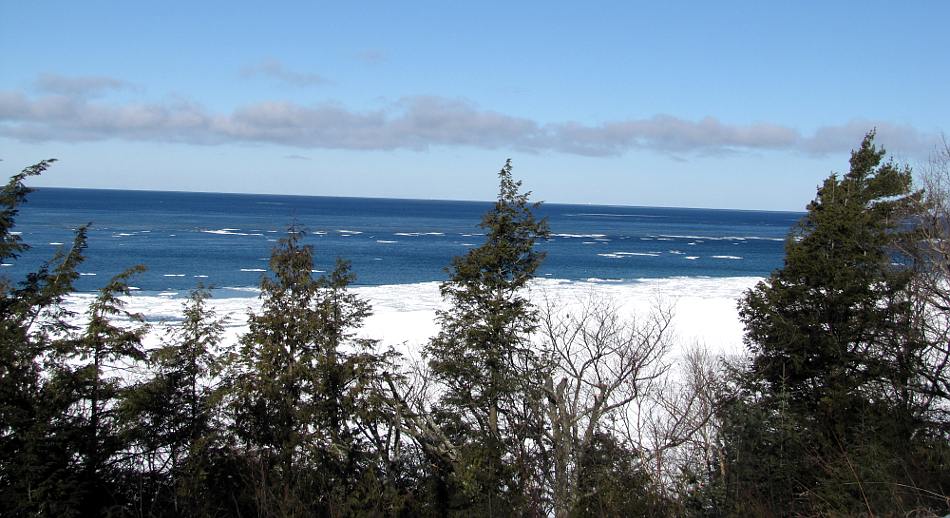 Lake Michigan from the bluff along M-119, south of Cross Village, Michigan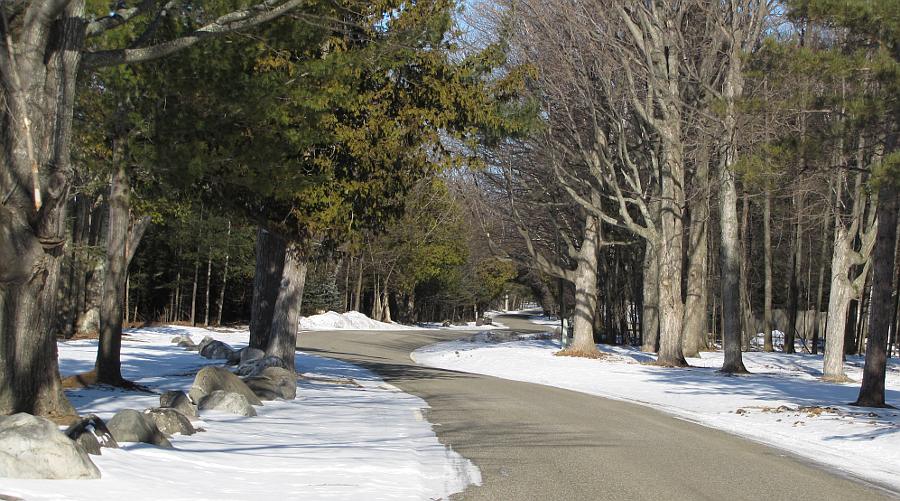 The M-119 "Tunnel of Trees" is less impressive, but still beautiful, in winter.
Lunch was at the Brown Trout Restaurant Tavern in Indian River. The best part of the meal was the Brown Trout Tavern Cheese, an appetizer made from smoke lake trout, cheese and horseradish ($9). My chicken Caesar wrap had plenty of chicken, but could have used more dressing. It was $7.99 with potato chips.
Dad had a huge bowl of chili for $4.99. It was thick and meaty, with kidney beans. The flavor was rather sweet and he really didn't care for the chili. He said his previous experiences at the Brown Trout Restaurant had also been inconsistent.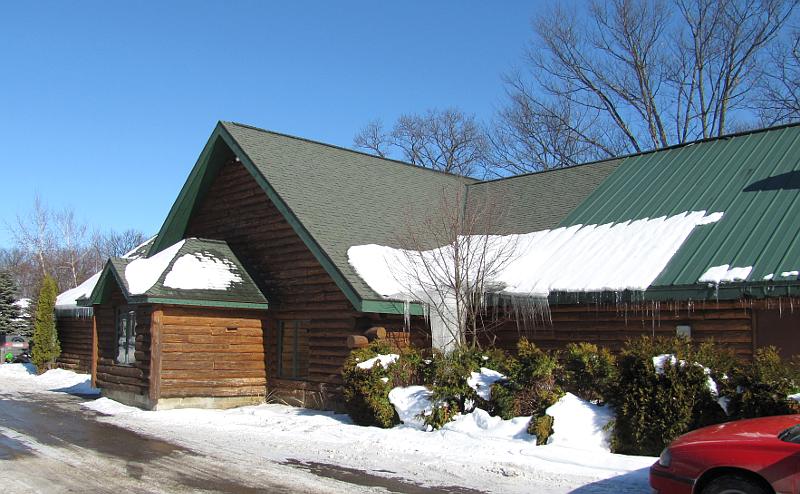 Brown Trout Restaurant Tavern

Copyright 2010 by Keith Stokes. These photos may not be reproduced without written permission. .