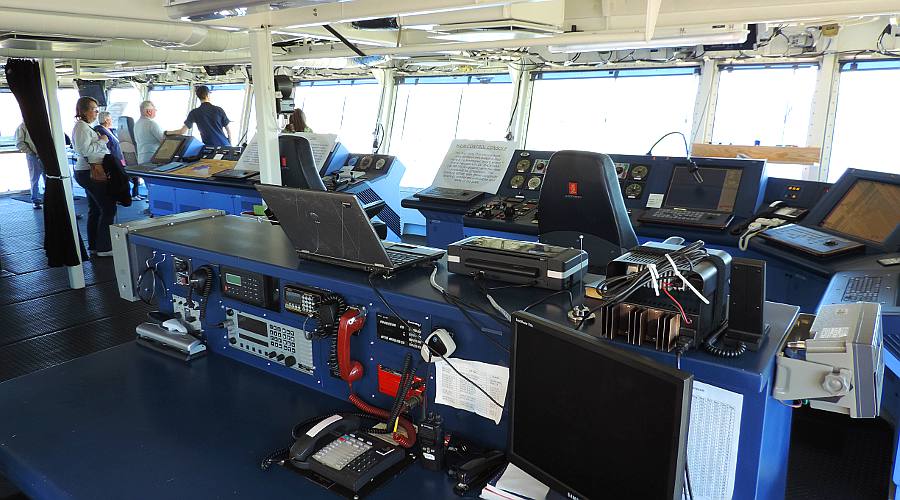 Bridge of the United States Coast Guard Cutter Mackinaw

Left to right: navigation workstation, steering, and maneuvering workstation

Continuation of the tour of the United States Coast Guard Cutter Mackinaw (WLBB 30) including the bridge, navigation, communications, command and control. Comparing this to the bridge of the much larger first CGC Mackinaw (WAGB-83), there are dramatic differences. Not just that WLBB 30's bridge is so much more modern, but that it is so much larger and more comfortable!

This photo tour was photographed on May 25, 2013.


New Mackinaw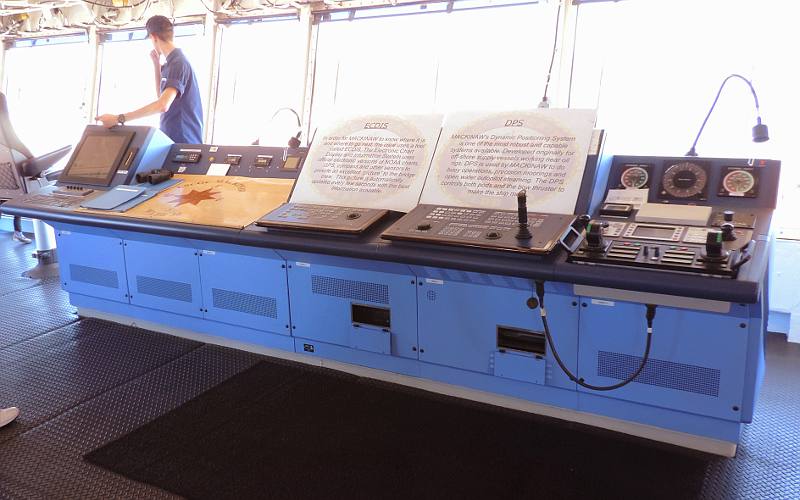 Navigation workstation - ECDIS and DPS
ECDIS: In order for the crew of the Mackinaw to know where it is and where to go next, they use a tool called ECDIS. The Electronic Chart Display and Information System uses official electronic versions of NOAA charts, GPS, compass and other sensors to provide an excellent "picture" to the bridge crew. This picture is automatically updated every few seconds with the best information available.
DPS: Mackinaw's Dynamic Positioning System is one of the most robust and capable systems available. Originally developed for off shore supply vessels working near oil rigs, DPS is used by the Mackinaw to do buoy operations, precision mooring and open water autopilot streaming. The DPS controls both pods and the bow thruster to make the ship move.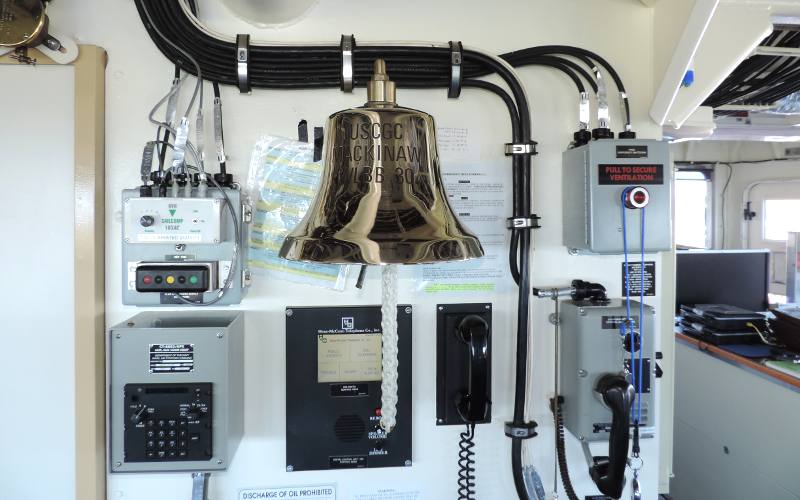 Ship's bell and Electronic Communications Equipment

Main Control Console
There is no traditional "ship's wheel." This is because USCGC Mackinaw is equipped with two ABB Azipods for propulsion. The Conning Officer uses the composite levers of the main control console to control the orientation and RPMs of the pods.

Route Planning Station

Chart Table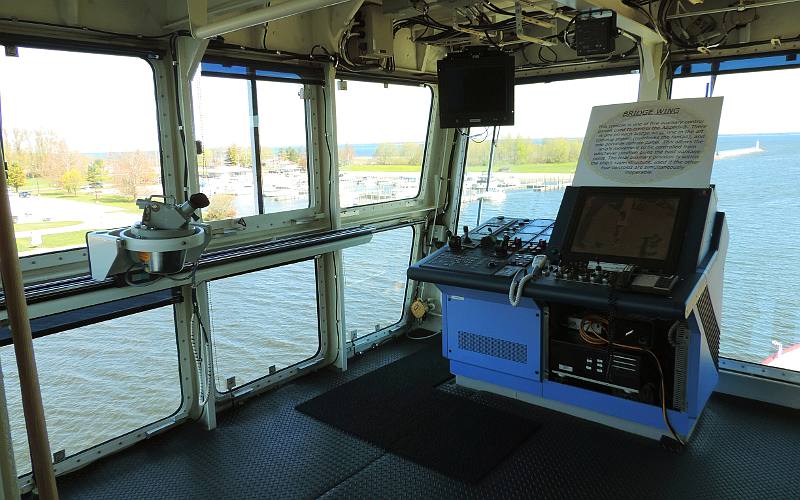 Port secondary conning station (Bridge wing)
The console at the port secondary conning station above is one of the five auxiliary control panels used to control the Azipods. In addition to the main control console, there is one on each bridge wing, one in the aft conning station overlooking the fantail and one portable remote panel. This allows the ship's movement to be controlled from whichever position gives the best vantage point.
The final auxiliary position is within the ship's superstructure for use if the other four consoles are simultaneously inoperable.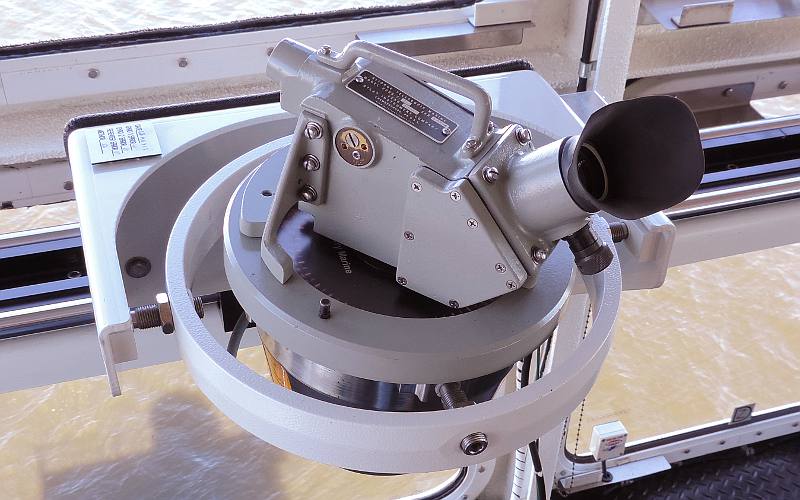 Telescopic Alidade mounted atop a slide mounted gyro repeater for taking the bearings of distant objects.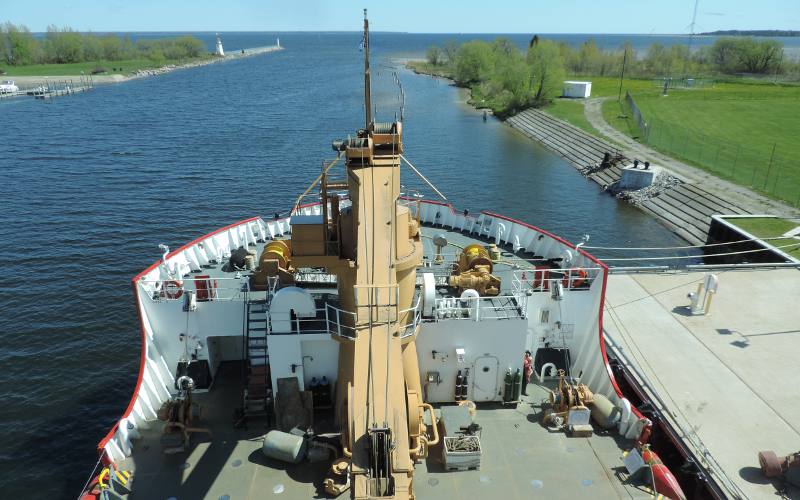 View of the bouy deck and Appleton crane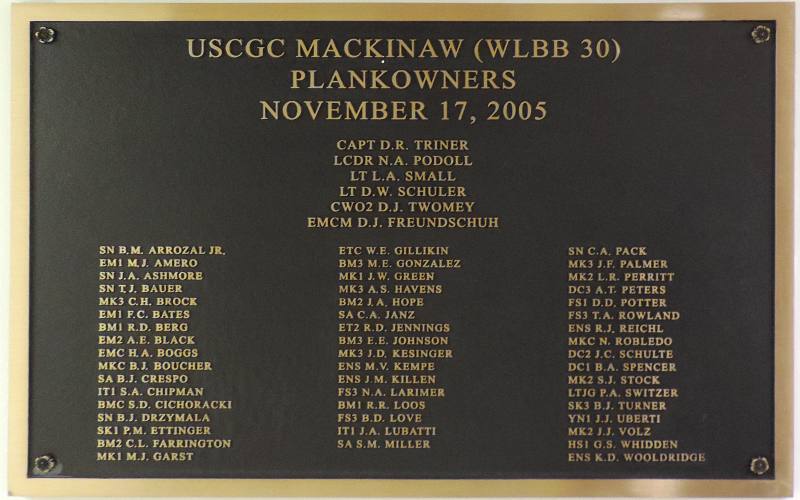 USCGC Mackinaw (WLBB 30) Plankowners - A plankowner was a member of the crew of a United States Coast Guard cutter
(or United States Navy ship) when that ship was placed in commission.
Tour Page 1 Tour Page 2 Tour Page 4
Coast Guard Cutter Mackinaw Home Mighty Mac Home 2005 tour of the old Mackinaw
copyright 2013-2014 by Keith Stokes. . My home page