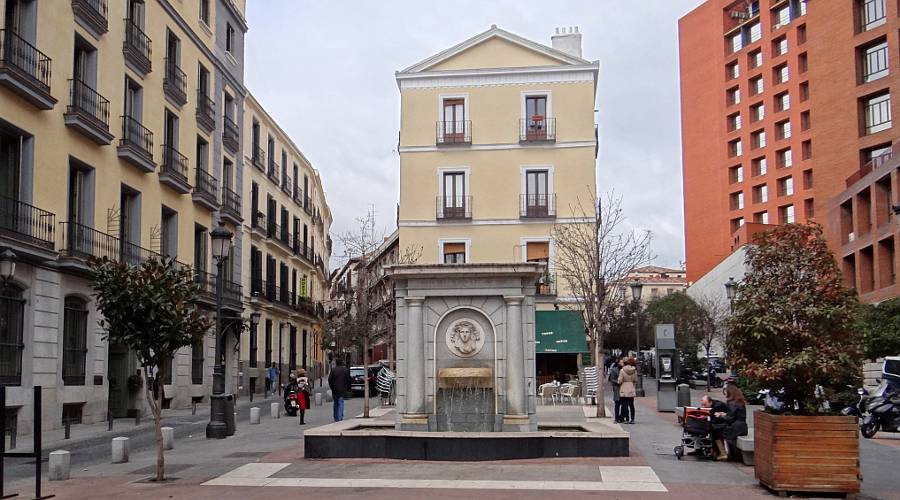 Plaza de la Platería de Martínez - the Hostal Bruña is the second yellow building on the left side of the narrow calle (street) on the left
Sunday ­ day 2
Our flight arrived in Madrid about 10AM CET, or about eight and a half hours after our departure. After obtaining euros from an ATM in the airport, we took a taxi to our hotel, the Hostal Bruña.
A hostal is a small family run hotel. The Hostal Bruña shares a building with residential apartments and we needed three different keys to get from the outside to our room. The hotel has a great location, just across from the Prado and within walking distance of the old parts of Madrid.
We arrived before the official noon check in time, but were able to check in right away and the maid hurried to prepare our room while we stayed in the reception area and used the wifi to catch up on things at home. The room was not unusually small by European standards, though both of the beds were narrow.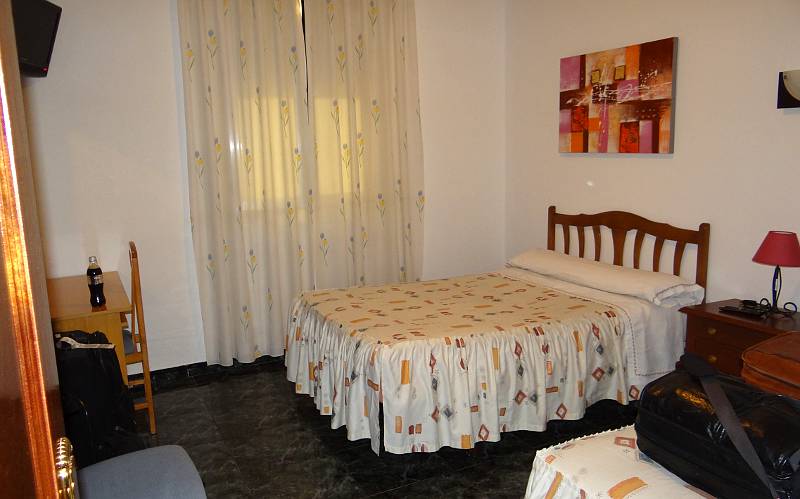 Our room in the Hostal Bruña - the far bed is the larger of the two, but smaller than a double in the US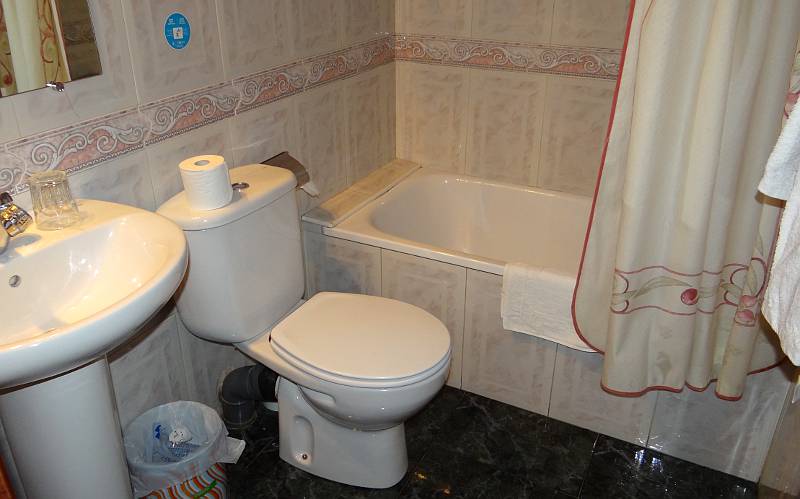 Although Hostal Bruña had the smallest room during the trip, this was one of the larger bathrooms
After freshening up, we started looking for a nearby restaurant. There were several within a couple of blocks. The first interesting looking place was the Museo del Jamón. However, it had no signs or menus in English, the dining room was closed, and ordering had to be done at a busy counter, so we regretfully moved on. I've since learned that this place has great reviews, but between jet lag and this being the first meal in Europe, we just weren't ready to puzzle things out.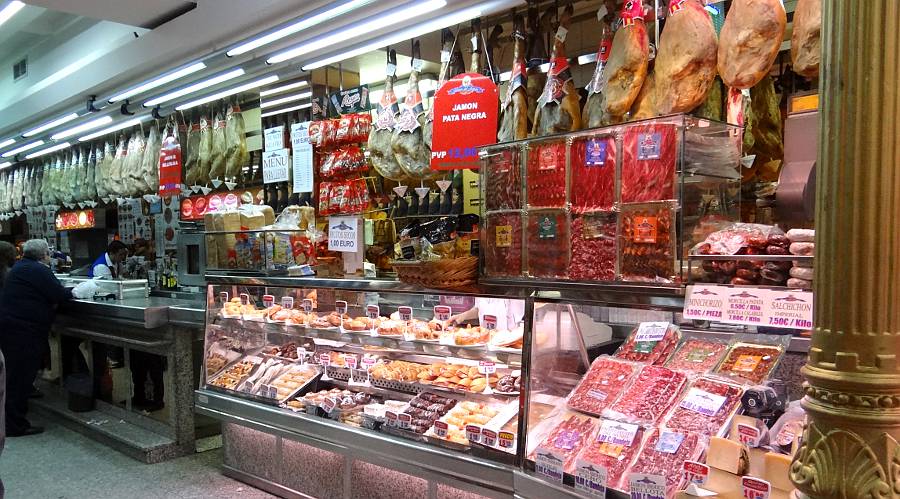 Museo del Jamón
We had lunch a little farther away at the Cervecerra Bar Atocha. There were English descriptions of the dishes on the menu in the window, but not at our table. It was more touristy than I wanted, but was easier at this point in the trip. Our server knew little English (though much more than I know Spanish) and we managed to order fried fish for Linda and lamb chops for me. Linda's hake came with a good potato salad that was more like a cross between potato salad and egg salad. For eight euros, there was also salad (no dressing), two croquettes and two empanadillas - bite sized, savory "Spanish pies."
My lamb chops made me think more of tiny pork chops. They came with eggs, fries and a cooked pepper slice.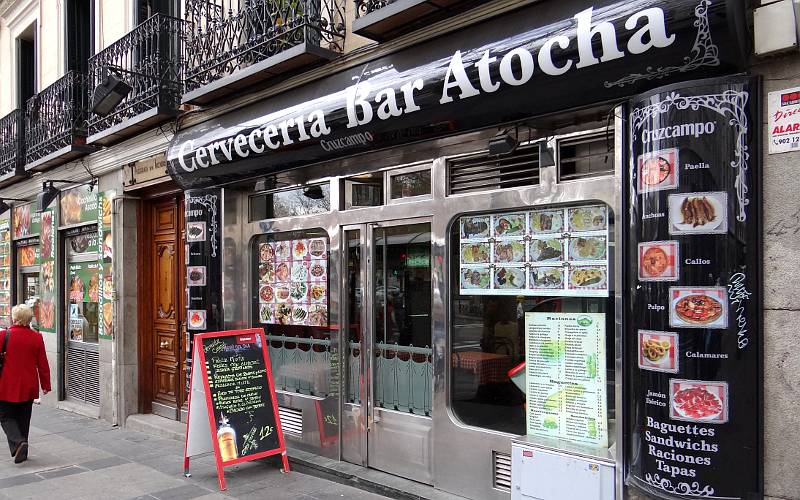 Cervecerra Bar Atocha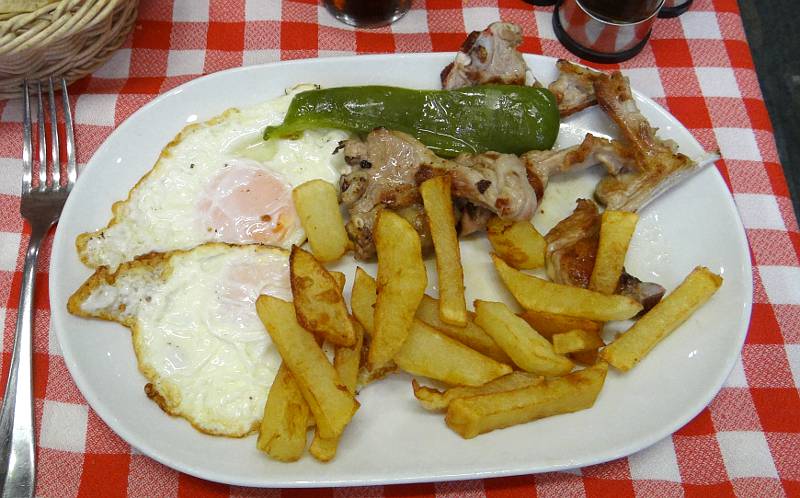 Chuletillas de lechal, huevos fritos, pimentos y patats - lamb chops and fried eggs (12€)