Paris
Thursday March 27, 2003
Page 2


musée d'Orsay
After a shower and change of clothes, I rode the metro (subway) over to the Seine and walked along the left bank to the musée d'Orsay, a former railroad station that houses the national collection of impressionist and postimpressionist art. The building is spectacular!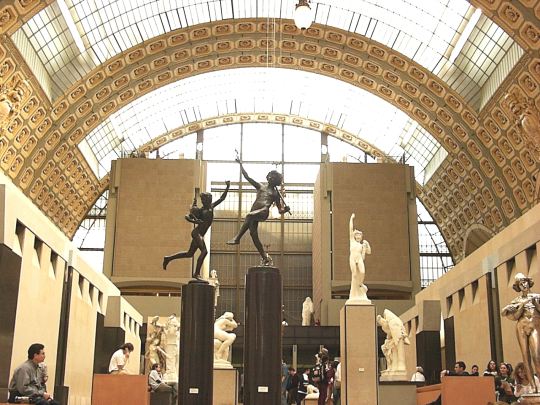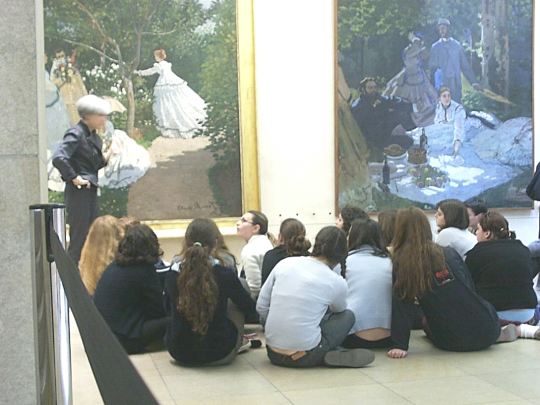 One of dozens of tours in progress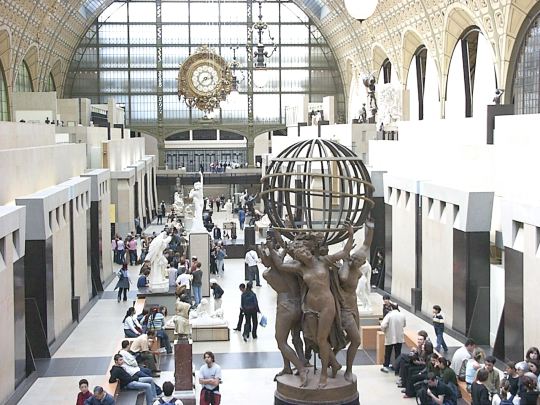 Notice the glass wall behind the far clock. There ae walks beyond the wall
At first, I wasn't that impressed with the art, with the most interesting works being a room of work by Toulouse-Lautrec. But I finally found the top floor where the good stuff is. Room after room of world famous paintings - Whistler's Mother; perhaps 50 Monets (my favorite); rooms of works by van Gogh, Renoir, Manet, Pissarro. I was previously unfamiliar with Sisley, but will look for more of his work in the future.
I loved the musée d'Orsay. There really was too much to take in at once. This museum should be visited for an hour or two at a time, many times.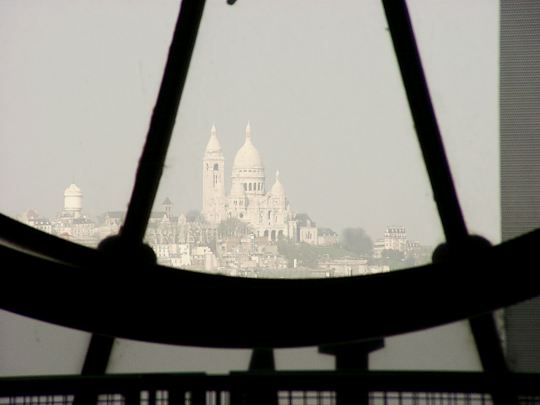 Basilique du Sacré Coeur seen through one of the exterior clocks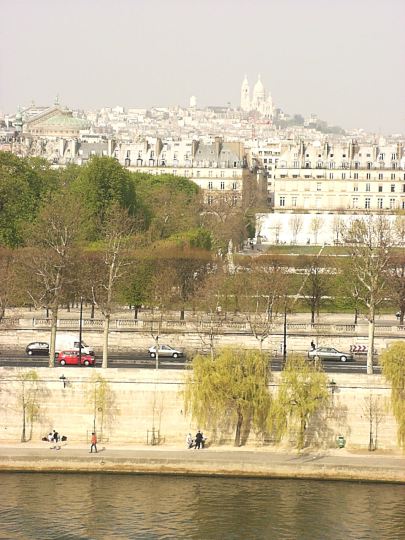 From just outside the Café des Hauters on the upper level
Late lunch/early supper was at the museum. A curried chicken & egg salad sandwich on wonderful pitta like bread, and a raspberry tart.
I was wearing down, so went back to the hotel to lie down for a bit before the evening bike tour.
Refreshed with a chocolate bar and diet coke (French chocolate is 3 times better than the US, but the diet coke is terrible) I walked back to the Eiffel Tower for Mike's Bike Tour. We formed up near the south leg ("Pilier Sud") of the tower, then walked about ½ mile to the bike shop. There were 19 of us, all but one were Americans. We rode 5 speed bicycles that were only 4 days old. The bikes all of names to make it easier to sort them out after the stops. Mine was named King Louis.
The ride was incredible. We were given reflective vests, but had no lights. Everywhere we went was well lit. We rode a mixture of sidewalks, parks and streets - mostly bicycle or bus lanes - but still mixing with traffic. I am guessing that the liability laws must be pretty lax in France, I wouldn't have wanted to be responsible for us:-) They offered helmets before the ride, but in a way to discourage our using them, and no one did.
The pace was steady but comfortable. I guess that the total ride was only 8-12 miles. We stopped several times to learn details of the area, but mostly rode through busy downtown Paris by night. Most of the ride was on the left bank and we passed places like Les Deux Magots. One stop was for ice cream at Berthillon (Paris' most famous ice cream shop).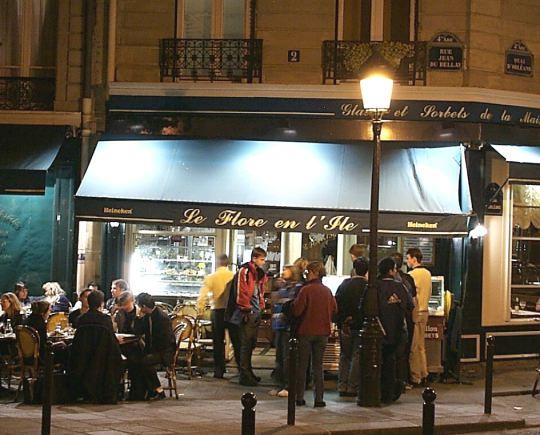 Getting ice cream at Berthillon's flagship store on Ile. St.-Louis
The very best time was at the Louvre Museum where we rode the inner courts while listening to a man named Pierre playing classical flute. I could have stayed there an hour!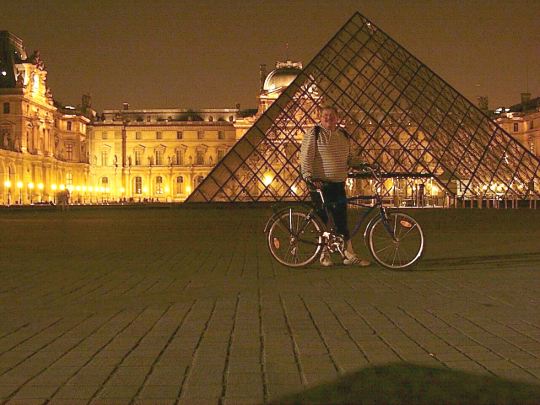 Me in front of the Louvre Pyramide
Then on past the heavily barricaded British and US Embassies to the boat for an hour ride.
Our guide, a Californian coincidentally named Mike, brought along 4 bottles of wine. So we chatted, sipped wine and rode the boat (which had batteries of flood lights along its sides) past Notre Dame, la Tour Eiffel, Musée D'Orsay and many other sights. The banks were lined with many small parties of young people who would wave and raise their glasses in toasts as we passed. Two young women mooned us.
Finally we rode back to the bike shop. It was a wonderful 4 ½ hour tour that I would do again.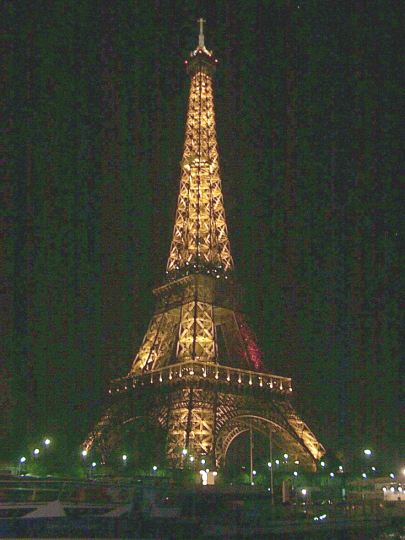 la Tour Eiffel from the boat
Thursday Page 1 Thursday Page 2
Friday Page 1 Friday Page 2
Saturday Page 1 Saturday Page 2
Sunday Page 1 Sunday Page 2
Monday
Michigan photo website
Mackinac Bridge Photos Mackinac Island Straits of Mackinac Lighthouses
Copyright 2003-2008 by Keith Stokes. email me at sfreader@sff.net or visit my home page.