Normanday
Friday March 28, 2003
Page 2

Arromanches-les-Bains from near Arromanches360 theater
In mid afternoon I moved on to Arromanches-les-Bains, stopping first to see the movie "The price of freedom" at le cinquantième Anniversaire du Débarquement. A 360 degree movie in a theater overlooking Arromanches. With no dialog, the brief movie shows scenes from the invasion and from contemporary Normandy. It was OK, but I wouldn't recommend it.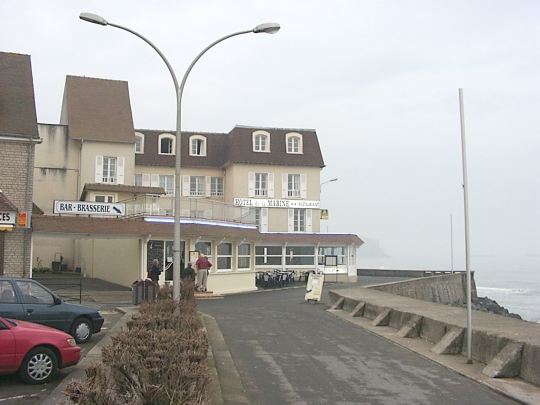 Hotel de la Marine
Then on to Hotel de la Marine, located on the beach. It was a bit nicer two star hotel, and my room was much larger and nicer than my first. This time there was a tub, but _very_ narrow. The room was too far to the side for a great view, but I could lay in bed and watch & listen to the waves. It was foggy and I could only see for a few hundred meters.
Before dinner I visited some of the nearby tourist shops and walked along the shore. Some of the shops sold Calvados, pommeau and cidre and I stopped to taste some at a shop with a man who spoke as little English as I speak French. (Actually these conversations were among the most interesting on the trip:-). When I tried to explain that only young Calvados and no pommeau is exported to the US, he asked if it was because of the boycott. This was the only reference to US-French relations during the entire trip. I bought some 8 year old brandy and 3 bottles of the pommeau (made from Calvados mixed with non fermented cider and aged again).
After watching the streets rolled up, I returned to the hotel and changed for dinner.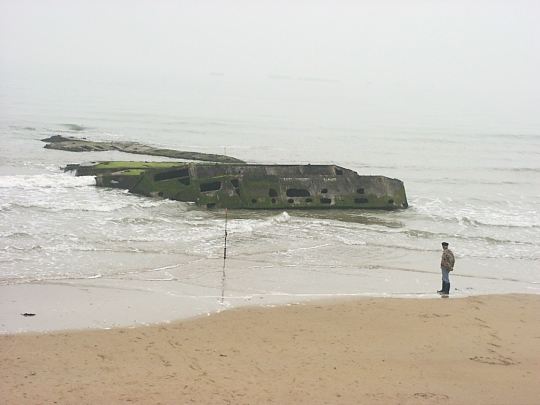 fishing near some of the remains of the World War II "Mulberry" harbor (more in distance)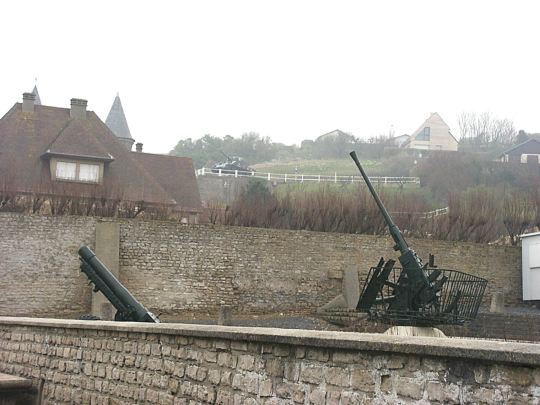 outside the Musée du Débarquement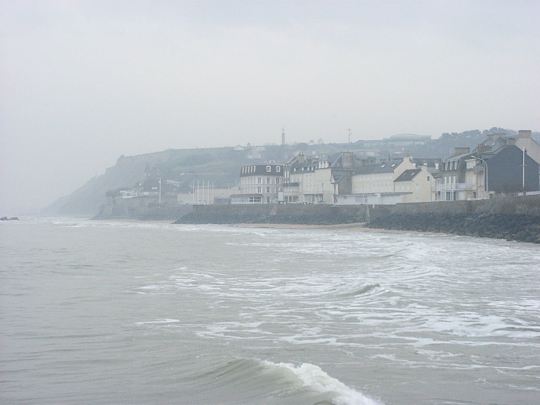 One of the best tables in the restaurant (though the fog eliminated the view that night) was reserved with my room number. While I reviewed the carte (menu), they brought me a small dish of snails without shells, cold with oil, capers and a familiar spice I could not place. Very good. I choose another menus fixes which allowed several choices and a full meal for little more than some of the items ordered al la carte.
The meal began with fruits de mer, a plate of cold shellfish - snails (larger, in the shell), snails (tiny in black shells), shrimp, langoustines, a small crab, oysters, and small clams. I was tempted to shout out, "Waiter, there are snails on my plate!"
The main dish was two small fillets of a mild fish sautéed in butter and served over a bed of some vegetable (Brussels sprouts?) cooked in even more butter. The vegetable was very good! Desert was ½ pear on a cookie, topped with a caramel glaze. Sherbet and an artfully sliced strawberry were on the side and the plate was decorated with a cinnamon and powdered sugar comet.
The whole meal including cidre was only a bit over $30!
After a couple of telephone calls home, I called it an early night.
Thursday Page 1 Thursday Page 2
Friday Page 1 Friday Page 2
Saturday Page 1 Saturday Page 2
Sunday Page 1 Sunday Page 2
Monday
Michigan photo website
Mackinac Bridge Photos Mackinac Island Straits of Mackinac Lighthouses
Copyright 2003-2004 by Keith Stokes. email me at sfreader@sff.net or visit my home page.