Roof of the Duomo di Milano (Milan Cathedral)

March 2012 trip to Madrid, Venice, Verona, Milan and Paris.

Milan: Duomo, Cathedral Roof, Galleria & Castle, Al Conte Ugolino,
Last Supper Tour, Art Café, National Museum, Il Bar


Gargoyles on the Milan Cathedral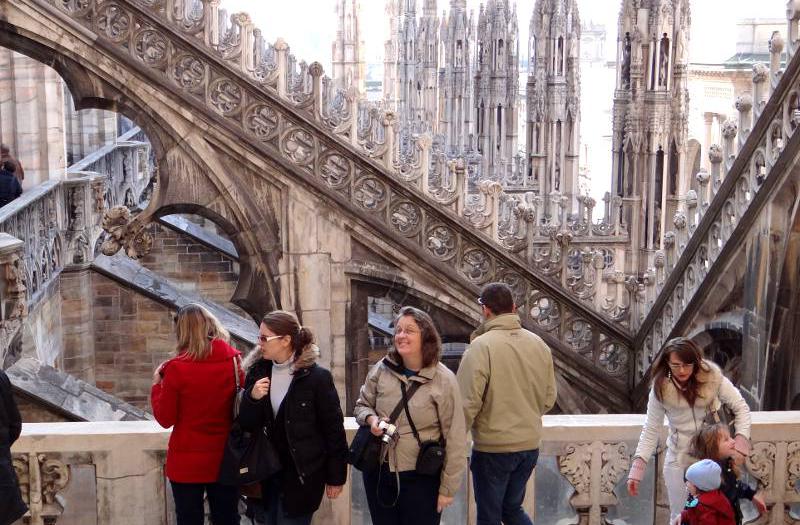 Linda took at least as many photos as I did on the cathedral roof
Saturday continued
After our free visit to the interior of the Duomo di Milano, we went outside to find the elevator to the roof. We walked 2/3s of the way around the Milan Cathedral and then found out that tickets were sold in a storefront across the street. When we tried to use the Milano Card for a small discount, we were told that it could only be used at another building on the far side of Piazza del Duomo and it wasn't worth taking that much time to save a dollar.
We could climb steps to the roof for 5 euro or take the elevator for 8 euro. When we got to the roof, we were doubly glad we had taken the elevator - the stairs turned out to be quite narrow and people have to squeeze by each other to use them.
When we first got to the Roof of the Duomo di Milano, there were only the few people who had gone up in the same elevator, but as we moved on to more interesting areas it became more and more crowded. When there were more stairs going to an even higher portion of the roof, the stairs were very narrow and people formed a single file, but the line went on and on until people started forcing their way past going the opposite way. We were pressed against the wall on one side and people on the other.
The roof was so beautiful and neat that we were up there for an hour. There are over 2,000 statues on the roof. The cathedral was built over a 700 year period and no one knows exactly how many statues there are. They estimate that the total number of statues in and on the building is about 3,200 - 3,400. Construction began at the rear of the church and portions of the building were placed into use as the construction advanced. The doors on the front of the building were finished just a few years ago.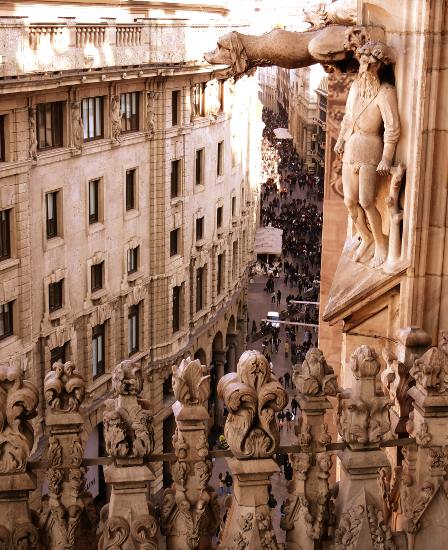 View of Corso Vittono Emanuele II street from the cathedral roof
(prints of this photo are available at Finearts America)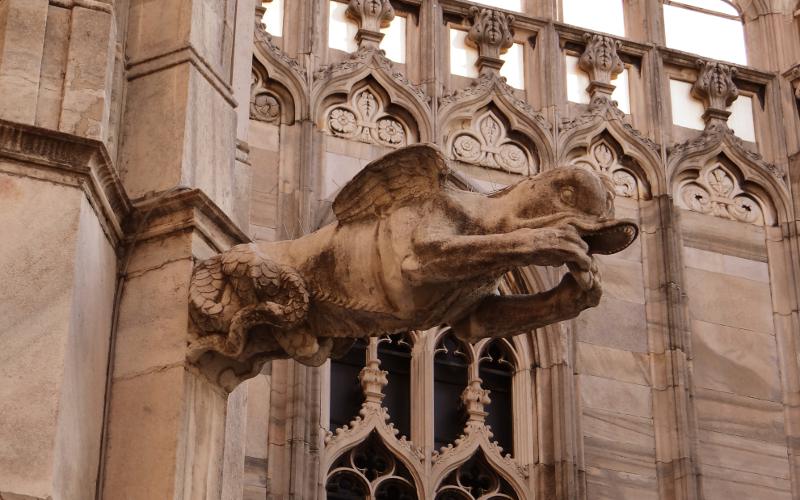 The roof of the cathedral has 96 gargoyles (prints of this photo are available at Finearts America)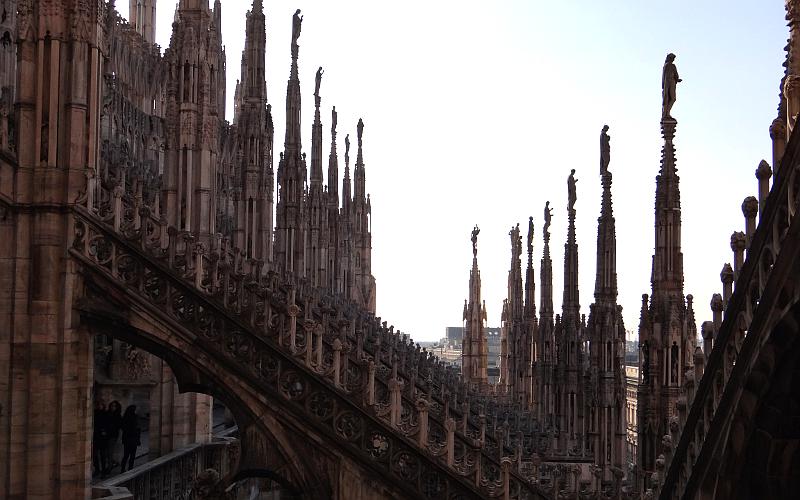 The Milan Cathedral roof has 135 spires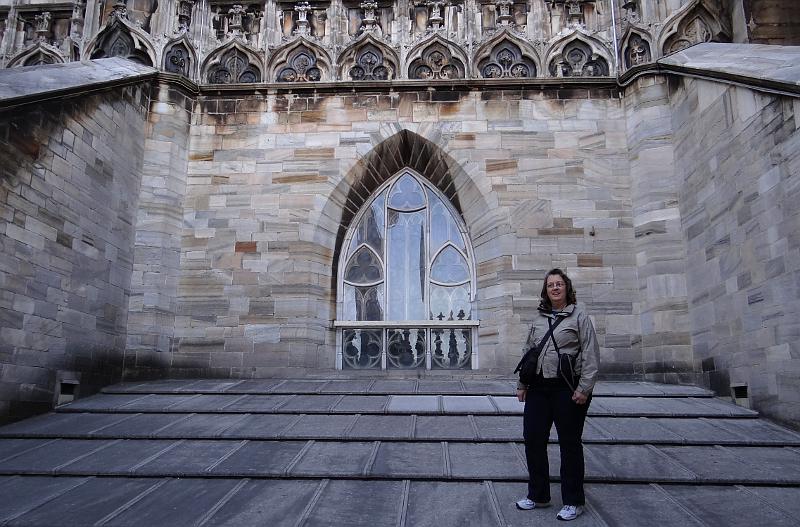 Linda standing on the roof near the the place where the elevator lets off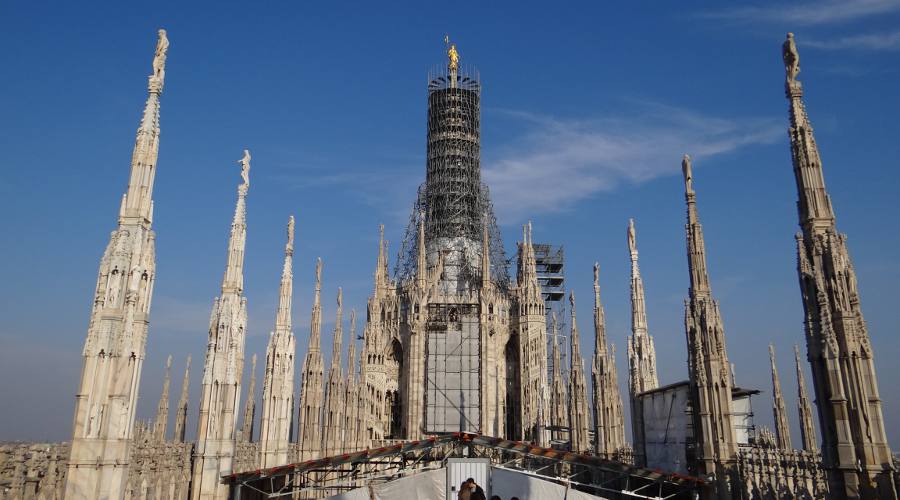 There is a large, relatively flat area at the top of the roof where special events & concerts are sometimes held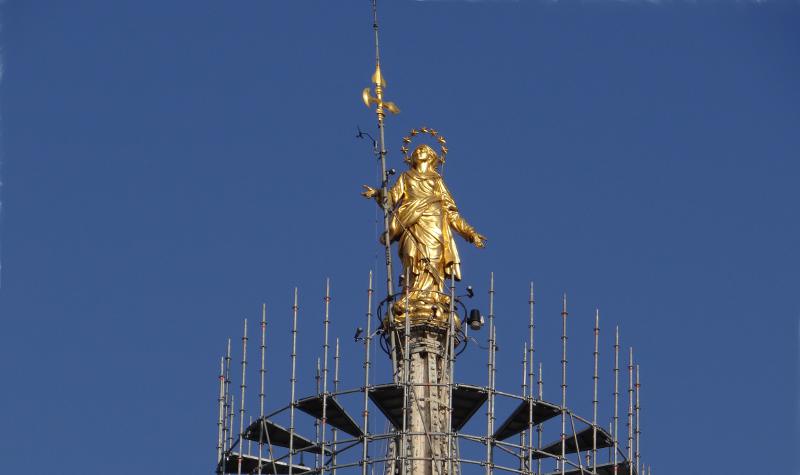 Madonnina (Little Madonna) at the very top - the cathedral is dedicated to the Virgin Mary
(prints of this photo are available at Finearts America)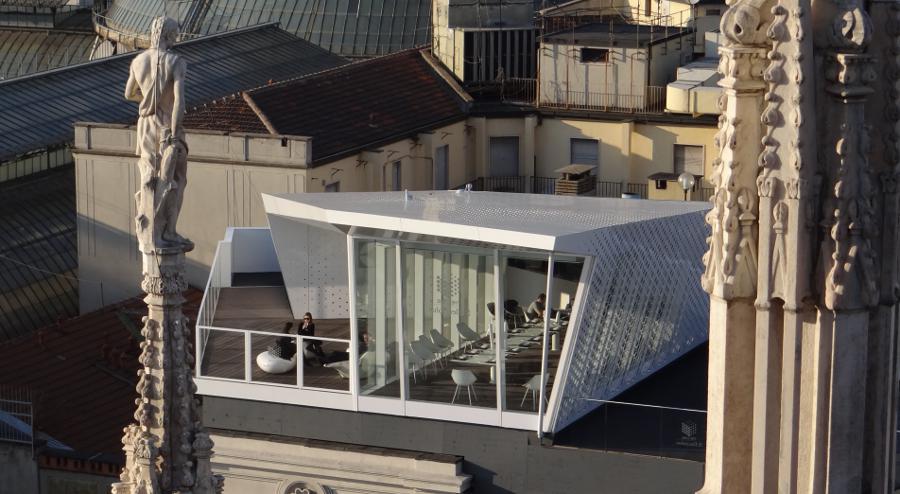 "The Cube" was a pop up restaurant on the roof of a building across the Piazza del Duomo - it is only there until April 26 and will then be moved
to London (Lunch €200; dinner €275 including drinks), reservations must be made online in advance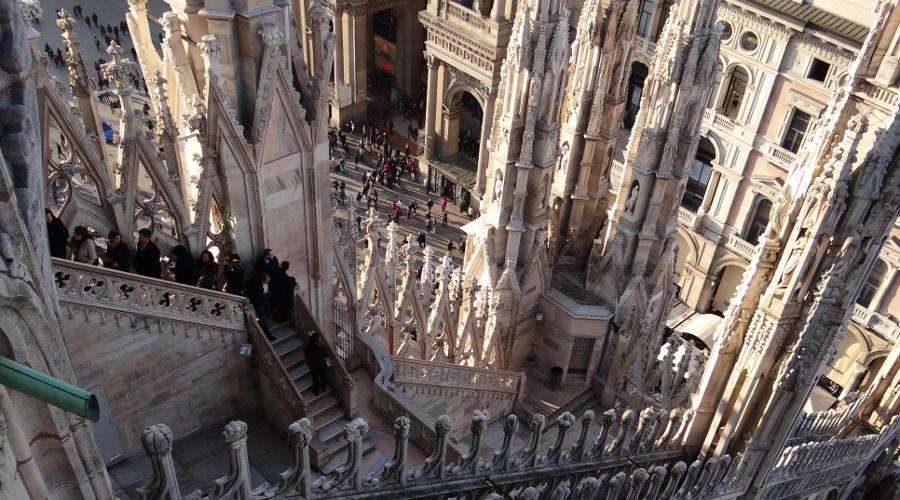 Start of the line working their way up the stairs from the lower section of the roof - the line got much longer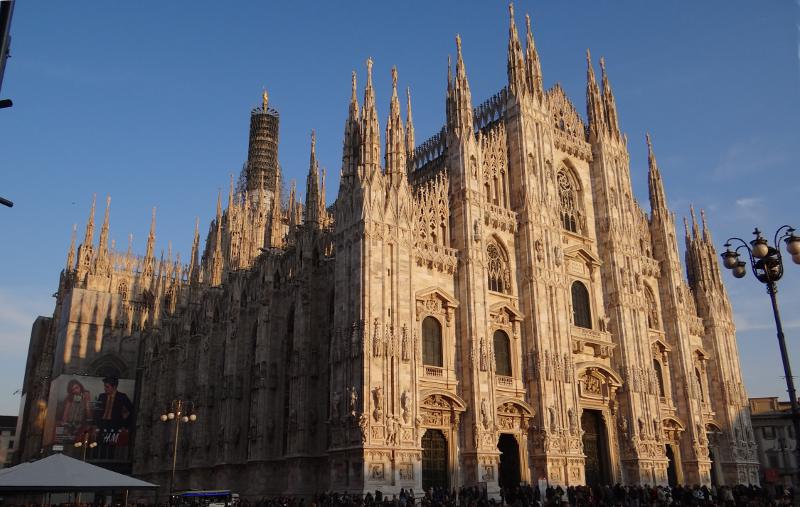 Another view of the Milan Cathedral when we came back down and the sun was getting lower