LastSupperTickets
Best of Milan Tour

March 2012 trip to Madrid, Venice, Verona, Milan and Paris.

Milan: Duomo, Cathedral Roof, Galleria & Castle, Al Conte Ugolino,
Last Supper Tour, Art Café, National Museum, Il Bar


Duomo di Milano statues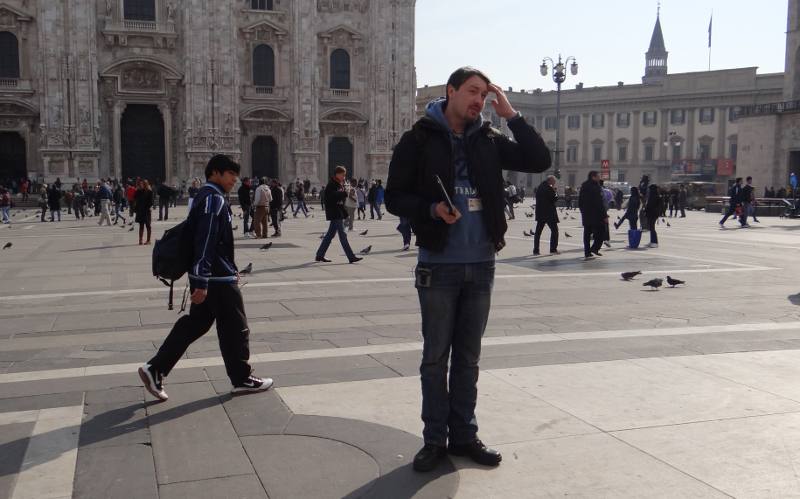 Goudin Ludovic was our guide for the Best of Milan tour
Sunday, day 9
We started the day by returning to the Piazza del Duomo on the Metro. After a quick breakfast at a restaurant in the Galleria we headed over to the Vittorio Emanuele II Statue in Piazza. At least we assume it was there, the statue is currently covered by scaffolding and the restoration is expected to continue until late October.
We were there for LastSupperTickets' "Best of Milan" tour and were met by our guide and a technician who outfitted all of us with receivers and ear buds for the tour. Our guide was a young French man who is living in Milan, Goudin Ludovic.
With this being a Sunday, the tour could not go inside the Duomo di Milano (Milan Cathedral). That was part of the reason that we visited the Cathedral on our own on the day before. But Goudin did take us around the outside of the church and give us more background which we had not learned on the day before. He used a tablet computer to show us images to better explain the history.
The tour also went through the Galleria Vittorio Emanuele II before leaving the immediate area of the Piazza del Duomo.
The headphone worked fairly well, but did hurt the interaction between the tour guide and the people taking the tour. I think it would have been good if we had gone in the cathedral, but it probably reduced the quality of the overall tour.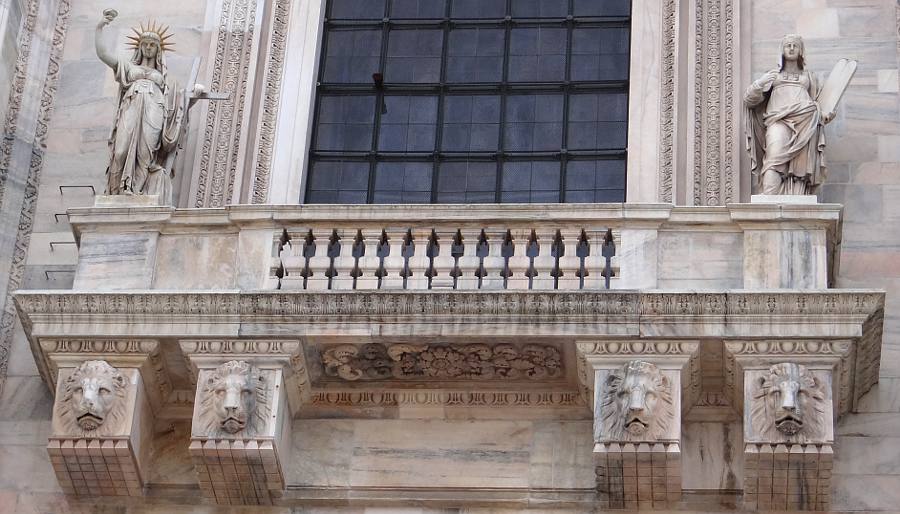 Napoleon had work done to the cathedral in preparation for his wife's coronation and added features not usually found on a church,
such as the statues found here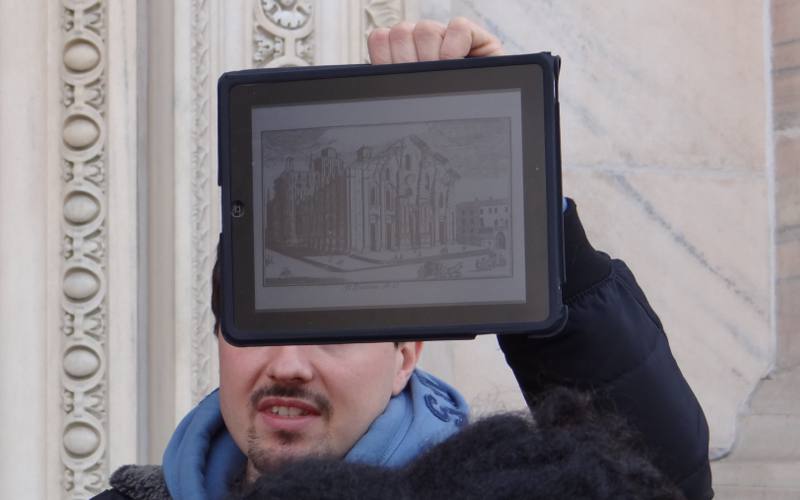 Goudin Ludovic explaining the 700 year history of the Milan Cathedral's construction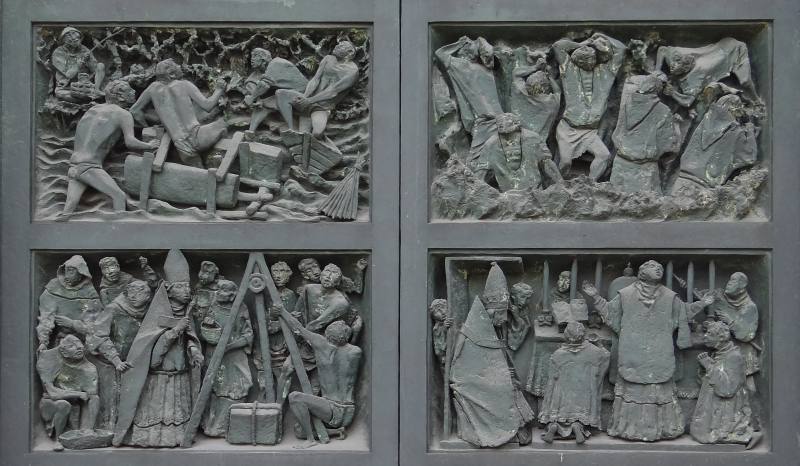 The fifth great doorway is the most recent and was completed in 1965.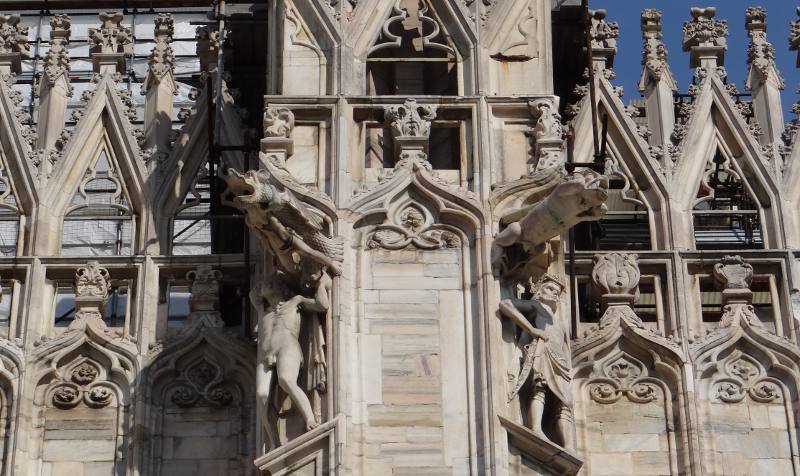 Gargoyles and statues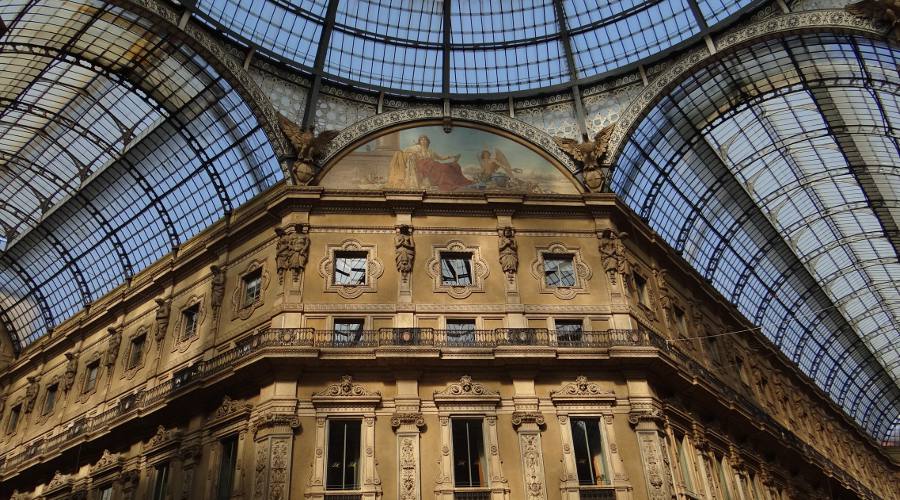 Milan keeps many things secret and there are few signs - this part of the Galleria is the SevenStars Galleria Hotel,
a five star hotel with rooms running from $700 to several thousand dollars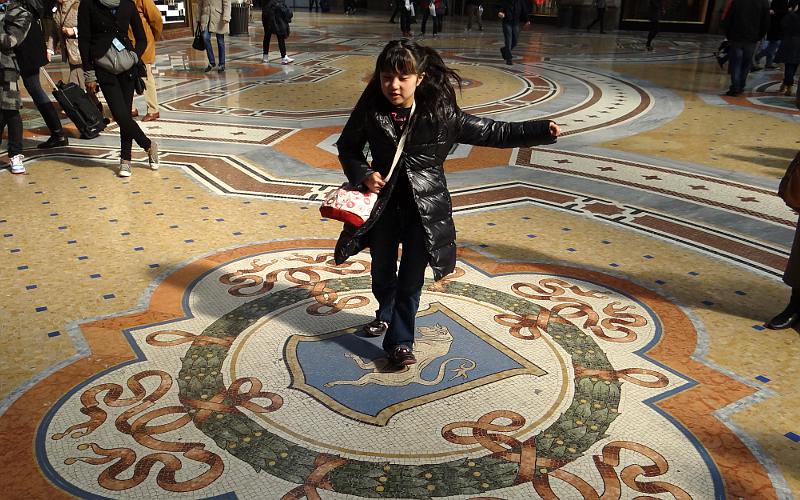 People spin on Torino bull's testicles for good luck