Best of Milan Tour
and the Last Supper

March 2012 trip to Madrid, Venice, Verona, Milan and Paris.

Milan: Duomo, Cathedral Roof, Galleria & Castle, Al Conte Ugolino,
Last Supper Tour, Art Café, National Museum, Il Bar


Some of these historic Peter Witt streetcars were sold to San Francisco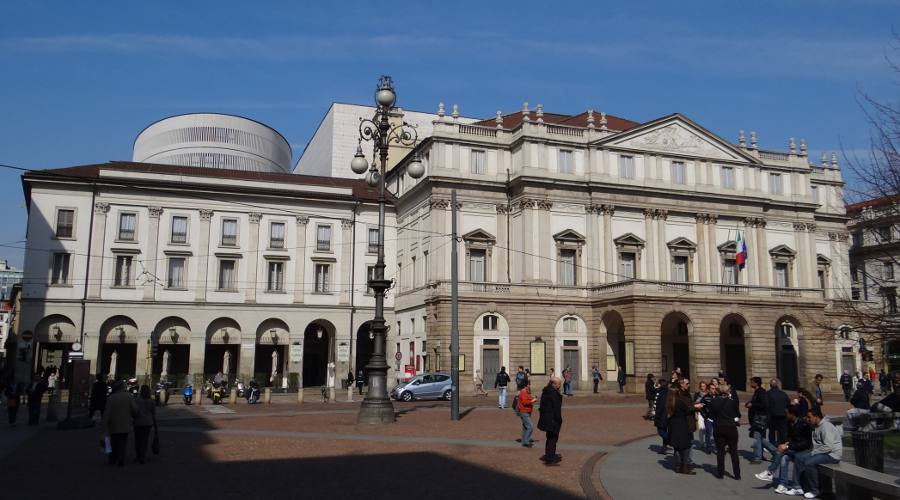 Teatro alla Scala - "La Scala"
Sunday continued
Our Best of Milan Tour went on to Piazza della Scala in front of La Scala. La Scala was built in 1778 and is one of the most famous opera houses in the world. It was built on the ruins of the church of Santa Maria della Scala.
We now headed into a neighborhood that was much less interesting, but was in the direction where we needed to conclude the tour.
We stopped for a 15 minute break at a little cafe where we finally tried the rich, thick and creamy hot chocolate that Italy is known for. The hot chocolate was so thick that our spoon could rest on the top.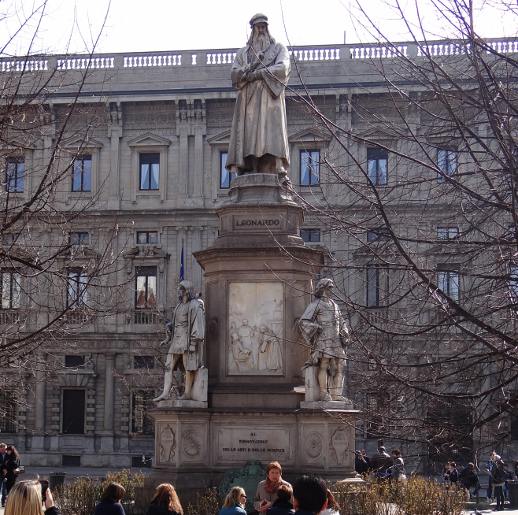 Leonardo Statue in the Piazza della Scala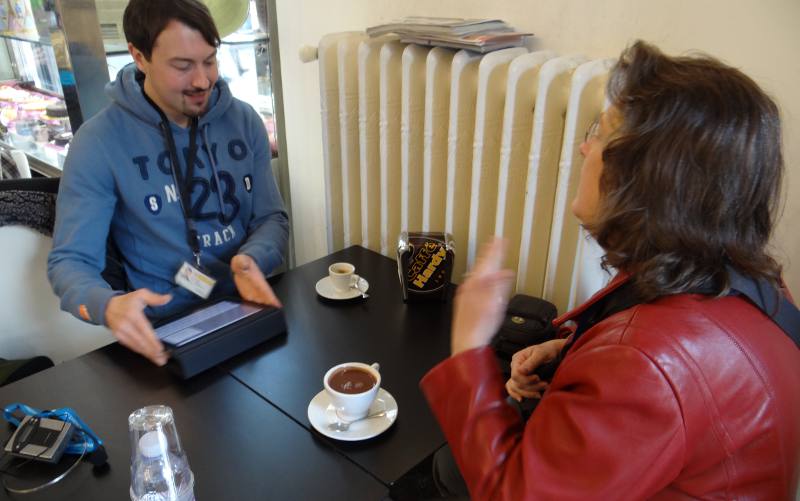 Linda having hot chocolate and getting restaurant ideas from our tour guide
The tour continued through the Castello Sforzesco (Sforza Castle), which we had only walked around the evening before. We didn't go into the museums, just walked through the center courtyard before going on into another neighborhood on out way to Santa Maria delle Grazie.
Santa Maria delle Grazie (Holy Mary of Grace) is a church and Dominican convent. Leonardo da Vinci's mural, The Last Supper, is on a wall in the refectory of the convent. Only a few hundred people a day can see The Last Supper and tickets sell out well in advance. We took this tour because it was possible to book it just days in advance and see The Last Supper.
I'm very glad we did. The 15 minutes we had with the mural went quickly and I particularly appreciated the way which Leonardo created depth.
No photos were permitted in Santa Maria delle Grazie.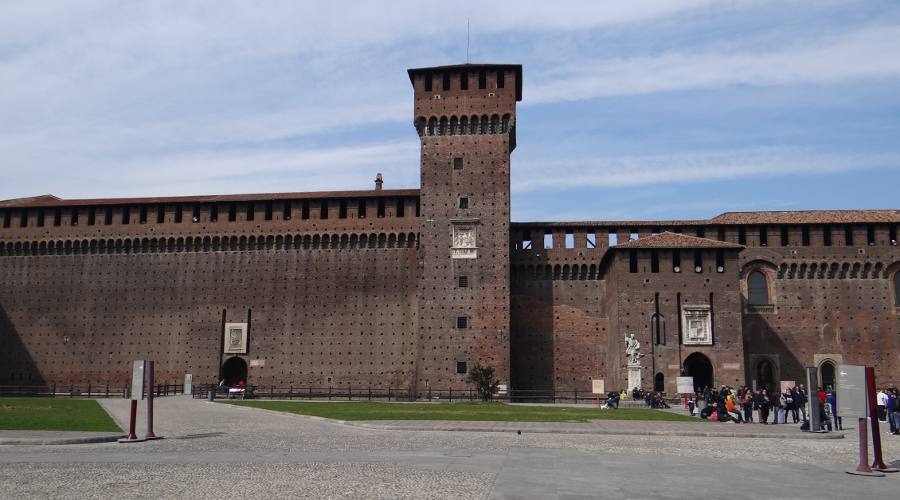 One of the interior courtyards at Castello Sforzesco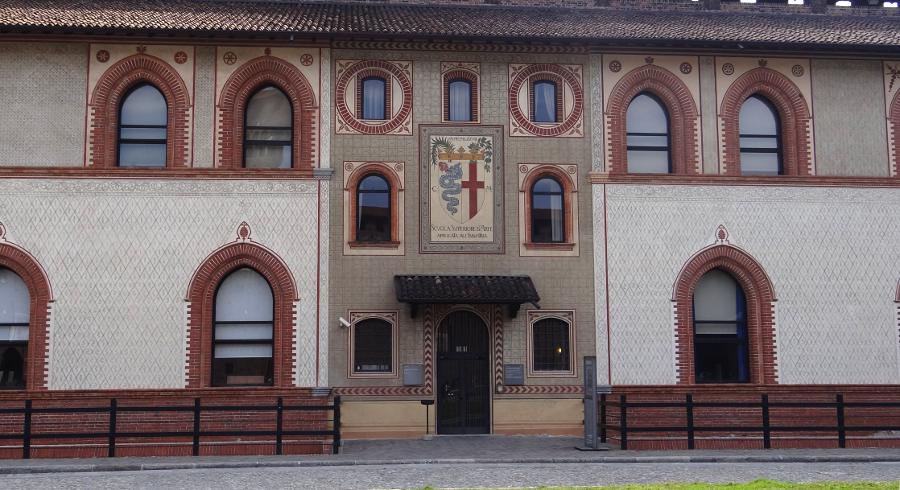 The School and the Museum of Applied Art at Sforzesco Castle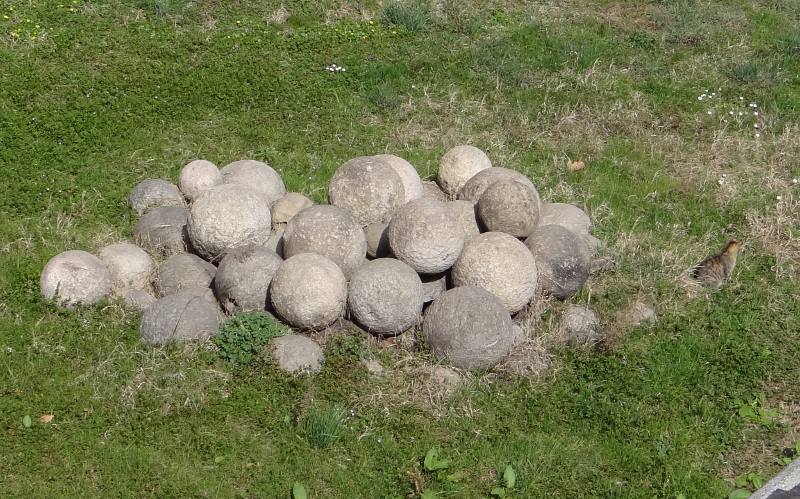 Ancient stone cannon balls and one of the many cats who live in the castle wall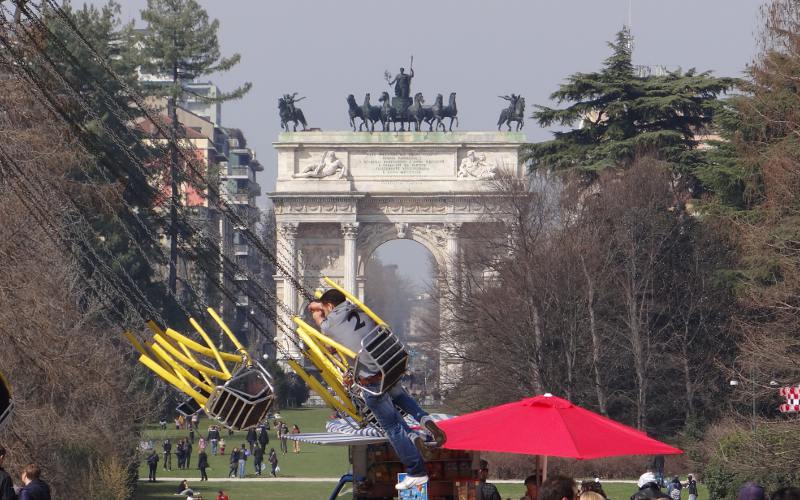 Carnival outside Castello Sforzesco with the Arco della Pace (Arch of Peace) in the distance

Ruins outside Castello Sforzesco (prints of this photo are available at Finearts America)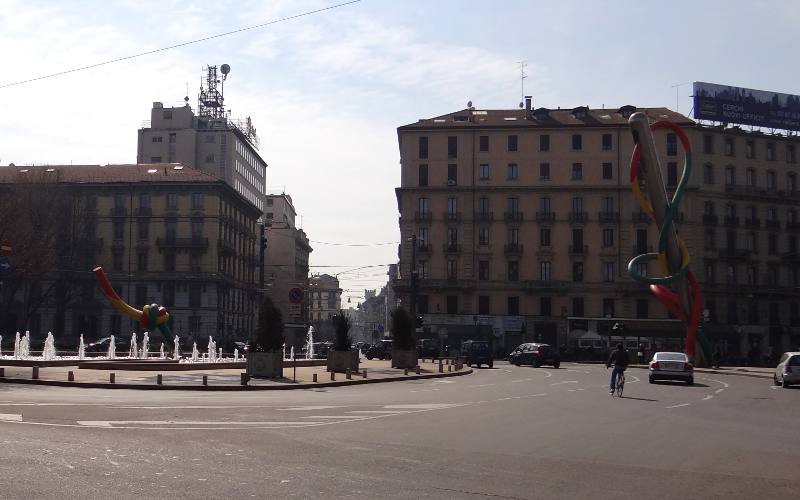 Ago, Filo e Nodo (Needle, Thread & Knot) sculpture by architect Gae Aulenti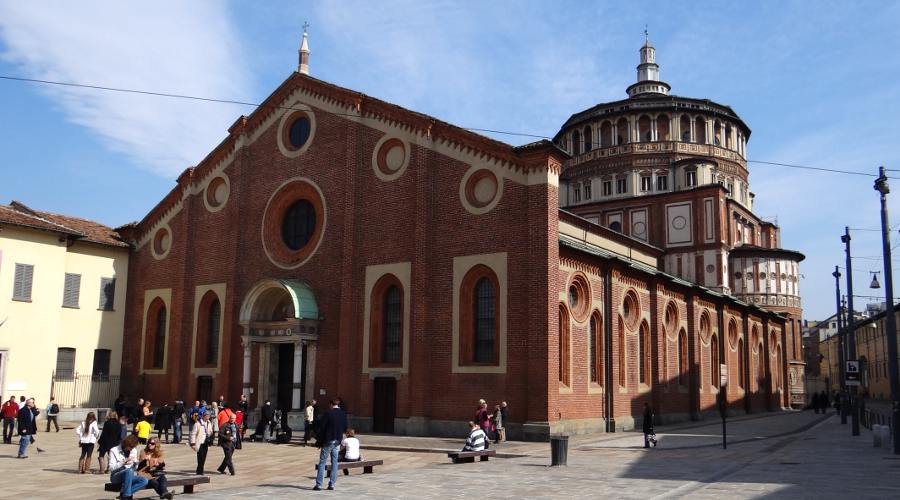 Santa Maria delle Grazie church - The access to the refectory is at the left