Ristorante Torcolo di Luca Barca

March 2012 trip to Madrid, Venice, Verona, Milan and Paris.

Verona: Piazza Bra, Roman Arena, Chiesa San Fermo Maggiore,
Juliet's House, Piazza delle Erbe, Chiesa di Santa Anastasia,
Roman Theater & Archaeological Museum, Ristorante Torcolo di Luca Barca,
Castelvecchio Museum


Table decorations at Ristorante Torcolo di Luca Barca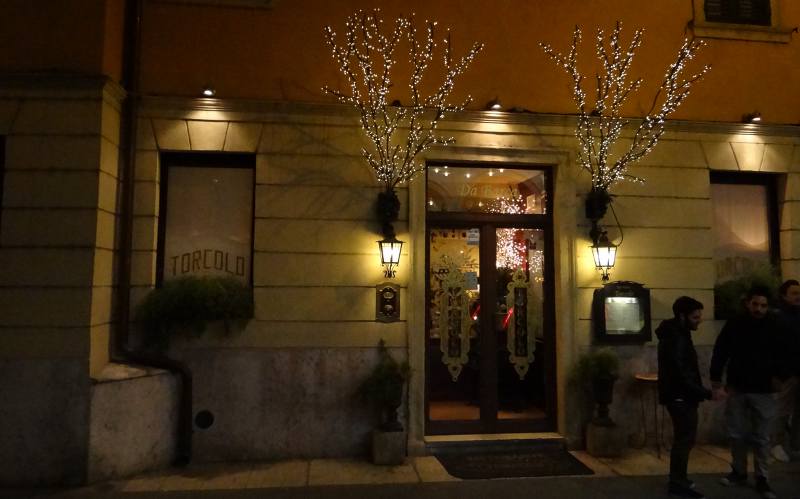 Ristorante Torcolo di Luca Barca
Friday continued
With no internet service at our hotel, we could not research places for supper, so we asked the desk clerk for a recommendation. She directed us to Ristorante Torcolo di Luca Barca, which serves typical Verona food. It was only about 4 blocks away. The restaurant was attractive, but quite noisy, with several tables of folks talking and having a good time. We were placed at a table at the edge of the room where we were sitting front of a supply of various style glasses and less often used liquors. There was an awkward period near the end of the meal when first 2 and then 3 servers tried to find the correct bottle and glass from around us.
The menu was limited, but we were able to find items which interested us. As with the majority of the restaurants we visited in Italy, the menu included brief English descriptions. The prices were among the most reasonable we found during the trip.
We both began with starters which included polenta with other items. Linda's came with soppressata (Italian dry salami), monte veronese cheese and mushroom, while mine had soppressata and lard.
My main dish was Carrello dei bolliti misti e arrosti misti serviti con peara, pure di patate, mostarda, salsa verde e cren (Mixed boiled meat and mixed roasted meat served with Verona sauces). At only 15 euros, I wasn't expecting the owner to come out with a cart filled with meats. He asked in Italian which ones I wanted, but I had no ideas what was what, so he gave me a little of everything - about 8 meats plus some vegetables.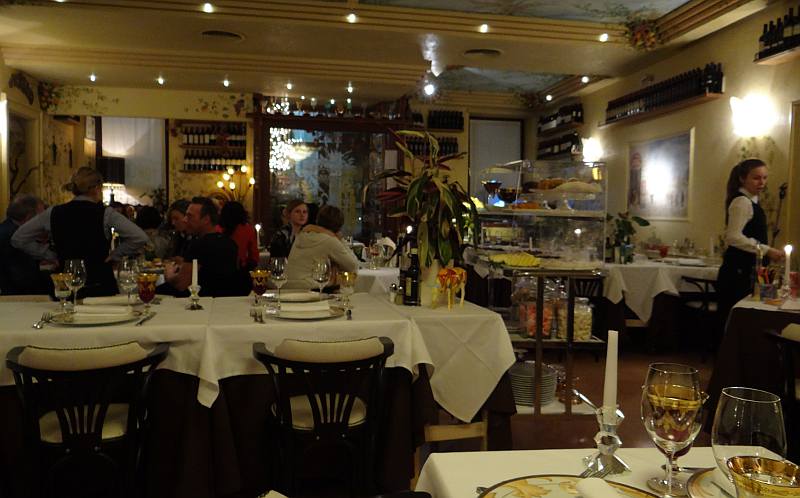 Ristorante Torcolo di Luca Barca dining room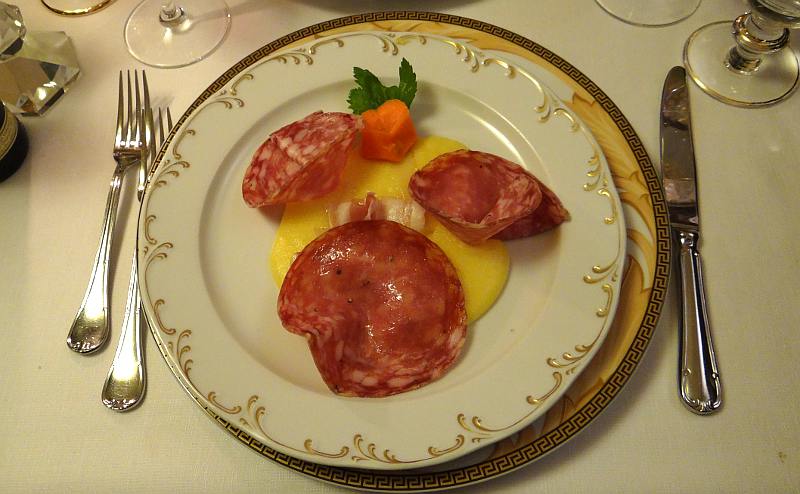 Polenta con soppressata Veronese e lardo - polenta with salami and lard (7.5 €)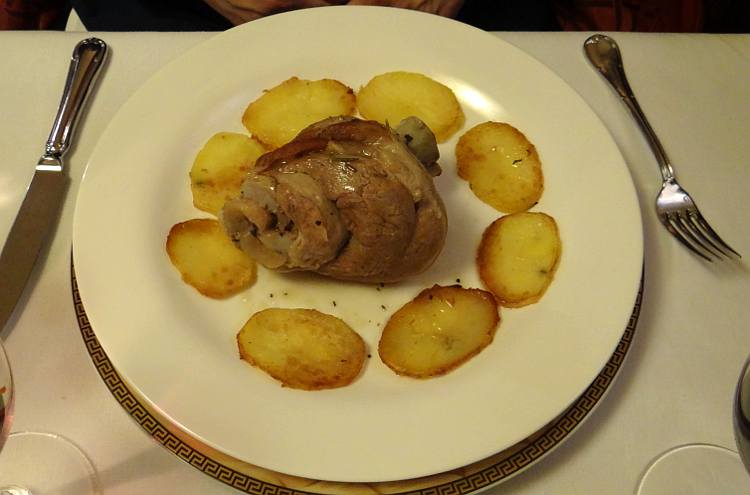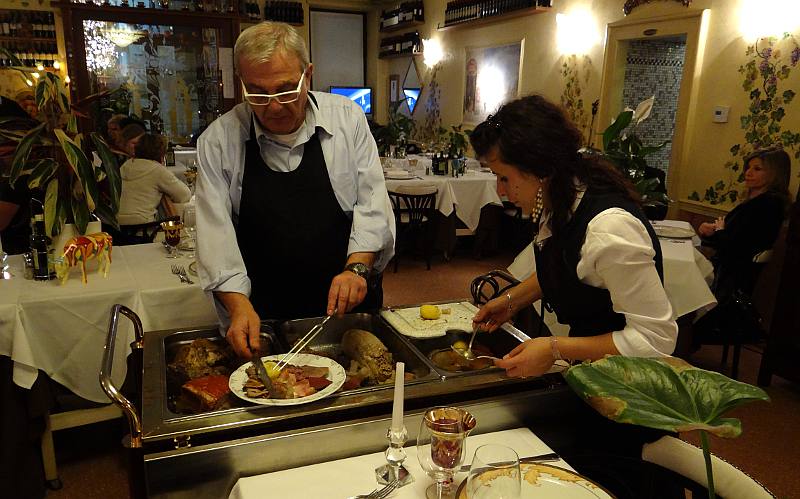 Serving up the mixed meats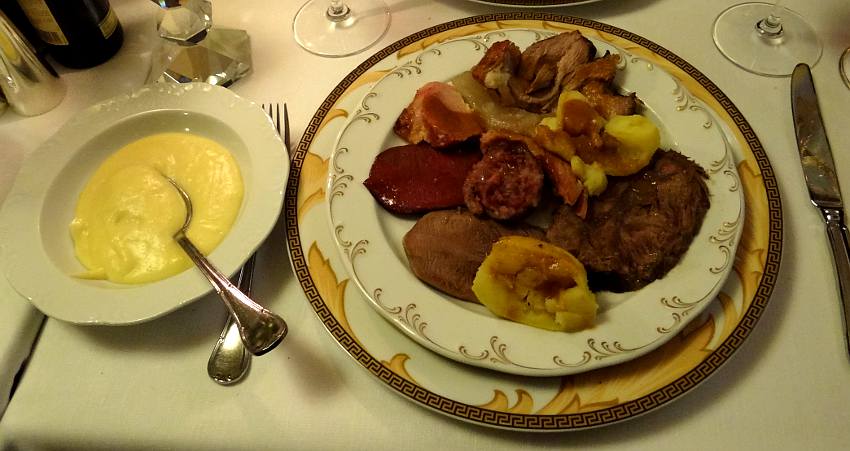 Mixed boiled meat and mixed roasted meat with one of the two sauces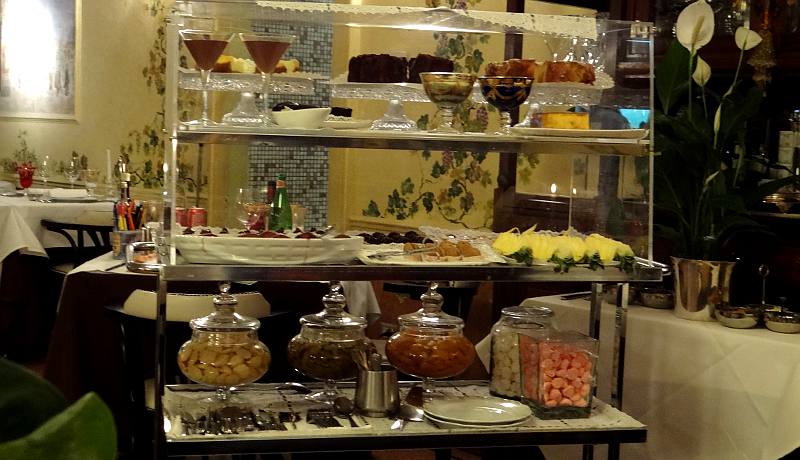 Dessert cart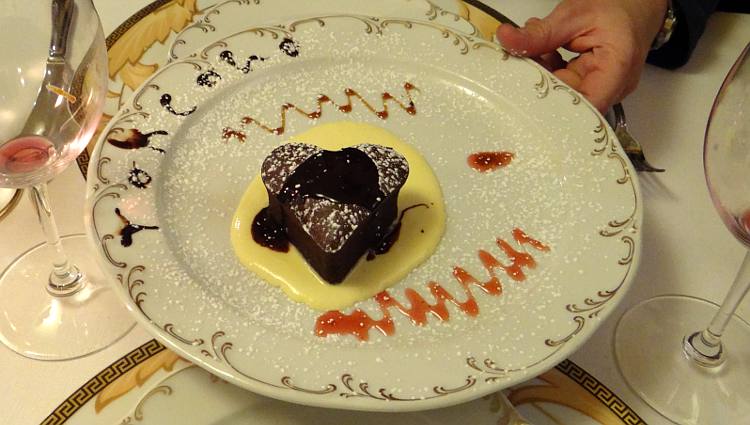 We split this chocolate dessert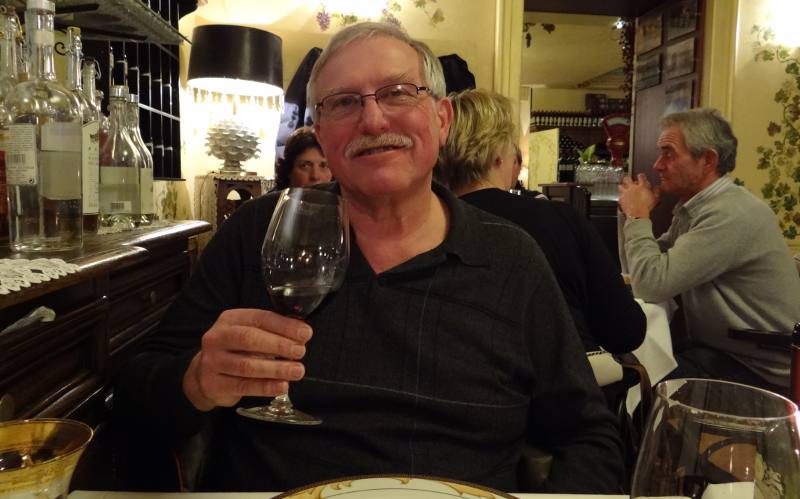 Me enjoying a glass of Masi Campofiorin Vendemmia 2008 - Campofiorin is a vineyard in Veneto