First look at Venice

March 2012 trip to Madrid, Venice, Verona, Milan and Paris.

Venice: Water taxi, Sestiere di Castello, San Marco in the morning,
Murano, Ristorante A Beccafico, Secret Itinerary Tour, Campanile,
Cathedral Basilica, Osteria Ae Sconte, Rialto Markets, Jewish Ghetto,
San Giorgio Maggiore, Santa Maria della Salute, Gondola Ride




We saw multiple wedding parties at Piazza San Marco each day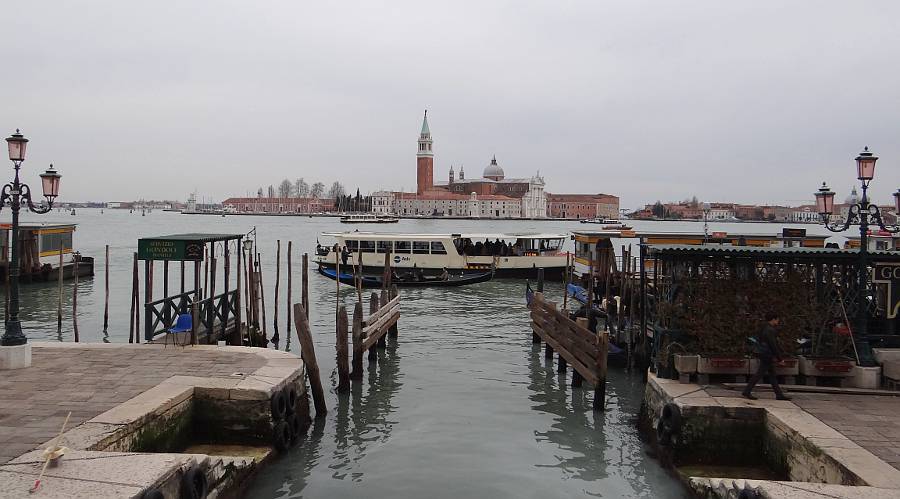 Vaporetto pulling into San Zaccaria vaporetto stop - San Giorgio Maggiore is in the distance
Monday continued
After settling into our hotel, we went to explore the neighborhood and have a late lunch. We started with the short walk over to the Piazza San Marco, the world famous square that is the heart of Venice. After a brief orientation, we returned to the waterfront and headed west into the Castello, the largest sestiere of the city.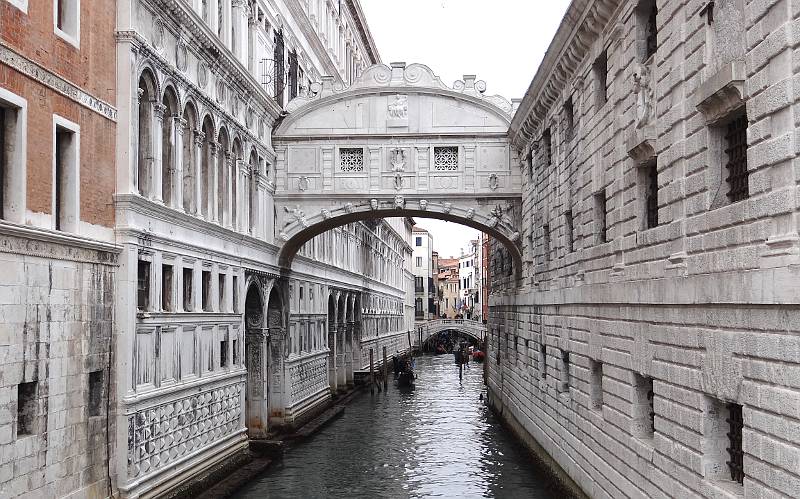 Ponte dei Sospiri (The Bridge of Sighs) connects the interrogation rooms to the old prisons in the Doge's Palace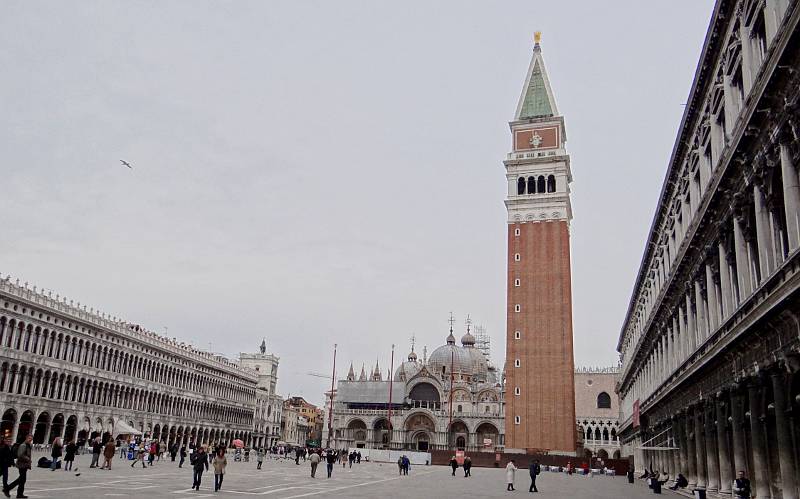 Piazza San Marco with the Basilica and the Campanile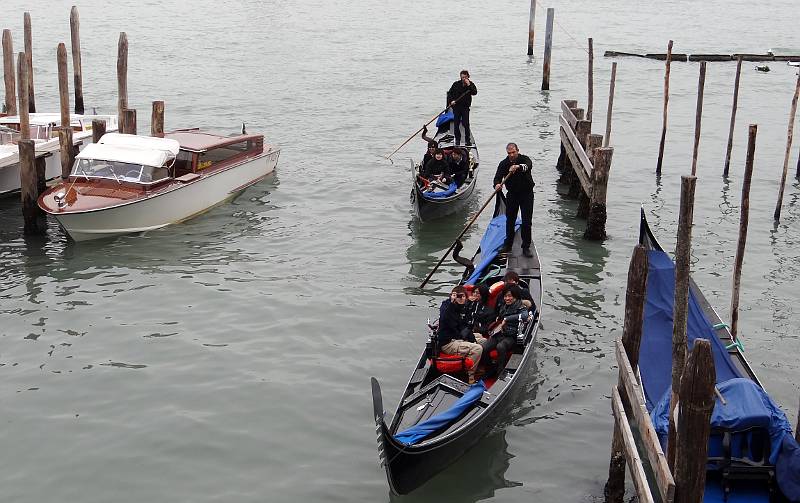 Gondolas about to the enter the canal passing under The Bridge of Sighs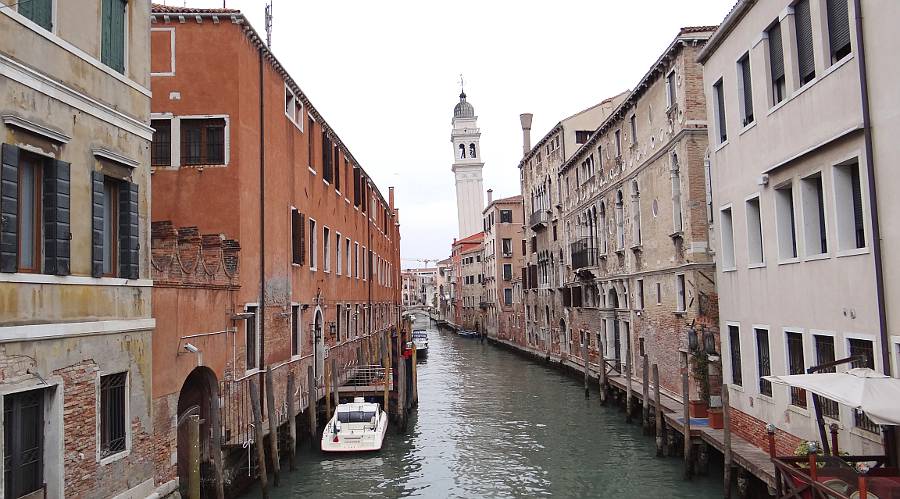 The leaning tower is at San Giorgio dei Greci, a 16th Century Greek Orthodox church
We checked menus at restaurants along the waterfront, finally deciding to try Ristorante Carpaccio. We were greeted outside the restaurant and shown to a table in a small dining room that had perhaps seven tables. The man who waited on us was friendly and helpful, suggesting items that were good this day.
Over the next few days, we found that most restaurants in Venice made at least some effort to accommodate English speakers. Some places had complete menus in 6 or more different languages. Sometimes we didn't know the word used in the English translation, but would recognize the Italian word. This is the Ristorante Carpaccio menu.
Linda started with a caprese salad while I began with sardines. She liked the cheese and said her salad was very good. For our main dishes, Linda had salmon while I had a shrimp scampi. We finished with a cheese board which had just two uninteresting cheeses. I usually have a lot of cheese in Europe, but the ones in Venice did not appeal to me.
With just mineral water to drink, our meal came to 110 €, or about $145 without service charge. It was a good meal, but not special enough for me to pay that much.
It was a very late lunch and there was only one other party dining in the restaurant. We had a conversation with the family and learned that the man was from the UK and the woman was from Africa. They live in Spain and there little girl shifted between languages several times.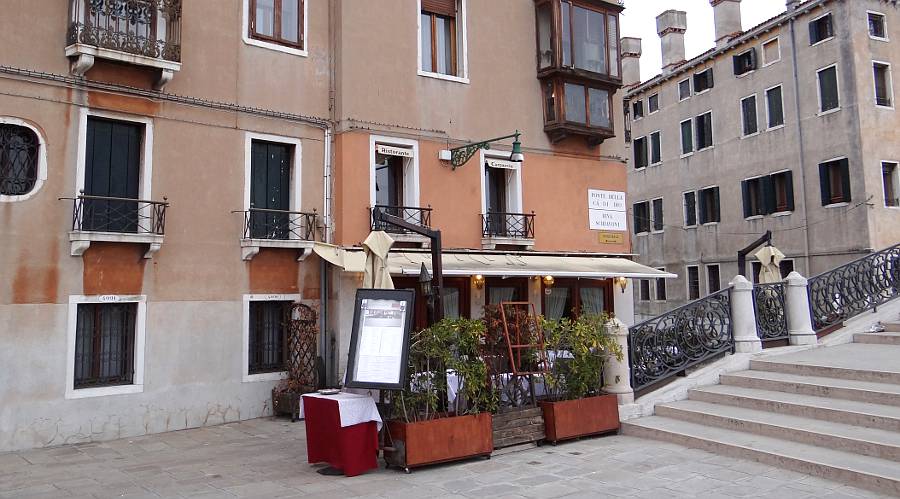 Ristorante Carpaccio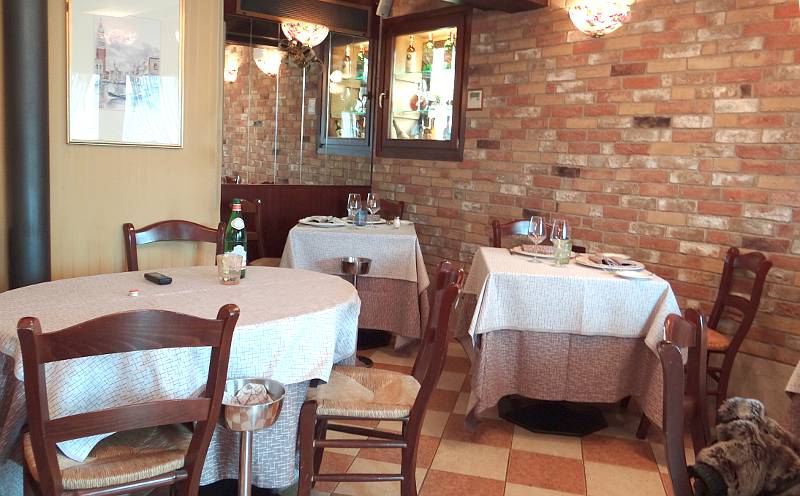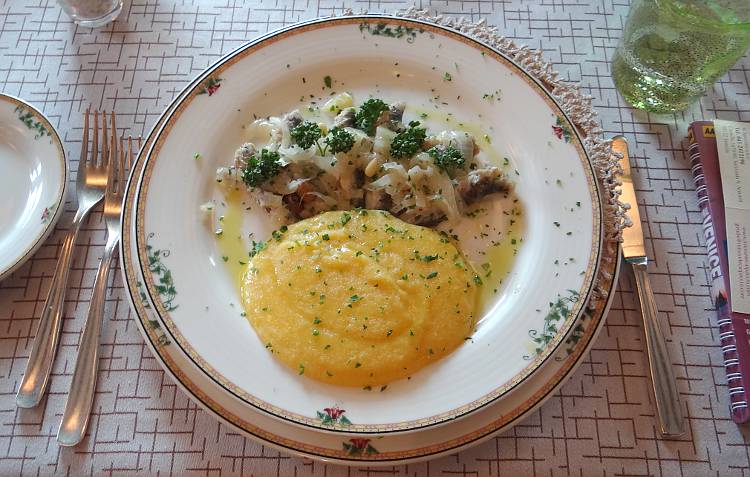 Saor della Cassa - sardines in a traditional sour Venetian sauce with polenta (14€)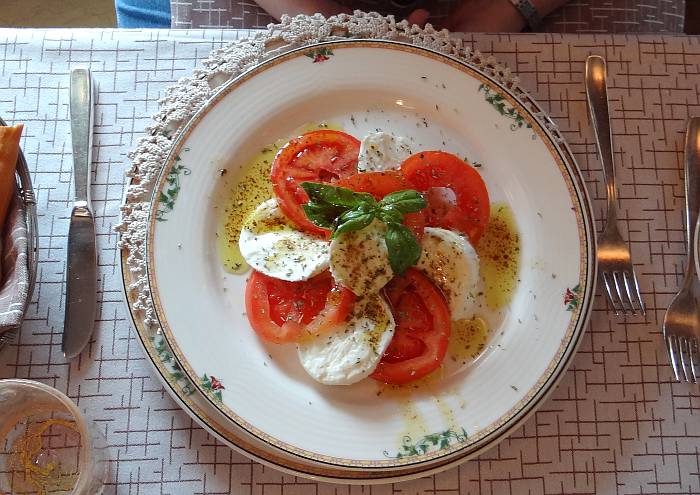 Caprese - tomato and mozzarella cheese (13€)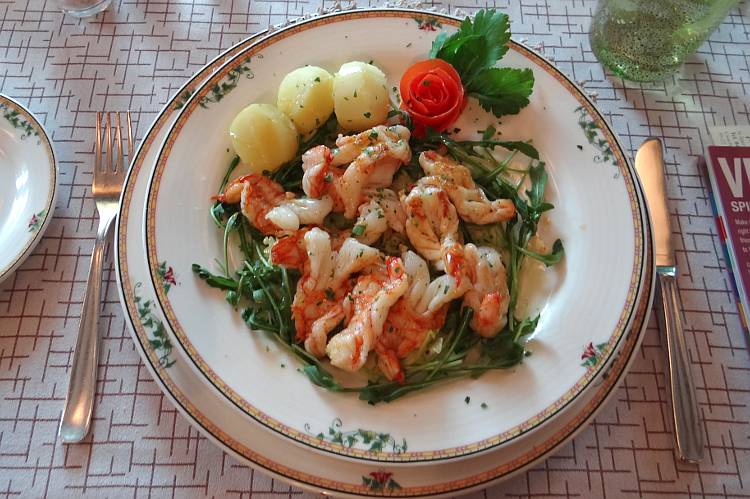 Scampi nostroni - butterflied shrimp in garlic sauce (31€)