My favorite evening in Venice

March 2012 trip to Madrid, Venice, Verona, Milan and Paris.

Venice: Water taxi, Sestiere di Castello, San Marco in the morning,
Murano, Ristorante A Beccafico, Secret Itinerary Tour, Campanile,
Cathedral Basilica, Osteria Ae Sconte, Rialto Markets, Jewish Ghetto,
San Giorgio Maggiore, Santa Maria della Salute, Gondola Ride



Interpreti Veneziani rehearsal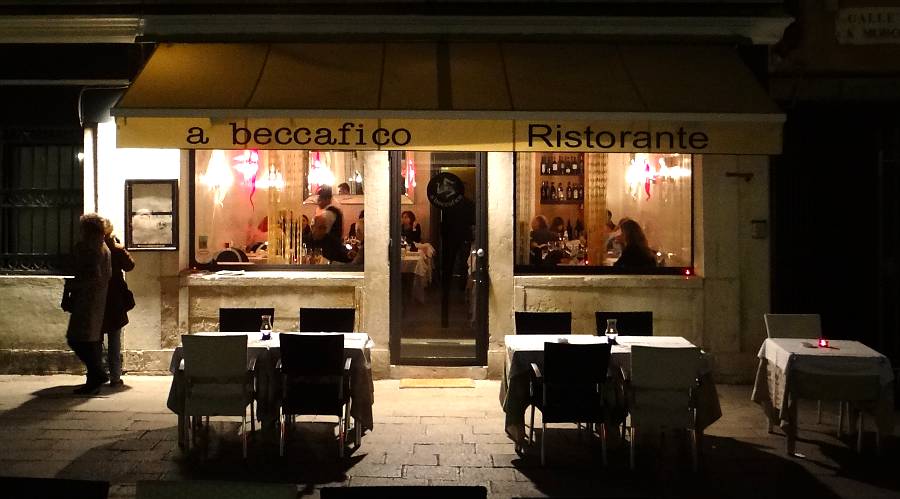 Ristorante A Beccafico on Campo Santo Stefano
Tuesday continued
This evening we took a vaporetto up the Grand Canal and crossed the Ponte dell'Accademia (Academia Bridge) to Campo Santo Stefano, a pleasant, elongated square lined with bars. Campo Santo Stefano was a venue for bullfights until 1802 when several spectators were killed as a stand collapsed.
As we approached the campo, we passed Chiesa di San Vidal where we would see a concert later in the night. The orchestra was rehearsing and since I wasn't sure if photography would be permitted at the concert, I took the photo at the top of this page through the doorway. Chiesa di San Vidal was founded in the 11 Century, but is now a concert venue and no longer a church.
Supper was at Ristorante A Beccafico. We didn't have reservations, but were arriving early (about 6:50 PM) and had no trouble getting a table during the off season. This was the best food so far and I loved the many little extras.
The waiter brought a free aperitif before we even ordered. Then they brought salmon on brochette. When we were through with our meal , they brought shot glasses and two pint bottles. One was a very sweet white wine, the other was limoncello. When we were finally finished with those, they brought us lemon sorbet. All those were on the house. The Insalata di gamberi e pioggia di sesamo (shrimp and prawn salad) was my favorite dish so far on our vacation.
We pared the meal with a bottle of 2010 Soave Classico Zenato (25 €), a crisp, clean and refreshing white wine from the Veneto area of north-eastern Italy.
The Ristorante A Beccafico menu did not have English translations. Instead, there was a page with key words from the menu in Italian, English, French and Deutsch. The waiter gave us a few minutes to try working things out on our own, but was then prepared to give us extensive help if needed.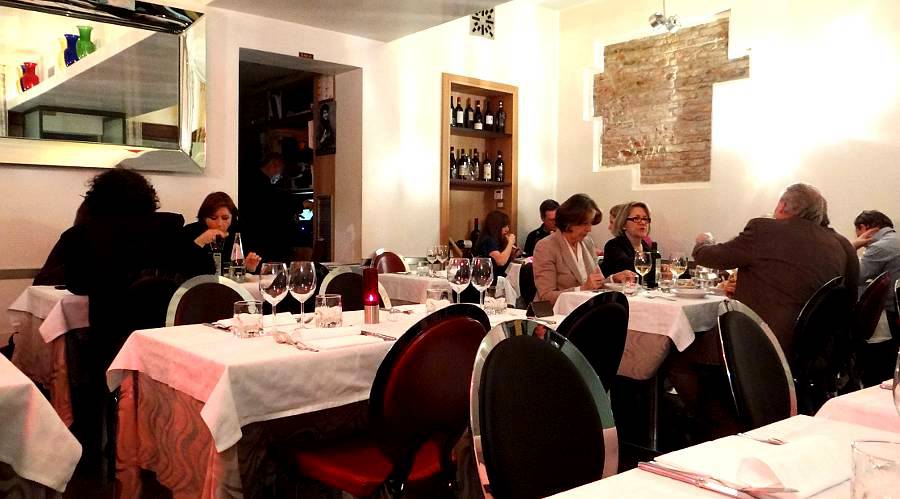 Ristorante A Beccafico dinning room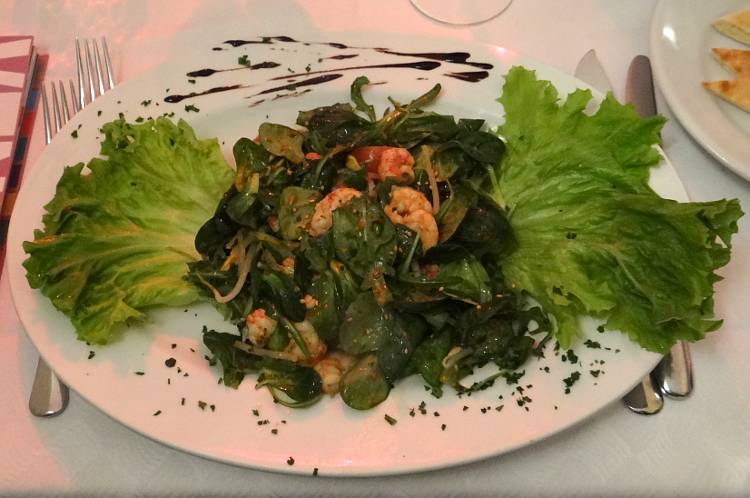 Insalata di gamberi e pioggia di sesamo (14 €)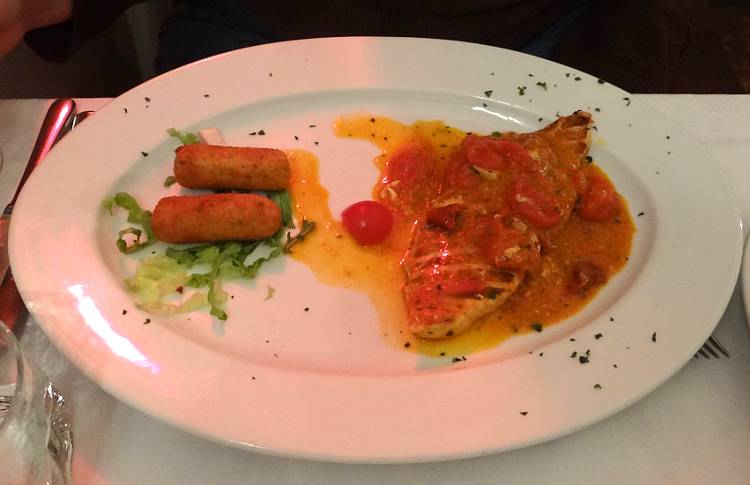 Pesce spada ammuttunatu - swordfish (25 € except as I now look at the check, they did not charge for this item)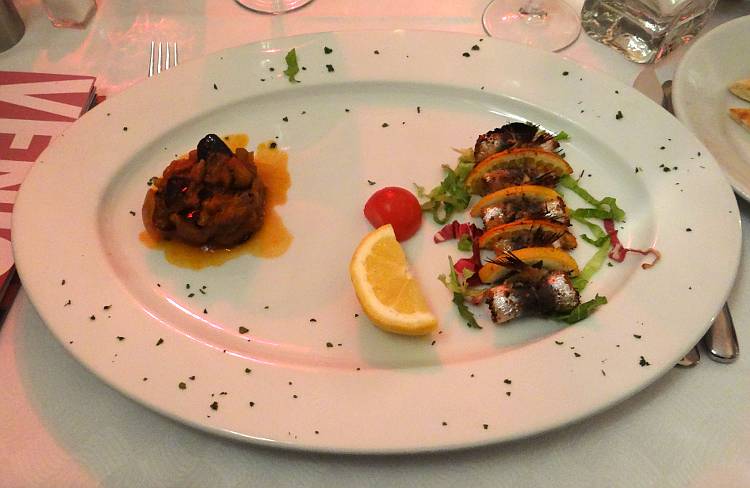 Sarde a beccafico dello Chef - sardines in traditional Venetian sour sauce (18 €)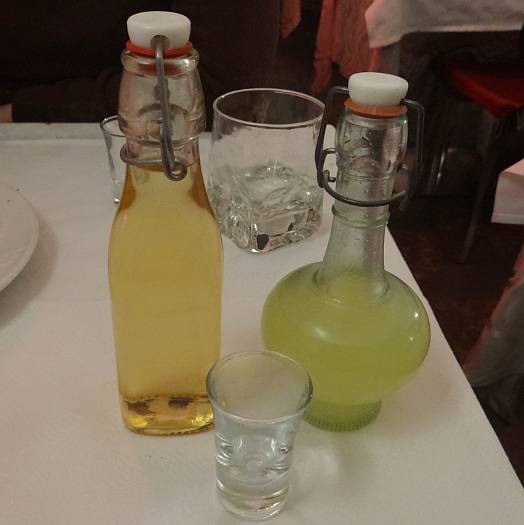 sweet wine and limoncello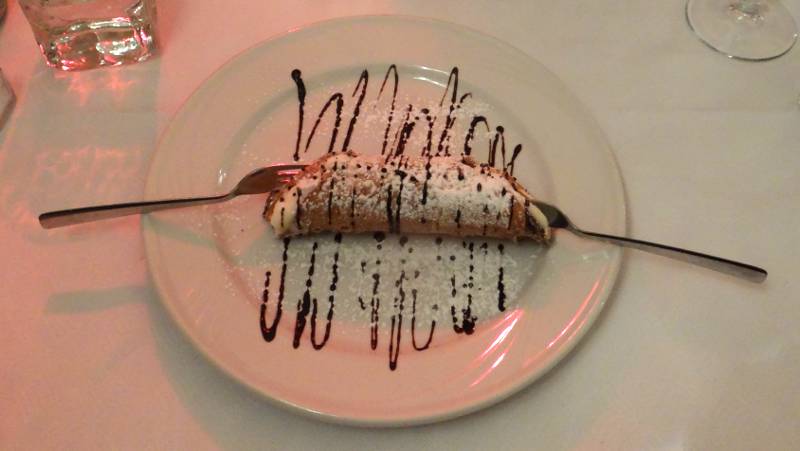 We split this cannoli (10 €), not realizing that a lemon sorbet would come later, compliments of the chef
We returned to Chiesa di San Vidal just before the 8:30 PM concert by Interpreti Veneziani. Their repertoire is heavy on the works of Antonio Vivaldi, who was from Venice and that is fine with me, as I enjoy Vivaldi's work. Tonight's concert included Le Quattro Stagioni and Concerto for viola, cello, strings and harpsichord RV. 531 by Vivaldi, and Concerto Grosso for 2 violins, cello, strings and harpsichord op. 6 n. 12 by Arcangelo Corelli. They were well received and I enjoyed the concert a great deal.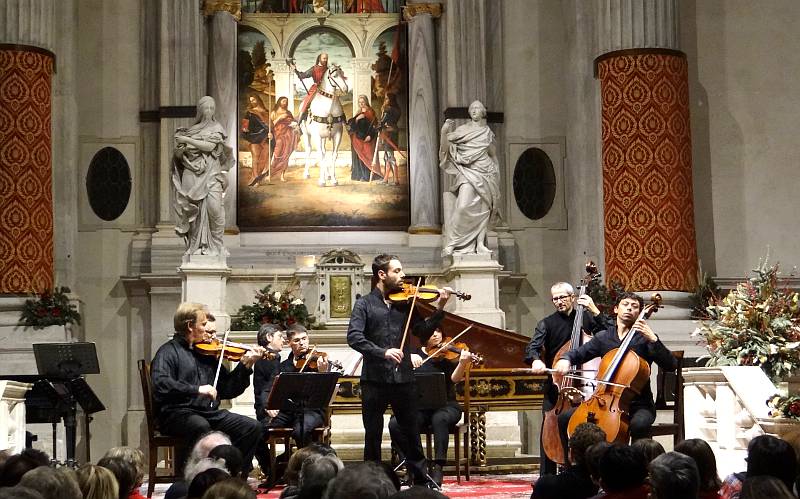 Interpreti Veneziani performing in Chiesa di San Vidal (Church of St. Vitalis)

Basilica di Santa Maria della Salute