Secret Itinerary Tour
of the Doge's Palace

March 2012 trip to Madrid, Venice, Verona, Milan and Paris.

Venice: Water taxi, Sestiere di Castello, San Marco in the morning,
Murano, Ristorante A Beccafico, Secret Itinerary Tour, Campanile,
Cathedral Basilica, Osteria Ae Sconte, Rialto Markets, Jewish Ghetto,
San Giorgio Maggiore, Santa Maria della Salute, Gondola Ride



16th century wellhead in the courtyard of the Doge's Palace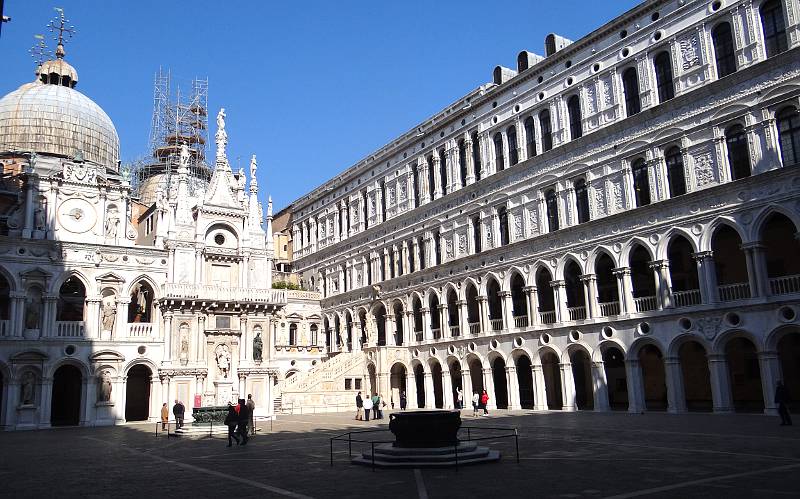 Wednesday, day 5
We started the morning with the Secret Itinerary through the Doge's Palace (Palazzo Ducale). It was supposed to begin at 9.55 AM, but started much later due to a problem they were having with the computer records of the tour. That meant that we were wedged in between other scheduled tours and several times we had to wait around for the tour ahead of ours to move on.
The through the Doge's Palace visits rooms and chambers where the Venetian administration was carried out. That includes the Office of the Great Chancellor, Torture Chamber, Chamber of the Inquisitors. and the cells used exclusively for the prisoners of the Council of Ten, including Giacomo Casanova. These areas are not visited by most visitors to the Palace.
Photography was only permitted in the outside areas and the Golden Staircase.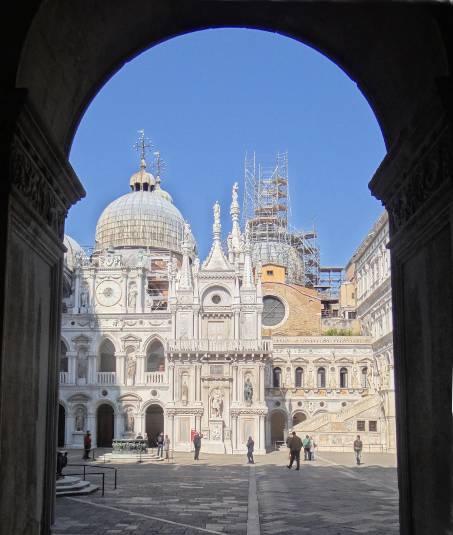 (prints of this photo are available at Finearts America)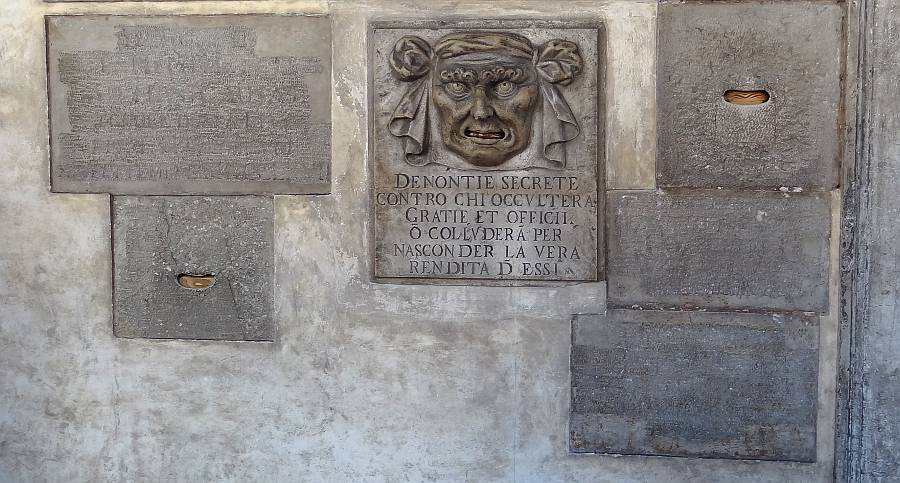 Secret denunciation boxes where you could insert a note accusing your enemy or neighbor of wrong doing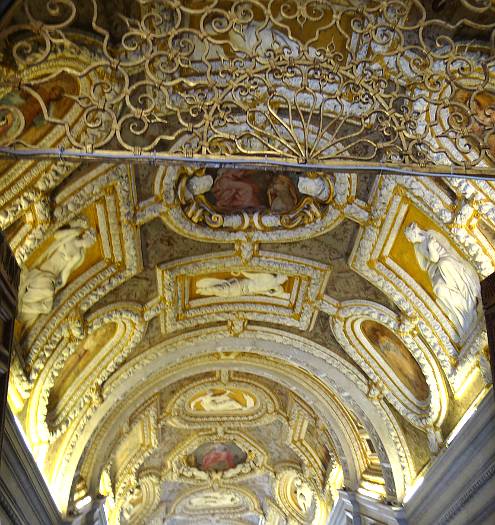 Ceiling of the Golden Staircase (Scala d'Oro) built from 1530 - 1559
At the conclusion of the Secret Itinerary tour, we were free to visit the rest of the palace and it was a waste to have purchased separate tickets to the Doge's Palace. The huge crowds in the other areas were a big contrast to the private areas we had just visited.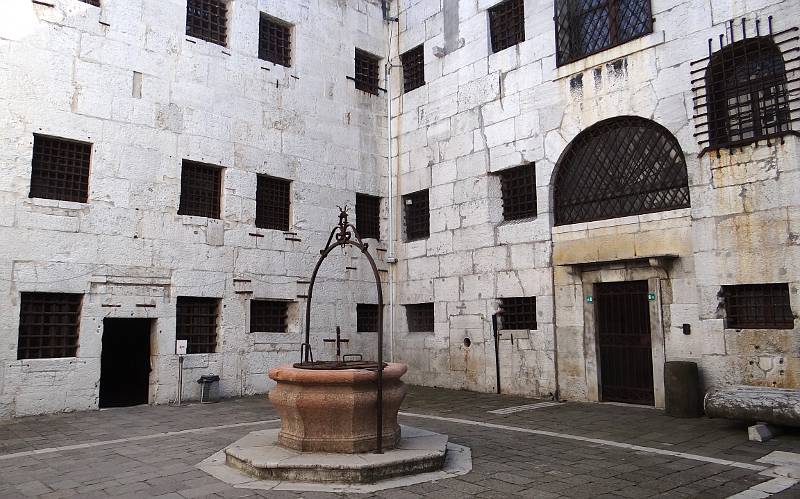 Inner courtyard of the 16th Century New Prison (Prigioni Nuove) called the "Shaft"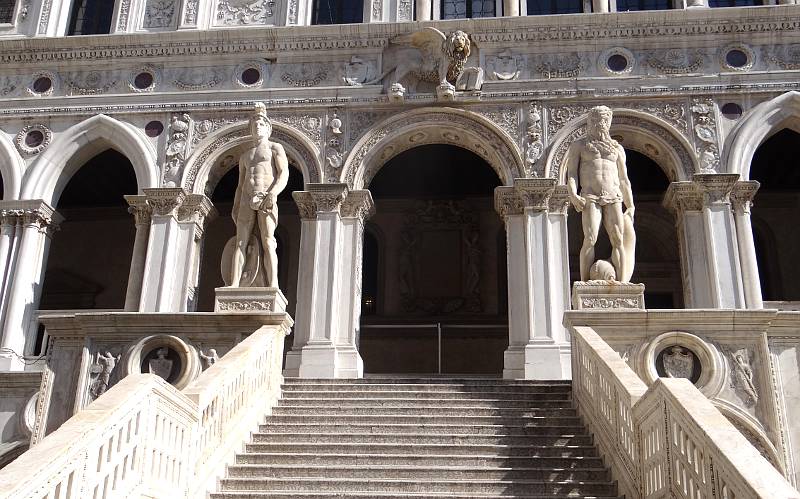 Giant's Staircase (Scala dei Giganti) flanked by statues of the gods Mars and Neptune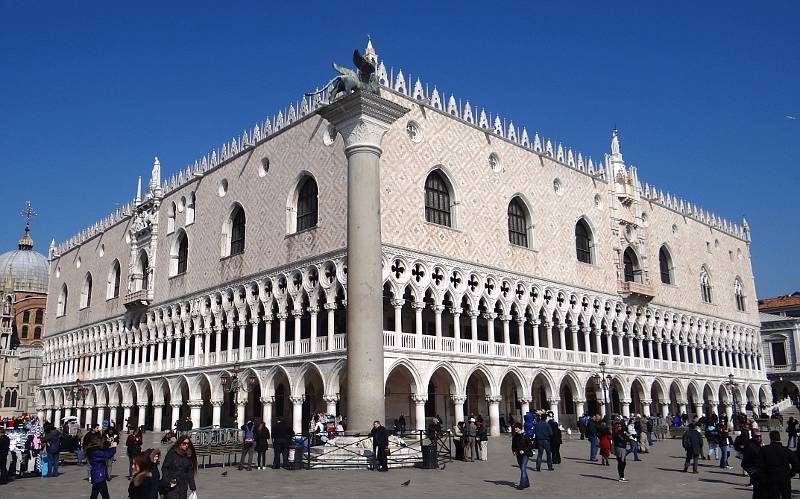 Exterior of the Doge's Palace (Palazzo Ducale)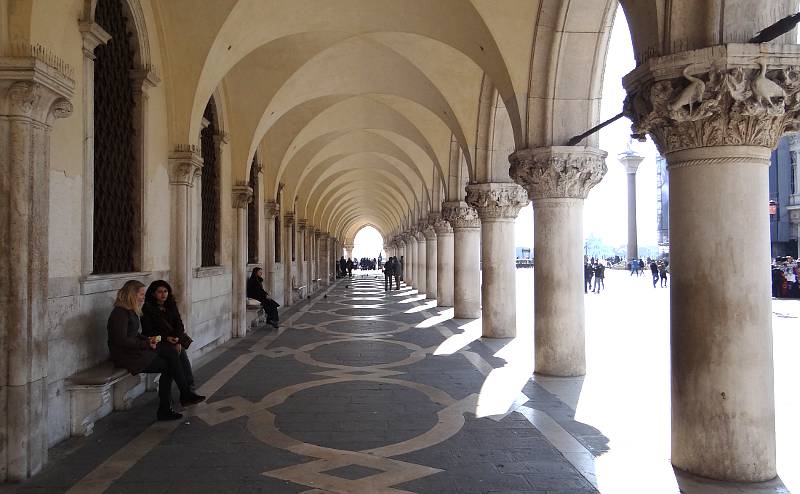 Doge's Palace Arcade