Sestiere di Castello
Venice, Italy

March 2012 trip to Madrid, Venice, Verona, Milan and Paris.

Venice: Water taxi, Sestiere di Castello, San Marco in the morning,
Murano, Ristorante A Beccafico, Secret Itinerary Tour, Campanile,
Cathedral Basilica, Osteria Ae Sconte, Rialto Markets, Jewish Ghetto,
San Giorgio Maggiore, Santa Maria della Salute, Gondola Ride



Via Garibaldi

Monday continued
We continued along the Castello waterfront with no specific destination in mind. Castello is the largest and most varied of Venice's six sestiere (districts). The further we walked east, the more working class the area appeared and we saw fewer tourists.
We turned away from the water when we reached Via Garibaldi, which was the widest street we saw anywhere during our time in Venice. ("Via" is Italian for "the way" or "street.")
We turned again when we found gates leading to a monument devoted to Giuseppe Garibaldi (an Italian general, politician and patriot dubbed the "Hero of Two Worlds.") and Viale Garibaldi, a quiet, tree lined esplanade.
At the other end of the Viale Garibaldi , we found an interesting large greenhouse called the Serra dei Giardinim, which I since learned was built as the Margherita Greenhouse in 1894 and is now maintained by a cooperative.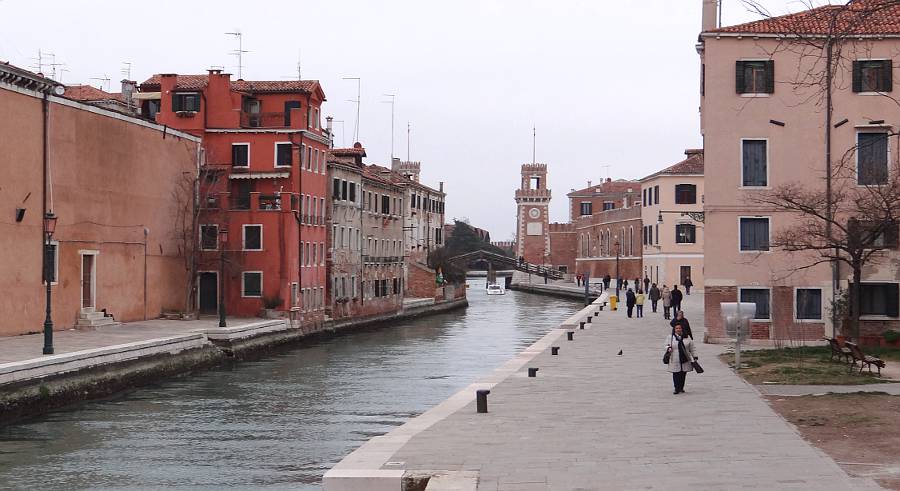 Looking north at the Rio del Arsenale canal - the two towers flank the water entrance to the Arsenale where ships were built for 900 years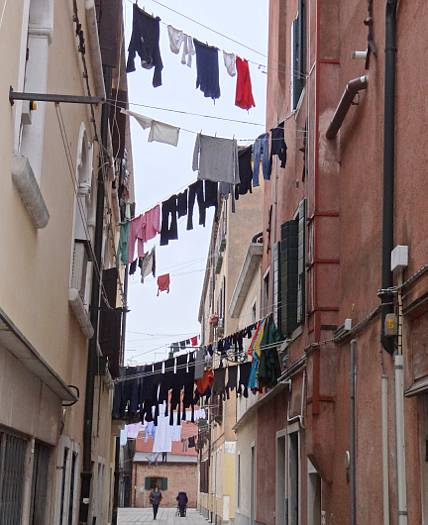 Clotheslines in an alley off Via Garibaldi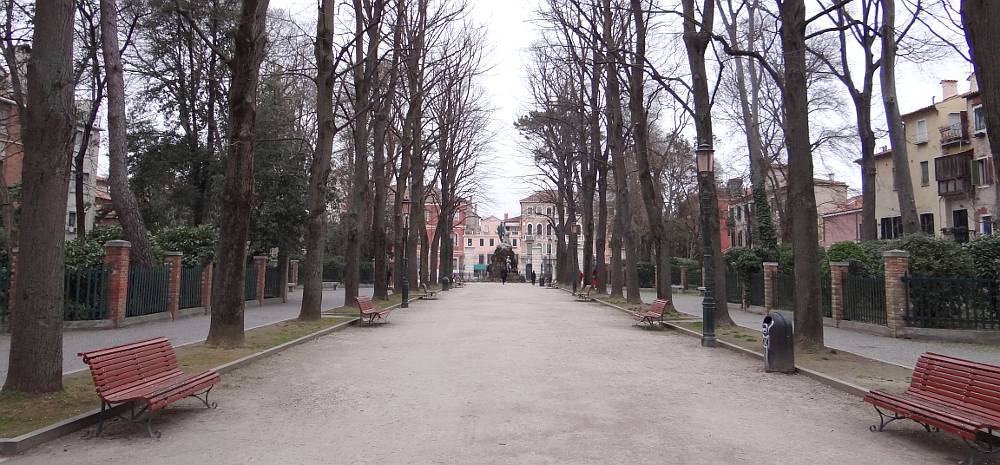 Viale Garibaldi with the Giuseppe Garibaldi monument in the distance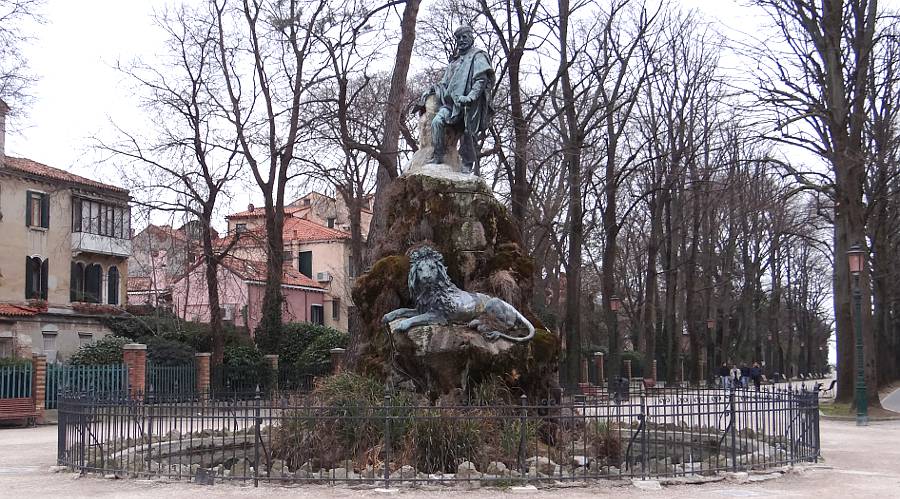 1885 bronze monument to Giuseppe Garibaldi by Augusto Benvenuti.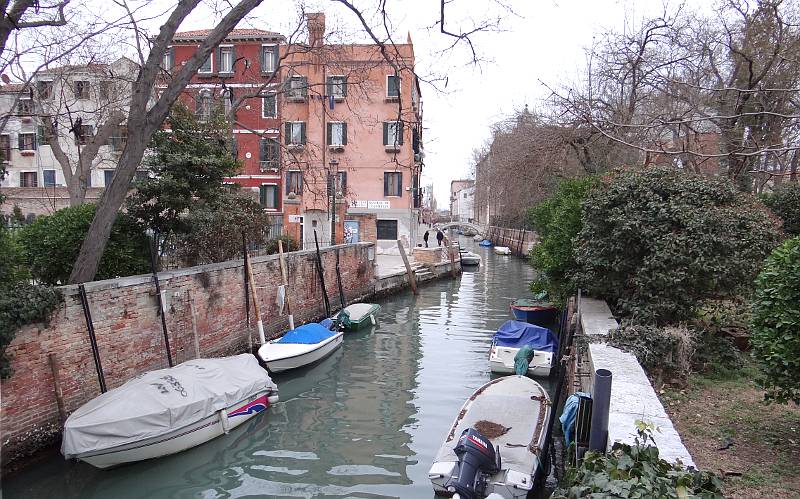 Canal near the Serra dei Giardinim at the foot of the Viale Garibaldi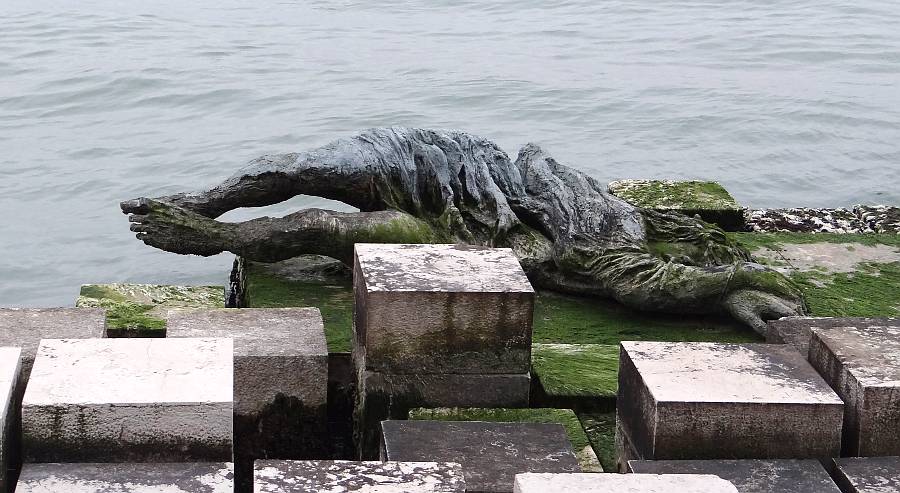 La Donna Partigiana - a monument to the women killed fighting in WWII that is only visible at low tide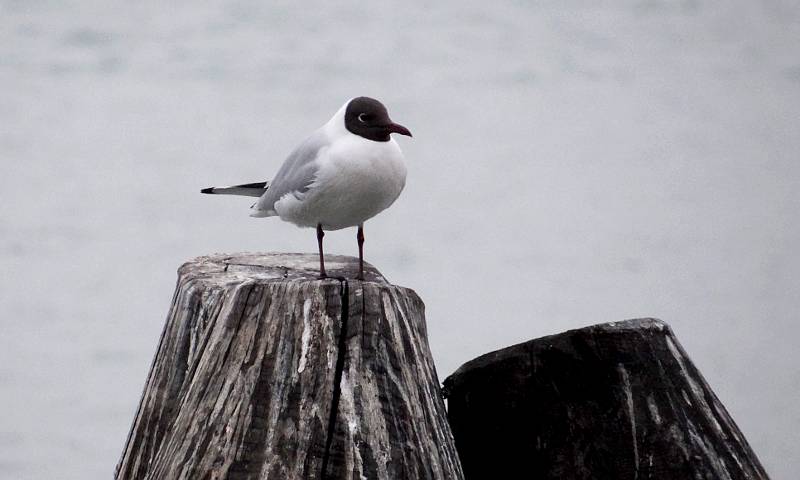 Black-headed Gull (Chroicocephalus ridibundus)
We continued to wander east, walking along the Giardini della Biennale, gardens which were originally created by Napoleon Bonaparte and which are used to host part of the Venice Biennale Art Festival. The gardens have many 19th & 20th Century monuments and 30 permanent national pavilions.
We moved inland into residential streets which we had almost exclusively to ourselves and where we felt like we were finally lost. We had now left the area covered by our map, but continued on until we stumbled upon the Venezia football stadium at the far east end of Venice on Isola di S. Elena.
We now headed a bit north, then west, trying to find our way back onto the map. We were totally lost before we found the Giardini della Biennale again. We were now getting footsore and were both ready to take public transportation, so we rode a vaporetto water bus back to San Zaccaria and our hotel.